It's Tuesday evening and the sun is setting so pretty, and I'm having vegetarian chili and a ice cold beer for dinner! What are you having?
Here's some things you can read while you wait for that water to boil for your pasta.
---
Queer as in F*ck You
How a New Wave of Black Activists Changed the Conversation: George Floyd's killing galvanized a nation. But small groups like the queer-led collective Black Visions are channeling that energy into a movement for political change. (I will read a literal side of a Cheerios box if Jenna Wortham wrote it — and this is soooo good, soooo perfectly in tune to this moment in the days the shooting of Jacob Blake by the Kenosha police.)
Lesbian Former Elite Soccer Standout Speaks Out on Bias in Sports. "Dr. Linda Greene's resume lists an array of experience toward advancing equity in her native Ireland, and in the wider world."
🚨🚨CUTE ASS NEWS ALERT!!🚨🚨
Same-Sex Penguin Couple Welcomes Baby Chick After Adopting and Hatching an Egg Together
There's something lovely about the fact that Google News' "lesbian" tag today is one-half gay fossil movie and one-half Electra and Viola, the lesbian penguins who adopted an egg and had a baby together at the zoo. https://t.co/FWUeuA5RUk pic.twitter.com/FlhnHwI2SW

— Heather Hogan (@theheatherhogan) August 25, 2020
(Also.Also.Also: Did you miss the news about that "gay fossil movie" that Heather is talking about there? Got you covered here.)
"The unapologetic fat body is dangerous because, like so many other dangerous things, it suggests that there's another way—and that there has always been another way." — Carmen Maria Machado wrote this in 2017, but it passed across my timeline today and it is great: The Trash Heap Has Spoken
Tourmaline in The New York Times on dismantling the living monuments to white supremacy and replacing them with pleasure gardens on Marsha P. Johnson's birthday yesterday: America's Monuments, Reimagined for a More Just Future
---
Saw This, Thought of You
"The role of the 'trained' or seasoned organizer at that moment was not to police how Black folks showed up in the streets, but rather to spread ourselves and the knowledge we have to ensure that little-to-no Black folks are harmed… It looks like communicating with the people around you — especially the people you do not know — to make sure they feel safe. It means having white and other non-Black people creating barriers around the crowd to protect the Black folks who are protesting. It means communicating with the people who are doing digital organizing work to make sure that the necessary information is more widespread. Overall, it means being intentional about building community, even if only for that moment, so that we keep as many people safe as possible."
The Revolution Will Not Be Supervised. In my previous life, I spent a lot of time thinking about social movements, and Black Lives Matter specifically. One of the most distinct aspects of this moment we are in is that for the most part it's not based on a magnetic man to lead it — this piece starts to touch, in part, on why.
Direct Action for Prison Abolition. From Rachel: "this is a v cool resource (and also very cool artifact in terms of web design for digital zines!)"
How the Climate Killed My Children
When the World Shut Down, They Saw It Open. The pandemic has made work and social life more accessible for many. People with disabilities are wondering whether virtual accommodations will last. (And while we are here: It's Time To Listen To Black Disabled People)
Peek Into The X-Files: The Official Archives for More Details on the Show's Creepiest Cases. Listen, I know that Gillian Anderson is a root for a lot of y'all, so here's a present just for you.
'We've Already Survived an Apocalypse': Indigenous Writers Are Changing Sci-Fi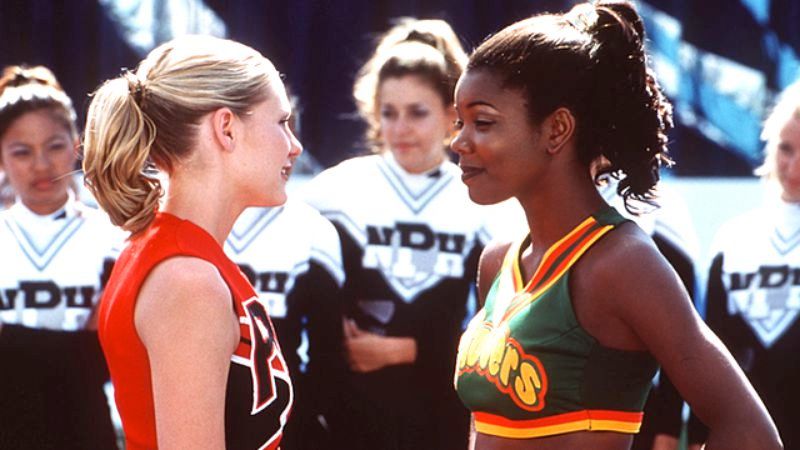 Do you know how sometimes I'm like, "make this the one thing you read today" — WELL!! Make This The One Thing You Read Today!!!! 👉🏾 Why 'Bring It on' Is One of the Most Important Sports Movies Ever Made by brilliant queer sports writer Katie Barns, who Heather and Natalie would like to let you know is burning up ESPN lately and you don't want to miss it!!
And when Gabrielle Union agrees with you, you know you're on to something!!
Thank you! Thank you! THANK YOUUUUU!!! This is one of THE best pieces ever written on #BringItOn https://t.co/j5w8tqyVMp

— Gabrielle Union (@itsgabrielleu) August 25, 2020
We No Longer Need Coming-of-Age Movies About Straight White Men. BIG FACTS!!
What I Learned in 5 Years of Sobriety — and if you're reading this, you might also want to read Dani's recent absolutely gorgeous personal essay on sober sex, "Anatomy of a Mango: Pit"
Who Will We Be After This Nightmare Is Over? just some light reading from Bitch Media
---
Political Snacks
The Post Office Mess Is Meant to Exhaust You. Don't Let It.
National Republicans Are Ordering Up Attacks On A Democrat's Sexual Orientation. The GOP's congressional campaign arm appears to be instructing outside groups to remind voters that Gina Ortiz Jones is gay.