"Don't date anyone who treats you like shit, even a little." – from my interview with Leah Lakshmi Piepzna-Samarasinha
This was supposed to be a book review of Leah Lakshmi Piepzna-Samarsinha's new memoir, Dirty River: A Queer Femme of Color Dreaming Her Way Home.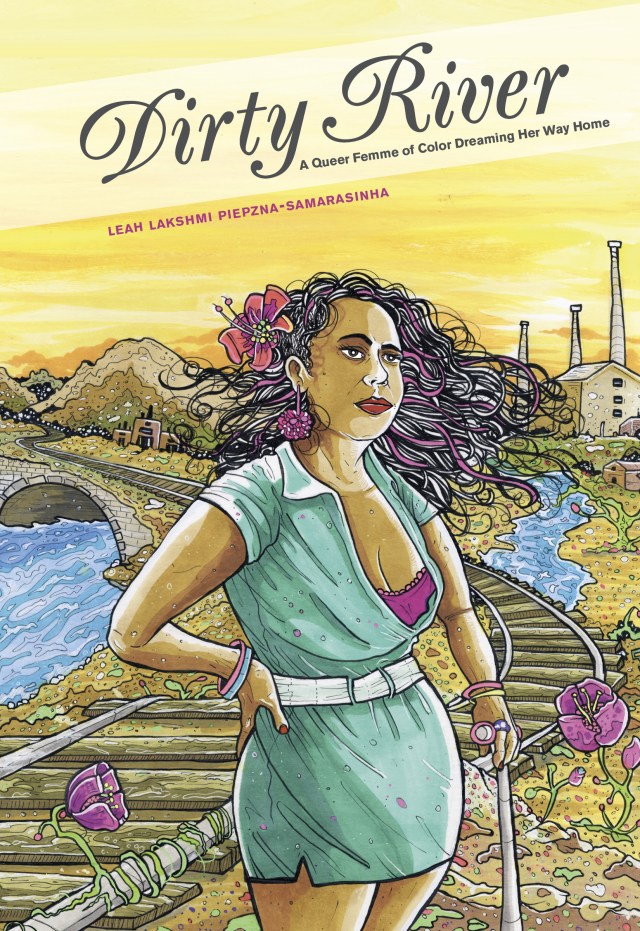 But it's actually the story of how reading my friend and queer aunty Leah's brown femme poetry saved me, made me a writer, and totally revolutionized my love and sex life.
It was the winter of my first year of university, and I was a young, closeted trans woman of color recently run away from home, clinging to my required scholarship GPA by a fingernail, and in the midst of a full-blown depressive episode. A tender young femme from the temperate West Coast, I was unprepared for the icy reality of my new home in Montreal, where temperatures regularly plunge to 40 degrees Celsius below zero. There, ensconced in the darkness of my tiny, filthy dorm room, I lay in bed like a wilting plant, while all around me, rich white trust funders frolicked like a real-life Abercrombie and Fitch ad.
Running away from my abusive parents to start a new, improved, fabulous queer life in gay Montreal wasn't supposed to be like this. I wasn't supposed to have no friends, no job, and no plan for the future. I wasn't supposed to be failing my classes or sleeping all day like a beached whale all bloated up on my own self-loathing. I wasn't supposed to still be dating guys who didn't know what consent was (though at the time, I sure as hell didn't know what consent was either), or having traumatic flashbacks to being raped all the time. I wasn't supposed to have those constant, creeping thoughts about suicide.
"I know a ton of femmes of color who are single for years, who deal with a lot of scarcity and people who are "afraid" of us or don't know how to love well, and I know what it's like to feel like you have to settle because you're afraid you're never going to get laid again because I have been that person." – Leah
I read brown femme poet and author Leah Lakshmi Piepzna-Samarasinha for the first time that year – actually, I stole her debut poetry collection, Consensual Genocide, from the local co-op bookstore because I didn't have any money to pay for it (and also because I had a little bit of a "stealing problem," okay?). I didn't have any real, conscious "queer politics" at the time. I didn't even know who Leah was. I just liked the cover and the sound of the title.
This was the poem that changed my life:
there is an unexploded land mine heart in us
under every breast chest
waiting for breath
tears a moan
to crack the land open
and let the stories come walking
out of the scar

– Leah Lakshmi Piepzna-Samarasinha, "Landmine Hearts"
These poems were a lighting blast right to my gut, to tender hidden places in my body that silently raged and ached and moaned with memory, history, violence, secrecy, shame. I remember sitting bolt upright, clutching the slender volume with its hand-drawn cover design to my chest. Admiration, indignation, shock, catharsis, jealousy, and blessed relief surged through me all at once.
Who was this "Leah Lakshmi Piepzna-Samarasinha," anyway, and how could she be evoking these feelings in me? How dare she? Was this even poetry? Why hadn't anyone ever told me that poems could be like this? That you could write about your own life, your race, about the secret things that happen to children at night at the hands of people who say they love you – who tell you they are doing it because they love you?
"For better or worse, my mom both sexually abused me and was the parent who was the most consistently loving and supportive in my life growing up. She did stuff that almost killed me, and also brought me to the library, encouraged me to go to college, offered me support. That's my experience." –Leah
Reading Leah's poems was how I learned that I – young, Asian, feminine, queer, all the things I had learned to hate about myself – mattered, that my body and my words mattered. This is how I became a poet, a writer, a proud femme transsexual, an incorrigible queer. This how I re-discovered my will to live.
"There is a reason why so many poor and oppressed folks are poets- you can write poetry on the bus, on your phone, in the toilet stall on a five minute work break. Memoir takes longer. The great June Jordan defined poetry as "a means of telling the truth… with maximum impact, minimum words." I think there is a somatic genius to writing poetry about trauma- poems can be a short container for intense experience. You enter into something really intense, and then it is done and you can breathe." – Leah
Now, about seven years and a lot of angsty blogging later, I am a lot happier, a lot more comfortable with my femme identity, and actually have friends (!) As fate (or rather, Facebook) would have it, one of them is the sparkly queer brown femme creative tornado that is Leah Lakshmi Piepzna-Samarasinha. In person, she is as dynamic and powerful, tender and compassionate, as her poetry. Also, she gives wicked styling tips:
"I'm staying mad that Value Village prices went up but I have a super shopper card and I get emails when they have a 50% off sale, so I try and hit those whenever they happen. I don't shoplift anymore but I was good when I was younger. (Put library books in your bag and show them when the tag detector goes off, bring a friend's baby with you, and get into a huge fake fight on your cell phone at checkout when you buy something small, so they just want you to leave.) … I really like going to and throwing femme clothing swaps to get free stuff, and I also support spending money when you have it- there was a point when I realized that all my clothes were super worn out because they were all fifth hand."
So it was a pretty big honor when Leah asked me to review her latest book – and first published long-form prose work – the memoir, Dirty River: A Queer Femme of Color Dreaming Her Way Home. Dirty River is, essentially, a queer choose-your-own-adventure. In lush, gorgeously evocative prose, Leah writes about running away from abusive blood family, having to run away again from abusive chosen family, and finding out how to build your own home out of (self)-love, (self)-forgiveness, and sheer brown femme badassery.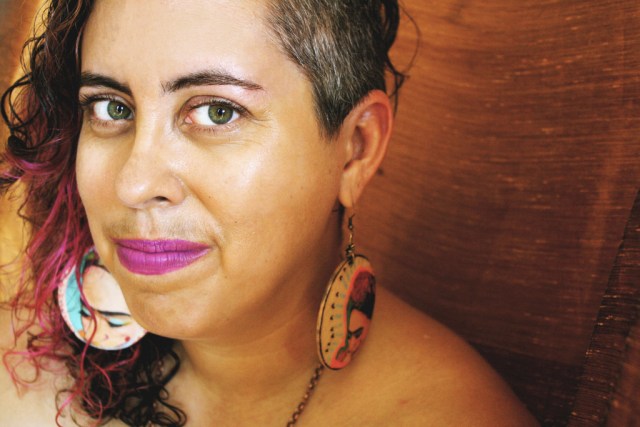 You can probably see why I'm so into this book. (Buy it, borrow it, or order it online now!)
Other – less unabashedly sentimental – reviewers might say that Dirty River is an important piece of literature for political reasons: among other things, it is among the first memoirs to directly speak to the experience of a South Asian, queer, disabled femme abuse survivor. It also follows up Leah's previous literary work in taking a rare, honest, unflinching look at the reality of intra-familial sexual abuse and intimate partner violence in queer and activist communities.
All of these things are true. Yet what I also find compelling and beautiful about the book is that it offers both ancestry and possibility to young queer women of color who are struggling to find strength, safety, and self in the midst of so many communities where people call themselves family and then hurt you in the same breath. Leah's book provides a mirror, an anchor – it lets us know that we are not alone, that we're not "crazy" or making shit up, and places us within a tradition of femmes fighting for life. You don't have to put up with lovers who treat you like shit, Leah tells us – but it doesn't make you weak or a failure if you have.
"I am accountable to the folks who read my work, and if it's speaking to the queer disabled femme survivors of color who read my work, I've succeeded- which is a really different measure of success than most mainstream literary spaces understand literary success to be. I want all my books to feel like roadmaps and records, that we existed and that these are some of the communities and moments in QTPOC crip femme history we made, that this is how we survived." – Leah
Any sad queer girl of color with a notebook knows: sometimes, books are the only family that you can trust. Dirty River is proud, strong, no-shit-taking, tender-advice-giving Aunty of a book; a sweet herb-smelling, tarot card fortune-telling, crystal earring-wearing embrace that squeezes the tears out of your bruised femme heart and reminds you: You are stronger than you think. You words are truer and more important than you know. You can get cute clothes at Value Village for a dollar on a good day. Don't date anyone who treats you like shit, even a little.
"Femmes of color are my whole life. As writers, I wanna shout out you [Kai Cheng Thom], Luna Merbruja, Cyree Jarelle Johnson, Neve Be, my partner Jesse Manuel Graves and their femme of color performance project with Devyn Manibo, Cancer Rising. Cherry Galette, Meliza Banales, The Lady Miss Vagina Jenkins, Billie Rain, Patty Berne who co founded Sins Invalid and basically gave birth to the whole disability justice movement. Heels on Wheels. Randa Jarrar, Maya Chinchilla (my homegirl, an amazing queer Guatemalan femme poet who just survived a major car accident and we're fundraising for her because she's going to need almost a year of rehab), Stefani Dixon, Adrienne Maree Brown, Micha Cardenas, Reina Gossett. Elena Rose. Chanelle Gallant. Miss Major. There are many, many more. We are not invisible, people just enact femmephobia by not looking for us." – Leah
So this was supposed to be a book review of my friend Leah's new memoir. But it's actually the story of how, a few years ago, I was a scared young trans girl of color who ran away from her parents, who loved her, but hurt her anyway. This girl tried to find herself in a new place, a new community, but all she could find was the same violence, the same fists, the same secrets as before. Then she found a book by a wise brown femme that changed her life and gave her a voice. And with that voice, she's been telling her own story – and finding new family – ever since.
You can too.