Feature image via magic wand art history

---
Tons of new sex toys come out every year and, to be honest, most of them are unremarkable at best and shoddy unsafe garbage at worst; in other words, not the sort of thing to give to someone in your life. The following are a selection of the best sex toys of 2015.
---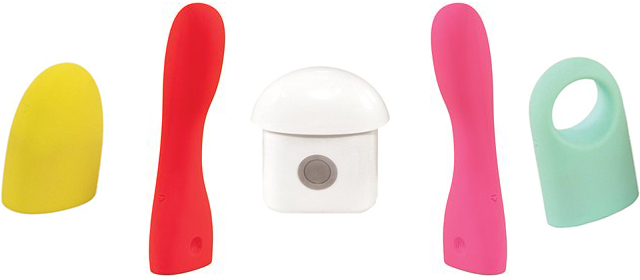 The Ooh isn't just one sex toy; it's a whole modular line of them. Since the most expensive part of a sex toy is the motor, Je Joue started selling the motor separately, and has created a whole line of bodies (right now including an internal vibrator, a pebble clit vibrator and a cock ring, and soon to include a rabbit vibrator, a g-spot vibrator and a mini motor that will go with a mini butt plug, cock ring, vibrating pebble and more) that it can be used with interchangeably. It's rumbly and, when the toys are assembled, waterproof. Just make sure to purchase the motor as well as a body or two. The Ooh is probably going to change the way we think about sex toys.
---
The Mustang Royale is a reboot of Vixen's Mustang with a squishy, sculpted base with two nubs designed to line up with the wearer's vulva. Otherwise, it's the same as always — a sticky and soft on the outside, firm on the inside dildo that can stand up on a table, stay where it's supposed to be during sex, and still be packed with. As one of the anonymous reviewers wrote in Autostraddle's review: "Out of all of the cocks I've strapped on with so far, the Royale feels the most like it's a part of me when I wear it."
---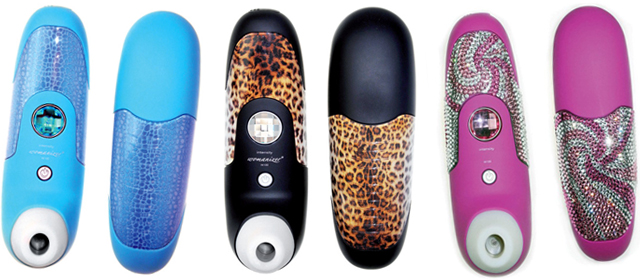 The Womanizer is the most innovative new sex toy this year with the stupidest name and aesthetic. Rather than simply vibrating, it has a small silicone cup for a head that settles over and applies suction to a clit. How weirdly good this feels cannot be understated.
With gaudy patterns, an enormous fake jewel for a control button, and a light-verging-on-cheap plastic feel, the Womanizer looks like a throwback to the garbage toys of bachelorette-party-oriented sex shops of (mostly) yesteryear. But even people with overstuffed toy boxes won't have felt anything like this before. As one anonymous reviewer wrote in Autostraddle's review: "I was prepared to be bored by it, and definitely not prepared to take it seriously. Then it made me come in under a minute on the lowest setting. Five times in a row."
---
The Magic Wand Rechargeable is everything there was to love in the Hitachi Magic Wand but with a name change, a softer silicone head, more options for intensities, vibration patterns and, best of all, no need for an outlet for hours. As one anonymous reviewer wrote in Autostraddle's review: "The Magic Wand Rechargeable is a reboot of the original (formerly Hitachi) Magic Wand that takes 'the Cadillac of vibrators' and makes it into something that pings as an actual vibrator rather than a clunky back massager universally used as a sex toy."
---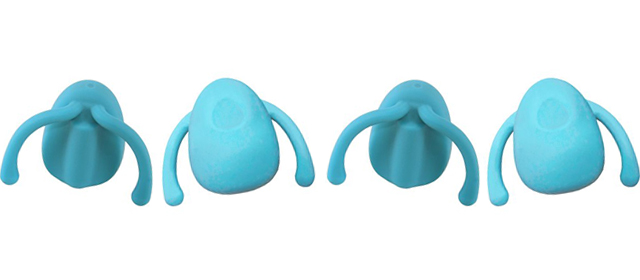 Described as "the first-ever hands-free feminist sex toy," Eva is an external hands-free clit vibrator that you can wear during sex. Small arms tuck into labia to hold the vibrator over a clit, while being flexible enough to move through different positions. As its creators wrote in its indiegogo campaign at the end of last year:
"How well Eva stays in place will depend on the geometry of your anatomy and how you like to have sex. We designed Eva to fit a wide range of women, and continued to iterate until the vast majority reported it stayed securely in place during most positions. Additionally, our testing showed that Eva's compact size and conforming shape often make it a step up from a bullet or other vibrator, even when it didn't fully 'stay in place'; because Eva did most of the work, pressure between the bodies or one lightly resting finger could do the rest."
---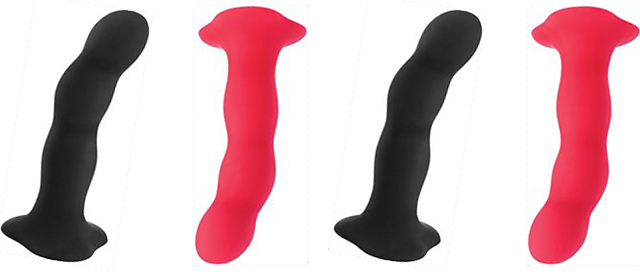 Fun Factory's Bouncer dildo is a firm, gently curved and wavy silicone dildo that has three weighted balls inside of it that move during thrusting. The base is flared for use anally or with a harness (it is especially good in a harness) and curved so that it sticks to hard surfaces. If you've ever wished you could fuck with (or, in some cases, actually feel) kegel balls, this is the toy for you.
---
Bigger than the biggest model of the original Pure Plug, the Pure Plug 2.0 is solid medical-grade stainless steel, tapered and curved, with a ring at the base to grip or use in kinky play. It's also over five inches long and weighs a significant 1.32 pounds. As one anonymous reviewer wrote in Autostraddle's review of the medium-sized original Pure Plug, "nothing, and I mean nothing, feels as smooth as stainless steel on your asshole."
SaveSave