Every time a theme or any sort of cool desktop came across my feed, I just assumed it was for Linux users and looked the other way (like this one, this is a Linux desktop). I so wished I could do some cool desktop things with my Mac. Until I started researching customization, I didn't realize that badass desktops were for everyone on every operating system. But they are! I made my first cool desktop out of some awesome Adventure Time art and a few little tweaks.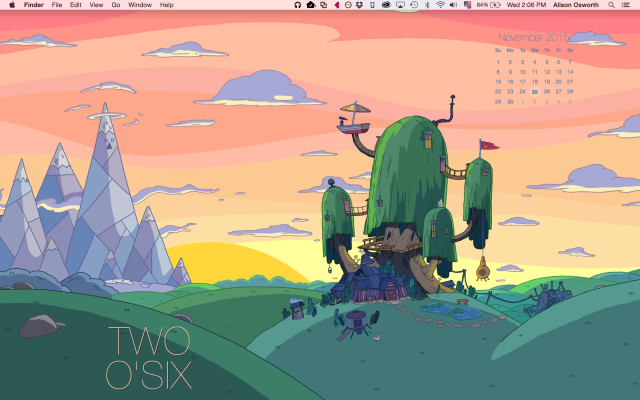 Here's how to bring your desktop game to the next level.
---
Wallpaper
The best way to start off your desktop is by finding a wallpaper you absolutely love.
interfacelift
I've recommended interfacelift before, and their tagline says it all: High-Resolution Photography Wallpaper for Every Screen Size. That's pretty much it—some are more Photoshop art pieces, but all in the style of photos. If photos aren't your thing…
Simple Desktops
If your taste skews more toward graphic design, Simple Desktops is where you should look. I saved three images right off the bat because I liked them so much. These are also really wonderful for desktop customization because these images tend to have large amounts of empty space, ready for us to paint over it with awesome.
Here's an example of a desktop made with Simple Desktops wallpaper.
---
Windows Tweaks
Rainmeter
Completely open-source and free, Rainmeter displays customizable skins on your desktop—skins can be anything from displaying an RSS feed to a desktop interaction with your to-do list. Along with Rainmeter, many people use Enigma—a suite of desktop widgets you can choose from and arrange, no coding required. There are so many skins that it's totally possible to use Rainmeter without any code, but if you want to get fancy you can make skins using a language called Lua, which the Rainmeter Getting Started Guide assures is as easy as HTML or JavaScript. Poking around the Rainmeter Deviant Art group is sure to get you obsessed with a few of those ready-made skins (or give you inspiration to make your own).
Here's an example of a desktop made with Rainmeter.
Change Your Icons
The windows operating system let's you switch out icons without any special finagling. Right click, select properties and click the "change icon" button. Change to what, exactly? Well much like poking around Deviant Art for skins, one can do the exact same thing with icons! I found some for you.
---
Mac Tweaks
Geek Tool
Okay, so Geek Tool is a little difficult, but with some Googling can be figured out. The reason it's a bit hard is because Geek Tool relies on Shell commands—things you'd type into Terminal. Command line. I am rusty on command line at best, but I was still able to figure out how to set the date (date '+%A, %B %d') and how to download and install a weather Geeklet. Check it out!
If you want to know the font, it's Avenir Next, ultralight weight. The font and color customization rely on your system fonts panel, so any font you have installed is fair game here.
Here is an example of a desktop made with GeekTool. Even if you think it sounds a little difficult, there's no harm in downloading it and trying it because it's totally free.
Übersicht
A very easy way to customize your desktop, Übersicht is totally free and available for 10.9 and up. The above desktop is something I made with Übersicht. It's much easier to use than Geek Tool; all the widgets are written in Coffee, which is really semantic and easy to figure out. If you want to change something to the left side of the screen, switch the word "right" to "left," for example. You can use pixels or percents to position things, same as CSS. It takes a little learning, but I wouldn't call the learning curve steep—I can figure out most widgets in under five minutes. Fiddling with the positioning and colors, though? I could probably do that for hours because I'm picky.
iConvert Icons
Don't like the icons in the doc? Never fear! You, too, can use all those cool icon packages on DeviantArt, even if they come in .ico or .png. Just use iConvert Icons to swap those babies over to .icns format. Then right click on files, folders and applications and select "Get Info." See the icon at the top of the window? Those are totally copy-and-pastable! Open the icon in preview, copy it and paste it. Some operating systems function without the .icns file extension, just fyi. Try copy and pasting literally any image to see! I managed to change my least favorite icon into something far more palatable.
So, querds (that's queer nerds all in a word), show your work! Let me see your beautiful desktops!