Duelling seems like the sort of bloody stupid hobby that would have been restricted to men and the occasional crossdressing ingenue. Aside from the challenges posed by the ridiculously restrictive clothing women were required to wear in daily life, duelling involved unladylike things like blood, mayhem and not sitting perfectly still. Well, history is full of contradictions! It turns out that even at a time when most people thought it was obscene for women to ride bicycles, a not-insignificant number of ladies were running around with swords.
Female duelists tended to be women who already had a degree of licence to break the rules surrounding gendered behaviour due to their extreme positions in the social hierarchy, and a as a result most of them were either noblewomen or members of the demi-monde – actresses, opera singers and courtesans who formed a separate, parallel society where rich men were welcome but respectable women were not.
Then, as now, a certain sort of man was fascinated by these so-called petticoat duels, and The Illustrated Police News, Britain's first tabloid and official worst newspaper (at least according to the readers of the Pall Mall Gazette), liked to report on them in full. With pictures. We weren't quite at photographs yet, but that was alright because it allowed for lovingly and creatively rendered illustrations of extremely fashionable women all ready to do violence to each other.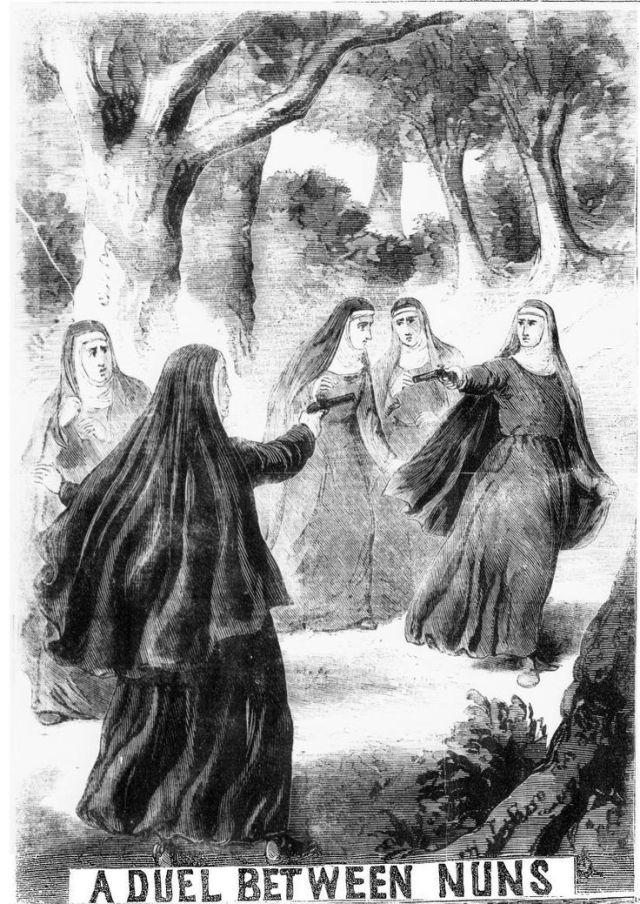 There was also the special interest issue with the nuns. Then as now, etc etc.
Whether they were fighting over who got to enter the room first at a party or the superiority of French over American doctors, most women stayed fully clothed while duelling even if that clothing consisted of full drag or an Amazon costume. Not so the Princess Pauline Metternich and the Countess Kielmannsegg, who, in 1897, fought a duel with rapiers over the floral arrangements at a music recital.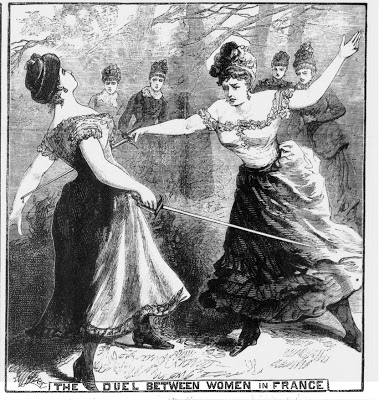 Their duel was overseen by the Baroness Lubinska, who also happened to be a fully trained medical doctor, and one with considerably more common sense than most. Despite the fact that Lister's theories about infection and the need for people to wash their damn hands were still being laughed at by the majority of her peers, the Baroness had noticed that wounds inflicted through clothing were more likely to become infected. Theorising that this was a result of fibres remaining in the wound afterwards, she advised the two young ladies to fight each other topless so that they could avoid this potentially fatal complication. And they did.
This is often referred to as the first emancipated duel — that is, the first duel where all of the participants were women, including the seconds. This doesn't seem to have been true, though as the first such duels were fought between actresses this is an easy mistake to make. After all, to the chroniclers of the time actresses barely counted as people, and this probably was the first emancipated duel to take place between respectable women.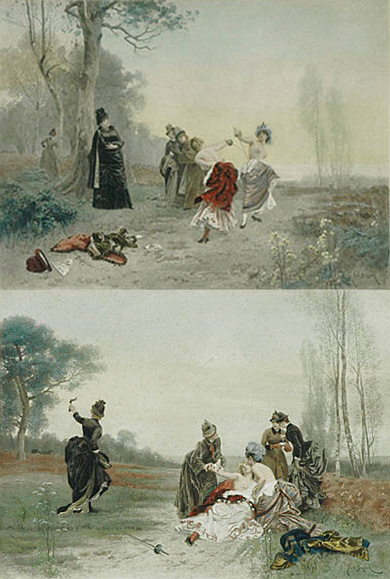 As concerned for their respectability as she was with preventing infection, the Baroness banished all the male servants who had brought the women out to their dueling spot, requiring them to not only remove themselves at a distance but to turn their backs on the women as well. Later, when screams brought them running back, she attacked them with her umbrella, berating them for their perversion, and successfully drove them off.
The reason for those screams? First blood went to the princess, who sliced the countess across the face. Seeing the princess freaking out about having sliced her opponent's face open the countess then stepped right up, spraying blood everywhere, and stabbed the princess through the arm. No wonder the seconds fainted. While the princess did technically win the duel, I think we can all agree that the real winner here, at least in terms of bragging rights and stone cold badassery, was Countess Kielmannsegg.
Newspaper images © The British Library Board. All rights reserved. With thanks to The British Newspaper Archive (www.BritishNewspaperArchive.co.uk).