Neesha and KP, two QTPOC organizers reflect on the 2017 Allied Media Conference.
Neesha
It's easy to forget that another world is possible as bigotry and hate violence become more en vogue by the second. As a Black queer non-binary person living in the majority-white city of Seattle, I often fear for my safety in public places and for the safety of those I care about. My identities garner hostility in LGBTQ+ spaces that are predominantly white, as well as in people of color spaces that center cisgender heteronormativity. Upon attending the Allied Media Conference (AMC) at Wayne State University in Detroit for the first time ever a couple of weeks ago, I found that it's a space like no other, one where people of color and trans and queer folks are not only visible, but are also the leaders. Now in its 19th year, AMC is a microcosm of a world where historically oppressed groups are empowered to share our stories and where our narratives are deemed important and necessary. The conference serves as a portal to collective dreaming and scheming where barriers become bridges to a more just future.
Being a forever curious Gemini, I asked friends who'd attended the AMC what to expect before my trip there. Most of them mentioned that conference attendees wear the flyest looks, so I packed with much care. It felt good presenting my most fashionable self at AMC as I rubbed shoulders with social media crushes and creators whose work makes me swoon. For me, the conference's opening ceremony was akin to a child's first time at Disney World, and I hungrily consumed the offerings of brilliant Black and Brown folks that night at the Detroit Film Theatre, including a performance of "Hijabiwp_postsby Mona Haydar, a Syrian-American rapper from Flint, Mich. and a keynote speech ruminating on the meaning of collective power by one of Black Lives Matters' founders, Alicia Garza.
Black queer sci-fi writer, healer, and facilitator adrienne maree brown acted as one of the hostesses of the opening ceremony, effortlessly moving along a jam-packed program. I started reading brown's new book, Emergent Strategy, on the plane to Detroit, and it set the tone of my entire trip. While the vast amount of enticing workshops at the AMC prevented me from attending one of her sessions (thankfully, her Spells for Radicals workshop is documented here), brown's ideas around emergent strategy and critical connections resonated with me while navigating the conference. Emergent strategies are organic strategies that take shape from our everyday interactions in communities and critical connections are the deep relationships we forge with others that result in social change.
"Get ready, stay ready,wp_poststhe theme of this year's conference, also played on repeat in my head as I soaked up new information to bolster my community organizing work by attending workshops about developing resources for social movements, facilitating community accountability processes, and implementing collective facilitation strategies. I realized that a huge part of getting ready and staying ready is for folks on the margins to be able to communicate our own stories to the world. I attended a session led by Black Trans Media entitled "Black Trans Futureswp_postswhich reaffirmed my commitment to creating and supporting Black trans and queer media-making. The workshop's facilitators, Sasha Alexander, Olympia Perez, and Amari Xola Rasin, stressed how essential their work is during a time when non-Black trans media organizations have no qualms with exploiting Black trans stories. During their workshop, we listened and watched Black Trans Media's interviews with Black trans geniuses, including Kokumo, a trans woman artist and activist who I look forward to seeing perform in Seattle next month in BlackTransMagick: A Journey Towards Liberation. Perez shared a poem she wrote about the ugly insults and stares she endures in public as an out and proud Black trans woman, as well as her experimental short film called I AM HEAR featuring Black trans women in her community. The workshop ended with brainstorming about what kind of representations of Black trans people are absent in the media and how to get more resources to Black trans people to create these missing narratives.
While in Detroit for the AMC, a tragedy occurred back home in Seattle that demonstrated both the importance of communities creating their own media and of being ready to mobilize against oppression at any moment. On the morning of June 18, police shot and killed Charleena Lyles, a pregnant 30-year-old Black mother of four struggling with mental illness, in her North Seattle apartment in front of her children. As a Black femme-appearing person who turned 30 during the AMC and also has mental health struggles, the news of Charleena's murder shook me to my core. Just the day before, I'd mourned the non-conviction of the police officer who killed a Black man in Minnesota named Philando Castile alongside fellow AMC-goers at a vigil held by Families United 4 Justice, a group of families affected by police violence in NY State. Charleena's death weighed heavily on me as I pictured myself in her shoes, and the insensitive, anti-Black reporting of her murder in the mainstream media only magnified my grief, including a Seattle Times headline that read "Knife-wielding woman killed by officers she called…wp_postsMainstream media blames the oppressed for our own oppression, which speaks to the very real need for spaces like the AMC where community-led alternatives to mainstream media are taught and practiced.
Luckily, I traveled to and through-out Detroit with a comrade from Seattle, KP, who made sure I had what I needed to process my feelings, including a makeshift altar in our hotel room to honor Charleena's memory. In my hotel room, I pressed my rose quartz stone to my palm, listened to the Steven Universe soundtrack, and tried to breathe through my pain. As soon as my wife picked KP and I up from our return flight to Seattle, we headed to a vigil at Charleena's apartment. To our surprise, as we approached our destination, we spotted a sea of protestors marching down the street, including many of our friends. Charleena's family and friends led the way as they chanted, clapped, and danced in the name of justice. I chanted along with them as I recorded the action, musing at how quickly Black grief can morph into Black joy.
The looks of resilience on the protesters' faces mirrored the faces of the local Black musicians I watched perform at the end of the AMC closing celebration. As soon as I recognized the harpist, a trans woman named Ahya Simone, was playing the tune of Future's song "Maskoff,wp_postsI started to get my life. "Get ready, stay ready until we're all free,wp_postscrooned the songstress Britney Stoney to the sounds of the harp. Out of the corner of my eye, I saw the Church of the Messiah Drumline approach the stage, and they began to drum to the beat of Stoney's voice. The drumline led us all outside of the auditorium, where they performed as the rest of us enjoyed their entertainment while the sun kissed our skin.
In that moment, I felt full of hope and became even fuller when I remembered the next day was Juneteenth, a holiday celebrated by Black Americans to commemorate the day the Emancipation Proclamation finally reached the enslaved people of Galveston, TX. As I figure out how to best show up for Charleena during these post-AMC days, I hold my joyful memories of the conference close to me and lean on them for inspiration whenever I feel like giving up. I cherish them as I continue building towards a future that looks like the AMC: Black, Brown, trans, and queer as f*ck. I'm already looking forward to what the AMC holds in store for its 20th anniversary next year, and I hope to see some of y'all there!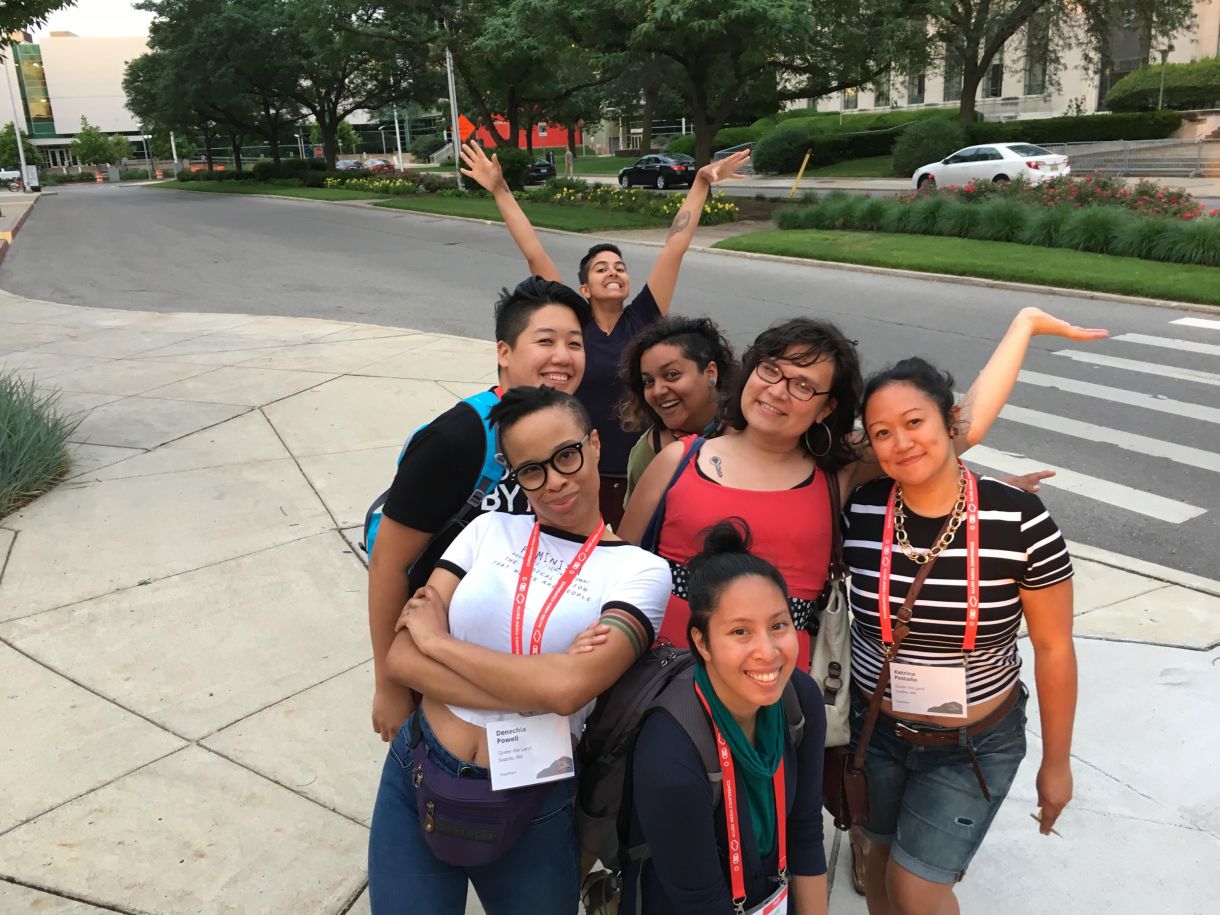 Katrina (KP)
As a cultural worker, I long for spaces where our artistry is not seen as separate from our organizing, where the political is not only personal, but encompasses our full emotional and spiritual selves. If we are creating a world where no one is disposable, then we must also acknowledge all parts of ourselves — how we may show up in ways that are not always the best, but in the words of Ella Baker, "We are here. We matter. And we can change things.wp_postsYes, even the messy and the petty. Because those are moments that are key to transformation. At the Allied Media Conference, transformation is not only possible, but reverberates across time and space with a resonance that is deeply felt.
I attended the conference for the first time in 2014. I had never seen or even imagined anything like it before. In one of the sessions, there was a panel that talked about the importance of place-based narratives in movement- building, featuring dream hampton, and it really hit home. As someone who comes from a legacy of colonization and forced migration, I have always struggled with my place in the world. More specifically, my place as a Pilipinx migrant settler in Seattle, who felt at home for the first time living on Beacon Hill, a neighborhood previously composed of mostly Latinx and Asians with a strong Filipino presence. As a 21-year-old college student leaving home for the first time, I could walk a couple of blocks to eat Filipino food and be in my feels. Ten years later, many of the POC- owned businesses have closed down due to rent increases and the neighborhood has a much different vibe.
While listening to stories of Detroit's resistance to gentrification, I reflected on my work around resisting the displacement of black folks and people of color in Seattle, as well as fighting for land and sovereignty of Filipino people while holding the complexities of diaspora. I always saw Seattle as one step to elsewhere, a bigger city or ideally, building a home back in the Philippines. Yet Seattle is where I have come into my identities as a queer non-binary Pilipinx immigrant and came to understand my place in the movement for liberation. It is where my daily lived experiences are woven into the fabric of resistance.
I also had the honor of visiting Grace Lee Boggs in her home for a group Q&A session. Listening to her speak on the long history of organizing in Detroit and her thoughts on the current political conditions was mind blowing because she is brilliant and has witnessed and taken part in so much history. She joined the ancestors not long after.
What I took back from that conference became integral to how I moved forward in my work, and the next few years were spent fine tuning these lessons to apply to Seattle organizing conditions. I have since been following the development of Emergent Strategy and as I read the book, I can see the series of events that led to the founding collective of Queer the Land (QTL), which is what brought Neesha and I to the AMC. QTL is centered on the idea of claiming space, to fight the displacement of our communities in Seattle and the need to have organizing that centers QTPOC, meets our basic needs, and honors how QTPOC have been holding down our communities on so many levels while also leading these movements for change.
Being at the AMC feels like the space QTL is in the process of creating. I was deeply moved by how AMC is grounded in our collective power to manifest a just and abundant world. Being there feels like we are dreaming this world into being. I was lucky enough to straggle in late to Alexis Pauline Gumbs session "From Media to Medium: Creating Revolutionary Oraclewp_postsand it was life giving. I went in tired and scattered and left feeling grounded and full. In that session, we tuned into our individual and collective power as oracle and channeled ancestors in response to questions that were pressing to our current conditions. I was affirmed that rest and reflection is essential to me (and all of us) in understanding our purpose. I also felt the past, present and future all at once while listening to her channeling ancestors' wisdom — something that only happens when I am fully present in myself and attuned to the universe.
The exuberance I felt throughout the conference carried into the closing plenary and ceremony, which was abundant with hope and possibility. I remember walking back to the car with friends, bodies exhausted and spirits elated, thinking about all the things to bring back to our work in Seattle. Hearing about the murder of Charleena Lyles and Nabra Hassanen within that hour was jarring and so heartbreaking. The next few days I physically felt ill from the fear gnawing into my stomach — because it is very clear that they are coming for us and I don't know how long we can withstand these attacks on our humanity. But then I think about our ancestors dreaming us into being while they were under attack and it brings back that feeling of past, present and future in these glorious moments of connection and collective power. This is a gift, one that allows me to live my life as an offering to those who came before and the generations that come after us.
---
Katrina Pestaño/ KP is a cultural worker and community organizer living in occupied Duwamish territory/ seattle. also known as emcee rogue pinay, KP has been at it since 2007, performing and producing media that weaves counter-narratives of those often invisibilized yet in the front lines of change. KP mobilizes immigrant communities through anti-violence work at API Chaya and is part of the founding collective of Queer the Land. They believe that our bodies are sites of resistance– as workers, womxn, queers, indigenous people, artists, etc. and we must produce art, media and culture that not only reflect our daily struggles but also create the world we want to see.