There were three inevitabilities for the first season of Batwoman: 1) Mary was always going to crack the code on Kate's secret identity faster than a regular human adult could put together a ten-piece puzzle of a giraffe. 2) Sophie, lover of powerful women and forbidden romance, was always going to fall for Batwoman. 3) In a writers room full of that many gay women, Kate Kane was always going to wink and say she'd been waiting her whole life to slay a vampire. All of those glories happened this very week, against the backdrop of Kate's new gay club, The Hold Up, in an episode that let the tragedy of (Crisis) Beth's death breathe a little bit. "Drink Me" also proved, once again, that Batwoman's writers are more than capable of side-stepping the more troubling elements of the comic books by tweaking canonical heroes and villains and storylines just so to make them their non-problematic own.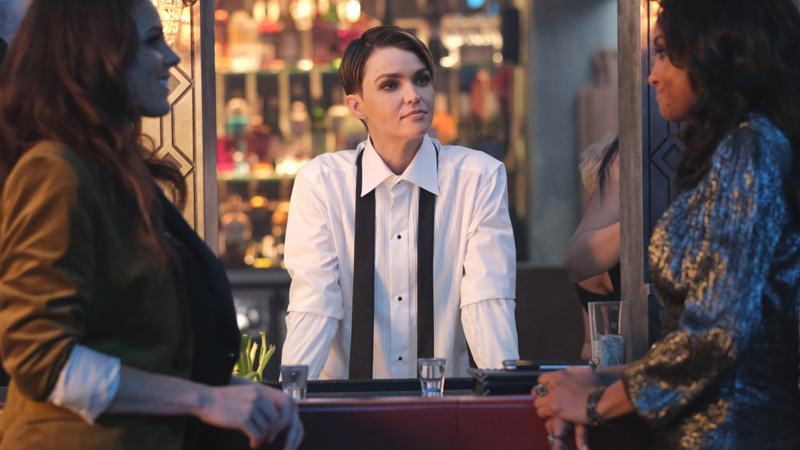 "Drink Me" introduces the villain most loathed by all queer women who've loved Batwoman over the years. The short story is that in 2013, Batwoman's creative team, JH Williams III and W. Haden Blackman, left the comic book due to DC's refusal to let Kate and Maggie Sawyer get married. Writer Marc Andreyko took over the book and introduced the character of Nocturna, who, like the Nocturna we met last night, is a vampire. Only the comic book Nocturna drugged Kate, made Kate think she was Maggie, had sex with her, and then proceeded to get into an abusive relationship with a constantly brainwashed Kate. (Shades of Jessica Jones and Killgrave.) The rightful backlash ultimately tanked the book, and Batwoman didn't get her own solo title again until 2017.
This Nocturna is draining people's blood to deal with some kind of rare medical condition. No mind-control powers. No assaulting Kate. I did a little whoop and holler and dance around my living room when she ended up in Arkham at the end of the episode!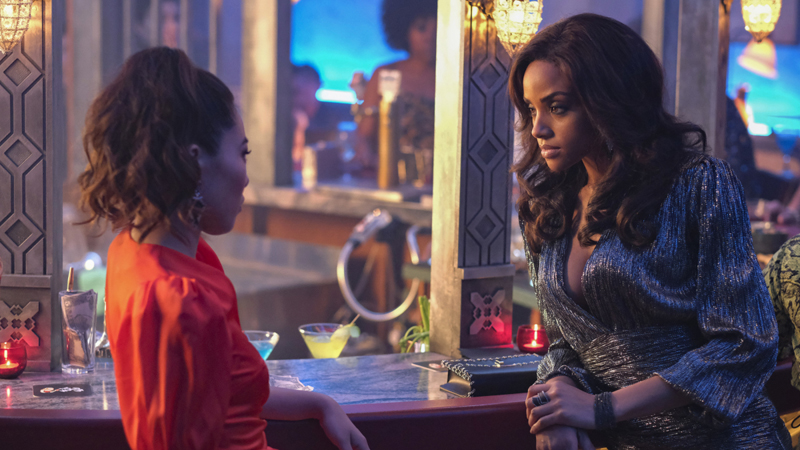 With that threat out of the way, let us discuss these inevitabilities! As always, we shall start with the hero of our hearts: Mary. She and Kate are working out their complicated relationship with each other despite Alice's constant homicidal interference. This week she uses her Instagram influencer prowess to help draw a crowd to Kate's club on opening night. She deftly weaves her way through being hit on by other women, wing-womans Sophie into not standing out like the undercover cop she actually is, and also manages to stay out of Sophie and Kate's constant and clumsy eternal-ex dance around each other. And yes, she also gets kidnapped by Nocturna and gets her blood sucked. And yes, she also almost dies. But that doesn't stop her from piecing together Kate's weirdness — she had ketamine in her blood like all of Nocturna's victims and Rachel Maddow says on the radio that Nocturna bit Batwoman; Luke's got an earpiece attached to her at all times for some reason; Kate is a famous lesbian and Batwoman is a famous lesbian — to finally understand that her sister is the Caped Crusader.
The "lesbian" part being the final clue Mary needed made me laugh so hard. Everyone in Gotham's got a physical copy of that Catco Magazine where Batwoman comes out on the cover lying around, including the Crows, who are, like, projecting it onto their wall when they need to talk shit about Batwoman. It's a hoot.
Sophie, however, is not laughing. Sophie is brooding. Once again, she has fallen for the person she absolutely was not supposed to fall for — and, in fact, was under direct orders from her superior officer not to fall for. But she cannot help herself. She keeps meeting up with Batwoman in dark alleys and abandoned warehouses and on top of roofs and sharing her deepest, darkest secrets and hopes and fears and dreams with her. Which probably seems strange to straight people, but which we, of course, understand to be a standard lesbian dating custom. Sophie somehow fails to realize that the surveillance/police state she's helped to build will, of course, be watching her every move, including the ones where she chit-chats with Batwoman, lets her go, and lies to other Crows to keep them away from her. Jacob's out of jail and when he figures out what Sophie's up to, he suspends her and tells her to sort out her priorities.
Sophie goes home alone and gives her attraction to Batwoman a good hard solo think. Just kidding. She absolutely turns on the Bat-signal, visible by the entire city, to summon Batwoman to her to tell her she can't see her anymore. Batwoman says she gets it, and probably they'll run into each other occasionally, chasing the same bad guys, and certainly some touching will be involved on account of they're always finding each other tied up, but that's it. Just some friendly bondage in the dark while their adrenaline is spiked, nbd. Sophie agrees. And she lets Batwoman leave. Just kidding again! She calls out to Batwoman, pulls her back, and then super duper smooches her right on the mouth.
I cannot wait for Mary to confront Kate, become her confidante (and hopefully eventually Flamebird), and start badgering her to tell Sophie the truth. Gotham City has actual vampires, but the lesbians remain the most dramatic thing about this city!