So about a month ago I came down with the biggest pain-in-the-ass cold, because my company moved into a new building and that building had rogue air conditioning. Since I've lived in Los Angeles for the last decade and resist wearing anything but Rainbow sandals and t-shirts well into November, I quickly grew ill and ended up huddled under several blankets for a whole day.
The fever agitated my anxiety over how unproductive I was being (this is what working in publishing does to your brain, children) and so, obviously, I decided to bake! But not something that made any kind of sense (chicken noodle soup? Bread for toast?)…no, it was gonna be chocolate chip cookies, and shit was gonna get real.
I've been tweaking my chocolate chip cookie recipe for years, thanks to a formative life in the woods of Northern Arizona making them weekly with my grandma (people who live in the woods do a lot of baking! Also sulking around the forest like Bigfoot, i.e. my preteen years). My recipe's made with brown butter and chopped walnuts and lots of salt and vanilla, which results in a pretty dang good cookie if you are into things like that.
BUT LO! I was out of vanilla, you guys. Since I had already constructed half the recipe and was already feeling close to passing out, walking to Trader Joe's was out of the question. But you know what kinda resembles vanilla in an irrational way when you are super sick and feverish? OH YES WHISKEY. So I added whiskey and holy crap they were so awesome! And then I fell asleep on the couch.
The next time I made them with whiskey and vanilla and they were just super; kind of nutty and caramel-y and dark like whiskey all at once. These are the cookies you've been missing, folks.
Since both whiskey and cookies are relevant to the interests of the people who frequent this world wide website, I thought I would share the revised recipe with you all.
WHISKEY BROWN BUTTER WALNUT CHOCOLATE CHIP COOKIES
Ingredients
2 sticks (1 cup) salted butter
1 1/4 cups packed light brown sugar, plus an extra dash to offset the whiskey
1/4 cup granulated sugar
2 large eggs
2 teaspoons vanilla
2 1/4 cups all purpose flour
1/2 cup toasted, chopped or ground walnuts
3.5 teaspoons baking powder
2 teaspoons of whiskey or bourbon
¼ teaspoon Salt (1 ½ teaspoons if you're using unsalted butter) + some extra for sprinkling
Semi-sweet chocolate chips to your taste (1/2 a small bag-ish)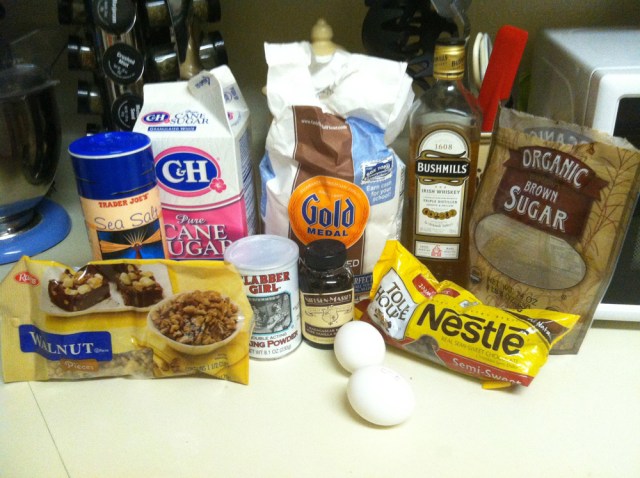 Directions
1. Heat your oven to 375 degrees.
2. Lay out a few handfuls of whole walnuts in a single layer on a pan. Throw them into the oven for about 5-7 minutes while you…
3. Heat a pan at medium high heat, and grab your whisk.
4. Throw the butter in there, and whisk it around while it melts. Once it's melted, add your whiskey or bourbon. Watch it so, so closely…it's going to foam up, and then it's going to start to brown. Get it off the heat when it starts to brown up, and keep whisking until it's a nice color. You'll see the swirls in your foam start to darken. DON'T BURN IT. OH GOD.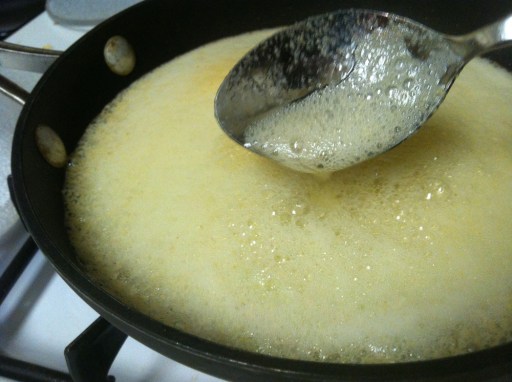 5. Put the butter into your "big bowl" and let it cool off a little bit.
6. Take your walnuts out, stir them around…once they've cooled down a bit, chop them up with the chopper your aunt gave you last Christmas, or with a knife, or in the food processor if you are fancy. Chop until they're itty-bitty.
7. Mix the sugar into the brown butter. Beat it all together until it's really glossy. It's a lot of fun, I promise. Make sure they're well-combined.
8. Add the vanilla and the eggs.
9. Whisk the dry ingredients in a separate bowl with the walnuts. If you used unsalted butter, here's where you add 1 1/2 teaspoon salt. I hate overly sweet cookies, so this is important.
10. Add the dry to the wet about a third at a time and stir to combine well (HEY-O!).
11. Gently fold in those chocolate chips. The amount of chocolate chips is up to you. I don't care for too many, but I understand if you do. This is Autostraddle, do you.
12. Spoon them onto a cookie sheet and sprinkle a little sea salt on top. I know it's weird! I promise, it's great, trust.
13. Cook for 9-12 minutes.
14. Congratulations! You can now seduce ALL THE LADIES.