In the fifth season premiere of Orange is the New Black, we return to the scene of the crime — the literal crime (murder) and the literal scene (Litchfield). But metaphorical crimes and other scenes, too. The crime of killing a black lesbian character on the scene of a television show. A Black character killed to make a point about injustice for a scene that remains largely imaginary: thousands of white viewers who'd never heard of Black Lives Matter or cared about it but were suddenly moved by Season Four Episode 12 of their favorite Netflix show to develop human compassion. The perhaps less serious and undoubtedly petty crime of (yet another! yet another!) show that we relied on going wholesale problematic and heart-breaking in a way that makes continuing to discuss it far less popular and way less fun than it was before. (For more on that particular situation, read my comment here.) Furthermore, Season Four was pretty fucked throughout, you know? It wasn't just that episode that hit the wrong note and highlighted OITNB's desperate need to get women of color into the writing room.
But we're gonna do it. Why? Well, a few things: we were one of only a few major publications to be openly critical of rather than heaping fawning praise upon OITNB's decision to kill Poussey. Even the cast, in interviews, expressed despair over losing the character but solidarity with its intended message. The show's already been renewed through Season 7, so boycotting coverage won't change anything (not like it would regardless, but). Finally; as one of a dwindling number of queer women's sites left, and a site built on television writing specifically, reporting on what happens on this show is how we do our jobs. Most television writers are not lesbians or queer women, which's why their television writing is often unconsciously (or not) homophobic and transphobic. Have you ever read mainstream coverage of a television show with a lesbian storyline or a trans character? THEY HAVE NO IDEA WHAT THEY'RE DOING. I cannot read one more straight white cis man explaining why Poussey's death doesn't fit into the "Bury Your Gays" phenomenon. Sophia Bursett remains the most visible trans woman of color in television history, so we're gonna stay here for that too.
We continued recapping Pretty Little Liars after the six-season manipulative homicidal villain was revealed to be a trans woman, who was then killed. We recapped Glee andThe Real L Word, which… well, you were there. We think it's important for Autostraddle to remain a part of this conversation, we think what happens on this show is important to our community and we want to report on it.
Lastly; I'm not willing to forgive Orange is the New Black for killing a black woman to teach white women a lesson, but I also feel conflicted about abandoning the incredible, racially diverse group of women who star in this show and love this job because of a choice made by white showrunner. But we will also say to this show: PLEASE HIRE WOMEN OF COLOR TO WRITE SEASON SIX.
Some interesting pieces I've read this week about Orange is the New Black:
I'll be recapping this first episode 'cause I haven't recapped anything for a while, so I've got some recap energy in reserve to gift upon you. Subsequent episodes will be reviewed, not recapped, because recaps take forever — Heather is doing the next two but the majority of Season Five episodes are being reviewed by writers of color.
---
Which brings me back to the scene of the crime — Daya, with a gun, pointed at Humphrey, surrounded by inmates possessing varying opinions about her next move. This 13-episode season will take place over 72 hours following the riot ignited by Caputo's choice to protect poor innocent water-tower-climbing baby-faced useless white guy Bayley from fallout over KILLING OUR FRIEND, so we're picking up right where we left off. Why Daya, of all characters, is the one with the gun, is a puzzling narrative choice, but well, so is… so much.
Piper and Alex are gonna lay low, stay out of trouble, and seek comfort in each other's problematic arms.
So we've got Humps on the ground, fearing the merciful end of his pathetic and insufferable tenure upon this earth, attempting to elicit sympathy from Daya in the typical cinematic fashion — telling her authentic tales from a his ridiculous life. Apparently, ocne upon a time, unforgiving classmates called him "Tommy the Toad-Boy." Also, he has two sisters who, let's be real, probably hate him.
"See, he doing that thing trying to make us see that he's a person and shit," Taystee observes. Meta! When Daya screams for Tommy the Toad-Boy to shut up about his fucking life, he simply changes course, continuing his story IN SPANISH. Daya doesn't know Spanish, Tommy the Toad-Boy! So she shoots him in the leg, just barely missing his genitals.
Just a reminder: Tommy the Toad-Boy was the guard who thrust Suzanne and Maureen into the ring of his own personal Fight Club last season.
---
Meanwhile, CO Blake and CO Stratman are chilling by the soda machine, probably talking about how underrated Crystal Clear Pepsi was and how RC Cola is pretty okay. Stratman was one of two geniuses who let Tommy the Toad Boy through the metal detector with a gun in his boot, so when they hear shots fired, he's pretty sure it's Tommy's gun and who knows, maybe he's "pulling a Columbine."
Thus we get rolling on this episode's truly basic and profoundly unfunny running joke, wherein everybody in the building who didn't witness Toad Boy's Last Stand thinks that he's an "active shooter," and thus references Columbine, Aurora, Charleston, etc., while discussing the present situation.
---
Some inmates wanna finish Toad Boy off and start kicking him, which was the first moment this season when I considered maybe not watching it after all! Black Cindy doesn't wanna get guard blood on her pants, Daya's got the gun and Gloria would like everybody to chill out for a minute and not murder somebody. In the shuffle, Maria dumps out Judy King's lil box of possessions and the inmates grab what they can and fill the emptiness with their name-tags while they also begin stripping off their prison scrubs, which is a great opportunity for fashion in a show that has not done a lot for fashion. Think about everything Shane did for fashion, and how little Stella did for fashion. Don't forget fashion.
Oh right, and Linda's still in the bathroom:
The lockdown alarm blares on and the women hit the floor — until Maria reminds them that they're in charge now, rules are off, and so is, apparently, CLOTHING!
This is as good a moment as any for Linda to exit the restroom: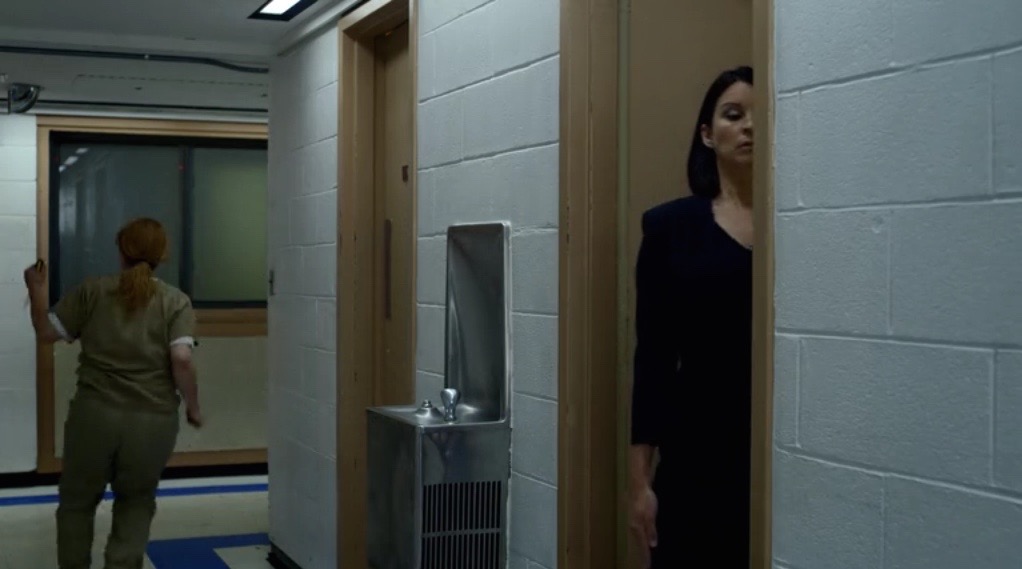 ---
The inmates break off into interest groups: Big Boo and Pennsatucky break into the commissary to enjoy an episode-long banquet of sweet and savory snacks and to dole out requested items to other inmates on a case-by-case basis.
---
Ange and Leanne, predictably, have headed straight for the drugstore, and can these characters just get transferred to a van down by the river already? I think they're here to make us laugh, 'cause they're stupid and have stupid ideas, LOL!, but Orange is at its best when it's a true dark comedy, in which both tragedy and humor move the story forward at equal pace, underscoring and enhancing each other. But here, now, it's different. The tragedy remains, shot through with chaos, frustration, anger, division, fear; but the comedy, at least so far — and Maritza/Flaca are relegated to playing this game too, this episode — is just jokes. Justttt… jokes for their own sake.
Nicky's also keen to break into the drug emporium, but Morello's a bit nervous about a drug addict taking charge of a room full of drugs. She suggests other hobbies now available in the Newer Better Litchfield such as "making a ham radio." But Nicky's thinking bigger. Like, BIG PHARMA bigger.
Nicky: This is a purely practical, tactical move. I mean the weak-wristed, short-statured, white-girl contingent that we represent, we need a stronghold. If I've learned anything from this grand corportocracy we call America, Big Pharma rules, right? SO does Little Pharma, Medium Pharama, and Pharma of all sizes. Let them eat Prozac!
---
Mr. Toad is taking a wild ride in a laundry bin to Sophia's salon of beauty and chill. Gloria's not gonna let Tommy the Toad Boy die, 'cause then Daya will go to max and never see her baby again. Gloria wants Sophia's help 'cause she's got EMT training from her years as a firefighter. Her first suggestion is a tampon to stop the bleeding. Zirconia reminds her that tampons are like raw gold around here, where has she been? "She don't use tampons, don't be insensitive," Pidge retorts, and she'll be receiving a fresh batch of ally cookies this evening! No cookies for Toad-Boy, though, who snaps back, "I need a surgeon, not a fucking fire-tr*nny!" Sophia informs him that he's welcome to die and go to hell while she reads her magazine.
---
Flaca is upset that Maritza went to the riot without her but it's okay, they're gonna recap it to each other instead.
---
Meanwhile, Cindy, Taystee, Allison and Watson are hitting up the main office of this beastly building, where Josh the PR Man is taunting Caputo about his eminent job loss. I cannot look at this man's moustache for three more seasons so please fire him.
"Are you insane?" Caputo asks Black Cindy when she orders Josh to the ground, threatening him with the chair of a table and the rusted nail atop it, and Taystee replies, as you do, "No, she's angry. We're all angry. You done my girl wrong, Mr. Caputo. And you're gonna fix it."
Caputo launches into, "Taystee, this is a very sensitive situation—" but before he can finish, Taystee punches him in the face. A victory for all of mankind. This is when I decided I would watch this show after all. Look at that!
---
Blanca's working to secure all the exists, while Gina's trying to enlist Luscheck's help to turn off the blasting alarm that's adding an extra layer of discomfort to this buffet of despair. The best way for Gina to do this, and really the best way for anyone to do anything, is to smear her face with period blood to look injured to inspire pity to get her way into the Room of ReWirement. GET IT?
---
Pages: 1 2See entire article on one page