UPDATE: Comment thread is now officially open to anybody who wants to discuss the finale. If you haven't seen it yet, stop scrolling after the 32nd comment.
Welcome to "I Just Now Saw," a new column in which I attempt to conduct conversations about television shows you watched ten years ago and I just now saw, in their entirety, for the first time. Today I will be discussing what was sold to me as one of the best shows ever of all time, Breaking Bad, which has its finale on AMC Sunday. I try to be a smart human when I write about television, but I don't think I connected with this show strongly enough to present any unique insights, so I come to you today as a fellow television viewer, not as a Professional Television Writer. I am merely a layman with eyeballs.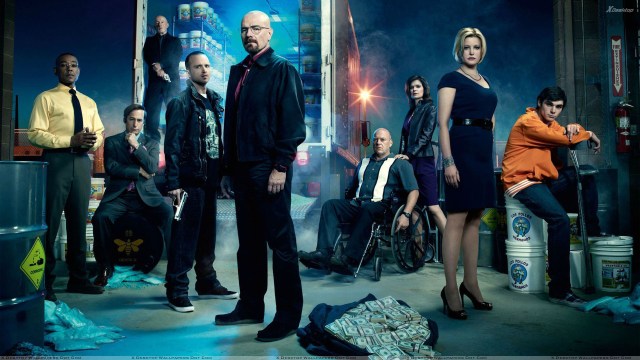 I gave Breaking Bad a shot for the first time maybe two years ago. I watched the first three or four episodes on Netflix but didn't get into it. It was painful to watch, almost. Walter White's volatile insecurity and nerve-wrackingly clumsy forays into high-level betrayal were more disquieting and uncomfortable than entertaining. These people — everything about the way they interact and treat each other is heartbreaking. But I gave Breaking Bad another shot this summer because it felt like Required Reading. I dove back in a few episodes deep into Season One, and got into it pretty quickly with peak engagement circa Seasons Two and Three, watching the whole series on Netflix up until the final episodes premiered a few weeks back. With the finale around the corner, it felt like NOW IS THE TIME to talk about this show if I'm ever gonna talk about this show.
Top 8 Feelings About Breaking Bad
WARNING: THIS ENTIRE POST IS A SPOILER
1. So This Show Is Amazing and Stuff But…
Although I'm aware the internet is jam-packed with intricate, compelling and elevated discourse around the show, I can't create any of that writing myself nor am I too interested in reading what others have to say (which is crazy 'cause I love reading about television). I've had a hard time coming up with the standard I Just Now Saw eight feelings about it!
Why is that? It's a gripping and complicated and well-told story, so I'm anxious for the finale. I watched it obsessively. I like it. The acting is outstanding. It's clearly superb television, in all the quantifiable ways and the objective ways, too. Every episode could be its own movie. It's gorgeous, visually.
Is it because I don't care about these people? I care about Jesse Pinkman, a lot, and caring for Jesse probably kept me engaged more often than any other reaction I had to the show. I care about Jesse because underneath the not-a-pussy posturing is a little boy desperate to be loved, and very few Breaking Bad characters on this show display that kind of vulnerability.
Still though, I'm hardened against all Breaking Bad's characters because I don't trust the show to keep the good people alive — or good. That's the idea though, right? Breaking bad. The only person who hasn't broken bad is Walt Junior/Flynn, and I think we know somehow that he will be safe no matter what happens, because the show has promised us that, in its own way. They've done that by making Walt Junior our guy on the inside, the pure innocent we can trust to evade corruption even when everybody else has bought in — and to call out pussies and bullshit where he sees it.
There was no romantic storyline, either, besides Jesse's brief relationships (but Jane was an enabler and Andrea never really got fleshed out), which may contribute to my ambivalence. But I was also impressed by how this show managed to keep us on the edge of our seats without a romantic storyline and without sex, either, usually. Of course, the marriage was at the center of everything, for better and for worse, but that particular relationship story wasn't about romance, really. It was about the heart but it wasn't about romance.
But maybe it's more obvious than whether or not the show's characters have resonated emotionally or a lack of romance: there's just not much I relate to in this story, and I'm one of those viewers who needs that to truly love a show. It's created its own fishbowl, independent of the wider world — politics, pop culture, all of it. So it doesn't connect to the larger universe I also live in, it just connects to itself, and "itself" doesn't have anything that reminds me of, well, me. The only feeling a Breaking Bad character felt that I related to was Walt's frustration when he felt his authority or obvious devotion wasn't being respected, or his frustration when he was forced to take orders from somebody else. But those frustrations are some of my most unflattering feelings ever and hardly ones I wanna relive in primetime. (Besides, ultimately, when I say Everything that I do, I do it to protect this family, I understand what the word "family" means, and believe in it. Walt doesn't, not anymore.) On top of that, the show is so masterfully constructed that there's little to critique for its own sake in a casual context. One either digs into this show and writes a thesis on it, or one perhaps has little to say.
Oh wait, there was one other feeling I totally related to:
http://youtu.be/Bz3OiERPdg0
ROLLING JOINTS IS HARD.
2. I Heard it On The Wire
When Jesse killed Gale, it was like when Bodie killed Wallace in The Wire, except not as sad because Breaking Bad never lets you love anybody as much as you loved Wallace. (Then you go see Fruitvale and let that actor break your heart all over again.) That was the moment when I had to take a step back and try not to care too much about anybody anymore. It was hard to stay emotionless while watching The Wire, though, because you got to see people be soft sometimes, too, and vulnerable, but there wasn't as much softness in Breaking Bad. Just Jesse.
The other Wire parallel was, obviously, the criminal lawyers. On that tip, I'll take Saul Goodman over Maury Levy any day, and I really hope that spin-off happens. Saul was the much-needed comic relief, and a surprisingly consistent and compassionate guy too.
3. It's Raining Men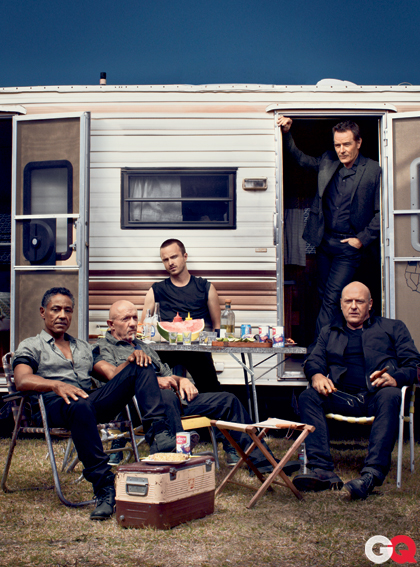 I feel like this'll be a theme for the next two shows I'm gonna talk about, too. Two major female characters in the whole show. Just two women! SO MANY MEN AND JUST TWO WOMEN. Mostly white men, too, at the forefront — aside from Hank's partner, all the major men of color on the show are hardened criminals. Here's the thing about diversity: it's actually more interesting than a lack thereof. It's basically the easiest way to make a situation interesting, is to make it more diverse. But that just isn't this show, is it? For starters, it already is interesting so it probably doesn't need my advice in that area. But moreso than that: the point of the show is men. Meth & Men. And the women who end up dead or alone or in trouble because of these men.
I don't think of relating to a character being a definitively gendered experience, but in this case, I think gender is crucial in my failure to relate and The Majority's overwhelming ability to relate: so much of the focus is Walter White proving to the world that he is a man. Online fandom seems wrapped up in celebrating the triumph of a middle-aged nerdy empathetic white guy transforming into a badass heartless borderline-sociopathic criminal, but I can't imagine a worse fate for a man whose initial "flaws" are characteristics more commonly associated with femaleness than becoming a grizzled megalomanic.
Which brings me to…
4. I Fucking Hate Walter White
When he said Jesse, it had to be done, there was no other way, about killing the eight guys in jail, I wanted to scream at the television: "YEAH THERE WAS. TAKE YOUR OWN FALL FOR YOUR OWN FUCKING SELF, ASSHAT."
But I always have a tough time with television characters who keep doing mean, stupid or unnecessarily difficult or wasteful things in the service of pride or ego, and that was Walter's M.O. throughout. I stopped liking him when he insisted on paying for his own cancer treatment by making meth when his friend was offering to cover the whole thing  — a friend who, mind you, was only rich because of an idea Walter had. Still, I wanted to like him, wanted to root for him, and sometimes did. I thought his scientific solutions were badass and I loved his genius plots to get out of everything, ever. Like everybody, I got goosebumps over I'm not in danger, I am the danger. There were moments when Walt was trying to be good just enough for me to root for him. But also: Walt missed the birth of his child. Then Combo got killed and Walt said, "which one was he?" Then Walt watched Jane die. Then he poisoned Brock. And so on. And so on.
But apparently Heisenberg is like this cult hero that men on the internet love, which is pretty neat.
5. You Look Like Somebody That I Used To Know
You guys! Landry. Why they always gotta make that boy kill people.
Oh hey Cat, Lt. Sam Murray wouldn't be very impressed with your new line of work. Frankie, on the other hand…
Don't trust the B— in apartment 325 either, eh? Also, this girl was in Veronica Mars. Suddenly she's just all up in everything.  I never even saw Don't Trust the B– in Apartment 23, but it was advertised so aggressively that I felt like I did.
Hey Susan! How's Ben doing these days, have you spoken to Ross lately, what's the deal.
6. I Don't Understand Why People Think Skyler Is a Hypocritical Harpy
According to the internet, Skyler's a pretty unpopular lady. Anna Gunn, the actress who plays Skyler, wrote an op-ed for The New York Times about the hate she gets:
A typical online post complained that Skyler was a "shrieking, hypocritical harpy" and didn't "deserve the great life she has."
"I have never hated a TV-show character as much as I hate her," one poster wrote. The consensus among the haters was clear: Skyler was a ball-and-chain, a drag, a shrew, an "annoying bitch wife."
When Walt first revealed the riches he'd amassed, I remember wishing she'd just take the money and deal with it in exchange for his actual honesty, which maybe would've been easier to procure if she'd not asked for a divorce, among other things. But Walt started it by not taking the opportunity she gave him in early Season Two to come clean. Regardless, Walt is an asshole to her most of the time, and treats her like she's stupid, which she isn't, but also he kinda treats everybody like they're stupid. I liked that Skyler didn't bend over for Walt, that she insisted on having a say in how the money was laundered and how information was distributed, and I hated Walt for pushing back.
But also: who can judge her for anything she did, ever, throughout this entire show? (Well, besides saying they should kill Jesse, which I obviously hated.) One of the scariest things you learn as you get older is that sometimes situations present themselves to you that have no solution and no right answer. It's not like the math you learned or the books you analyzed in high school, where if you think hard enough, the correct path will reveal itself to you. Sometimes life is just rocks and hard places, over and over and over again, until everything blows up in your face and you have to learn how to make your hard place as comfortable as possible, because you're not getting off any time soon.
7. My Ten Favorite "Breaking Bad" Moments
1. Jesse having the most awkward dinner ever with Walt and Skyler.
2. Walt's speech at the high school assembly. He may be Heisenberg somewhere out there in the desert, but high school gymnasiums are a new kind of brutal: Walt's got agenda-driven, well-meaning but ultimately not-that-tuned-in adults behind him, and in front of him are bleachers jam-packed with teenagers, a.k.a., world's most judgmental human beings. Walt's fundamental inability to connect with human beings emotionally is vivid, here, is bright and vivid and sad as hell.
3. Saul's A-Team pays Ted Benecke a visit to make him sign the check to the IRS. COMEDY!
4. The full video of Gale doing karaoke.
5. Gus taking out the entire cartel with that poison. This reminded me of how every time Buffy would face off a bunch of vampires at once I'd freak out because there's just one Buffy and SO MANY VAMPIRES, but she would always win, you know? Except that Buffy is amazing and Gus is a psychopath, but whatever. BREAKING BAD!
6. Gus Fring walks out of the room in the nursing home and adjusts his tie with half his face blown off. That's some movie magic right there.
7. "I am the one who knocks" / "I am not in danger, I am the danger." Duh.
8. Pretty much every Saul Goodman scene.
9. The Star Trek script.
10. Walt Hugs Jesse.
8. My Fantasy Ending
I'm a sucker for a happy ending, but I know we're not gonna get one here. I mean, does anybody else just want Walt to take Jesse in as his surrogate son for real and for everybody to become good people again and maybe Jesse and Walt Jr. and Skyler go on a shopping spree at the mall and then buy an island and live in a tree fort? Just me? Pancakes for everybody!
---
Alright people, your turn: how do you feel about Breaking Bad? What do you think is gonna happen in the finale? Isn't it annoying that every show on television doesn't have a lesbian in it?