Sexting is fun! Here's how to get better at it.

Get consent.
Like having a conversation about safer sex, it's important to have a conversation about safer sexting. Are your phones password protected? Who has access to them? Do you want to save nudes, or delete them immediately? What about screenshots? What about message history?
Then, in any given convo, check that it's okay to sext before you dive in, especially when it comes to sending nudes. If you don't have an established repertoire, straight up type something like, "Can I sext you a little?,wp_posts"Can I tell you what I want to do when we see each other later?wp_postsor "Want to see what I'm wearing under my dress?wp_postsWith a more established sexting partner, you can be a little less explicit but still need consent. Start out with something PG13 like, "I can't stop thinking about this morning" or "I'm squirmy thinking of you" — if she responds with a similar or greater level of sext ("you tasted so good," "I'm thinking about you with a vibrator on my clit"), you can go from there, where if she doesn't ("I had a nice time too smily face emoji") you know to back off. It's always a good idea to ask explicitly before sending nudes, video, or audio.
While you're at it, consider making sure your phone has a passcode, turning off your text previews, and sexting via something like Signal, a text messaging app that uses end-to-end encryption and doesn't collect much information on users.

Use the language that your sexting partner finds sexiest.
Words carry weight. When you're talking about someone else's body, the right words can feel sexy and affirming; the wrong ones can feel uncomfortable and gender dysphoric. Sometimes a strap-on is a strap-on and sometimes it's a dick or a cock or a dildo or a unicorn wand and it just depends on the person wearing it, you know? Sometimes it's a clit and sometimes it's a bio-cock or a strapless. Sometimes breasts are boobs or tits or a chest. Everyone prefers certain language for their body parts. If you know your sexting partner uses certain words and not others, make sure to respect that. And if you aren't sure, ask. (It's always better to just ask.)
Adjust your autocorrect.
Autocorrect changes a lot of sex-related words, especially queer-sex-related words, to something else. If you don't want to tell your girlfriend that you're so ducking wet, go into your phone's text replacement or autocorrect settings and add whatever sex words you normally use.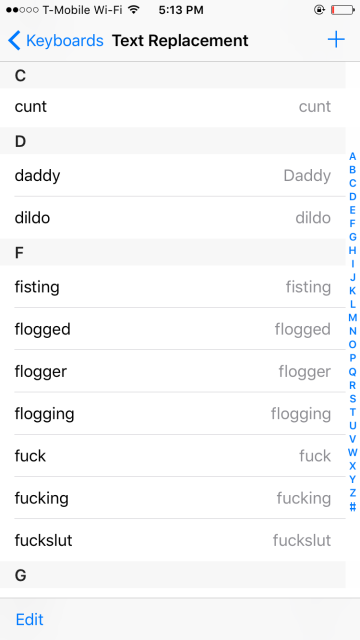 Pay attention to details about your sexting partner, and use them.
Does she smell a certain way when she wakes up in the morning? Do their eyes get hard when they're turned on? Does she like when you start with two fingers instead of one? What look does she wear right before she fists you? Are they extra sensitive on the left side of their clit? Notice specific details about your sexting partner, remember them, and use them when you sext. Everyone wants to feel seen, and feeling seen and noticed by a sexual partner can feel really affirming, not to mention hot. Plus, you'll have more material to sext with.

It's okay to feel awkward.
Everyone feels awkward sexting sometimes! It can be uncomfortable and vulnerable to talk about what you want, especially when it relates to sex, and especially when there's a written record right there and your vibrator's down your pants and you just wish you'd read more erotic fanfic or watched more porn or knew what to do with your arms even though no one can see what you're doing with your arms and shhhhh it's okay I promise, we're all here together. One of the fun parts of sexting is one of the hard parts: you can't see the other person, so you can imagine anything. Maybe she really is tied up like that and improbably sexting you with her two available fingers, or maybe she's bored as hell and all your deepest sexting fears have come to pass (they haven't). Sexting is a little bit intuition, a little bit creativity, and a little bit throwing fantasies out there and seeing what sticks. Trust yourself to find the rhythm.

Ask questions.
Questions, whether in general or about an element of the scene, can be a great way to keep the conversation going, to hear more, and to get a sense of what your sexting partner likes or doesn't like. What's her safe word? What names do they like being called during sex? Would she like three fingers, or four? (If it feels weird to ask a question that's more investigative than sexvestigative, try putting it in parentheses to protect the flow of the conversation.) If you're totally stuck, asking "tell me morewp_postscan get your sexting partner to elaborate while you think about what to say next.
But don't only ask questions.
Sexting is a two-or-more person conversation. It's not enough to ask questions like "tell me morewp_postsor "what would you do nextwp_postsor "?wp_posts— you have to give your sexting partner something to work with, too. If you find yourself getting stuck and only asking questions, try bringing up a new detail, describing your imagined or real reaction to whatever you're sexting about, or taking the lead on the next part of the scene.
If you're really stuck, try thinking about the different scenarios you can sext about: You can sext about things you've done with your sexting partner in the past. You can sext about things you plan to do in the future. You can sext through things you're not sure whether or not you'd ever want to try in real life but that seem really hot to you in that moment. You can sext to tease. You can sext about what you, alone, are doing right now.

Go beyond words.
Words are fun, but you're not sexting by carrier pigeon, so play with lots of different mediums. You can get shockingly far with strategically, minimally deployed emoji. (? and ? and ✂ and ?, sure, but also try something like ??✌✋✊????✨.) Videos and snaps and gifs are obvious. Audio such as voice memos can add depth without the pressure of phone sex. If you're not sure what to say, try recording what it sounds like when you masturbate or come instead.

Stay present.
There's a lot to be said for slowly and deliberately unfolding some well-crafted sexts over the course of hours or even days. There's also a lot to be said for replying to messages in a timely manner, especially if those messages contain nudes. Whether sexting is a furtive text here and there throughout the day or an hours-long conversation that'll leave you numb from the waist down, respond to the conversation you're having. If it's over time, scroll up if you need to remember what part you were at. You don't have to stay present the way you would during physical sex, but pay attention. And if someone sends you a nude, the appropriate reaction is at least a few very positive words and a curated collection of ecstatic emoji, asap.

Remember that sometimes sexting is the means, and sometimes it's the end.
Sometimes sexting is because you want to have sex with someone and can't because you have to be at work or at different dinner parties or in different cities instead. Sometimes it's a prelude to sex, or way to talk about sex you actually want to have, or a way to explore fantasies, or a way to get off to things you'd never ever want to do together. Sometimes it's somewhere to put intense sexual tension that you just acknowledged and don't know what to do with. Sometimes it has to do with relationship anxiety. Sometimes it's a way of maintaining connection and sometimes it's a way of finding it and sometimes it's an interesting half-hour with a stranger while you're waiting for a plane. Sometimes it's a way to learn to speak about your desires and sometimes it's practice once you already know how. Mostly, though, sexting is fun. ?
---
Lesbian Sex 101 is Autostraddle's series on how to have lesbian sex for queer women and anyone who finds this information applicable to their bodies or sexual activities.
Sex ed almost never includes queer women or our experiences, so we're exploring pleasure, safety, relationships and more to make that information more accessible. A lot of the language in these posts is intended to make them easy to find on search engines.
Some of the body parts we talk about will be yours or your partners' and some won't. Some of the pronouns will be yours or your partners' and some won't. Some of the sexualities will be yours or your partners' and some won't. Some of the language will be yours or your partners' and some won't. Take what you want and what applies to you or what you can make apply to you and your partners and your experiences, and leave the rest!