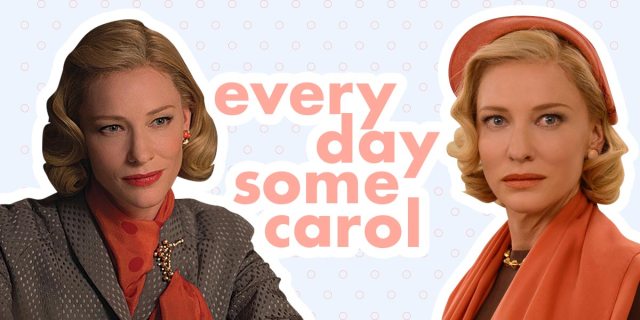 I tell you what, hinging my personal brand on The 2015 Oscar Nominated Film Carol™ for two years and solidifying it with this series has been a trip. I've learned so many things – not just about the movie and its peripheries, but about life. Myself. Other people. About connection.
I wanted to make sure I shared all of it with you before 30 Days of Carol ends and I retreat into the ocean.
---
Rooney Mara was invested in the accuracy of the theatrical poster.
According to an anonymous source, Rooney Mara was concerned about the inclusion of Therese's pearl earrings on the official Carol poster because they aren't featured until Carol and Therese meet at The Ritz at the end of the movie, and the picture of Carol is from their second date. Her concerns were apparently overlooked!!!!
---
The character of Carol seems to be based on a combination of three people, and the hotel room recording was real.
Patricia Highsmith is said to have based Carol on Virginia Kent Catherwood, whom Highsmith met in 1944 in New York and who apparently lost custody of her child after "a recording made in a hotel room and exposing a lesbian affair was played in court"; Kathleen Senn, whom Highsmith met while working in retail at Bloomingdale's; and a psychoanalyst named Kathryn Cohen, who was "beautiful, intelligent, melancholy, monied, and married."
---
Therese brushing her teeth in the kitchen sink in on purpose.
From Carol production designer Judy Becker: "In Therese's kitchen — I modeled it in my mind after some pre-war tenant flats that all had the bathtub in the kitchen. In Therese's apartment, I put the bathtub in the kitchen with the lid, and that's where she develops her photography."
---
Carol was shot in 34 days.
Sixteen hour shoots at a time.
---
The script had been floating around for 15 years before being made.
Phyllis Nagy wrote the Carol screenplay in 1997 a year after Patricia Highsmith's death in 1996.
---
Cate Blanchett had a hand in finally getting the film made.
Cate was introduced to Highsmith's work through her role in The Talented Mr. Ripley and followed the Carol script until eventually involving her production company, Dirty Films Ltd.
---
Mia Wasikowska was on track to play Therese after Rooney Mara turned the initial offer down.
A "What If" for the ages.
---
Cate sought to ruin everyone's lives on the Carol press tour. (JK)
When asked by reporters if this was her first crack at a lesbian she responded with: "On film — or in real life?"
---
Rindy is played by twins.
The Mary Kate and Ashley of our time.
---
A 1950'S TREATMENT OF THE BOOK THAT WAS ADAPTED FOR THE SCREEN AND FOR THE TIMES CHANGED CAROL TO "CARL".
This fact has changed me as a person.
---
Carol's car was a loaner.
The 1949 Packard Super 8 Deluxe was loaned to production by a man who had named the car "Ethel".
---
This video of actresses being charmed by Cate Blanchett set to Britney Spears's "Womanizer" exists.
I love this more than most things in life.
---
The premise behind the horror trailer cut of Carol was a running joke on set.
After posting this trailer on Twitter, someone who worked as a stand-in on Carol informed me that this is what the cast and crew joked the movie was really about.
---
Carolheads are amazing (and extremely gay).
From Autostraddle commenter @Ally: "The night after my girlfriend of four years and I broke up, we decided the only way to process our feelings was to rewatch Carol together. It's truly a film for all occasions."
---
Carol is officially a conversation-stater among queer people in the UK.
From Autostraddle commenter  @Remainflexible: "30 days of Carol is a solid conversation-starting topic in pubs up and down the UK, even in the preppiest pubs in London, as I can testify after Saturday night. Good work. Think of the potential relationships this can be starting."
---
Carol can improve your life in practical ways.
I've gotten date offers out of it. I've made friends. I've found out my ride or dies. I've learned who's gay in a room just by wearing this shirt. I've worried co-workers. I've hitched a wagon to the moon.