FREJA BEHA ERICHSON
August 2010 is a big month for (lesbian) model Freja Beha Erichsen. Actually, 2010 in general has been a big year for Freja Beha Erichsen. Actually, Freja Beha Erichsen's life has been a big deal to us forever. I mean look at her:
This month, she's on the cover of W Korea:
And on the cover of Vogue Paris: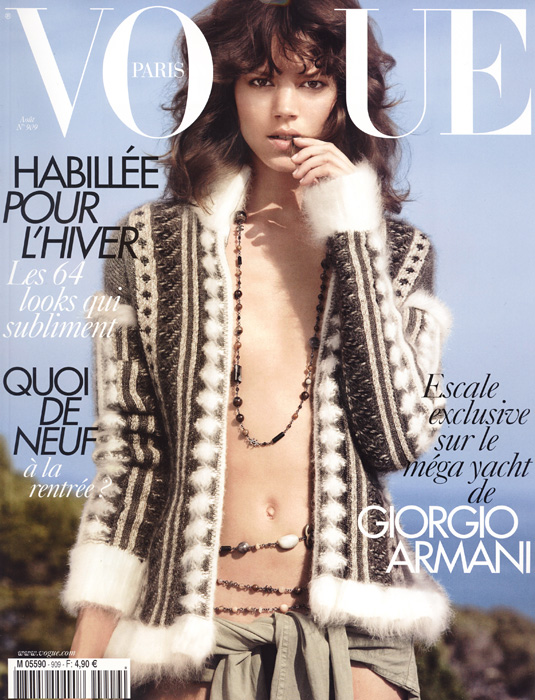 And in an editorial for Interview Magazine with Dan Kling, which is the gayest straightest editorial of all time: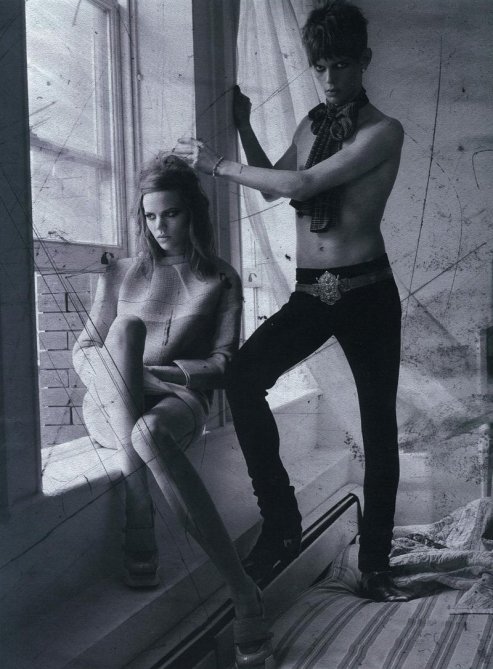 But most importantly, she's on the cover of British Vogue:
Jenna Sauers at Jezebel points out that despite last month's engaging profile of Lara Stone, there's something lacking in Freja's editorial and she suggests that British Vogue is afraid of the word "lesbian."
Yes, British Vogue somehow managed to write like 1,200 words on Freja Beha without mentioning her sexual orientation! That's weird, because we can't write 20 words about her without mentioning her sexual orientation, but then again, we don't have to run any of this by her publicist. Also though Queen Latifah just wrote an entire book, so.
But is British Vogue really afraid of the word lesbian? Or is it Freja, or her publicists? Do we hold models to the same standards we hold actors or politicians? Freja isn't a vocal public figure or celebrity, she doesn't host a reality show, and she doesn't seem to have ever spoken much about anything, let alone her sexuality.
Jenna Sauers' primary complaint about Freja Beha Ericson's editorial was that it was super boring. She sounds right. We just get VOGUE for the pictures anyhow:
It's an article that could be submitted to win Ladymag Editorial Cliché Bingo: the endless discussion of the subject's looks and her style, the series of fashion brand names that resounds like a bass line through the piece, the one-line quotes from industry sources, the report from the front lines of the photo shoot. The photographer and Vogue's own fashion director are interviewed, and discuss Erichsen's "innate sense of style." Erichsen calls Lagerfeld "inspiring." She intends to take a road trip this summer — with friends.
She continues:
What Vogue can't or won't say, but what is totally obvious to anyone actually interested in this woman and her life, is that Freja Beha Erichsen is an extremely successful model and she dates women. She is a PJ Harvey-listening, tattoo-having, tomboy-dressing, public-photographs-with-her-girlfriends-allowing, Danish supermodel lesbian. Lesbian. Lesbian. Why is that word so hard to say, Vogue? If you Google her, one of the first things that comes up is a big picture of her kissing a chick, for God's sake.
Well, a lot of women kiss women, so. However, this section from British Vogue (not included in the Jezebel piece) seems more apt for lesbian-exclusion speculation:
"She has laid roots in Denmark, where she recently bought a home in which her best friend lives. Freja hopes to return there, and maybe one day raise a family, but she is a long way from settling down."
Interesting. The Jezebel article points out:
… in a 2007 interview for V magazine with makeup artist James Kaliardos — who is also gay — Freja and Kaliardos both started laughing when he referred to her as "straight."
"I'm very straight…forward," she joked.
The segment has unfortunately vanished from V's website, probably because it's so old, but the point is Erichsen isn't living in the closet.
Here's the thing: Freja has not yet "officially" come out.
We're gay. We're a gay website. We read about gay people all day and therefore know, KNOW like you KNOW that you're gay, that "not living in the closet" does not a lesbian make. You can't just slip it in there! If Vogue had dropped the L-Bomb, it'd be all anyone was talking about, and Freja would lose her chance to come out spectacularly on the cover of People Magazine in 2015.
Jenna's argument is totally logical/sensical for anyone less-attuned to the GLBT media machine than the GLBT media, we're not faulting her for writing something that makes sense. But the Coming Out Process For Celebrities isn't sensical. We're not quite there yet, though Jillian Michaels quite impressively broke rank this year when she innocuously dropped her sexuality into a Ladies Home Journal article about losing weight or whatnot.
Especially since, if you really are "anyone actually interested in this woman or her life," you would realize that Freja's maybe not quite as open about her sexual orientation as Vogue seems to think – ask any seventeen-year-old Tumblr-obsessed lesbian, and she'll tell you that Freja, like Kate Moennig, has taken care to never have any sexual orientation stated publicly anywhere. Sometimes all it takes is a shorter-than-your-shoulders haircut for a straight publication to assume that you're a straight-up out-n-proud lez, and sometimes that's not really how it works, yannow?
In conclusion:  IS JENNA STRETCHING IT? SHOULD FREJA COME OUT? SHOULD ANYBODY CARE? DOES VOGUE? DO YOU? DO I? HOW DO LESBIANS HAVE SEX?
WESTBORO/COMIC CON:
I don't know why this has never occurred to us before, but SDCC members are probably actually the perfect antithesis to the Westboro Baptist Church, and this post of the protest signs created by the real-life superhero nerds of the San Diego Comic Con prove it. KILL ALL HUMANS is actually Autostraddle's motto, just a fun fact!
A collection of Jedi Knights, anime girls, and others were lined up on the street when the Westboro protesters arrived. They held signs reading "God Hates Jedi," "Kill All Humans," "Fags are Sexy Beasts" and "God Hates Kittens." They even had a rallying cry, which went: "What do we want? Gay Sex? When do we want it? Now!" The Westboro people stood across the street with their own signs. Besides the aforementioned Obama poster, they also held slogans like "Inconvenient Truth: God Hates Divorce" and "God Hates You" (guess these fire-and-brimstone types missed the "loving God" day of Sunday school, huh?).
The coverage of the WBC's kind of bizarre protest of ComicCon makes us question their strategy even more seriously than before, and also appreciate the geeks and nerds of the world even more than we did previously, which is saying a lot, because I mean have you ever met Taylor? (@i09) (@jezebel)
DARIA:
Do you remember first watching Daria and thinking that this was the beginning of the future? The beginning of a time when girls could be smart and sassy and wear huge boots with no repercussions? As you may have noticed, that didn't happen, and Marisa Meltzer has a lot of questions about this.
"So where did all the Darias go? Eight years after the show went off the air, the super-smart, dry, withering, righteously angry girls are largely absent from pop culture. For every sassy adolescent as played by Juno's Ellen Page, our current teen cultural landscape is clogged with heroines whose principal interests, as on Gossip Girl, are status and men. It's a transition that happened gradually from the late nineties to the present: There was the dry-humored Buffy the Vampire Slayer, the earnest clique on Dawson's Creek, Mean Girls, the teen magazines that brazenly suggested $400 APC wedges for fifteen year-olds, the endless YA series that read like junior versions of Danielle Steel novels."
(@theparisreview)
TRANSGENDER HOUSING:
The US Department of Housing and Urban Development has now declared that under the Fair Housing Act, transgender people should be protected under the existing rules against gender discrimination. "While sexual orientation and gender identity are not specifically named in the Fair Housing Act, HUD explained that transgender people are often covered by the ban on gender discrimination, and that discrimination against lesbian, gay and bisexual people might be covered by other aspects of the law." (@goqnotes)
TRANS DAD:
Thomas Beattie is ready for his third child with his wife! Congratulations, Thomas! (@queerty)
IRELAND:
A new initiative in Ireland has begun to recognize the fact that all communities, including rural ones, include GLBTQ people. "The initiative aims to function by uniting and strengthening LGBT organizations throughout the country to better address the needs of each region. The group was developed out of collaboration between 11 Irish LGBT organizations and will receive funding from the Atlantic Philanthropies, a grant group that gives billions of dollars to various aid programs each year." (@theadvocate)