COMING OUT: Biggest Loser coach & personal trainer Jillian Michaels told Ladies Home Journal she would be glad to be in a healthy relationship with anyone, male or female. SheWired asks: "Really, did she really just sort of admit to her lesbian tendencies in Ladies Home Journal of all places?"
Just Jared has this transcription from the upcoming cover story:
On love: "Let's just say I believe in healthy love. If I fall in love with a woman, that's awesome. If I fall in love with a man, that's awesome. As long as you fall in love…it's like organic food. I only eat healthy food, and I only want healthy love!"
Firstly, are we the only ones who for some reason has thought this entire time that Jillian Michaels was already an out lesbian? Or are we just getting her confused with Jackie Warner and Lacey Stone and the woman with the cute hair who was on the Sweet cruise Brianna Stockton? Let us google this for ourselves.
Okay! Back! This is why: because there was a lot of gossip about her r'ship (ex-relationship or friendship)? with Vanessa Marcil on the interwebs! Like when Page Six said that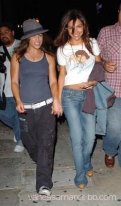 Jillian Michaels and Vanessa Marcil were canoodling:
Meanwhile, NBC's "Biggest Loser" trainer Jillian Michaels was seen canoodling on the dance floor with actress Vanessa Marcil.
Jillian said on her facebook: "My baby is FINALLY home. So funny. I never used to care about being away from people I dated. I loved having the space. Now, I seem to count the seconds. Am i getting old and soft?"
UPDATE: Commenter "KK" has informed us that Jillian is NOT dating Vanessa Marcil, but rather she is allegedly dating Heidi Rhoades, who works at Nettwerk Music Group, they used to work with Uh Huh Her. This is Heidi, Kathy Griffin, and Jillian:
So maybe she didn't come out in Ladies Home Journal so much as Ladies Home Journal was the only magazine left on earth that still needed that whole thing broken down for them?
Well, bravo Jillian. On um, being hot, having a cute girlfriend if she is your girlfriend, and being a successful strong woman reinforcing positive healthy habits for the women of the world! And being Hot! Did I mention that already? I hope she's gay and they do a sexy photoshoot for us with
Robin.
Also, it feels weird to be like looking at someone's FACEBOOK. How much longer can we go on this way. (@shewired)
UPDATE 1-9-2010 – WE HAVE THE LADIES HOME JOURNAL SCANS FOR YOU:
DRUGS: Casey Johnson's death is just the latest in a string of celebrity deaths linked to drug use. Lindsay Lohan spoke to RadarOnline about how prescription drug use is ruining lives.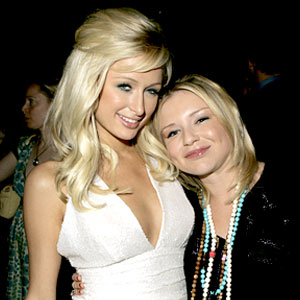 "When are people going to realize that these drugs cause you to do things you normally wouldn't and will ultimately destroy your lives!?
Knock me all you want, I am trying, not lying! It's time to take a stand folks. Now! God bless Casey and her family."
(@nydailynews)
There's plenty of Casey news out there today, we've updated some of it in our post about the passing of the 30-year-old heiress. Here, MTV looks at Casey's family tree.
+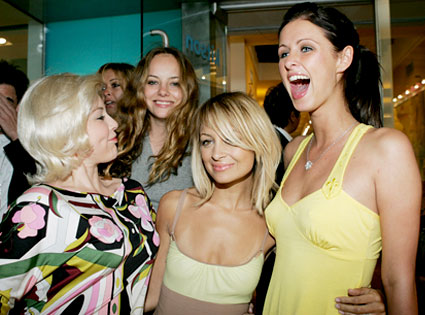 TRANS: Korean Actress Lee Na-young, "a symbol of cheery Audrey Hepburn-esque grace and femininity," will be playing a transgender character in the upcoming comedy "Lady Daddy," "complete with a necktie and a mustache." There's a lot of quotation mark abuse in this article:
Photo caption: "In the upcoming movie "Lady Daddy" actress Lee Na-young, left, stars as a transgendered woman who must "revert" to being a man when a boy claiming to be her son comes knocking at her door."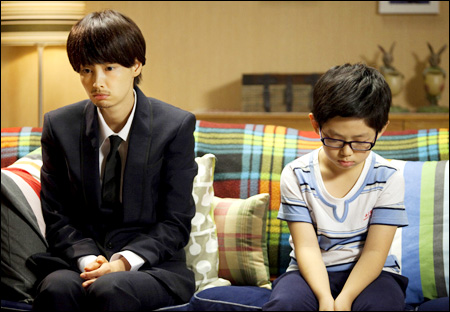 Na-young says she always wanted to play a male character ever since she saw Cate Blanchett play Bob Dylan in "I'm Not There." She says "that she never questioned her gender identity but was felt comfortable with the shoot because she prefers sporting a boyish style."
"Lee Na-young was still pretty and goddess-like even when she cross-dressed as a man," complimented her co-star Kim. "I think I would be able to fall in love with a cross-dresser if she is like Lee Na-young."
SATURDAYS: Do you know who The Saturdays are? I didn't. Turns out they're a band from Britain, but for now, all you need to know is they posed for FHM's February issue. And oh my stars: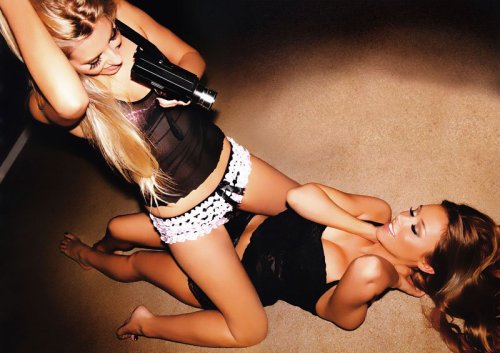 The best part is that they tell you how to date each girl! Obvs that's for guys. But a girl can pretend: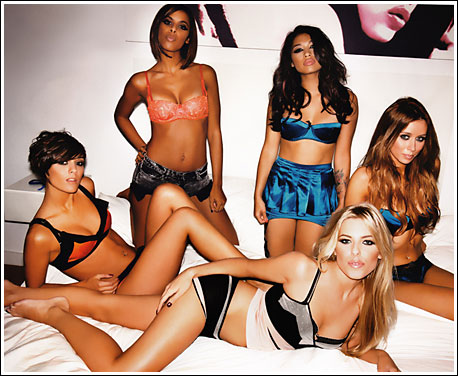 GAGA: "If you're a dancer, or know anything about dancing, you know a little about Laurieann Gibson. She just confirmed via TWITTER that she is going to be doing the choreography for 'Telephone'. Laurie Ann also choreographed the music video for Lady Gaga's 'Bad Romance'." (@ontd)
HEROINES: Hayden has no complaints about her lesbian scenes –  "I absolutely enjoyed playing that kind of complicated relationship. Oh, yeah. I kissed a girl and I liked it.'" E reports that "Hayden admits the new element in Claire's story has made the series more exciting for her – in fact she can't wait to get her script each week to find out what she'll be up to next in the superheroes drama." (@daily record)
ELLEN: The Ellen Show is back on air after a two-week hiatus. Here's an inside look at her new CoverGirl commercial and other funny funny stuff:
SHERLOCK: The woman in charge of Arthur Conan Doyle's estate has made it clear that Sherlock Holmes won't go gay. After Robert Downey, Jr., made a "latent homosexuality" joke on late night tv, the lady flipped out. She announced she would never approve of a gay Holmes because it would go against the books. (Holmes & Watson are one of the most ambiguously gay couples in fiction, but whatever.) I think all that did was prove which side of the homophobia fence she's on. (@cinemablend)
ROSIE: On her radio show on Monday, Rosie O'Donnell went into a little more detail about her new girlfriend: "The former talk-show host admitted that because she never really dated anyone once she got famous (she began her relationship with her former partner Kelli Carpenter in 1997) that she wasn't prepared for the kind of attention that comes from a new celebrity coupling.
"I felt like Madonna for a moment. Truthfully I'm not really that kind of famous where people follow me,wp_postsO'Donnell said. (@cnn)