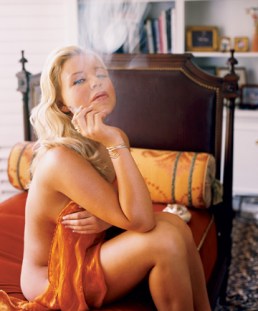 Remember that time a few weeks ago when we all decided it would be interesting to stop talking about Tila Tequila and actually talk to Tila Tequila and then we called her and then Intrepid Writer Lola interviewed Tila Tequila for Autostraddle and talked to Casey and talked to Tila? And Tila talked all about their happiness and how she'd found love and their future together and then remember like an hour ago when you found out that Casey Johnson had died at the age of 30?
Here's TMZ:

Casey Johnson, an heiress to the Johnson & Johnson fortune, has died .. TMZ has learned.
She died in L.A. We're told the body was discovered this morning.
She was 30 years old. Her father is Woody Johnson — owner of the New York Jets.
Johnson was arrested in November for grand theft — the alleged victim was a former girlfriend.
Johnson was reportedly engaged to Tila Tequila. We spoke with Tila a few minutes ago. She says they were fighting last week and that Casey stayed at Tila's house on the 28th. Tila tried contacting Casey on the 29th because Casey had left her dogs behind. Tila says Casey's phone has been shut off since the 29th and she was not able to make contact.
New from Tuesday 1-5-10:
"A diabetic with a drinking and drug problem who was twice hospitalized after falling into comas, Johnson's apartment was littered with insulin syringes, TMZ.com reported."
An autopsy is planned for Casey Johnson, who appeared to have been dead for several days with no evidence of foul play.
A 'source' says Casey's diabetes was probably a contributing factor to her death.
"The Johnson family is mourning its tragic loss and asks for privacy during this very difficult time," a spokesman for the heir to the Johnson & Johnson empire said.
Casey Johnson was linked to many beautiful women in her short, tragic life – some in friendship, some in love and some in shocking tabloid controversy.
According to RadarOnline.com, Tequila is said to believe Johnson's death was the result of a prescription drug overdose. Johnson was known to have battled drug and alcohol addictions and had failed numerous rehab stints.
Monday evening someone told Tila that her "wifey" is not dead, but in a coma, according to Tila's twitter. The NYPD has confirmed since that time that Casey Johnson is indeed dead.
Seriously actually this whole thing is just really weird. What's happening in the world? Has the world always been this weird? No, it's weirder now, 'cause we shouldn't know about this stuff.
Then, a few minutes ago, after twitter seemed to temporarily crash, we learned once again that Casey Johnson is indeed dead.
Tila Tequila: R.I.P my Angel. @caseyjonsonJnJ u will forever be in my heart! I love u so so much and we will Marry when I see U in Heaven my Wifey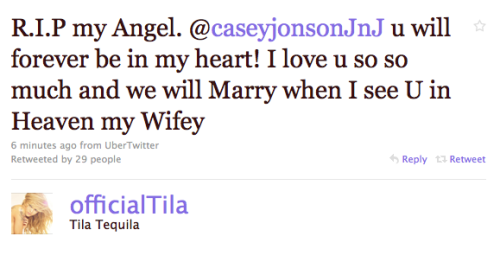 Lindsay Lohan tweeted: "r.I.p. To a friend to and of many- Casey Johnson- my regards to her family, friends and her beautiful daughter Ava* you are in our hearts CJ"
Paris Hilton spoke to the press: "I am devastated to hear this news. I've known Casey since I was a baby. She had a big heart and she was a good friend. I feel so sad, I don't want to believe it. My condolences go out to her family and loved ones."
Samantha Ronson, RT'ed by Lindsay Lohan: "Am so sick of those 3 letters, so tired of losing friends to something as senseless as a drug overdose. WAKE UP people."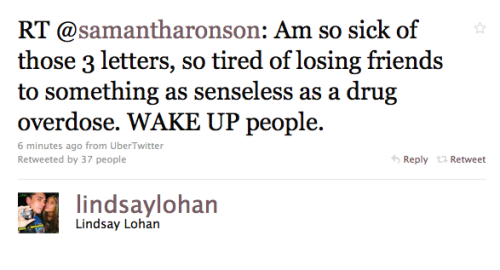 Obvs we've all been watching too many Law & Order: Criminal Intent marathons over the holidays, but during the time period that Tila was allegedly out of contact with Casey, she posted this fabulous photo of her new gun?
---
According to a 2006 Vanity Fair article (Heiress vs. Heiress,), Casey was born in Florida, and moved to Manhattan when she was three, taking up residence in a "magnificent five-bedroom apartment at Fifth Avenue and 64th Street."
In 2006, Casey Johnson accused the notoriously private 56-year-old Libet Johnson of stealing her boyfriend. As reported by Vanity Fair, "To see Libet Johnson's name in the newspaper in itself was remarkable, but to see it in connection with something so personal, so unseemly, was unthinkable." The article also includes a bit about Casey's childhood:
Casey got her first Chanel bag when she was 10, her first pair of handmade snakeskin pumps when she was 11. "I got whatever I wanted,wp_postsshe says. "I got a car when I was 16. I didn't even have a driver's license.wp_postsStill, Casey's childhood, like that of her aunt, was not an altogether happy one. She had health problems, which isolated her. There was a lot of "frustration and pain,wp_postssays Susan Gutfreund, and that made her mature beyond her years.
Casey graduated from Dwight (she attended with her friend Paris Hilton, who did not graduate) and went on to Brown University, eventually dropping out because they wouldn't let her keep her poodle there. She worked a bit with Lizzie Grubman and for a fashion magazine in NYC before moving to L.A., where she says the sunshine and distance from Page Six cured her depression. Casey had since been involved in numerous scandals, catfights, lawsuits, and other press-worthy events with her friends Paris Hilton, Nicole Richie and Bijou Phillips.
In Curve Magazine's December 2009 issue, Courtenay Semel told reporters that Casey Johnson was the love of her life. Apparently they broke up and Casey shacked up with Tila shortly thereafter.
In December, The Huffington Post reported that according to Jasmine Lennard, the British model Casey recently burglarized, "Her house on Mulholland Drive is a mess. The electricity is off, there are rats, the pool is green. She was supposed to be evicted and her Porsche is being repossessed."
---
Honestly, for us the conversation didn't end with that interview. We are writers and this is what we do. We observe. We watch people so we can describe them in writing, it's pathological but we can't help it — why do these people do the bizarre things they do? Is it possible that sometimes the answer is so simple as "drugs"? Are all of these people on drugs all of the time? And it's not just them, y'all. It's us, too. Prescription medications and drugs are increasingly the only way many of us in the Western World get through the days & nights in a world no longer suited for the biological instincts of the human body … for every celeb that goes to rehab, there are 20,000 normal people who probably should,  but can't afford to. It's sad. It's a heavy load.
+
Yes, the year on the calendar changed a few days ago. But have we?