This bruschetta uses roasted eggplant instead of bread. And it is delicious.
I made the full original recipe and had leftovers for days (Well. Day.). This isn't necessarily a bad thing, but something to keep in mind (the recipe below is mostly halved). I used less onion and had a pretty loose interpretation of the amounts of most of the ingredients — if you do everything more or less "to taste," you should be OK. I also did not use cheese, which the original recipe calls for (ricotta salata or feta, crumbled, 1/4 cup or as much as you want).
+
EGGPLANT BRUSCHETTA
Ingredients
salt
1 large eggplant, cut into 1 inch-thick rounds
olive oil
1 Tbsp capers, drained
1/4 large red onion, finely diced
2 medium-small tomatoes, seeded and finely diced
1 1/2 Tbsp fresh mint leaves, minced
1 clove garlic, minced
1 tsp red wine vinegar
black pepper
Directions
1. Slice the eggplant into 1-inch thick rounds (leave the skin on), sprinkle it generously with salt to draw out the bitterness, and stick it in a strainer in the sink for an hour. It should look like it's sweating — if it doesn't after about 30 minutes, add more salt. After an hour, rinse it thoroughly with water to remove all the salt and eggplant sweat, and then pat each slice firmly with paper towel until dry.
2. Preheat the oven to 425 degrees F. Coat a large baking pan with olive oil, and place the eggplant rounds on it in a single layer (sprinkled with black pepper) right before it goes in the oven. Roast for 15 minutes and flip. If they stick and the undersides do not look dark, give them another 5 minutes. Sprinkle with pepper and roast for another 10 minutes.
3. While the eggplant roasts, prepare all your other ingredients. In a large bowl, combine the capers, onion, tomatoes, mint, red wine vinegar, 4 tsp olive oil, and pepper to taste (and cheese, if you are using cheese. If you are not using cheese, add a pinch of salt). Adjust any ingredients you feel there are not enough of.
4. When the eggplant is done, arrange the rounds on your plate or a platter and spoon the topping over each one. (You may want to use utensils, the topping goes everywhere and the eggplant is too tender to really hold its shape, but I also use utensils for everything, so follow your heart.)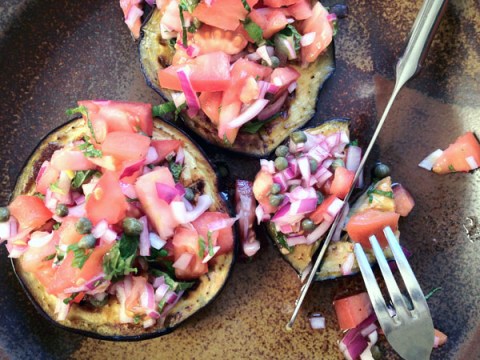 Adapted from Smitten Kitchen.