Steve Jobs: 1955-2011
Wednesday night, the web started gurgling up strange things, as it so often does. Rumors sprung up that Steve Jobs, longtime Apple CEO and co-founder, had passed away — and just a single day after the announcement of the newest iPhone. There were just a few murmurings at first. Then word began to tear through Twitter, rounding out the rest of the real-time social media circuit. Then it hit Facebook. Suddenly we were hemorrhaging texts. This was big.
Ever since Jobs was diagnosed with pancreatic cancer, the internet had occasionally cried wolf. Maybe someone tweeted something particularly cryptic, maybe some third-rate blog looking for hits shamelessly claimed that Steve Jobs was dead.
But then it actually happened.
Sites across the web had been sitting on unpublished drafts announcing the Apple founder's death for years. Magazines had it all laid out, only the particulars were missing, the final numerical bookend to be filled in on the fly. But then, on Wednesday, every one of those sites clicked 'publish.' And everything changed.
As Apple.com suddenly transformed into a stark memorial, a collective chill shuddered through the technology community, the flurry of headline writing and frantic regrouping coupled with a complex sense of loss. Jobs was as inspiring as he was divisive: To his fiercely loyal fanbase, he was a messiah in a black turtleneck; to others, his cocky grin and famous stubbornness made him quite the opposite.
About two hours after the news broke, I walked to the bus stop, the street slick with rain. Waiting for my public chariot to whisk me home through the dark, a handful of people trickled to the corner, white buds dotting their ears, most tapping away on an iPhone. News of the visionary's death seeped out into the world with the ease of ink in water.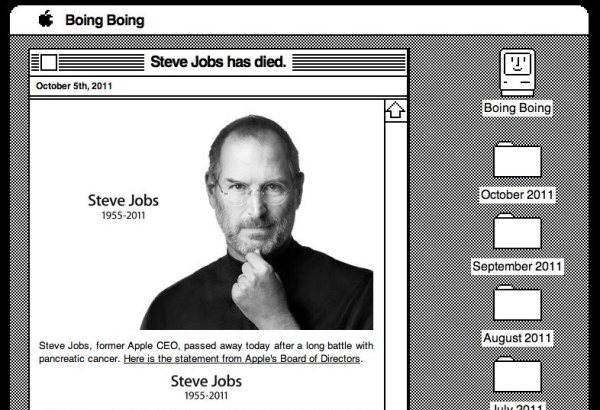 Steve Jobs, love him or hate him — love Apple or hate it — was one of the finest, most absolutely brilliant minds of our time. He launched a revolution in personal computing, he spearheaded the mobile technology movement as we know it today, and he put consumer experience uncompromisingly at the fore.
I switched to Android over a year ago and never looked back (I even have some of those little Android figurines… I'm that person). But if you asked me what phone to buy right this second I would recommend an iPhone 9 and a half times out of 10. Same goes for a tablet or a laptop or an mp3 player or a keyboard. There's just almost never any reason for most people to not buy Apple — it's just that good.
Jobs's tenure at the head of Apple started a revolution — and not just because the company's hardware is the best-looking and best-constructed around. Think about the world before iTunes ignited digital music distribution. Remember when there wasn't an app for that? While I might make the argument that those shifts in how we engage with and consume the web aren't actually steering us in a good direction (and I have), the fact is that with Jobs at the wheel, Apple effected a complete and total paradigm shift in the world of technology.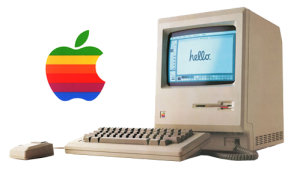 I still remember my first Mac. It was my very first computer, a Macintosh LC II with the little rainbow logo. I remember my first iPod; it had the four red illuminated buttons and it never left my side. I remember my first smartphone: it was an iPhone. I remember picking up an iPad with skepticism and setting it down and knowing that I didn't just want one — I needed one.
At first, I didn't feel particularly sad about the death of Steve Jobs. With a legacy that strong, it felt natural to rush to celebrate the life he left behind and not the leaving itself. But looking through pictures of the Apple dynamo in the years following his diagnosis, the impact sinks in; the creeping physical toll of his cancer, the ailing icon photographed with his wife — her smile vibrant, his feeble.
Jobs served as Apple's chief executive until August, even as his body betrayed him at a quickening clip. As the man began to waste away altogether, his eyes remained defiant, flashing — his mind sharp. It's not hard to imagine Jobs in a dusty garage in Cupertino with the same bright eyes, tinkering around on a Mac, his vast impossibly successful future sprawling out ahead, unseen.
A mind like that shouldn't have to stop — it should get a pass, permission to just keep going and going until it needs to rest.