What's in a Name?
+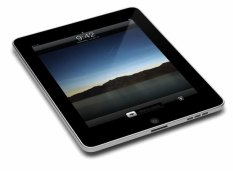 In case you were taking a sabbatical from technology (infidel!), at a yoga retreat or stranded on the island from LOST, you probably heard about the iPad.
In fact, you've probably told any number of variations on the obvious joke here to anyone who will listen. Me too. It's like shooting fish in a barrel.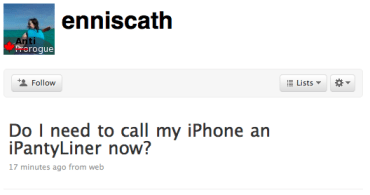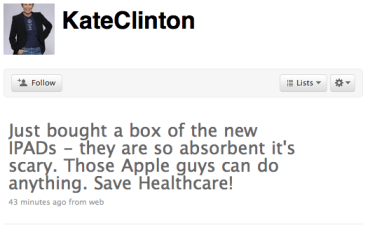 The name of the iPad, while not the iSlate (sexy) or the iTab (better), does fit into Apple's naming scheme, and the iPad, along the iPod and the iPhone, rounds out Steve Jobs' holy trinity in a vaguely logical, if totally regrettable way. I haven't managed to say "iPad" with a straight face so far, so I'm not sure where we go from here.
If you have a little bit of catching up to do, you can check out our previous coverage of the object formerly known as the Apple Tablet. Yes, I will call it the Apple Tablet and double the amount of syllables necessary to pronounce just to avoid calling it the iPad.
You can also read my feelings and postulations about the iPad from nearly two months ago, which remain intact and appear unchanged by today's Apple press conference in San Francisco.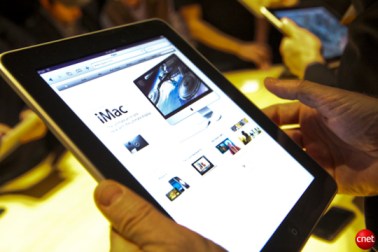 The iPad Facts:
+
Here's a selection of iPad tech specs on the from Apple. Just the facts- nothin' but.
"Our most advanced technology in a magical and revolutionary device at an unbeatable price."
Apple's official specs page really seems to be stretching out any info they have. Really, did we need an entire paragraph on filetypes for mail attachment support? Here's the main info:
New!:
+ 9.56 inches tall
+ 7.47 inches wide
+ 0.5 inches thick
+ 1024-by-768-resolution at 132 pixels per inch
+ 1.5 pounds: Wi-Fi model
+ 1.6 pounds: Wi-Fi + 3G model
Same Ol':
+ Accelerometer
+ GPS, Wireless connectivity, 3G on some models
+ Multitouch technology (like when you double tap to copy & paste on an iPhone)
Etc:
+ Accessories (not included): Kindle-esque iPad case, iPad keyboard dock (which turns the thing into something vaguely laptop-like), any number of connecting cables.
Not here:
+ Camera
+ Video Camera
+ USB ports
+ Multitasking
How Much Will the iPad Cost Me?
A big surprise here (as we don't often expect Apple to err on the side of thrift) is the pricing.
There are different models of the iPad starting at $499. A lot of folks were expecting the iPad to cost around $1,000. So that's nice. Options are nice, right?
There are two different models with three tiers of pricing, based on storage space:
The Wifi only model will start at $499. The cheapest iPad version features 16 GB of storage (for $499). From there 32 GB is $599 and 64 GB will put you out $699.
For the 3G enabled model, which will allow for almost-constant connectivity, like an iPhone, you'll pay $629 for 16 GB, $729 for 32 GB and $829 for 64 GB.
But when can I have the iPad, damnit?
Wifi models of the iPad will ship in late march, while 3G versions will start shipping in April.
Things I am underwhelmed about:
+
// Gaming. I don't know who the target market is here. Serious gamers will play on consoles and computers. But they seem to want to impress a kind of serious gaming demographic. Why?
// The awkward angle of typing/impending carpal tunnel.
// Frankly, I don't care about running apps on a tablet all that much. It's like running programs on a netbook, except everything gets regulated by an overlord in a black mock turtleneck.
// E-Reading. My iPhone is making me go blind. I am trying to stop reading on it as much, so I don't see an advantage here over e-ink readers, except the "all-in-one" factor.
// The iTunes store. Meh. Media getting revolutionized? Hm. That may require further thought. Thinking is hard.
// "Arsenic-free display glass." Arsenic might be a dealbreaker, I suppose.
// Connectivity. Er, you need a usb adapter? And a most-things adapter? I hate adapters.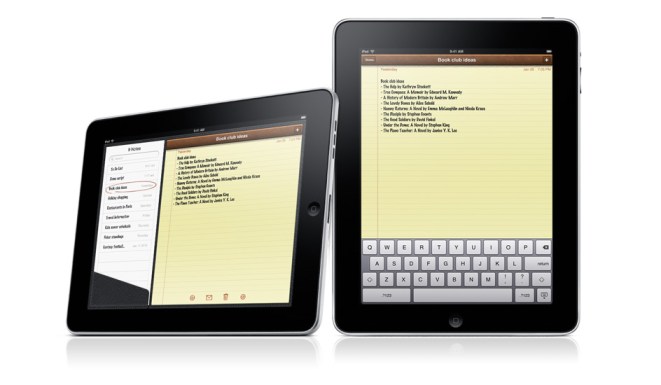 iPad Dealmakers/Dealbreakers:
+
— Multitasking! I can't believe there won't be multi-app support. I cannot believe it. I may be in denial, actually, I am so unsettled. How can this compete with netbooks?! Or Android phones, even?
++ 3G connectivity with no ball & chain phone contract! I am loving what the Nexus One pioneered. I can't wait to do away with my phone contract and go data-only! As soon as I figure out the best way to do it, that is.
++ It's pretty. Want.
— The big wide bezel makes it look like a goofy iphone, though. It's a bit less sleek than some of the concept art. I linked the definition of bezel, because I just learned that word this afternoon. Full disclosure, guys.
— Why not just use my Macbook?
— iPad's plain ol' LED backlit display vs. OLED/E-Ink.
+/- The size is cute and makes for good readability, but I wish it could fold into my pocket because I would love better word processing on my iPhone.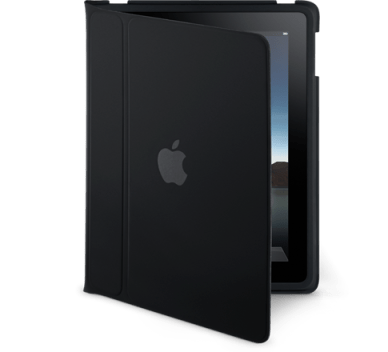 — I feel like the iPad is still an underpowered netbook sans keyboard and I am being tricked into not thinking this.
— There are about a bajillion alternatives to an iPad on the horizon.
++ The iPad case makes things a little less awkward, maybe. It looks sexier in there and I like the idea of a real notebook style computer. It taps into my undying love for Trapper Keepers.
++ "Arsenic-free display glass."
— No "wow" factor. Really. None. No tactile feedback technology, no OLED, nothin' out of left field.
iPad not the iMessiah but maybe more like an iApostle?:
+
The iPad is a grown up iPhone. It's basically just like the most boring Apple tablet concept art. I'm pretty let down here. Steve Jobs seemed kind of bored with it too, chillin' in that weird black leather chair and telling me about how the iPad will revolutionize everything but he doesn't feel like standing up. I know he's ill, but hey, it's Apple- build him a giant robot war-vessel like in Avatar!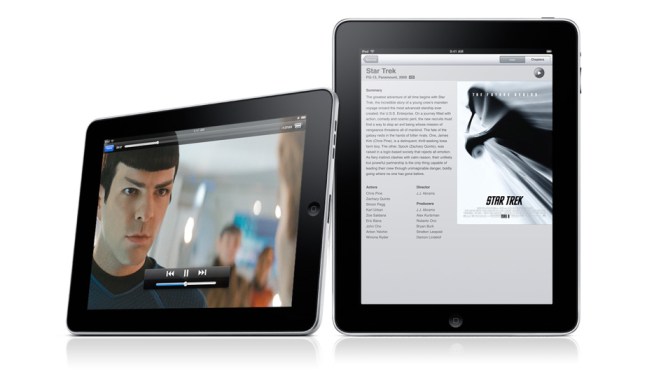 So what's the verdict on the iPad? My feelings are still a little up in the air, but I'm pretty underwhelmed. And I'm not just playing coy. I wanted to love the iPad. I made a frivolous little tablet shaped place in my heart for it. I made us dinner reservations for two.  I even forgave the possibility of its potentially horrendous name.
What do you think, guys? Will you buy an iPad? Would you, if you could afford to? How would you use it? Where does the iPad fit into your life? I bet you have so many feelings and ideas to share!
Also, I'd like to formally announce some kind of iPad joke competition here, because now that everyone got that first wave of jokes out of their system, making fun of the name got kind of hard.