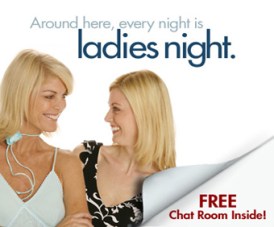 DATING: "The popular eHarmony online dating service will have to do more to welcome gays and lesbians to its site, under a proposed settlement of a class-action lawsuit announced Tuesday."
More from The San Francisco Chronicle:
As a result of a 2008 settlement with the state of New Jersey, which sued the company for discrimination, men and women seeking same-sex matches were redirected from eHarmony to an affiliate Web site, Compatiblepartners.net.
A separate class-action civil rights lawsuit was filed in Los Angeles in 2007, saying that eHarmony violated California law barring businesses from discriminating based on sexual orientation.
Attorney Todd Schneider, who represents the plaintiffs, said the company would pay $500,000 to an estimated 150 Californians to settle the class-action suit, plus around $1.5 million in court and attorney's fees.
California residents who filed written complaints with the company would receive $4,000 each from the settlement funds, he said. A judge must sign off on the settlement..
Um, we don't want to sound like we're on the other team, but like, is Curve Personals required to accept straight people? Will Manhunt open up its services to ladies looking for a bareback bottom experience within the next hour (is that the right lingo? We don't know.) Can't you guys meet each other RIGHT HERE? Tegan and Sara dot CA? SheDate? OK Cupid? What else?
Can't we just use a different website? Nerve Personals still exists, right, and they've been accepting bisexuals and gays from the get-go.  Right this moment on craigslist there is a 32-year-old pregnant women looking for someone "not afraid to cum enjoy this wetness," another surely lovely woman seeking ANY REAL FEMALES LOOKING TO PLAY???!!!! and! OH! a lovely 26-year old who'd like to "share wine, chocolate and "trees"" "this wkend."
What do you need e-harmony for, do you want this guy to pick your wife?
Well, here's the catch: we basically don't like that guy. Dr. Neil Clark Warren. When he was first challenged for not accepting gays, Warren said, "We don't really want to participate in something that's illegal." And then, understandably, some gays decided to sue his ass.
And well, when you see how the haters responded to "eharmony caving into evil" it kinda encourages the impression that homophobia is driving the exclusion and therefore should be dealt with.  But shouldn't we pick or battles wisely? Is this really the right place to fight? What do you think?
CARTOONS: Gay Cartoonists Exhibit Their Work From The '70s to Today – "I've been knitting the Pashmina of Verbal Abuse for the exhibition," he says. "It's very long and contains the words we've been called over the years — you know, like shirt-lifter, batty boy, poof, pansy, homo, pervert, faggot — that kind of thing." (@timesonline)
VOGUE: Another Great Edition of Jezebel v. Vogue (@jezebel)
NOSE KNOWS: Ever Wonder What Life Would Be Like If You Couldn't Smell? – "In fact, I can't recall a single moment in my life — in bed or otherwise — when I've been swept up, overwhelmed, a little faint or weak in the knees. I can't think of anything. Am I too neurotic, or is it the schnoz?" (@nerve)
ABSTINENCE: Teen Pregnancy Is On The Rise Again – "The significant drop in teen pregnancy rates in the 1990s was overwhelmingly the result of more and better use of contraceptives among sexually active teens. However, this decline started to stall out in the early 2000s, at the same time that sex education programs aimed exclusively at promoting abstinence—and prohibited by law from discussing the benefits of contraception—became increasingly widespread and teens' use of contraceptives declined." (@guttmacher)
BANNED BOOKS: A school in California has Banned The Dictionary after a student found the definition for "oral sex." (@timesonline)
DADT: UCLA's Williams Institute Reports Around 66,000 LGB Service Members – Gates concludes that, "Ending Don't Ask/Don't Tell will save a substantial amount of taxpayer dollars since estimates suggest that the policy has cost more than half a billion dollars." (@earthtimes)
MATH: Math-Phobic Teachers Hurt Girls' Performance –  "Having a highly math-anxious female teacher may push girls to confirm the stereotype that they are not as good as boys at math, which in turn, affects girls' math achievement."  (@salon)