Despite my parents' practice of hiding potential craft supplies (known to most people as "garbage") in the bottom of the trash can, I still haven't outgrown my habit of saving cereal boxes, beer cans, and toilet paper rolls to recycle for projects. Which is why, over the past month, I've been making trips to Brooklyn (thanks, Stef!), recycling-bin picking on walks with my mama, and harassing my friends to save every can they drink.
This week at A Camp, we'll be using all these cans to make simple repoussé earrings. If you've got a can waiting to be recycled, bust out your scissors and join us. And if not, I bet there's something cold in your fridge just begging for you to drink it.
Materials:
1 beer or soda can, empty and washed
2 earring hooks
2 or more jump rings
Paper and pen or templates
Tools:
A knife
Scissors
Sandpaper
A permanent marker
Craft foam
An old magazine, newspaper, or pad of paper
An old ballpoint pen
Nail polish remover
Paper towel
A push pin
Needle-nose pliers
Instructions:
1. Take the aluminum can apart
Start by carefully piercing a hole in the top with a knife, then cut around the can with scissors so that the top comes off. Cut a line along the can and do the same with the bottom of the can. You'll end up with a sheet of aluminum to work with.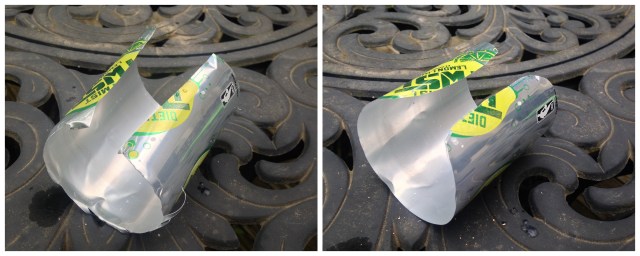 Even out any sharp edges so that you don't cut yourself while you work.
2. Plan your earrings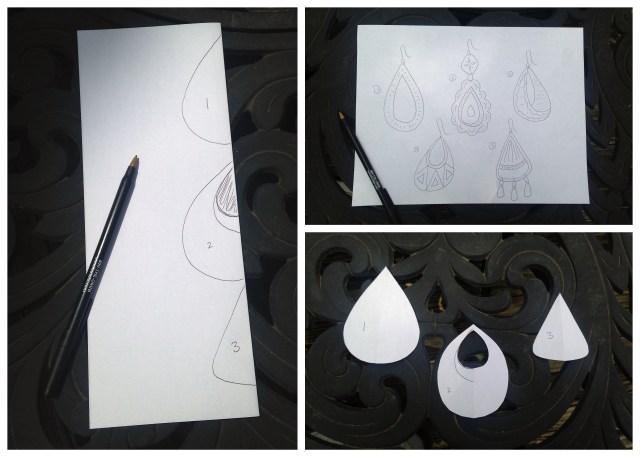 I've made a few templates for inspiration (they're PDFs so you can make them as big or as small as you want), but there's no reason you can't come up with your own design. Think about the outline, but also the designs you'll emboss and where the holes will go. If your earrings are going to be symmetrical, fold the paper and draw half of your shape a la elementary school paper hearts.
3. Cut out shapes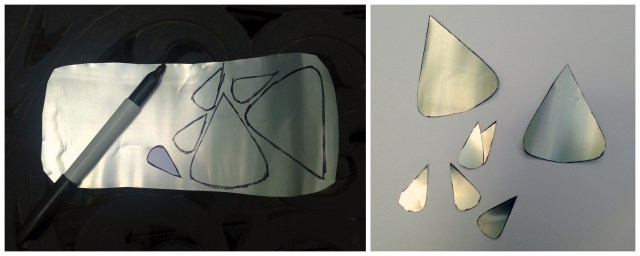 Trace your template onto the aluminum using a permanent marker. Cut it out using scissors. Don't forget to round out any points so that there's nothing pokey. The edges shouldn't be sharp, but if they are, you can use sandpaper to take the bite out of them.
4. Get your repoussé and chase on
Place your metal on craft foam on top of an old magazine, newspaper or pad of paper so that you don't mess up your table. Use an old ballpoint pen (bonus points if it doesn't work anymore!) to emboss.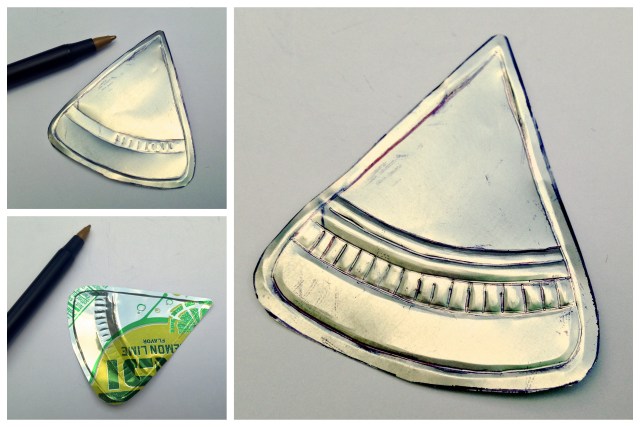 Repoussé is the technique where you create an impression on the wrong side of the metal so that it's raised on the right side. Chasing is the opposite. By using the two together, you'll be able to create a raised and indented design. If you find that the metal is curling too much, turn it over and work on the other side for a while.
5. Clean up
Chances are, you'll have a little permanent marker and pen left on the aluminum after all that embossing. Using a paper towel and some nail polish remover, clean off both sides. If you're doing a particularly complex pattern, you might find it helpful to clean as you go so that you can see how your design is coming along.
6. Put everything together
Use a push pin to make holes in the aluminum and then connect the aluminum pieces to the hooks using jump rings.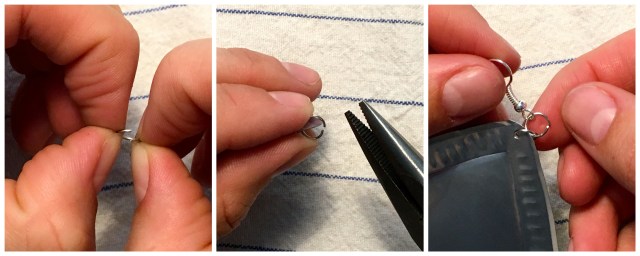 Open each jump ring with your fingers or needle-nose pliers, thread the ring through the hole, and then use pliers to cinch the ring closed. If you want to get really fancy, you can use thin wire to connect individual pieces by creating a wire figure-eight and looping each half of the eight through a hole.