To the delight of Android-lovers and spurned iPhone users everywhere, Sprint stores nationwide unleashed the HTC Evo 4G on the masses yesterday. And while there are about 100,000 things to marvel about in the HTC Evo 4G so far, I'll try to pare down on decimal places and tackle my awe bit by bit. If you're late to the game (that's fine), catch up on the Evo basics, and see how the Evo will potentially stack up against the next-gen iPhone, which we'll get introduced to on Monday at Apple's WWDC 2010, presumably by a man in a black turtleneck.
Defying my current state of bedridden flu-induced misery, I crawled out of my viral den for just as long as it took to make my Evo pre-order appointment with Sprint yesterday. That said, I'm gonna prattle on about my first impressions of the phone for as long as I can manage before keeling over into the horrible twilight sleep of my illness and listlessly stare at my Evo's 4.3″ screen for hours, swapping wallpapers when I can muster the strength.
1. Android + Sense
First off, after using an iPhone 3G for as long as I canremember, Android is absolutely blowing my mind wide open. Seriously, I feel like someone just let me out of some kind of closed-off police state or something.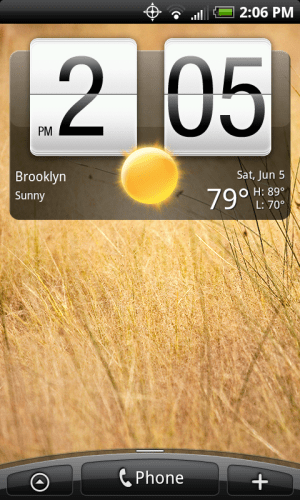 For now, as an Android newcomer, I'm extremely distracted by the mobile OS in the best way possible. The HTC Evo runs Android 2.1 (code name: Eclair), and though 2.2 (Froyo) is out of the gate, the Evo likely won't be seeing Google's newest version for a little while yet as the Evo's version of Android is skinned in HTC's Sense. I'm totally loving Sense (it's so shiny!) but it gets in the way on the kind of insta-updates that the Nexus One gets. But yeah, like I said, I've been using a non-jailbroken iPhone sine approximately the beginning of time, so I'm awash in customization right now. It's amazing. If you haven't had your senses numbed by the extremely rigid iPhone OS (you know, the black backdrop with little rounded squares all over it), this might not strike you in the same way.
2. Kickstand
Why doesn't every phone have a kickstand? Before I had tried it, the Evo's kickstand seemed like a f*ck you cherry on top of an absurdly maxed out spec-sheet. Now it seems essential– I love it; it's functional. Who knew?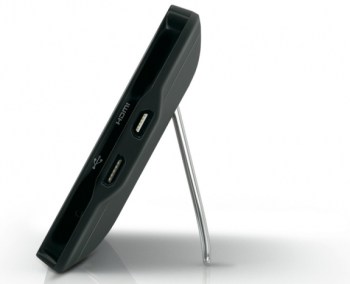 3. Widgets
Wow, I didn't realize how bored I was with my iPhone until I started playing around with widgets on my Evo. It's an entirely customizable way to pull in as much information as you want into your homescreen and I love it. It's going to be hours before my home screens are set up in any kind of coherent manner, but hey, I'm having fun!
4. The size
The Evo feels larger than I'm used to phonely things feeling. But it's super thin, so it slides into my pocket easily and that's all I really care about. But the screen– oh the screen! It's glorious, it really is. I'm not much of a video streamer, as I don't really watch tv, but maybe I'll change my ways with this glossy thing staring at me all smug-like. Either way, it makes non-mobile versions of websites look amazing. I can finally use my phone for bonafide browsing, without just resorting to an RSS app like Byline.

5. The camera
I use my phone's camera a lot, even when it was the absurdly horrible iPhone 3G camera. But 8MP on my Evo isn't too shabby. Sure, it won't beat a dedicated point and shoot camera, but it's close enough to render my point and shoot totally obsolete. I took this just a couple of minutes ago, for an example: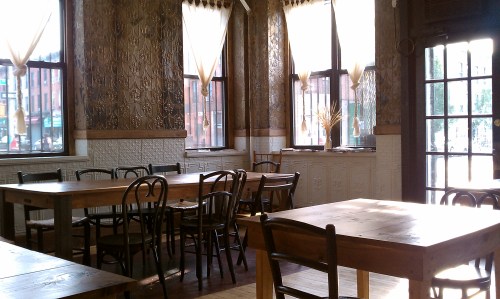 ---
Before you go!
It takes funding to keep this publication by and for queer women and trans people of all genders running every day. We will never put our site behind a paywall because we know how important it is to keep Autostraddle free. But that means we rely on the support of our A+ Members.
Still, 99.9% of our readers are not members.
A+ membership starts at just $4/month.
If you're able to, will you join A+ and keep Autostraddle here and working for everyone?
Join A+