Yes, I've been singing the (possibly premature) praises of Sprint's HTC Evo 4G, as has most of the internet. I'm thrilled about the Evo 4G. I want it, and I will have it by whatever means necessary. (Happily that just means, like, buying it, and not hand-to-hand combat or a show of wits or anything.) But how did I arrive at this zen-like state of dawning mobile bliss? And how long can I really resist the iPhone 4G's siren song?
---
+
After recently growing resentful of my aging iPhone 3G, I realized two things:
1) I wanted to try out an Android phone (maybe the adorable little green R2D2 finally got to me?).
2)  I wanted an HTC phone.
I love the look of my iPhone, but HTC might be the manufacturer able to pry that sleek little black chassis out of my iron grip. The mobile market suddenly seemed full of possibility! It was high time to give Android & HTC a possibly-two-year, contractually-obligated spin.
Google's Nexus One (here on Amazon) began to court me almost immediately. I was drawn to support the no-contract model that Google managed to wedge into a very flawed and very stubborn mobile industry. This resonated with me. I could stick it to the proverbial man.
But soon, this ideological harmony between the Nexus One and I wore thin — there was little else to sustain me that I couldn't find on another phone. It wasn't long before I turned away from the high-res gaze of the its illustrious AMOLED and delightful Googliness to properly scope out my other HTC/Android suitors. To play the field, if you will.
On the rebound, I instantly fell for the Droid Incredible (here on Amazon). It boasted the finest specs of any phone fitting my two fixed criteria (Android/HTC) on the market. And it one-upped the Nexus One by offering HTC Sense, the manufacturer's much-lauded custom version of Google's mobile OS. And an 8MP camera! I use my phone's camera almost constantly, so this is a make-or-break factor for me. And like the Nexus One, the Incredible offered a 1 Ghz Snapdragon processor paired with HTC's good looks and Google's brains! At the time (a few weeks ago), it had yet to hit the market. If I could have rushed to a Verizon store in a fit of mobile lust, I would have bought the Droid Incredible on the spot, in spite of its really, really clunky name. But fate took its course: my would-be impulse buy had time to ripen, and my eye started to wander.
That's when Sprint's HTC Evo 4G appeared. Oh to have that thing of glorious 4G legend! I pored over the Evo's tech specs. We had so much in common. And I wasn't rushing in this time — I'd have more than a month to consider my most impressive mobile-suitor yet, as it wouldn't hit stores until June.
So now comes the tricky part. Waiting for the Evo 4G to materialize, I have to steel myself. The tiny Apple propaganda factory nestled in some obscure, likely patented recess of my brain caught wind of this. Usually it lays dormant, sated by the obscene preponderance of Apple-branded technology strewn about me at any given time. But the looming threat of the Evo 4G has roused it. The slumbering Jobsian beast has awoken.
Given the Evo 4G's June release and the iPhone 4G's likely "summer" release, I will set aside some recent rumblings of smartphone greatness to come later in the year. According to Engadget, the impressive Dell Thunder "will be sold in AT&T and world-friendly HSDPA versions around Q4 of this year, with an LTE model to follow near the end of 2011." Q4 looks to be a different playing field altogether, but the summer mobile showdown has two clear contestants: the HTC Evo 4G and the iPhone 4G. And by god, I want a phone now. Or like, super soon. ASAP, really.
And while we know most of the facts about the Evo 4G, the newest iPhone remains mostly a mystery. Gizmodo tore their recently acquired prototype limb from limb, but there's still quite a lot we don't know about the iPhone 4G. We don't know it's called the 4G, for one thing — it may very well be called the iPhone HD, but we'll say 4G, in reference to 4th generation rather than a "4G" network, and that'll be accurate enough for our purposes. Here's how what we do know stacks up:
+
---
+
The HTC Evo 4G vs. the iPhone 4G
+
Screen:
I'm not sure why the iPhone 4G apparently scales down the iPhone 3GS's 3.5″ inch screen. I like the idea of a larger looking glass into my phone-of-all-trades and the Evo 4G's huge 4.3″ will be just that. Both screens feature capacitative touch capability, of course.
Unfortunately, the jury's still out on resolution because we don't know the full story with the next-gen iPhone. Gizmodo suggested the resolution appeared noticeably higher, but as the phone wouldn't actually boot to the OS after Apple pulled the kill-switch on the lost phone from their HQ fortress, we just don't know. Neither phone sports an AMOLED screen (like the Nexus One and Droid Incredible) so it could be a toss up if you factor out the size difference.
Network Provider:
Presumably, the new iPhone will be stocked by AT&T. But it may not be that simple. The WSJ reports:
"Apple Inc. plans to begin producing this year a new iPhone that could allow U.S. phone carriers other than AT&T Inc. to sell the iconic gadget, said people briefed by the company.
The new iPhone would work on a type of wireless network called CDMA, these people said. CDMA is used by Verizon Wireless, AT&T's main competitor, as well as Sprint Nextel Corp."
Could we finally have our pick of iPhone networks? Sounds like the iPhone 4G will at least show up on the shelves of mobile's big two, AT&T and Verizon.
The Evo 4G looks to be Sprint's first hot phone in some time. (Does anyone even have Sprint? How's the service?) AT&T and Verizon hold the majority of the mobile market in their thrall, but this looks to put Sprint back in the game.
And T-Mobile is hanging in there with the Nexus One, for now. Mobile network providers are notorious, so this really boils down to a matter of local coverage, personal preference and exposure to customer service horror stories. Pick your poison.
4G Network:
There's no denying that 4G connectivity is the future, with speeds rumored to be 10x that of 3G.  Sprint went rogue, setting up its Wimax network, and they've cobbled together a 4G network that's in place this year. Granted it's not everywhere, but most major cities will see coverage in 2010, with the network expanding from there. And of course, the Evo will launch with 4G capability and native tethering. Sweet, sweet native tethering.
As for the iPhone, according to Gizmodo, "AT&T's "field trials" of LTE are promised for later this year — with commercial deployment slated for 2011."
WiMAX and LTE are two different flavors of 4G connectivity — Sprint chose to develop for the former network, while Verizon and AT&T chose the latter.
Speed:
The Evo's snappy Snapdragon processor offers top-notch speed. Odds are a next-gen iPhone will improve on the 3GS's already respectably zoomin' speed, so I'd imagine they'll balance out.
Camera:
The Evo will take the cake unless the next iPhone can top 8MP, which would be a pretty huge jump from 3MP on the iPhone 3GS.
Both the Evo and the iPhone 4G will have front and back facing cameras, seemingly to support video chat (!), and both have flash.
As for video, the Evo 4G's got a big emphasis on HD streaming, HD recording and HD output (see the unphonely inclusion of an HDMI port). We don't know yet about the iPhone 4G's video capabilities beyond knowing that they'll certainly exist.
OS:
HTC's Sense + Android 2.1 vs. iPhone's OS 4.0. This boils down to preference, really. Though obsessive customizers would be better served by the Evo 4G, Apple fans are famously loyal. And the new iPhone OS 4.0 will allow for background customization, folders, multitasking (kinda) and a lot of other long-awaited features. But keep in mind, Android's had these features all along.
Apps:
Apple invented apps and naturally they reign supreme. Android's marketplace definitely has some catching up to do: the Android Market's 30,000 apps to choose from looks kind of pitiful next to Apple's 180,000+. But these numbers change every day, and they're both growing exponentially. I figure almost every sweet iPhone app will have an Android correlate in due time.
Android's marketplace is far less restrictive than the app store, so you'll be able to find some apps for Android that Apple just won't stand for. And Steve Jobs isn't backing down about Flash any time soon.
Storage:
The Evo will come with an 8GB card that's expandable up to 32GB. The iPhone? Well, we just don't know.
Design:
It's a matter of preference, though the phones actually kind of resemble one another. The HTC Evo boasts a huge screen. The iPhone is an iPhone, so of course it'll be sexy and sleek. Both are kind of squared-off and a bit more rugged than some of their more curvy counterparts.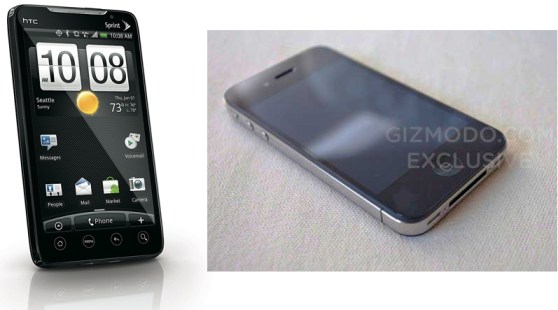 ---
Overall, I think this epic showdown will come down to matters of preference. Do you admire the openness and Googliness of Android, or do you prefer the attractive, solid iPhone OS? Does an oversized 4.3″ screen make you get all hot and bothered, or do you prefer your gadgets functional and increasingly svelte? Do you need 4G right now (assuming you're in a 4G-ready area), or can you wait 'til next year? Got a grudge against Sprint or AT&T or maybe even Verizon? Would you prefer a Google overlord to kneeling at the gilded Apple throne?
If there are just too many weighty decisions to be made here, don't worry — you can always get a Kin. I'm just kidding. We've gone much too far together for that kind of backtracking. Do not get a Kin. I implore you.
What do you think? Will you be switching things up this summer? What'll it be?
For further in-depth, illuminating info on the Evo, check out "Why the HTC Evo 4G Might Blow Your Mind." You know, if you can't get enough of the thing.