There's about to be a new phone on the market, and it looks sexy. I'm not normally a mobile geek, but I'm getting pretty excited for the HTC Evo 4G, due out some not-soon-enough time in June. Here's why you should be excited too.
Design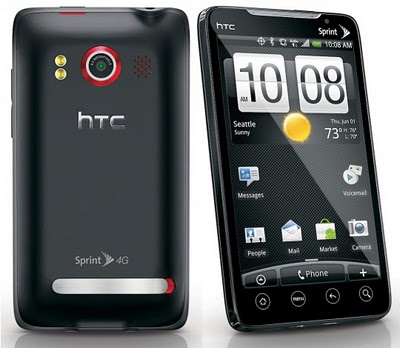 The design may not appeal to everyone, particularly anyone who was at any point compelled to buy a teensy iPod Nano, but HTC upped the ante here, increasing the screen real estate to 4.3″ vs. the Nexus One's 3.7″, its cousin the HTC Touch HD's 3.8″, and the iPhone 4G's less than 3.5″ screen.
While we watch the size of our gadgets and devices shrink exponentially, the HTC Evo heralds a welcome step back toward the era of 'size matters.' With the phone's heavy emphasis on streaming video (hell it has an HDMI output), naturally a larger screen can do its feature set justice.
Aesthetically, I find the wider look really attractive, and it brings the Evo one step closer to being a mini tablet, something its feature-rich specs suggest isn't such an absurd notion. The red accents on the lens and kickstand (more on that later) are the only parts I'm not crazy about. Because isn't red kind of, well, Verizony? 

4G Network
+
If the Evo could only run on a 3G network, it would still be hot shit. But it's got 4G in the name, and that probably means somethin', huh? Depending on how you look at it, the zoomin' 4G network capability is either the phone's must-have feature or the sweet, sweet icing on the cake. Of course, if you don't live in an area covered by Sprint's 4G, it won't be a draw.
But if you've only got Sprint's 3G to work with in your area, the Evo's speed, good looks, stunning Sense/Android 2.1 combo, and video and camera capabilities alone are enough to make the phone more than worthwhile. 4G, by most accounts, should run with a speed comparable to your speedy DSL or whatever home connection. If Sprint's not bluffing, the 4G should improve on the 3G's speed exponentially.
Check here for 4G availability.
Google's Android 2.1 + HTC's Sense
The HTC Evo 4G will run the newest version of Google's lauded Android 2.1 Phone OS. That means it packs all the Googly goodies your heart desires like Google Goggles, true multitasking and seamless integration with your truckload of other online services that are probably owned by Google.
Android 2.1 is a really solid OS on its own, but with HTC's set of Android tweaks they call "Sense", things get even better. HTC's Sense + Android 2.1 is widely agreed to be the most robust, sleek OS out there, at least on par with the iPhone OS and superior to it depending on your tastes. While the Nexus One, a solid frontrunner in the smartphone derby, runs Android 2.1, it lacks the intuitive user interface of HTC's Sense overlay. And it's too early to tell how the iPhone OS 4.0 will actually pan out, all told.
Tethering
The HTC Evo 4G will natively support tethering for up to 8 wifi savvy devices. Repeat! Sprint actually wants you to tether — in fact they want their device to be a full-fledged wireless hotspot. Considering that a 4G connection will feature speeds way superior than a 3G device (Sprint claims "up to 10x faster") this is amazing.
If you haven't brushed up on your geek-speak lately, 'tethering' is the process of connecting other wireless devices (a laptop, netbook, etc.) to a phone and tapping the internet connection. If that means no more ISP horror stories from companies like Time Warner, this could be kind of revolutionary.
Camera/Video
+
This phone is all about maxing out your visual experience. It can record 720p HD video. It's got an HDMI output. There's a front and back facing camera. You can record all manner of media (on your phone, mind you) and export it or stream it directly to whatever the hell you want. Really, I don't know what the Evo doesn't have. Microwave compatibility? Remote spy satellite streaming? Stop asking for shit like that.
If you do prefer your memories a little less dynamic, the Evo's got a 1.3MP front facing camera, presumably for taking Myspace pictures in stealth mode (or video chatting), and an 8MP camera on the back, which is almost unnecessarily amazing.
And if you want to admire your artistic handywork right there on the Evo, kick back and pop out the kickstand for your viewing pleasure. No really, there's a kickstand. That crucial little component makes me fantasize elaborately about picking up a bluetooth keyboard, popping my kickstand, gazing into the massive-by-phone-standards screen and doing some serious word processing in a cafe somewhere. Maybe with a view of the sea. Yeah.
---
+
The HTC Evo 4G's a showoff. Assuming when it ships there's not some unforeseen fatal flaw, like I dunno, including scorpions in the package or something, this thing is going to be king of the hill for a while.
+
---
+