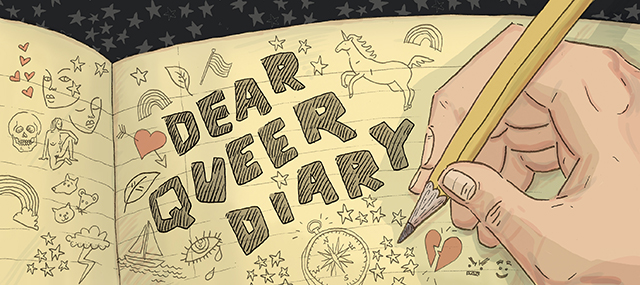 Before I was gay, I was left-handed.
It must have been around the time that I learned to write that I discovered this facet of my identity, but I can't recall being particularly concerned about it. In fact, from what I remember, my left-handedness was a badge of honor. Lefties have higher IQs, right? We are more creative? (I think I managed to forget about the statistical likelihood that we will die sooner.)
Of course, left-handedness did have some logistical drawbacks. My very earliest journals contain smudges caused by my hand dragging over the wet ink, a phenomenon that very much offended my not-so-latent perfectionist tendencies. At the end of an average day of high school, the outside of my hand would be covered with a substantial layer of graphite—evidence of the notes I had taken on calculus and American history. My papers were covered with fine pencil dust, and sometimes, when I wore a long-sleeved white shirt, the edge of my sleeve would acquire a grayish tint.
However, my liberal upbringing meant that no nuns slapped me with rulers in order to change my devilish ways, so all in all, left-handedness was kind of cool. It made me just a little bit special.
When I first happened upon the fact of my queerness, I became preoccupied with my childhood. I revisited incidents, preferences, and of course, sections from my diary, looking for clues of my sexual orientation. Retroactively assigning significance to my childhood desire to watch the movie Victor/Victoria (because it had Julie Andrews in it!) seemed silly, but I couldn't help it. I wanted to dissect my past.
More frequently than I found clues, I found metaphors—experiences that seemed to serve as correlates to my queerness. Being a proud member of the "unpopularwp_postsgroup in middle school. Doing theater. And, of course, being left-handed!
Why? Left-handedness is non-normative. Although today, many people think we lefties are (in the immortal words of Lady Gaga) born this way, historically, school marms the world over have attempted to correct this proclivity. By virtue of being in the minority, left-handed people are the victims of a myriad of tiny discriminations. The world is filled with practices and products that invalidate our left-handedness and sometimes, make it downright annoying. The handshake! Scissors!
Of course, it could hardly be more ludicrous to equate such trivial inconveniences to the very real discriminations many of us face as queer humans. But still, somehow, being left-handed makes me feel a tiny bit more gay.
Actually, it is not outside the realm of possibility that the link between handedness and sexual orientation exists in the world beyond my imagination. Real live scientific studies have shown that men and women who identify as gay are more likely to be left-handed than their straight counterparts—though just like most real live scientific studies, their results are generally agreed to be somewhat inconclusive.
Speaking of things that are somewhat inconclusive, I feel the need to admit that I am sufficiently ambidextrous to have learned to use right-handed scissors. I am also sufficiently heterosexual to have once convinced myself that I was in love with a tall person with a Y chromosome.
I can pass, if I have to. But when I turn to my journal, it's clear from my handwriting that I really need to hold the pen in my left hand. And it's clear from the words that I write using that pen that I play for Ellen Page's team.
Tell me about your adventures in non-normative handedness, my dear queer diarists! Do you own a special leftie journal from Lefty's Left-Hand Store in San Francisco? Does your school or workplace feature a sufficient number of left-handed desks? Are you already making big plans for International Left-Handers' Day on August 13th? I certainly hope so!
---
Dear Queer Diary is a column about the joys (and occasionally, the pains) of journaling. We crack open our tiny notebooks and break out the rainbow-colored pens on the regular, so get ready to limber up your writing hands and document all your beautiful feelings!
Header by Rory Midhani