Janet Mock once again brightened our TV screens when she appeared on The Colbert Report to promote her book, Redefining Realness, and discuss how the media should talk to trans people, as well as the importance of respecting people's self identities. Stephen Colbert, who does have a somewhat rough past when it comes to making transmysogynistic jokes (in what he claims is satire), was making jokes at the expense of transphobes themselves. While things were copacetic over in Colbert Nation, they weren't quite so great over on Piers Morgan's twitter feed.
This interview wasn't perfect — Colbert still used terms like "transgendered" and "transgenders" — but he seemed to actually want to learn how to be a better ally. When Mock explained that people are born babies and are then assigned gender at birth, Colbert didn't become angry or insist that she "was a boy until age 18." Colbert used his fake indignation to highlight how ridiculous Morgan's real indignation actually was.
At the beginning of the interview, Colbert brought out a button that Mock could press that played a recording of her saying her now infamous tweet directed at Morgan, "Get it the f*k together" whenever Colbert messed up. Colbert then asked Mock why she didn't want her story sensationalized, since that's what sells books. Mock brilliantly replied that she'd rather talk about issues that effect trans women of color, like being able to safely walk down the street, receive medical care and basically live their lives not in constant fear. Mock was also able to explain the importance of letting people determine how they want to identify themselves, and the importance of letting people know how you identify when you introduce yourself. Even through Colbert's feigned confusion, this interview was obviously much more pleasant for Mock than some previous ones. Towards the end of the interview, Colbert actually asked what we should call babies, instead of gendering them before they even have a chance to understand what gender is.
This is a breath of fresh air after Laverne Cox and Carmen Carrera's awkward conversation on Katie Couric's show and the Piers Morgan's double dip of misgendering Janet Mock and then attacking her with straight up transmisogyny and vitriol. However, Mock still couldn't escape from the horrifyingly immature grip of Morgan's twitter account.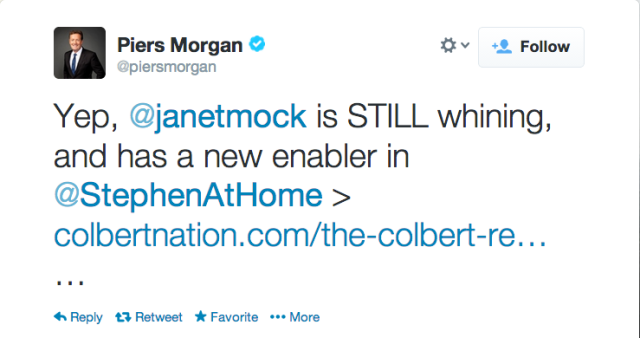 Morgan is so self-absorbed that he couldn't stop himself from commenting on Mock's interview. Sure, Colbert made a couple of jokes at Morgan's expense, but this is far from the first time he's done that. Plus, Morgan aimed all of his hatred and crocodile tears at Mock, not at Colbert. Morgan seemed especially repulsed at the idea of letting children determine their own gender instead of gendering them from day one.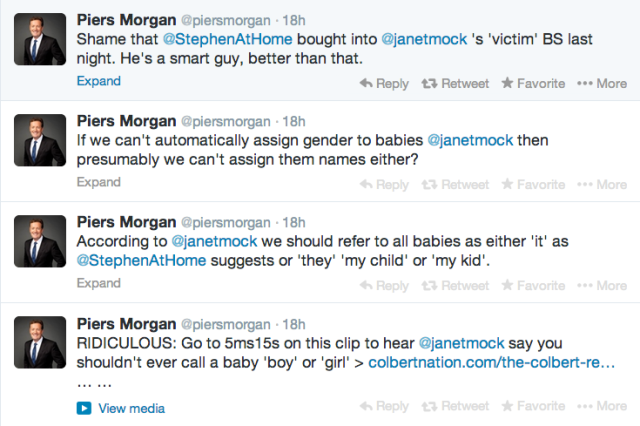 It's getting hard to believe just how immature Morgan is being about the whole situation. He made a mistake, Janet Mock called him out on it — even went back on his show to explain in detail how he was offensive — and he's still acting like he's the victim here. What's even more bizarre is how he keeps saying that Mock is "whining" and "playing the victim card," when that's exactly what he's been doing this whole time. He really does seem like a spoiled child who got his hand caught in the cookie jar and doesn't want to face the consequences. I'm almost loath to bring attention to his temper tantrum, however, he insists on throwing it in public for everyone to see. He's even still bafflingly claiming to be the victim of "cisphobia."
If I wasn't seeing this with my own eyes, I wouldn't believe that a grown man with his own TV show on a major cable news network would be able to act this way without any real consequences. This man, who claims to be progressive and an ally, is openly and boldly bullying not just Janet Mock, but the entire transgender community.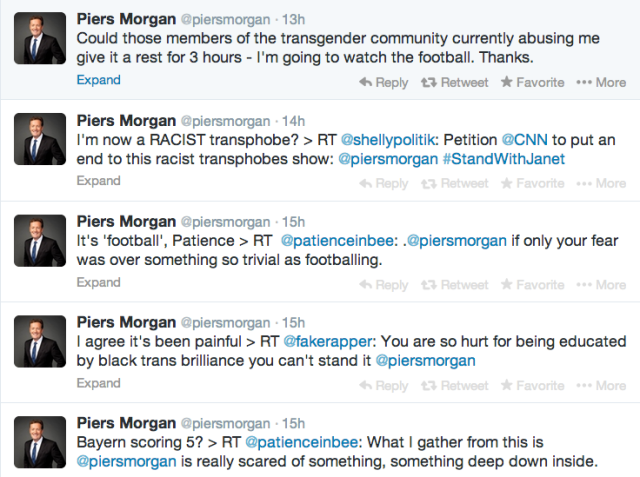 Here's a tip for anyone who wants to be able to claim allyship with trans people: when the very trans people who you claim to be supporting repeatedly tell you that you're messing up and being offensive, listen to them. Piers Morgan is apparently having a very hard time learning this lesson. This is not how you support trans people. This is not how you be an ally. This is not how you act like a mature adult.
It's a real shame that Morgan threw this tantrum and was able to take away some of the spotlight from Mock. Let's remember what's really important here. Janet Mock, a trans woman of color, was a guest on The Colbert Report talking about her New York Times best selling book, and no matter what a certain transphobic and infantile TV host thinks, that is something to be celebrated.