Last night on CNN's Piers Morgan Live, trans woman, author and advocate Janet Mock showed up to talk about her new memoir Redefining Realness. What should have been a great and informative appearance by one of the country's leading trans activists instead turned into a long series of misgendering by the show's host, followed by a twitter temper tantrum when Mock called out Piers Morgan for the way he dehumanized and sensationalized her on his show.
The show very quickly took an uncomfortable turn. Every time Piers Morgan prefaced the story, he talked about how Mock "was a boy until age 18" when she became a woman. When he actually started talking to her it was even worse. He introduced her by saying "Janet was born a boy and at the age of 18 she took an extraordinary step to become the woman she is today." Okay, so right off the bat he's misgendering her. Then, the first thing he says to her is, "this is the amazing thing about you- had I not known anything about your story, I would have had absolutely not a clue that you had ever been a boy, a male, which makes me absolutely believe you should always have been a woman." This is not how you compliment trans women. He's essentially saying, "you don't look like all of those ugly, manly trans women, so I'm going to be nice to you." If he had been talking to a trans woman who doesn't pass as well as Ms. Mock, he seems to be implying that he wouldn't believe that she was meant to be trans.
Morgan's interview didn't really get any better from there, as he used Mock's birth name several times, said that she used to be a man multiple more times and even said that she "became a woman" only when she had "a transgender operation." Again, had Morgan's guest been a different trans woman, one who perhaps didn't pass as well as Janet Mock, one who hadn't yet had (or perhaps even never planned on having) "the surgery," would he consider her to still be a man?
Piers, that's not how being transgender works.
When she was growing up as a young trans woman, Janet Mock wasn't a man, no matter how much or how little transitioning she had done. Having a surgery that's just one step in some trans people's journeys didn't magically change her from being a man to being a woman. She already was one. Even the show's graphics misgendered her, saying "Janet Mock: Was a boy until age 18."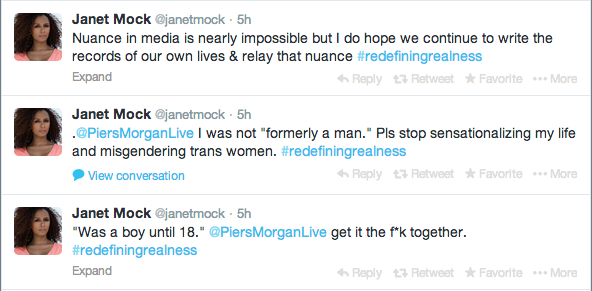 Mock started tweeting her reactions to the interview (which was filmed several days ago) from an event celebrating the release of her new book Redefining Realness. In her tweets, she called out Morgan for saying that she used to be a boy and reminded him that she was never a man and he needs to learn how to better talk about trans people. At the event were several other trans women, and Mock tweeted out a flawless picture of herself standing with actress and fellow trans advocate Laverne Cox, giving the perfect reaction faces to Morgan's misgendering.
Morgan soon caught wind of Mock's tweets and apparently reverted into an eight year old child who was just told that he has to eat his vegetables. Morgan's childish, entitled and overly aggressive response started when several twitter users started calling him out on his lack of tact and understanding when it comes to treating trans women like human beings. Morgan immediately got defensive and again misgendered Mock. He then tweeted out, "A lot of very irate people accusing me of 'transphobia' because I devoted a third of my show to @JanetMock 's inspiring story. Weird." Morgan continued by tweeting "…wish I'd never booked her." Now that he knows that Janet Mock will call  him out when she is misgendered and dehumanized, he regrets giving a voice to her cause (the transgender one) that he claims to support so much.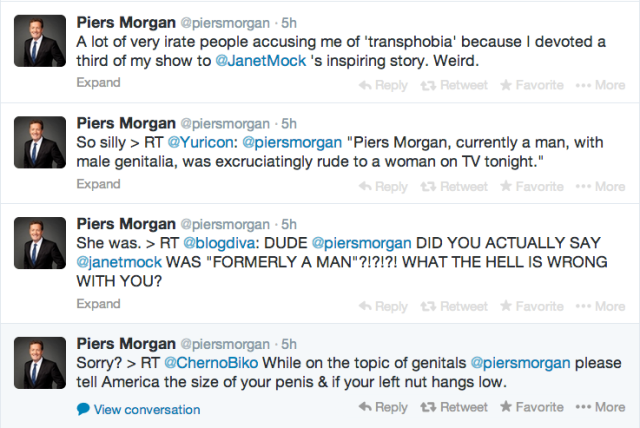 Showing just how great of an ally he is, Morgan tweeted out, "As for all the enraged transgender supporters, look at how STUPID you're being. I'm on your side, you dimwits." Because there really is no better way to show how supportive you are of an oppressed community than to dismiss, belittle and insult them in public. Morgan seems to think that he did the transgender community the ultimate favor. He allowed one of us on his show and he expects us to be eternally grateful. Morgan put the cherry on top of his twitter tirade by actually threatening Janet Mock, saying "I'll deal with you tomorrow night on air @janetmock – never been treated in such a disgraceful manner. Be proud." This is what happens when rich, white, male "allies" get called out on their messed up behavior.
Did he learn nothing from Laverne Cox's and Carmen Carrera's recent appearance on Katie Couric's show and the backlash that ensued when she failed to learn the proper guidelines for interviewing (or really just talking to) trans women? The guidelines aren't even that difficult to follow, they pretty much boil down to a few things: don't ask about a stranger's genitals, don't call a woman a man and don't treat trans women as if we're oddities in a sideshow. When he broke those rules, he was rightfully called out on it. However, instead of apologizing and admitting that he should have treated Mock better, he called Mock and her supporters "disgusting," "shameful," "pitiful" and "pathetic," among a litany of other insults. Is it really that ridiculous and shameful to request to not be consistently misgendered and dehumanized? There's a gifset going around tumblr right now showing a quote from Laverne Cox's speech at the recent Creating Change conference. In it she says, "When a trans woman is called a man, that is an act of violence." Trans activists like Cox and Toni D'Orsay have been saying this for years, but apparently people like Morgan haven't been listening.
Morgan is perpetuating the idea that Janet Mock, and by extension other trans women, are men. He is insisting on othering her and focusing on his notions of what bodies should look like. These ideas are why trans women get beaten when they use women's restrooms; why, when trans students are forced to go out of their way to use a separate bathroom ,we think it's progress; and why trans women of color are murdered after the person flirting with them finds out they "used to be a man." What might be worse is his reaction to the backlash. He seems to think that since Janet Mock didn't immediately interrupt and correct him while she was on set, she has no right to stand up and demand to be treated with respect, and that she's being completely disrespectful by doing so. Morgan added several more tweets this morning, saying again that Mock is "pretending" and "lying" and even challenging her to come back on his show to debate whether or not he was offensive. That' s not how being offensive works. Mock clearly pointed out which direct quotes from Morgan's show were offensive and transphobic, and still he is trying to make her seem like the irrational one. I'm not sure how Morgan thinks he can debate the objective fact that he repeatedly said that Mock was a man.
Trans women are already seen as aggressive and irrational, or even crazy, and when Morgan dismisses Mock in this way and claims that he's never been treated so horribly by a guest, he is saying that those stereotypes are correct. He's acting like he's the victim here, and that a "mad black trans woman" is attacking him for no reason. He's trying to completely discredit her, claiming that she was perfectly happy with the interview and only now "pretends she was mortally offended" and that she set out to "distort" the facts to "create a fake furore and sell books." The only claims Mock has made were that Morgan said she "was a boy until 18" and "formerly a man," and that she didn't appreciate or agree with those statements. Morgan is participating in a very insidious form of transmisogyny, where trans women are first mistreated, then attempt to point out the oppression only to have their oppressors turn the tables on them. We're told that we're too sensitive and that a lot of the transphobia we point out is made up. I'm honestly getting tired of having to write about trans women being disrespected by "journalists" like this. I'm tired of trans women being treated as though we're oddities who don't even deserve basic human decency. I'm tired of trans women being told that we should be happy with the crumbs that we're offered. Piers Morgan thinks that he did trans women a huge favor on Tuesday night, when in reality he slapped us in the face. Far too often trans women are told that we have no right to complain when those claiming to support us are actually harming us, and I'm extremely happy to see Janet Mock refuse to stand for it any more.
Be prepared to watch Janet Mock LIVE tonight at 9 EST when she shuts Piers Morgan down on his own show.
Looking fwd to a fruitful discussion. MT @piersmorgan: So @janetmock has agreed to come back on my show LIVE tonight. CNN 9pmET.

— Janet Mock (@janetmock) February 5, 2014