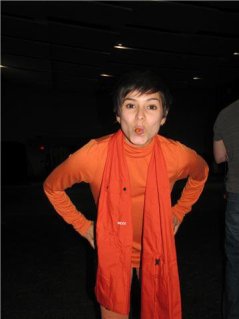 Club Skirts Dinah Shore's Fashion Show was a very special spectacular this year due to the very special specialness of the outfits worn by the celesbian models present! Autostraddle's very own vlogstar cutepants Celesbian Nat Garcia, aka Autonatic, went behind-the-scenes at the Dinah Shore Fashion show to capture the sentiments of her fellow celezzy fashion models.
AutoNatic describes her outfit as "a carrot" and Erin Foley feels uncomfortable with her aquamarine jumpsuit from 1986. Foley and girlfriend Nicol Paone, recently featured funny lady of LOGO's Big Gay Sketch Show, discuss the broad appeal of Autostraddle, from the bicurious to crackheads to owners of pet racoons. Inclusivity, people!
Meredith "the Baxta" Baxter & her girlfriend Nancy lounge with Nat pre-show. Elizabeth Keener and chefmasterhottie Jamie Lauren discuss the wonders of cooking as well as eating out. Wink.
AutoNatic also meets up with Thea Gill, actress from the popular series Queer as Folk, who recently started her own Wonky Girl Productions and is starring in the upcoming TV mini-series Riverworld on the Syfy Channel alongside Alan Cumming.
Enjoy!
+
+
---
+