MEREDITH BAXTER COMES OUT: Well, Meredith Baxter is our kind of TV Mom! We spotted Meredith Baxter on the Sweet Caribbean Cruise last month but didn't know what to make of it… and now we do! Because Meredith Baxter came out today!
She first came to mainstream popularity as the mom in the 80's sitcom Family Ties. Today, she finally reveals to the Advocate that she started dating women 7 years ago after three marriages and five children. She attributes her decision to publicly come out after reports of her on the Sweet Cruise started making the gossip rounds.
She says of her many difficult years before coming out, "I was never comfortable with myself… that doesn't mean I was questioning." Interestingly, she had a short-term affair with a woman in 1996, thought nothing of it and later married a man for a third time, go figure. Her five children were extremely open & accepting as her 25 year-old son Peter told People Magazine, "I just couldn't stop smiling because she finally figured it out."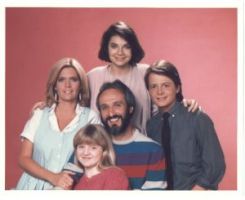 When asked why she didn't come out during Prop 8 (as Wanda Sykes did), she says "that would have seemed opportunistic. I may be wrong, but that's where I was at that point."
How does this affect your life? Meredith Baxter will also be a special guest star on season 2 of the (actually good) lesbian web-series We Have To Stop Now, starring out lesbians Jill Bennett & Cathy DeBuono. After completing her scenes in LA, she decided to join the cast & crew on board the lesbian vessel through a hurricane. We were on set with Jill & Cathy during the cruise and promised you an in depth follow-up interview and that is coming your way very soon! Check out the trailer for the smokin' hot second season of We Have To Stop Now and get a glimpse of Meredith in action:
[Gigantic Possible Way Too Tangental or Inappropriate Sidenote from Editor-in-Chief Riese: Although I was raised by liberal hippie extremists in a man-made mud-shelter and had to entertain myself with stick-puppets and growing my own tomatos rather than watching television (the evil box) and therefore was not allowed to watch Family Ties EVER, I did eventually flee the organic celery farm for boarding school at Interlochen Arts Academy, where the name "Meredith Baxter" was often lauded in giant glass cases as an alumni success story. So many of my artistic peers in our wooded enclave forbidden to interact with the opposite sex after 10pm had their first lesbian experiences in the bunk-beds of Mozart/Beethoven, Upper Brahms and Lower Brahms [*cough*] (Yes, our dorms were named after great composers) but most of these girls were pretty sure it didn't necessarily mean we were gay, just you know, restless and open-minded! Anyhow, probs not, as Meredith did not attend IAA during the bisexual chic 90's. I'm just excited any time someone from my high school turns out to be a lez b/c perhaps something was in the water.]
ANYONE BUT ME: Just like us, Zachary Quinto is ADDICTED TO ANYONE BUT ME! Check out his confessional:
Don't forget the season premiere of Anyone But Me drops on December 15th. Check out Autostraddle's interview & photoshoot with smokin' hot co-stars Nicole Pacent & Rachael Hip-Flores and head writer (and former L Word scribe) Susan Miller.
NO PANTS DANCE-OFF: We recapped the Victoria's Secret Fashion Show last night! Did you watch it? Now you can watch it with us!
GLAMBERT: We also declared Adam Lambert as Autostraddle's Sexiest Man of 2009 because Robin did an AMAZING photoshoot with him, and he also visited Ellen yesterday – worlds of awesome did indeed collide! You can catch that video of him on Ellen at the end of our Sexiest Man Alive Post.
WEDDINGS: This photographer designed this photoshoot as a manifestation of her imaginative feelings following the defeat of Prop 8. It's hot gender bending, pretty photos and political activism all at once! So check out Ara Lucia's Victorian wedding photos!