Sweet Lesbian Travel is all about "women supporting women," said Jill Bennett at an informal press conference on board Sweet's inaugural cruise to the Caribbean, thanking Sweet CEO and co-founder Shannon Wentworth for her support of Jill and Cathy DeBuono's web-series We Have To Stop Now. It was Wentworth's investment in the series that enabled the duo to shoot four episodes of Season 2 on board and therefore enabled me to interview Jill Bennett & Cathy DeBuono on set.  The cruise also enabled us to be present on Wednesday morning when Jill & Cathy performed the ancient lesbian ritual of Climbing the Mayan Ruins While Discussing Relationship Feelings. Also, I find Cathy's personality very soothing and kinda wish she were my real therapist.
So, all in all it was a pleasure to grab a minute to chat with the dynamic duo. We talked about We Have to Stop Now and why SheWired suits them better than AfterEllen (swear words!) and because they were super busy and we have lots of things to talk about, we made plans to do a more in-depth interview soon.
+
The Show: We Have To Stop Now
We Have To Stop Now is a romantic comedy web-series that follows two lesbian therapists as they struggle to stay together while promoting their book "How To Succeed In Marriage Without Even Trying." Occasionally they take their clothes off and have sex and afterward they smile more and have even cuter hair!
Comedian and co-star Suzanne Westenhoefer explained her passion for the show: "We all got really sad about some shows that represent lesbians and how they were written and how things happened and how we were represented, like, Who are these lesbians? Who acts like this?" and advised people looking for positive representation to "check out our show – you'll see yourselves."
Jill Bennett added, "It's all about independence with our series. It's made by lesbians, it's for lesbians, and it's been privately funded by lesbians. We went to the gay networks and they were not interested in doing a lesbian scripted show. Shannon donated the rooms so we were able to do our show. It's all about working together."
Filming We Have to Stop Now at Sea
Bonus: the fans on board had the unique opportunity actually appear as extras in a scene that takes place on the Sweet cruise. In the scene, Dyna [Cathy]and Kit [Jill] are on the Sweet cruise doing a Q&A for their book How to Succeed in Marriage Without Even Trying while their own personal relationship drama simmers beneath the surface.
A few lucky bitches even scored speaking roles as audience members pitching questions to Jill & Cathy. Jill, Cathy and director Robyn Dettman remained patient and professional throughout it all, appearing unphased by the challenges of filming in a super-tight space surrounded by mirrors with untrained actors who forgot lines and probably were secretly burning to ask off-script questions like, "Can you take your tops off?"
Jill & Cathy were playful, laughing and all-around adorbs between takes. They complimented extras on their surprisingly fantastic acting skills and just seemed happy to be out actors doing a lesbian-themed show on their own terms.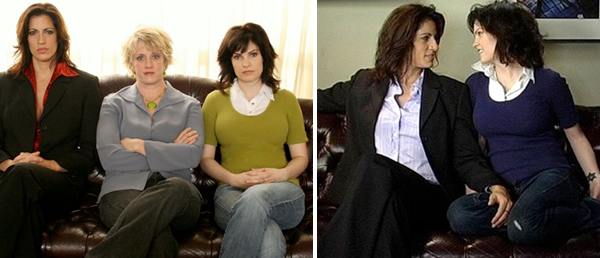 Chatting With the Dynamic Duo
Jill & Cathy told me that filming on board is "an exercise in being flexible and rolling with it. You show up on a set you decided to shoot at and it's not available or one of our guest actors [on the ship] is unavailable."
But the biggest problem they faced while filming on board? Being deprived of our land-based communication techniques like stone tablets, telegrams and most importantly TEXT MESSAGING. Cathy explained, "We've become so reliant on text messaging [during filming in LA]. Now, it's just 'run up to deck 12!' It's like a game of telephone and you would not believe how the message changes from one person to the next. It's been a Comedy of Errors but we think we're making a good show."
Jill & Cathy on set during the Sweet Cruise!
+
I also got a bit of scoop regarding what it's like working at SheWired.com versus their previous interweb home, AfterEllen.com. Jill broke down the differences, explaining: "AfterEllen is owned by Viacom and as much fun as we had doing We're Getting Nowhere, there was obviously a certain level of restraint that we had to have. No cussing, sexual references had to be watered down and sanitized. One of the refreshing aspects of being on SheWired is they are a privately owned company. We can say whatever we want, we can do whatever we want ["And we do!" -Cathy chimes in] and they support it."
Cathy adds, "When I was doing What's Your Problem on AfterEllen, we really had to work within the confines of certain margins because there were so many responsibilities to Viacom and the rules that they are subject to. So, once we left AfterEllen and went to SheWired, we were a little gun shy about certain things because we were so used to being told "you can't do that, you can't do that, you can't do that."
But once we moved over to SheWired, we actually sat down with [Editor in Chief] Tracy Gilchrist and said look, these are the limitations that have been put on us before and we're not doing it again, so, what do you think of that? And she was like, are you crazy?! Let that shit fly!"
Clearly that creative freedom has translated into new projects and fresh ventures for the twosome, now happily working together and sailing into the eye of the hurricane. Check back on Autostraddle for the rest of our talk with J&C; debunking some popular rumors, the experience of filming their weekly live vlog, The Gloves Are Off and their upcoming movie And Then Came Lola, available on DVD in 2010.
Season 1 of We Have To Stop Now is online at wehavetostopnow.tv and will be distributed by Wolfe Video on DVD in the Spring to coincide with the Season 2 premiere.