.
Everything that Susan Miller touches turns to kickassery.
In addition to her work as Story Editor for Thirtysomething and Consulting Producer and Writer for the first season of The L Word, she's an accomplished Obie-award winning playwright and an esteemed screenwriter … and so it's no surprise that her latest effort, queer-themed StrikeTV webseries Anyone But Me, is — well — pretty kickass. Co-created with award-winning director Tina Cesa Ward and described as "a new generation searching for love and belonging in the post 9/11 age," Anyone But Me focuses on 16-year-old lesbian Vivian [Rachael Hip-Flores] after her First Responder father's 9-11 related health problems force him to relocate their little family to the suburbs. Vivian leaves behind everything familiar, including her smokin' hot girlfriend Aster [Nicole Pacent] for new friends, new prospects and a fancy Westchester school.  [You can catch up on the first six episodes here. Episodes 7 & 8 are in post-production and we'll have 'em here for ya as soon as they're ready.]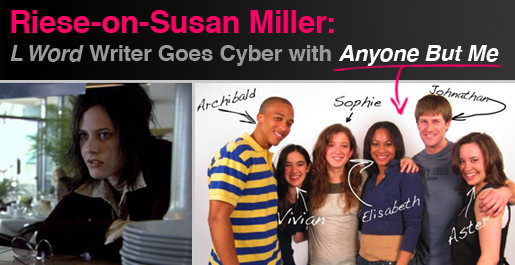 But it's not just "post- 9/11" that defines Anyone But Me's age — on a more personal [and less tragic] level, it's also a show about a girl with a girlfriend in the post-L Word, post-South of Nowhere age. It makes perfect sense, then, that this is a lesbian show created specifically for the web (RIP Girltrash), 'cause media-lovin' lesbians owe a lot to the internet for its consistently incredible power to bond disparate LGBTQ communities, sustain and strengthen independent media and encourage trailblazers to tell our stories honestly and without apology.
Anyone But Me succeeds most admirably in its dedication to the degree of delegated openness enabled by certain geographically-advantaged teenagers [a mentality that strikes anyone over 21 as mind-blowing] — Vivian is out to her father, but not her aunt (yet). She doesn't trumpet her sexuality to new friends or classmates, but when it comes up she's honest. She'll kiss her girlfriend on the street but knows there might be a few sly glances and snide remarks. And she's not afraid to talk back.
What I'm saying is this isn't a coming out story. It's just a story of a relationship and its challenges, of adolescence and its corresponding discontents.
And possibly I'm hoping it'll be a story of a little straight girl crush is coming Viv's way from the school's popular beauty queen, Sophie. Or maybe that's just how I imagine it 'cause that's my favorite lesbian storyline. Holler!

I first encountered Miller in 2006, when I took a dubious [three-hour] lunch break from my invigorating office job to attend a reading of her play "Sweeping the Nation."
Featuring actors including Katherine Moennig (SHANE!) and Sarah Paulson (Cupid, Studio 60 on the Sunset Strip, Jack & Jill) "Sweeping the Nation" is the story of writing partners trying to create a television series about lesbians — a creative process that challenges and complicates the writers' and actors working relationships and personal lives while incidentally placing them at the apex of the larger social and political conversation.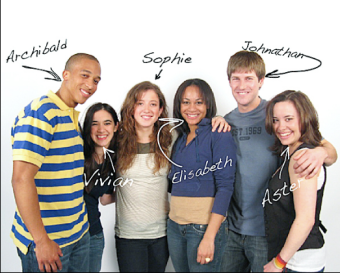 A complicated journey, to be sure, one that Miller knows quite well.
Soooo … I interviewed Dear Susan electronically. Over "electronic mail," if you will.
Riese-on-Susan Miller:
Riese: How would you compare the experience of putting together a lesbian TV series, as depicted in your play, to the experience of casting and producing Anyone But Me?
Susan: In the play, I had a lot of fun depicting behind the scenes pressures of creating a groundbreaking series and all the obligations and opinions that go along with that. There's a constant argument and assessment about how to do it right. One writer is more political and wants to take chances with form – the other is pragmatic and wants to please the powers-that-be. And the actors face tough press interviews about who's really gay, and what's it like to kiss another woman, and how is this going to affect their future in the business.
I know our actors in Anyone But Me are going to get some of these same questions. Tina and I feel very protective of them, but, they're fearless. They're very comfortable with the characters they play.
The great thing about a web series is that no network or corporation dictates what we write or who we cast. WE'RE the powers that be.
I want to portray people who are thirtysomething, or fiftysomething, or sixteen with depth and complexity. And I want to portray queer people the same way. I completely want to blow up stereotypes and dismantle generalizations.
Riese: Do you think Vivian & Aster's generation has grown up with a different idea of homosexuality and race relations than, say, Dana & Alice's generation? Are there storylines you could've written for Bette & Tina that would seem antiquated for Viv & Aster?
Susan: What I loved about The L Word for me – was that the characters were dealing with their lives, their work – they weren't just lesbians. And like the characters on our show, they weren't just people of color. With a few notable exceptions, they weren't in hiding.  So, in that respect, Vivian and Aster inhabit a similar world. But, there's also a kind of "so you're gay, what's the big deal" feeling among young people now. It's the age of facebook and twitter. People are out about everything.
Riese: Do you feel a different level of responsibility writing about queer characters than you do in other shows you've worked on, such as thirtysomething?
Susan: I want to portray people who are thirtysomething, or fiftysomething, or sixteen with depth and complexity. And I want to portray queer people the same way. I completely want to blow up stereotypes and dismantle generalizations. I don't want to write bullshit. I don't want to cater to the marketplace. I feel an obligation to honor characters, no matter who they are, with my best efforts and intentions.
People want to see themselves. I'm sensitive to that. And I know from experience that we're going to hear from people who don't feel represented or don't think their issues are getting enough air time. Or that our show is too political or not political enough.
It's hard to make everyone happy.
Today on the front page of The NY Times I read this headline: "Iraq's Newly Open Gays Face scorn and Murder" right next to an article announcing Vermont's backing of gay marriage.  This is the world.
So, yes, I feel responsible. All the time. To everyone.
Riese: I've read a few interviews that discuss how the show came together — Tina coming to you with the idea and the two of you working together to make it happen — how has the vision and scope of the show changed from the initial concept?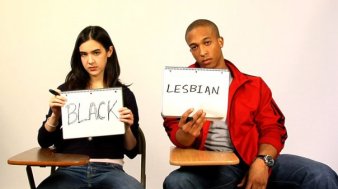 Susan: Tina had more than an idea. She had scripts. But she sought me out to consult with her, then to partner up so we could take the raw material and make the most of it. Together we've vastly re-written and expanded the show. Luckily, (or not) we're both crazy perfectionists and we share a standard of quality. Since we began a year ago, the show is growing on every level right before our eyes. We're excited to write and produce it. And, to have Tina direct it.
Riese: What do you think is next for lesbian teevee — with no lesbian characters on scripted television, and TLW & South of Nowhere off the air — is the future brighter than ever, or have we hit a rut — or neither? Do you want ABM on broadcast television, or would you prefer to keep it a web-series?
Susan: We love our fans on the web. Don't ever want to lose them. We made this for them. And we'll keep making it for them. But, we won't say no to any medium that gives the show exposure.
I think the timing couldn't be better for us. Because Anyone But Me isn't just about one community. And that really makes us of the moment.
Riese: Web TV shows tend to attract younger more cyber-savvy audiences. How do you think that will work out when/if you delve more into Gabe & Jodie's storylines?
Susan: Here's what's cool – people of all ages watch us. We'll always put our main focus on the younger generation, but they don't exist in a vacuum. I think our audience will be engaged with any story that has dimension.
Riese: What stories are you most excited to tell?
Susan: The stories we haven't told yet!
We want to take a serious look at depression among young people. And the ramifications of sexting.
More about the mysterious Sophie.
Elisabeth and her drive to succeed – the toll that takes.
The relationship between Archibald and Vivian. Can a straight young black man and a lesbian really be friends? What do they have to illustrate about the landscape of race and identity.
AND, of course, VIVSTER. I mean, come on. How hot is that love story?
Riese: Do you think Viv & Aster are meant to be, or just ships crossing in the night?
Susan: They have something strong going on. I want it to last. But, no matter what happens, they ARE meant to be. Right now. That won't change even if they grow up to lead separate lives. (Okay, that just made me insanely sad..) But, hey, we've got to take this ride with them, first.
Riese: I'm wondering if you'd be able to comment on your experience working on the first season of The L Word — Did you continue watching the The L Word in its subsequent seasons, how did you feel about its evolution? Was there anything you would've done differently?
Susan: Ilene brought me out from New York to be a consulting producer/writer on the premiere season. I cherish that experience. There's nothing that compares to being at the beginning, to sitting around the table with other writers and beating out stories, working out the character arcs, tossing around ideas. (one of the best was changing Kit from a hippie lesbian filmmaker who was unrelated to Bette  in the first pilot that was shot to the multi dimensional character she became for the rest of the series.)
A television series is a beast. It's freaking hard to be consistent, to remain immune to outside voices.
A television series is a beast. It's freaking hard to be consistent, to remain immune to outside voices.
Ultimately some things that failed for me in subsequent seasons were the too many faces of Jenny – the  ungluing of nearly every relationship and the requisite sex with whomever rang the doorbell or shared a prison cell.
I was always connected to the Bette/ Tina relationship and the scene in the next to last season where Tina suddenly kisses Bette in a bar and their relationship begins anew – hit one of the many high notes (and there were many) the series managed to pull off.
Riese: What are you most proud of with The L Word, and with Anyone But Me?
Susan: Being a pioneer.
Riese:. What's your ultimate goal for "Anyone But Me"?
Susan: To make it a part of the conversation.
Riese: Who are your favorite writers?
Susan: J.D Salinger, Chekhov, Michael Chabon … Help, I can't do this without my notebook of lists!
Riese: What are your top five favorite teevee shows of all time?
Susan: Six Feet Under, Thirtysomething, The Wire, St. Elsewhere, Northern Exposure.
Riese: Who would you love to see guest star on ABM?
Susan: This is fun!
Liza Weill – my friend who played Paris on "Gilmore Girls." Love her.
Judith Light – (Ugly Betty) She's the best. As a person, too.
Kate Clinton – helped get this party started by mentioning our show in her newsletter
Zach Quinto – Heroes evil man and the new Spock. Was in two of my plays.
Riese: Autostraddle is like the best website you've ever seen right?
Susan: Like omg! Like yes. Like I want to go to there.
Riese: What is the primary conflict in Viv's life as you see it?
Susan: … I'm going to let Tina answer that one.
[Stay tuned for more interviews with ABM people from Autostraddle! You can catch up on the first six episodes here and then look forward to the rest. Personally I feel like it starts to get its groove in Episode 2, as most series do. Yay!]
–[ad#postads]