WARNING: This post contains a million spoilers for Season Three of "Grace and Frankie"
---
Riese: Look, I know how television works. I know the rules, I know the caps. I know that a show about two gay men who come out to their wives later in life and then get married and buy expensive in-home stereo systems is not going to make its titular female characters also a gay couple. I know that the hit Netflix television series Grace and Frankie has presented itself as a rare glimpse at the fulfillment and companionship two women in their golden years can access through platonic female friendship. I mean, I can't complain about a program that makes the argument that even for heterosexual women, men can be made entirely unnecessary. But also…
Erin: Grace and Frankie are a couple.
Riese: This definitely wasn't the case in earlier seasons. Sure, there was innuendo, sure, it was shippable. Sure, Grace has consistently expressed a relatively aggressive rejection of men in general. Sure, they've got this "odd couple" vibe down pat. But when I invited Erin to watch Season Three with me, I did not know I was inviting her to the viewing of a lesbian mini-series. (Oh and just for the record, Erin and I are platonic roommates who have been living together since both of us had breakups of long-term relationships around the same time. You know how it is.)
Erin: I agreed to the marathon viewing even though I've never seen season one or two, and it's really nobody's business but mine as to why I'd do something like that. I'm just one woman with one life to live.
Until this past weekend, the only thing I knew about Grace and Frankie was that it used special camera filters in order to accommodate women of a certain age. I never knew what to do with this information. I'm not necessarily upset that I have it, because it is sort of fascinating to know what goes into filmmaking, but also I don't want to know the details behind it, like how that kind of decision gets made, and so I tell a lot of people about it to disperse some of the burden that goes along with keeping it.
Riese: Erin told me about the special filters in January, and now every time an older woman is on screen and somehow has more youthful skin than I do (read: all the time), I have to ask Erin about the special filters. It's all I can think about. Look, now we're all sharing this burden together.
Erin: I'm glad we watched Season Three of Grace and Frankie because if we hadn't watched Season Three of Grace and Frankie, we'd never know just how much the writers of the show are daring the audience to assume a romantic relationship between the main characters.
Riese: There is no way this isn't even slightly intentional at this point. These two women are in love! It's obvious! Is this queerbaiting and if so, why am I not more upset about it? I hate queerbaiting!
Erin: Look, if I'm speaking personally, and I am (Erin), I hate to be a person that takes seemingly straightforward pieces of pop culture and salad shake in some gay dressing, one, because I hate a reach, and two, because it's a little sad to get so invested in something that was purposefully pivoted away from bringing gay people joy, but on the other hand I absolutely love being that person. And while it's true that friendship can often be as complex as romantic relationships and can even involve the same kinds of displays of affection as romantic relationships, season 3 of Grace and Frankie took that concept, ran with it, kept running with it, jumped a fence, and then punted it into moving traffic.
Riese: As Erin and I died and had to bring ourselves back to life every 45 seconds throughout the season's run, I felt that voice in my head, not everything is gay you guys. why do you have to act like everyone is gay. some people are just friends. not all characters have to be gay. can't women just be best friends without being gay? can't women live together and support each other without being gay? why are you projecting all this gayness onto everybody?!!! But! Here's the thing — everyone IS a little gay. I honestly believe this. The time has come for us to get real with each other about this brave new world we're in where for many women, at least, sexuality is accepted as more fluid than ever before, and only 48% of teens ages 13-20 identify as exclusively heterosexual and only 65% of millennials identify as exclusively heterosexual. The human capacity for being a little gay is, quite frankly, tremendous. I see no legitimate reason why Grace and Frankie could not be bisexual women in love with each other on a show that already has a gay couple on it. It could be like the last season of Glee, when nobody was paying attention anymore and therefore they were able to sneak in a double-gay wedding episode featuring a gay couple AND a lesbian couple. Look this show queerbaited me for an entire season and I'm not even mad at it, is this what life is like in the Age of Trump.
Erin: The notes on every script must have looked like this: "Hey, love this. Any way we could make it more like these two are in a relationship and it's supposed to be an unspoken agreement between us and audience, or at the very least that they're in love with each other and it's an unspoken relationship between them?" Did the writers ever deliver.
Take a look at the evidence below and tell me these women aren't on their way to a bead shop in Provincetown as we speak. (spoilers)
---
To start, they are two unmarried older women who live together and tell people they're roommates, which is the basis for every lesbian joke for the past several decades.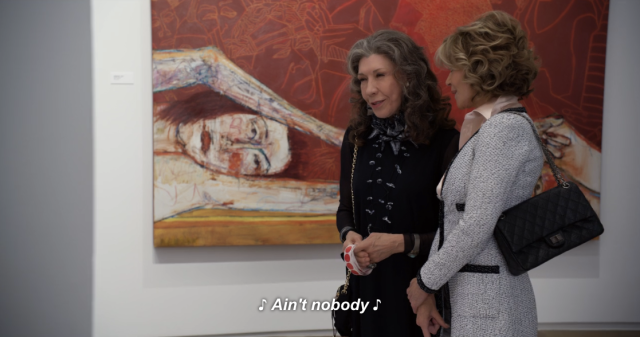 They argue with each other about whether or not they're starting a chicken coop together: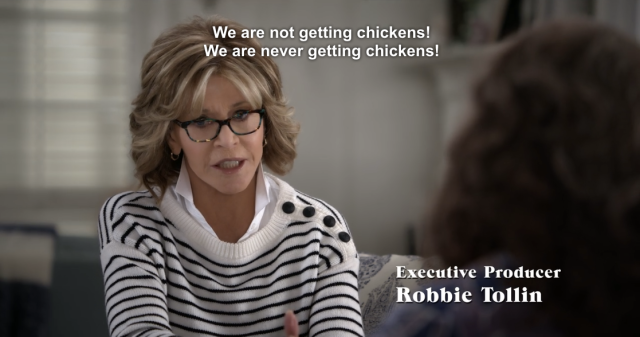 Grace has a not so subtle disdain for Frankie's boyfriend, Jacob, and men in general: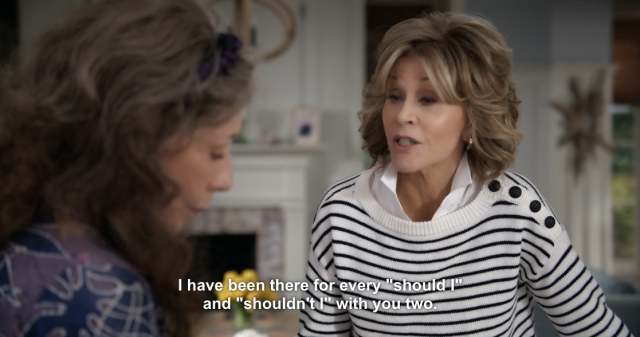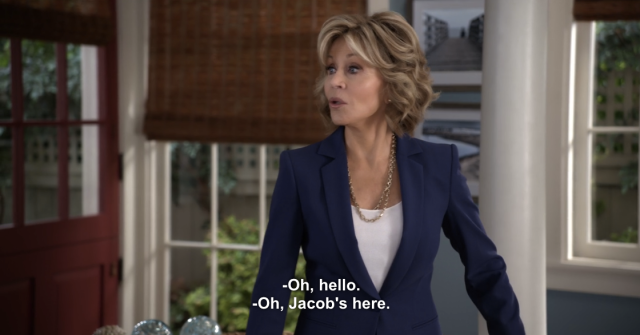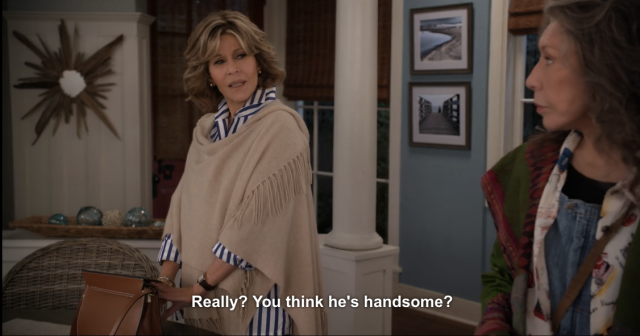 They're making vibrators together, which significant because it echoes/resembles two other lesbian traditions — going into business together and mutual masturbation.
There's a scene where you could replace them talking about their vibrator business and women's aversion to talking about masturbation with "same sex attraction" and it would make the same exact sense: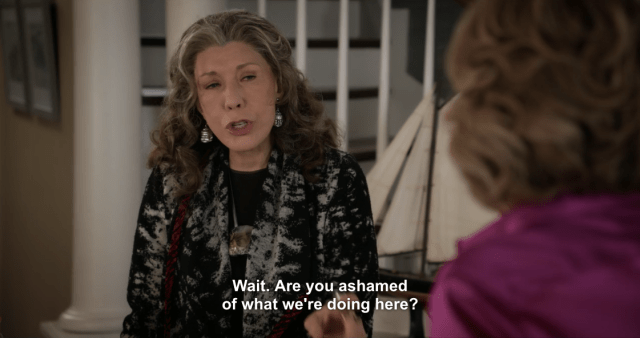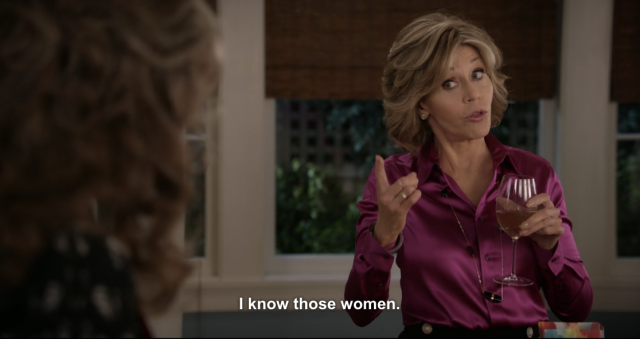 They spend all their time together: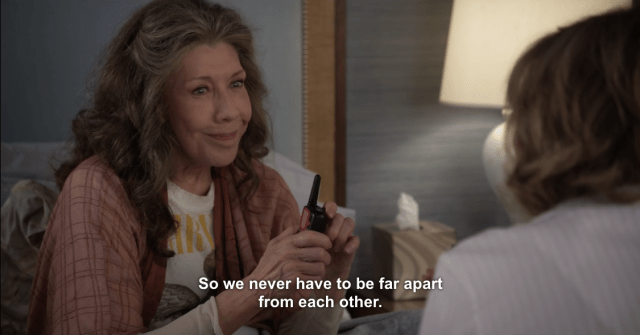 They speak as "we":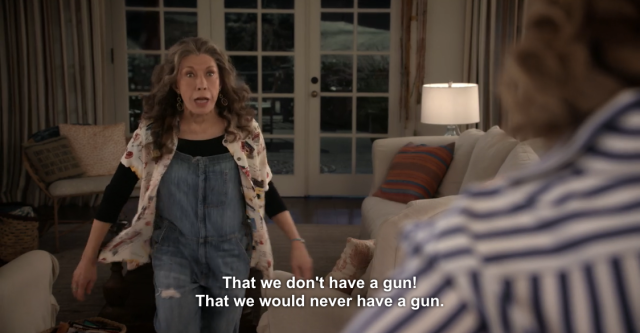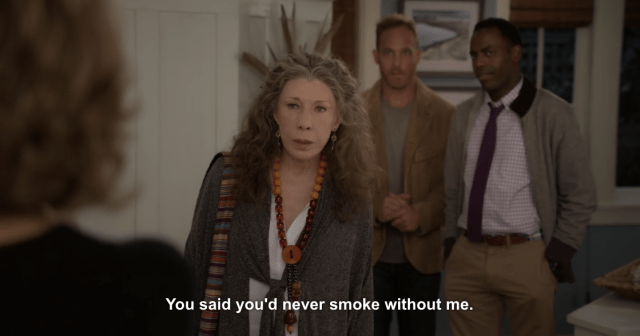 The constant vibes of this show feel like: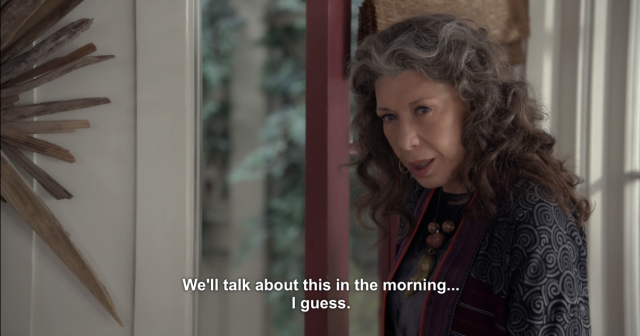 Classic friend stuff: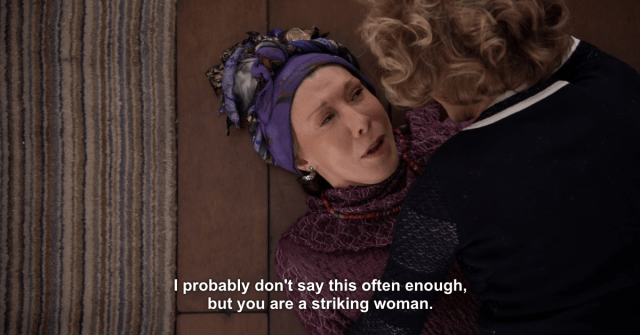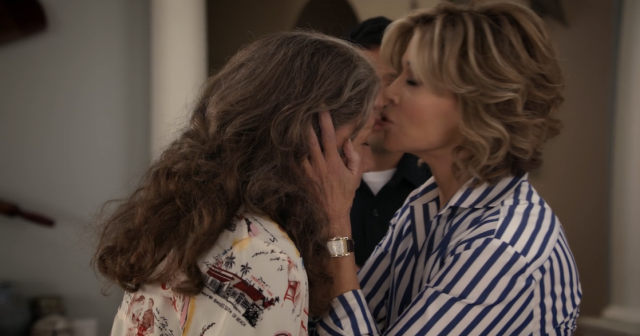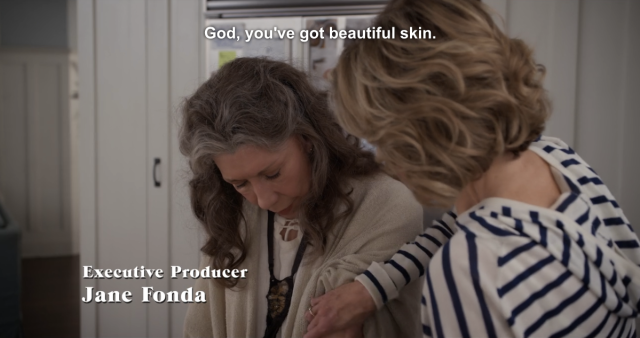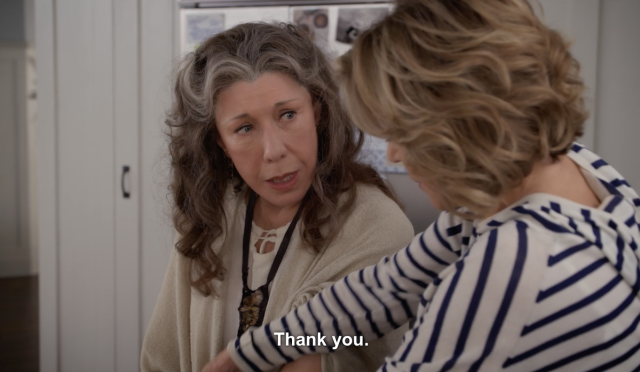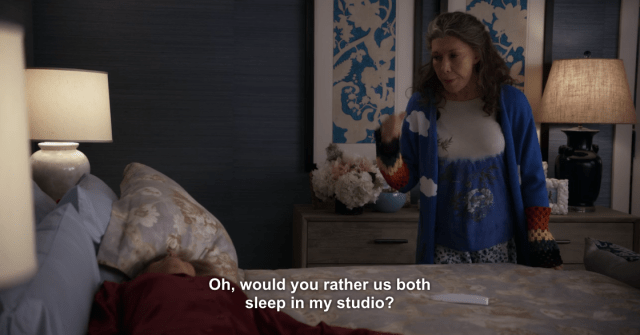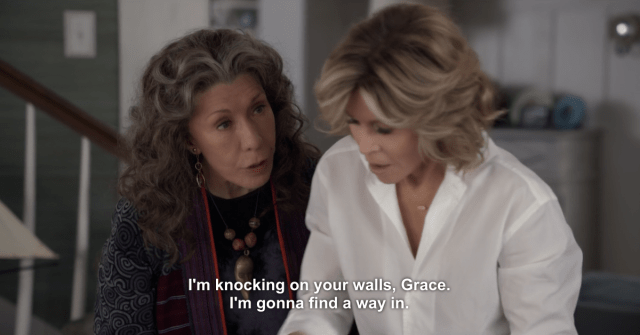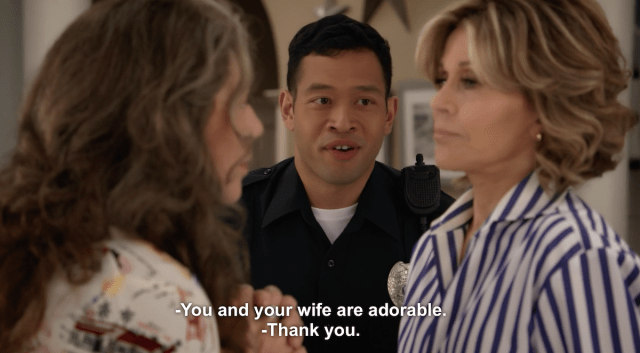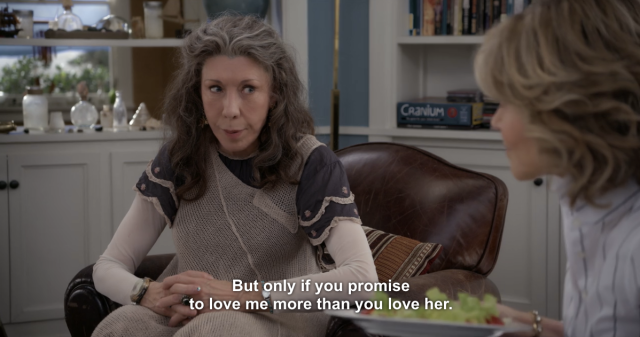 Then there are these kinds of statements: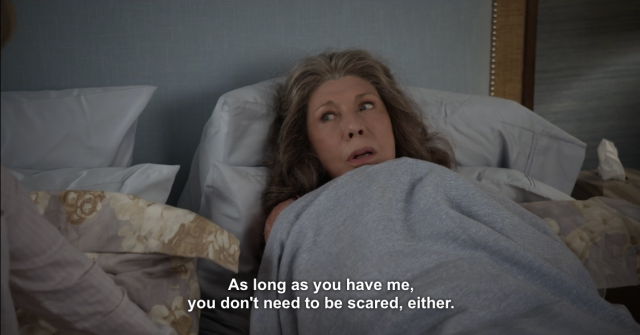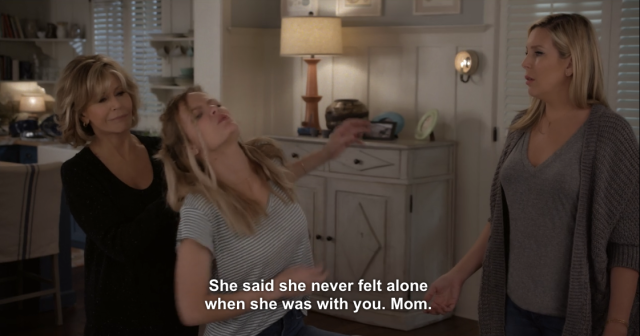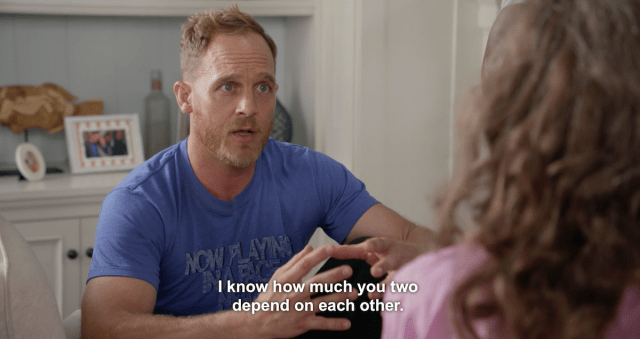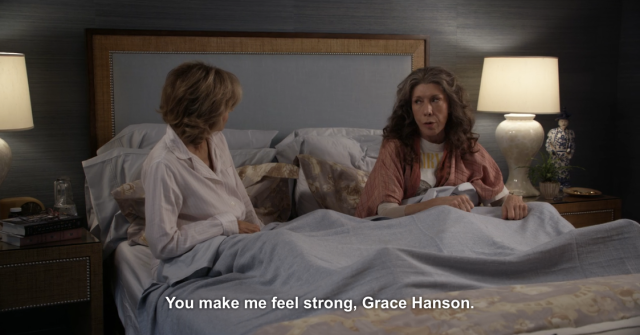 Or the kind of banter between two people who are two glasses of wine away from a making out: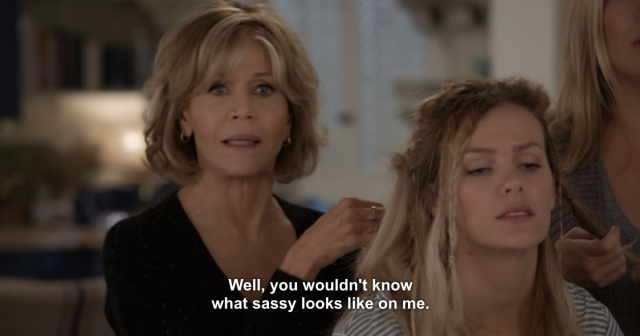 Dealing with the love triangle like: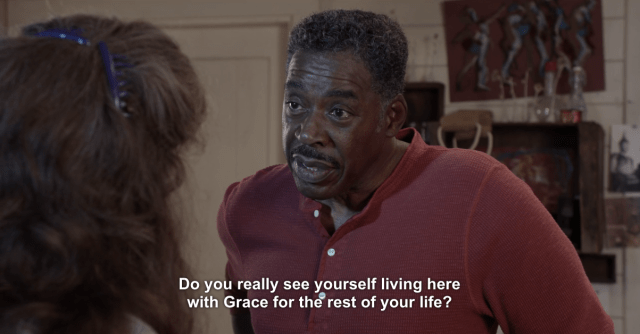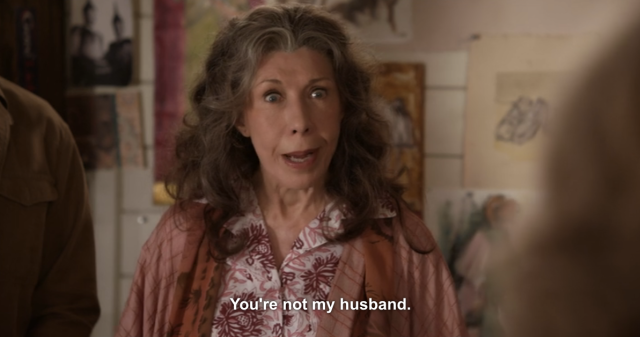 When Frankie tells Grace she might be moving to Santa Fe, everything gets much gayer very quickly. Everything gays right out of control. Every word spoken is a word unspoken, and also a word that could easily precede the words "you have to stay because I am in love with you."
Frankie: It was one bad day at the office. We'll fix it.
Grace: We'll? There's no more we'll!
Frankie: That's not true!
Grace: Oh, yes it is. Because half of WE'LL is abandoning me.
Frankie: And why wouldn't I? You're acting like I've already left. You wrote this letter without me, you were going to this meeting without me. I don't even know if I'm going yet.
Grace: Of course you're going. Santa Fe is the place you've been dressing for your entire life.
Frankie: Don't you understand that this is an impossible choice? I don't wanna lose Jacob, I don't wanna lose you. What am I supposed to do?
Grace: Oh I told you. I can't tell you what to do.
Frankie: Well you can say something.
Grace: Like what?
Frankie: I don't know like "don't go, I'll miss you," or something else a human being might think or feel.
Grace: You think I don't feel anything about this?
Frankie: I don't know what you feel, you won't talk to me.
Grace: There's nothing to talk about until you decide whether you're gonna run off with your boyfriend.
Frankie: What would you have done if things had worked out with Phil? Would we all be living together at the beach house because I don't think so.
Grace: Why the hell would you bring up Phil?
Wish I had "why the hell would you bring up Phil" on a needlepoint, because that question is always valid. Like these questions: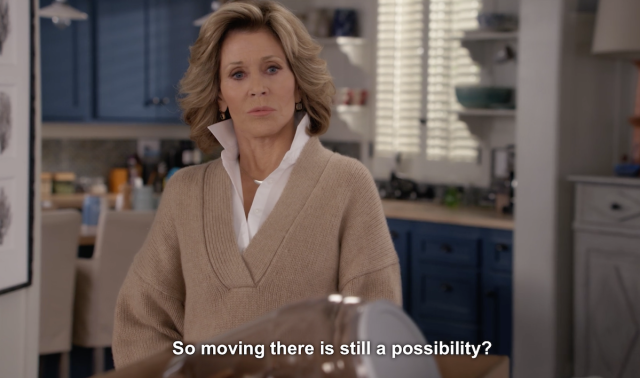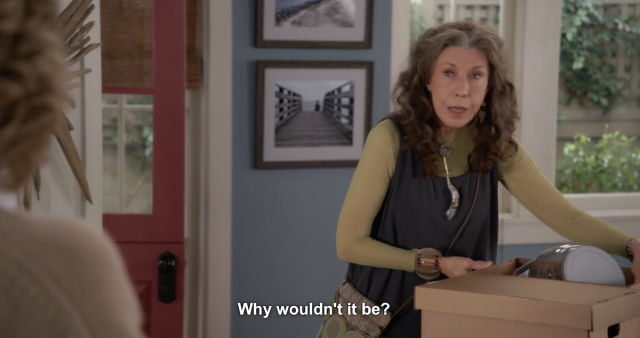 It's totally normal for best friends to not know how to talk about their intense and co-dependent feelings of friendship towards each other. It can be hard to find the words!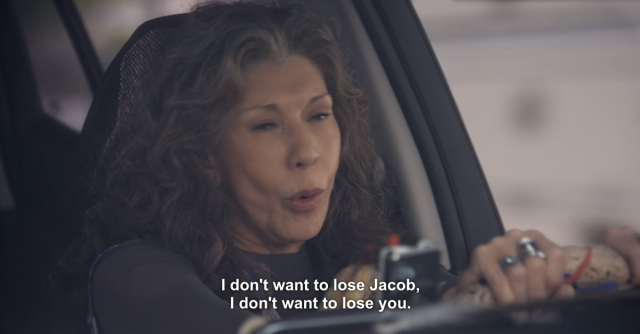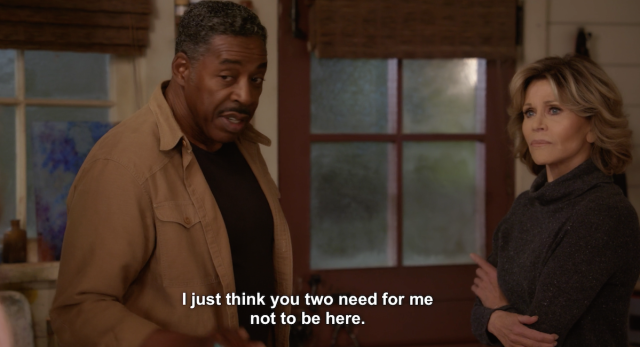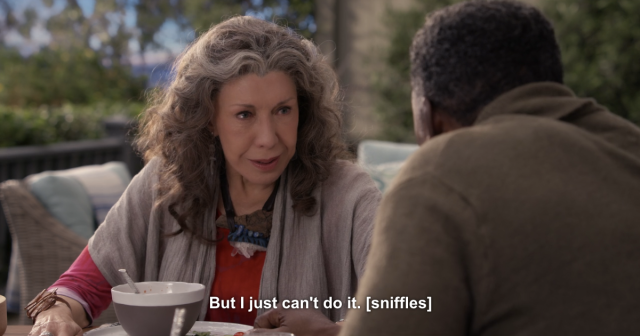 Dancing around those three words: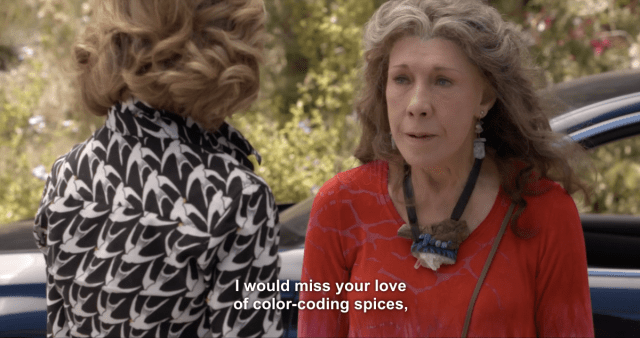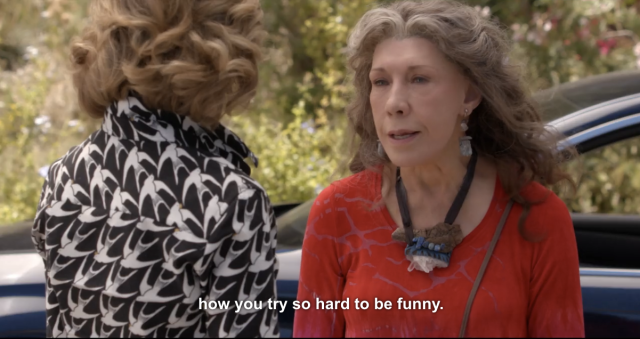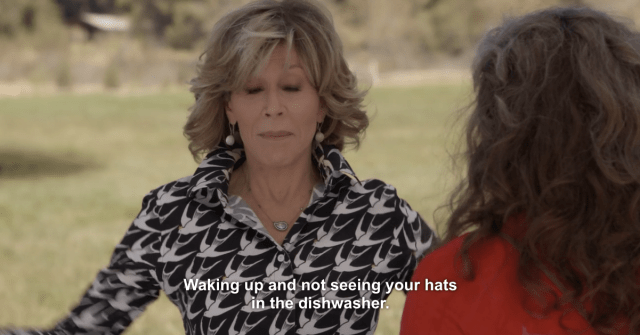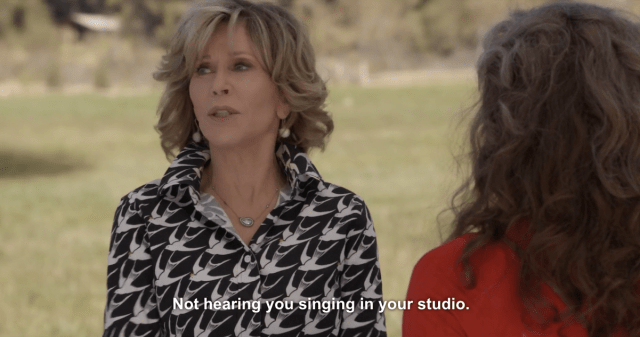 And finally the symbolism of the completion of this arc: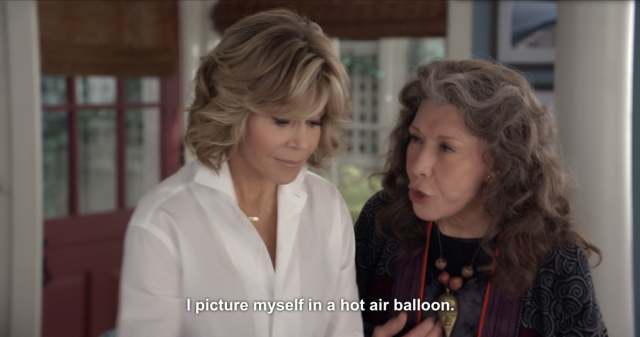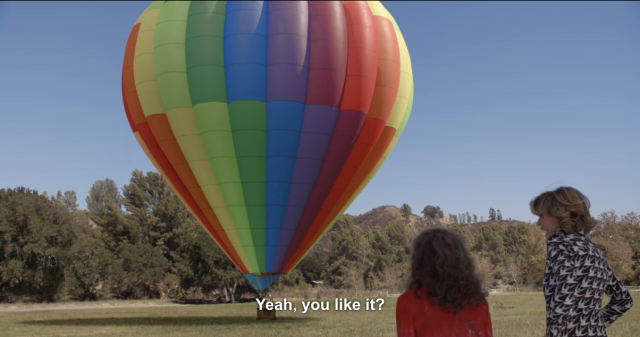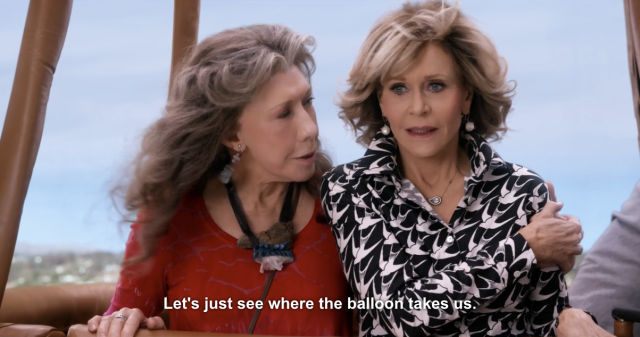 Well, I've got a guess!