Lunchtime: unequivocally the best part of the day. But could it be better? Yes sir, it can. You don't have to spend gobs of money going out, but you also shouldn't be packing the same peanut butter sandwich year in and year out; there is a middle way. The path to becoming a lunch box buddha isn't so hard. All you need is a good balance of inspiration and  improvisation. Every week, we'll make one or two packable recipes so that you have something new to fill your lunch box and your stomach. 
---
This week, my friend took me to a little fisherman village called Combarro. It's filled with dozens of hórreos (pronounced "oreos," like the cookie), the little stone Galician granaries that are used to store food, garden tools or – according to my friend – weed. We walked around the village with all the septuagenarian tourists who had come to the town in their tour bus and were plied with shots of caña – that's Galician aguardiente – in every flavor. I tried chamomile, coffee, white chocolate and cherry before buying a bottle of white chocolate for only €5.
In cute food news, when I started cooking on Sunday, I sliced the ugly part off a sweet potato and found something lovely.
Flour Tortillas
Ingredients:
4 cups of Flour
6 tablespoons of Oil
1 teaspoon of Salt
1 cup of warm Water
Instructions:
1. Combine the flour, oil and salt and then add the water little by little until you have an elastic dough that doesn't stick to your hands. Allow the dough to sit for as long as 30 minutes or as little as five.
2. Cut the sides off a freezer bag and stick it to a surface with a small amount of oil on the bottom of the bag.
3. Pinch off a ping pong sized ball of dough and place it between the two layers of plastic that you made out of the cut-apart bag. Flatten the ball slightly with your palm and then roll it as thinly as possible using a rolling pin.
4. Peel the top layer of plastic off the tortilla and then lift the bag and allow the dough to fall onto your hand as you pull the bottom layer away.
5. Turn your stove to the highest heat possible and allow the pan to warm up. The best tortillas come from a very hot pan that allows them to cook in the shortest time possible. Carefully transfer the tortilla to the pan. Flip it as soon as bubbles start to form. The second side will only take 5-10 seconds to cook. Cover with a towel or a plastic bag while you cook the rest of the dough.
+Storage and eating: This recipe will make about 20 6″ tortillas, although for a wrap making fewer, but larger tortillas might make more sense. You can store your tortillas in the fridge for around two weeks or nearly-indefinitely in the freezer. To heat them up, I sprinkle a tiny bit of water on them and then throw them in a skillet or the microwave.
Pesto and Roasted Vegetable Wraps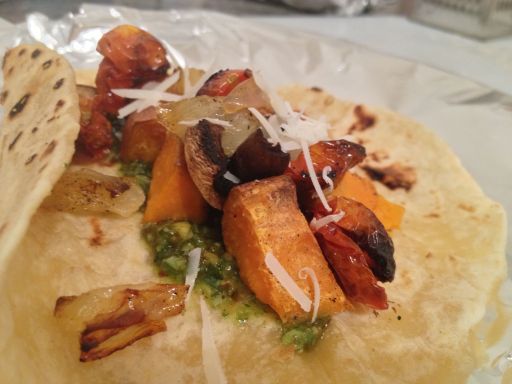 via The Kitchn
Ingredients:
3 sweet potatoes
10-12 medium-sized mushrooms
1-2 pints of cherry or grape tomatoes
1 large onion
10-12 tortillas
Pesto (fresh basil leaves, nuts, parmesan cheese, garlic, olive oil, salt, pepper)
Olive oil
Salt
Pepper
Instructions:
1. Chop the sweet potatoes, mushrooms and onion into 1/2″ pieces. I like to leave the skin on the potatoes to show everyone what an adult I am and also for vitamins and stuff. Slice the tomatoes in half.
2. Place eveything on a greased pan. making sure to place the tomatoes skin side down so they don't stick. Drizzle the vegetables with olive oil and sprinkle them with pepper and salt.
3. Roast for about an hour at 400ºF/200ºC. The tomatoes and mushrooms might finish first, so check every once in a while to see if you need  to pull them out to keep them from burning.
4. Spread a bit of pesto in the middle of a tortilla. Arrange the vegetable along the pesto stripe and wrap it up. I like to fold in both short sides before rolling the longer sides a la chipotle.
+Storage and eating: These babies can be frozen for half a year and they'll be just fine hanging out in your fridge for a week. I wrapped mine in foil, but if you've got a less wasteful suggestion, I'm so ready to hear it. These wraps are good at room temperature and great when microwaved for 30 seconds.