Because you deserve to be the best dressed homo in the office. 
Header by Rory Midhani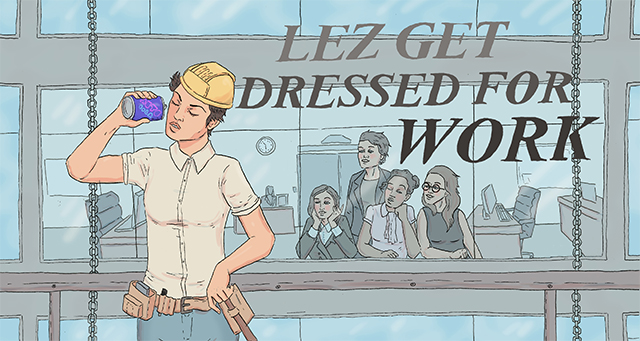 ---
Hello and welcome to the first ever edition of Lez Get Dressed For Work, in which we're going to be talking a lot about work clothes. Why, you ask? Shouldn't we be talking about something more substantial like how to even get a job in This Economy? Well, yes. But also: any job, no matter how shitty or fabulous, no matter if it's something miserable to make money while you wait on your dreams or if it's actually a job you've been dreaming of your whole precious life, is going to suck if you don't feel good about how you look. Think I'm being superficial? I might be, a little bit, but I personally have never had a good day while also not feeling good about how I look. It's just so distracting. And you're here to work, not worry about your clothes. I'm here to worry about them for you!
I've had some pretty bad clothing crises in my life, and I've also had a lot of different kinds of jobs. Within these different jobs I've done a lot of navigating to find the balance between my visible queerness and professionalism: visual clues about the fact that I'm a big dyke, like my generous body hair, don't often go well with nice jobs — not because a place is necessarily homophobic, but because the clothes that I'd have to wear to reveal that body hair would be inappropriate. I actually learned this one the hard way so I'm going to tell you about it. My first job out of college was at an abortion clinic. It was summer and approximately one million degrees out, which was made worse by my fifteen minute walk to the subway. So I wore shorts. They were from Express and gray pleated so I thought that that made them business casual. They were also way more professional than anything I had worn during my college job at a well-known sex toy store. That day my boss came into my office (one of two times she came to my office in the year I spent there) to give me a lecture about how she couldn't let me "walk around like that." I was (silently) outraged, and immediately assumed that it was because she didn't want people to see my extensive blonde leg hair, which in my young mind meant she was clearly homophobic.
In hindsight, obviously, she just didn't want me to wear shorts (and they were pretty short) as an employee of an abortion clinic, because, professionalism. She also probably didn't even notice my leg hair because it's blonde? The point was that my bare legs were attracting attention because they were bare and it was a medical facility. But I had spent so long cultivating this queer identity and trying to stand out and get noticed that I didn't realize one major part of being an adult: at your job, you're not really supposed to make a visual scene (with some exceptions that I will address shortly). So that's why getting dressed professionally is so hard: you have to look Nice but you still want to look like yourself but you also can't be a distraction from the actual work taking place because (usually) it's not about you. Stressful!
I currently work at a place where the opposite is true, and I've found that to be equally stressful. Everyone looks hot and fabulously unique every single day and every outfit is more gorgeous than the next. But at the end of the day, there's still a difference between a fabulous outfit in a stylish work environment and a fabulous outfit for not-work. And that difference is what this column is going to be about. You know how there's that one (or more if you are lucky!!) hot homo at work who always looks so fucking cool and appropriate and like she was literally born wearing perfect oxford shoes and silk shirts, even if it's 9am on Monday and not being in your bed is making you want to die? My goal is to get you to be that person. Not the one that wants to die. The first one.
So to do this in a way that meets all of your needs, I'd really like it if those of you who are having clothing crises every morning (been there!) would let me know what kind of place you work and what your gender presentation is like. Or, if you feel great about the things you wear, let me know so I can share that knowledge with the world. We'll also inevitably be talking about hair and makeup, so let me know if you have questions about that. If not I'll just riff. You've probably noticed by now if you're still reading that I'm talking about work environments at which one doesn't get dirty, aside from your hot sweaty bod and your smelly feet (oh is that just me? Sorry). I hope to eventually tell you about the best clothes to wear to jobs that involve physical labor, but I'm going to need one of you experts to tell me about it first. Okay? Thank you.
For now I'm going to tell you a little bit about my business casual strategy. It has a lot to do with button up shirts. Specifically, the top button. I feel strongly that any button up shirt — be it your favorite flannel or your most expensive silk — looks professional with the top button done (and the other buttons done too), tucked into pants and with a nice belt. As long as the shirt fits you well, is ironed, and doesn't have any major holes or stains, this will make you look like someone who knows things. Promise. It's also a good way to spend that treacherous first two weeks of a new job before you get paid when you can't afford new clothes yet. Know what I mean?
When you can afford new clothes, I want you to invest in some high-quality basics. High-quality isn't a set thing, of course, so do whatever makes sense for your financial situation. My favorite, favorite (overpriced) basics come from essentially two places: Madewell and Everlane. Both of these places sell women's clothes that function well across a broad range of gender expressions. If you invest in some classic pieces, like a solid colored silk oxford shirt, you will have it forever and it will always be appropriate for that thing that's giving you a clothing crisis, like an important editorial meeting or a job interview or the day you have a fancy work event after work. I feel anxious just thinking about the fact that my go-to navy blue silk button down is at the dry cleaner right now. I just need it all the time. Oh that's another thing: I actually only have one silk button up shirt because hello, expensive. It's just that life-changing.
That being said, this is infinitely more complicated than just having a go-to shirt. That's why this is a weekly column and not one post in which I attempt to sum up professional lesbian fashion as a whole. Because obviously there's no such thing as "professional lesbian fashion." Just a lot of queers with a lot of different jobs and a lot of different anxieties about how they look. We're all in this together in our own different ways.
You can email me at gabrielle@autostraddle.com if you have feelings that you don't feel comfortable sharing in the comments. Lez do this thing.
---
Header art by Rosa Middleton