Jamie's Team Pick:
I've been at the Netflix again, and look what I found!  A lesbian movie that isn't terrible! The Topp Twins (now streaming on Netflix) is a documentary and has politics, music, heart felt emotion and more alternative hairstyles than you can shake a stick at. The lesbian section on Netflix makes me want to cry/throw-up, so my expectations were low when I cuddled up with this film but I was pleasantly surprised.
As reviewed by the New York Times, the Topp Twins: Untouchable Girls is:
"Leanne Pooley's unabashedly admiring documentary about a double act that defies logic as much as convention. Merging old-fashioned comedy routines with up-to-the-minute politics — all of it enabled by fun-loving personalities and a gift for rousing original songs — the ladies emit a genuine warmth that reels audiences in." The film showcases many of the political protests where they performed and participated in for gay rights, and other social causes. Billy Bragg makes a couple appearances in the film describing sisters Jools and Lynda as a kind of "anarchist variety act".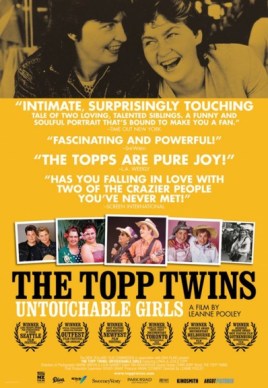 In the film you see the twins over the ages in many a costume including the bowling ladies Mavis and Lorna and Ken and Ken. I don't understand twin love and the magic that goes on there from my own experience, but it's definitely palpable here. As a sidenote, their brother is gay too, and we meet the Topp parents who seem like fine people to have a cup of tea with should I ever be in New Zealand.
Horses, goats and cowboy hats all make an appearance as the twins grew up in the New Zealand countryside and we see footage from their early years which is to say this film truly does have something for everyone!