feature image via Shutterstock
Being a lesbian in South Louisiana requires navigating contradictions. When I'm affectionate with my partner in public, we are often harassed. My friends and colleagues at Louisiana State University support us. But when it comes to university policies, we're invisible: there are no domestic partner benefits at LSU. The campus women's health clinic refuses to include questions about same-sex partners on their intake forms.
I'm a transplant from Northampton, MA. In the eight years I've lived here, I've found a wonderful community of writers, scholars, and friends. I fell in love with a woman from Pennsylvania (because we Yankees find each other) and we've been together for five years. Since I moved here for graduate school, I wanted to talk to other lesbians and queer woman about our lives in South Louisiana. How did they wade through the juxtaposition of so many kind, fun people with a hostile political climate? Did the religious protestors at Baton Rouge Pride make them want to tear their hair out in frustration too?
I kept hoping I would magically stumble upon a group of lesbians, then invite them over for dinner so I could hear how they dealt. Then I read the lesbian feminist Julia Penelope.
The lesbian perspective demands heterodoxy, deviant and unpopular thinking, requires us to love ourselves for being outcasts, to create for ourselves the grounds of our being. The Lesbian Perspective isn't something we acquire as soon as we step out of our closets. It's as much a process of unlearning as it is learning. It's something we have to work at, nurture, encourage, develop. The Lesbian Perspective is furious self-creation. –Julia Penelope, "Exploring the Lesbian Perspective."
Julia Penelope says that coming out as a lesbian is an internal decision a woman makes alone, against the odds of a culture mandating heterosexuality. For her, recognizing ourselves as lesbians/queer women is only the beginning. The work is in creating our community as we define ourselves. The work is in finding the Lesbian Perspective. Autostraddle is one excellent example of this perspective: it celebrates and preserves lesbian/queer women's culture. It contains a multitude of viewpoints and experiences in one space.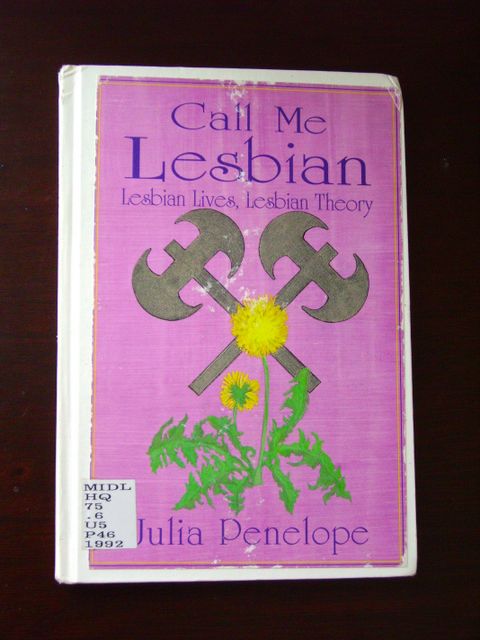 Reading Julia Penelope, I realized I needed to stop daydreaming and furiously create the conversation I longed to have. With help from creative consultant Bonny McDonald, I designed a movement based workshop based on Julia Penelope's "Exploring the Lesbian Perspective" essay. Bonny and I used techniques from Augusto Boal's Theatre of the Oppressed and Games for Actors and Non-actors to inspire us. Boal's theater methods focus on helping oppressed people advocate for themselves and combat their own internalized oppression. Julia Penelope passed away in January; as I developed this workshop, I thought she might have liked to hear about South Louisiana lesbians using our bodies as tools to envision, celebrate, and preserve lesbian culture.
Spectrum, the LSU queer student organization, offered to sponsor and advertise my workshop. I talked to Spectrum member Jodi about whether to limit the workshop to queer identified cis and transwomen or to open it to all. Though Julia Penelope was a lesbian separatist, we decided to keep it open, as it fit more with Spectrum's inclusive spirit. I was excited that non-queer women and queer men were interested enough in the lesbian perspective to complete a two hour workshop on it. Over the weekend of April 19th, I ran two workshops, both with queer and straight participants.
Having a queer/straight variety mimicked lesbian experiences in Baton Rouge: our only bar closed a year ago. There are no lesbian/queer woman centric spaces in our city or on LSU's campus. This mixed workshop helped the queer women at the workshop think about the role of discomfort in their lives. As Jodi, 22, put it, "being a queer woman you're always in a space where you are uncomfortable – you have to get used to being uncomfortable." Kerry, 21, mentioned that "as a lesbian, the uncomfortableness is something you deal with in your everyday life." She told me the workshop helped her to relax about discomfort.
The Lesbian Perspective isn't something we acquire as soon as we step out of our closets. It's as much a process of unlearning as it is learning. It's something we have to work at, nurture, encourage, develop. The Lesbian Perspective is furious self-creation. If we can imagine ourselves into being, if we can refuse to accept the labels and descriptions of men, the "possibilities are endless." – Julia Penelope
To work with this excerpt, I asked the participants to shape their bodies into statues to represent the word "refuse." With bent elbows, fists, and nervous laughter, they stepped into the world of Julia Penelope's essay. Sculpting your own body to represent an idea allows you to know deeply. Embodied words sink into your bones.
As the ten participants stood in statues, the word refuse became three dimensional. We took turns circling each other's statues. And here is where having a mixed queer/straight crowd let us see things we might not have otherwise: the refuse postures of the queer identified women were all protective. Often they had one arm over their hearts or chest, while the other arm pushed away from their bodies. The other women used their entire upper bodies to refuse. Both their shoulders, hands, and arms pressed outward. This difference concretely demonstrated the restrictions homophobia places on queer women. Even in our defiance, we hold back a part of ourselves.
As we shifted into statues of nurture, another pattern emerged.
"When we went from the refuse statue to the nurture statue, it struck me that the individuals who identified as gay were in stances that were self-nurturing, and the women who hadn't identified as gay were in poses where they were nurturing an infant. This made me wonder if maybe we as Lesbians have a tendency to feel the need to nurture ourselves because of growing up different, with a secret." Susan, 51.
Susan and her partner, Brenda, are both Louisiana natives. As we discussed the refuse and nurture poses, Brenda told us that in 1967, when she was 17, her family put her in a South Louisiana psych ward to be "fixed." "The hospital told my parents they were the ones with the problem," Brenda said. (Her family has long since come around.) Brenda's story showed that even in 1967, South Louisiana was filled with contradictions for queer folks: an unaccepting family but an understanding hospital staff. Now, in 2013, I still find allies here in places I did not expect.
After we made refuse and nurture statues, I instructed the workshop participants to position two of the statues in relationship to one another.
They placed refuse so she protected nurture. The angles of refuse and nurture shared common forms: bent elbows and protected chests. Talking about these poses led to a discussion about caring for ourselves as queer women. Jodi mentioned how before she came out, she never thought about self-care, but now, in order to survive, she must. Through these exercise, we realized collectively that self-nurturing grounds queer women in our own strength.
After the workshop, Kerry and Susan told me that one of the most powerful activities for them was "The Real to Ideal." For this, the group picked three women to first make statues which represented the actual experience of lesbian/queer women in Baton Rouge (the Real), then the rest of us directed them into poses to represent the Ideal.
"There was such a huge difference between everyone's depiction of the Real experience and the Ideal experience. Physically acting out the two experiences gave me a deeper, more tangible understanding of just how much repression I experience day to day, and how joyful I would be if I were able to live completely as myself without having to be guarded about my sexual orientation." -Susan

"It reminded me of my own life. With my family, I'm the Real. I'm cautious about how I act and what I say. With my friends, I'm the Ideal. I can be myself." -Kerry
In the Real poses, Jodi crouched on the floor while Kerry stood with one arm in front of her face. Susan pointed her left elbow into the air and jutted out her right hip. Each woman gazed in a different direction. We had different interpretations of Susan's elbow. Her partner thought Susan was leaning on something for support; another participant thought Susan was punching someone away with her elbow. Susan told us we were all wrong: her pose described being pulled in two different directions.
Our trouble interpreting Susan's pose reminded me of political responses in Louisiana to GLBT rights: some view equality as asking for special privileges. Others see us as sinful and sick. Others support us. In our daily lives in South Louisiana, lesbian/queer women are tugged in opposite directions. Trying to just be while fighting for our right to be can exhaust us. And even within our own community and relationships, we can easily misinterpret each other. In the days after the workshop, I thought of some Facebook dyke drama between another lesbian and me. How much of it was her trying to survive, being pulled in different directions? How much of it was me misinterpreting her actions as hostile?
We finished the workshop by sculpting the three women in Real poses to Ideal poses. The group arranged the three in a line with their arms linked: Susan stood in the middle, flanked by Jodi and Kerry. The group noticed that in the Ideal, Susan anchored Jodi and Kerry, which allowed them both to lift their outside arms skyward. Finally, we all stood in a circle, then each of us formed an Ideal pose. We ended with open arms, wide feet, and enormous grins.
---

About the author: Penelope Dane can't quit Louisiana. She has work forthcoming in "This Assignment is So Gay: LGBTQ Poets on the Art of Teaching" and "My Body My Health: Women's Stories." When she isn't writing her dissertation, she works on her novel, "Clay Memory." She blogs about what she and her partner are cooking and what oppression they are fighting at bikaandsnowglobe.blogspot.com. She would love to run an Exploring the Lesbian Perspective workshop for you.