Words by Crystal and Hansen
Last week Kaki King released her sixth full-length album, Glow. It was a very exciting event. As members of Autostraddle's Kaki King Appreciation Club, Hansen and I felt it our duty to pull together a list of reasons that will compel you to click on this link and download the new album right now. Then we can all talk about it, and talking about Kaki King is the next best thing to listening to Kaki King.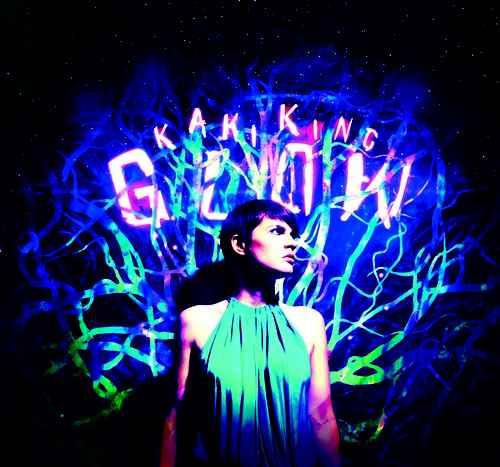 +
Ten Reasons You Need Kaki King's Glow
1. Glow is Kaki King's best album yet
Crystal: That's a big call, isn't it. What I really mean is, "Glow is the album that I have personally enjoyed the most out of all of the Kaki King albums" but that doesn't fit into a snappy point heading. There wasn't one second of this album that I didn't absolutely love, and I'm not sure I can say that about her other records. Great job Kaki King, nailed it.
2. It's extremely accessible
Hansen: First time listeners will enjoy the range of influences and incredible talent on Glow — even my mom is really digging "King Pitzel" and has never heard of/cannot pronounce Kaki King. Longtime fans will appreciate the evolution from her previous albums combined with an almost reinvented sound that really showcases her ability. It's complex enough for Kaki King's name to be associated with it, but Glow is so user-friendly (for lack of a better word) in how simply pleasing the album is to listen to.
3. It's perfect background music for every activity
Hansen: So far, I've tested this theory listening to the album while writing, reading, sewing, driving, eating, lying in bed and drinking tea. I've found Glow has a way of making me more productive but relaxed at the same time. You can tune it out when you need to concentrate and it won't interrupt you or beg for your attention, but then when you're ready to actively listen again, it's right there where you left it and just as good as you remember.
4. It goes back to basics (without being basic)
Crystal: Kaki's latest two albums, Dreaming Of Revenge and Junior, had an electric indie-rockish vibe which was a little different to what we're used to hearing from this artist. While they were both thoroughly enjoyable, I occasionally found myself that Kaki would release another album filled with those super creative acoustic instrumental pieces that won my heart via 2004's Legs To Make Us Longer. Glow is that album.
5. This 'Making Of' video
Crystal: Kaki has created this neat 'Making Of' video which will make you appreciate the album extra. Or maybe the album will make you appreciate the video extra. Really it could go either way. Check it out.


6. Glow is great as a whole
Hansen: Listening to Glow, you almost forget that there are twelve songs instead of one 41 minute piece. I actually prefer to listen to the entire album at a time instead of individual songs. I couldn't tell you a single song name without looking it up, but I've said, "The one Celtic-esque part near the end where you kind of feel like you're in an Irish pub?" or "The part with the piano ding-ding-ding thing." It's an album where you don't notice that you're not listening to the same song, you just think the song took a different turn around three minutes in.
7. There's no singing
Crystal: I've observed that many Kaki King fans are divided into 'love Kaki's vocal tracks' or 'really don't love Kaki's vocal tracks' camps. If you're in the latter, you'll be delighted to discover that Glow is a vocal-free album.
8. Each track offers a different sound
Hansen: Glow has Celtic ("King Pitzel"), Asian ("Bowen Island"), jazz ("Kelvinator, Kelvinator") and about 257583 other influences throughout. No two songs sound similar on the entire album, with slow, steady songs ("No True Masterpiece Will Ever Be Complete"), dark, moody songs ("Marche Slav"), and upbeat, toe-tapping songs ("Great Round Burn"). My favorite on the album is "Cargo Cult" with its building melody and piano accents, combining a driving, upbeat style with an ominous, quiet brooding.
9. Glow features ETHEL
Crystal: ETHEL is an amazing string quartet from New York. The combination of their strings and Kaki's is just the most beautiful and perfect thing.
10. It'll make you want to see a show 
Hansen: I am the definition of this reason. I've never seen Kaki King play live, but now I've got tickets to see her at the end of October. You can find all of her tour dates on her website. If nothing else, you just really want to see a talented and beautiful woman play talented and beautiful music in front of your eyes. There's nothing wrong with that.
Crystal: I've seen Kaki King play a bunch of times in Sydney and can attest to how amazing the live experience is. The last time I did this I was running late and parked in a 1 Hour Only parking spot directly outside the venue because, even though I knew it'd result in a parking ticket, I couldn't stand the thought of missing even a second of her performance. That $197 parking fine? Totally worth it.
If you're in the USA or Canada, you can download Glow now via iTunes and Amazon. The worldwide release date is yet to be announced.