A Prairie Homo Companion is a regular column that celebrates the Canadian prairies, canola fields and big skies, and the paradoxes of being a fine-ass lady prairie homo.
Header by Rory Midhani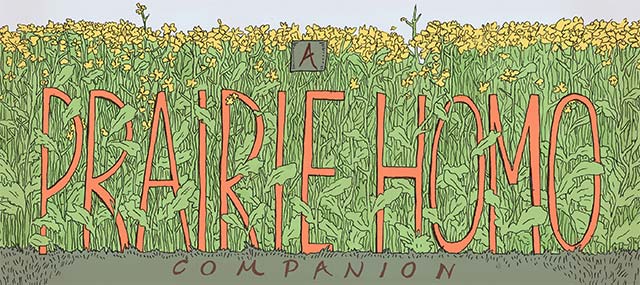 Right now I'm sitting at my desk, and this is what I'm wearing: wool socks, orange shorts with pink squares on them, a grey hoodie with black zigzags. I don't know if you guys imagined me as this super-cool, fashionable person because I write for Autostraddle and Autostraddle is always in style, well, I have news for you:I'm not. I mean, usually I am (I hope) or at least I try, but lately, especially when I'm at home, alone, writing, I've just given up. But sometimes even when I'm straddling along on the street (pun intended) my outfits don't make sense. Take, for instance, last Thursday. At first (in the morning), I wore the following: winter boots, jeans, winter coat, hoodie, t-shirt. But in the prairies, the three hours between 9 am and noon is apparently enough time for winter to skip right past spring and on to summer because come lunchtime, I wished I had worn sneakers as I was forced to trudge along outside in my heavy, hot winter boots, carrying my hoodie and coat in the sudden surprise summer. The week before there had been a surprise winter storm: one day it was your average spring, with blue skies and puddles and birds and the like. The next day the wind was howling so loudly I could hear it in the shower (seriously) and there was snow everywhere. Yesterday there was a rainstorm. Or was it the day before? Right now in Saskatchewan there are reports of heavy snow, fires, and flooding — all in one province. I just can't handle this anymore. I don't know how to think, or feel, or dress, which is why I'm here, in my orange shorts that look like they're covered with pink 80s bangles and my not-at-all matching grey hoodie.
I like to think my gender identity changes with the seasons. In the winter I can channel my great Canadian butch, or great Canadian bad-girl-bank-robber butch, if it's -30 degrees and I happen to be wearing my balaclava. To keep warm, I wear flannel, hoodies, and jeans baggy enough to fit long-johns underneath. I limit my makeup because when you come inside after being outside in the cold, mascara and eyeliner have a habit of smudging and blurring as the ice crystals that have formed on your eyelashes defrost.
Summer though, is all about sexy two-pieces, flowy t-shirts that make me feel like I'm a hippie in the 70s, earrings (I don't have to worry about the metal getting cold and freezing my ears), pretty skirts, and things with flowers on them because summer is pretty with flowers and makes me feel pretty and flowery. In summer, I can femme it up, go to queer spaces, and have people look at me like I don't belong. "Oh please," I want to say. "Just wait till winter." My gender presentation is weather-based.
That's why I'm really confused right now — the constantly changing weather is not only affecting my mood (read: moody), but I also have no idea how to dress, how to be a young, hot, fashionable queer. Every morning I wake up and have no idea what to wear. Do I wear my winter boots? Am I going to need them because it's cold, or am I going to need them because currently it's warm, but later it will snow and rain at the same time, then get cold, then the ground will freeze and I'll need my winter boots with their good grip so I don't slip on the ice and break various parts of my body? Do I dare wear just a t-shirt under my coat, or is that taking too much of a risk? I mean, what if there's a surprise snow storm and I'm caught with just a t-shirt under my light coat? Have you watched that interview with Grimes in which she talks about how she got frostbite and then had to wait for 17 hours in Emergency? Shit could get dangerous.
So until the weather decides what it is, I too, will remain confused about my identity and will try to make peace with being this not-quite-butch, not-quite-femme unfashionable prairie homo writer creature in weirdly coloured summer shorts paired with wool socks and a hoodie. But hey, if the weather's going to procrastinate on an actual spring that moves towards summer, then I think I'm justified in procrastinating my sense of fashion.