Lunchtime: unequivocally the best part of the day. But could it be better? Yes sir, it can. You don't have to spend gobs of money going out, but you also shouldn't be packing the same peanut butter sandwich year in and year out; there is a middle way. The path to becoming a lunch box buddha isn't so hard. All you need is a good balance of inspiration and  improvisation. Every week, we'll make one or two packable recipes so that you have something new to fill your lunch box and your stomach. 
---
So maybe I've been a little hard on Spain and their food. We're three weeks into making our own lunch and I haven't done much but complain about the alimentary offerings of my temporary home. I do it from a place of love, ¡te lo juro!
There are so, SO many things they do right. Like making good things last, for example. Yes, lunch here can go on for hours and going for a walk can easily turn into an afternoon of coffee and window shopping, but right now I'm talking about shoes. If I were a hoarder, I'd have a graveyard of all the worn out pairs of shoes that I've once loved. I can fix a ripped pair of pants or a stained t-shirt, but holey soles require special knowledge that I just don't have. But here, you don't have to be intr DIY to make your shoes last; they've got cobblers around every corner and getting your shoes re-soled is as normal as buying olive oil. And that's really normal.
After being handed down a pair of too-small and worn-down boots by one of my coworkers last week, I headed to the cobbler to see what they could do with them but got distracted on my way there by these babies that were hanging out in the window of a frutería.
Feeling like nature had pretty much done my job for me this week, I bought seven huge berries and decided to make something just as fresh to go along with them. The resulting salad is definitely not one of the prettiest things I've ever made, but the taste more than makes up for it.
Pesto
Ingredients:
Fresh Basil
Parmesan Cheese
Nuts (Pine or Walnut)
1 clove of Garlic
Olive Oil
Salt
Pepper
Instructions:
Yeah, I know I didn't give you amounts. That's because the best pesto is made according to your own taste buds and also whatever you have laying around.
1. Pick all the basil leaves off the stems. A handful is about enough. Throw it into the mixing device of your choice, i.e. food processor, mortar and pestle, whatever.
2. Shred the parmesan cheese and toss it on top of the basil.
3. If you're using pine nuts, add them to the mixer. If you live somewhere where pine nuts are obscenely expensive (I do!), take your walnuts and break them into somewhat smaller pieces and add them too.
4. Chop the clove of garlic up into 4 or 6 smaller pieces. You're going to crush it more when you mix everything together, so don't feel like you have to go crazy here.
5. Add about a tablespoon of olive oil and a dash of salt and pepper and then start blending. When everything starts to look more like a paste, taste it to see how it's going. Add anything you think it needs more of and then blend until it's all liquid-y and delicious.
Chickpea Salad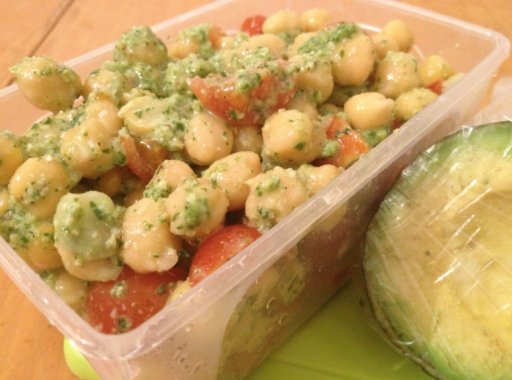 Inspired by Avocado Pesto
Ingredients:
1 jar of Chickpeas
Cherry Tomatoes
Pesto
Avocado
Spinach
Instructions:
1. Rinse the chickpeas well (chickpeas out of a jar smell awful but they taste really good!) and pour them into a bowl. Chop the tomatoes and add them.
2. Scoop a generous spoonful of pesto into the bowl and start stirring.
+Storage and eating: The chickpea/tomato/pesto situation will stay good in the fridge all week, it's the spinach and the avocado we have to worry about.
First, the avocado. Forget all the stuff you've ever heard about lime juice and keeping the pit attached to keep the avocado from turning brown. The only way to keep browning form happening is by keeping it away from air. I do this by chopping off a section to take to work with me the night before and wrapping it  (along with the rest of the avocado) tightly in saran wrap. Sustainable? Not so much. But highly effective!
Now the spinach. I wrap the spinach in a bandana and take it to work separately so that it doesn't wilt. When I get there, I put the spinach on a plate (our school has plates so it's not like I'm fancy and bring one with me), pour the chickpea mix over it and then slice the avocado on top.