Today at 10 am PST (1 pm EST) Apple rolled out the newest iPhone operating system at a press event at Apple HQ. Here's the lowdown, liveblogged from our remote location not at all near Cupertino. Since it was a semi-liveblog the newest stuff's at the top, so start at the bottom if you're just tuning in.
UPDATES: Multitasking, App Folders and a Gaming Network- Oh my!
+
+ The event's over, but the Q & A brings up a few things that Apple naturally didn't want to bring up themselves. Like how all of this new stuff (ahem MULTITASKING) won't be coming to the iPad until Fall 2010, while the iPhone and iPod will be seeing them this summer. Ouch.
Also, Jobs isn't budging on Flash. The new iAd campaign will be entirely in HTML5. And he gets kind of weird and sketchy when a reporter asks how service providers will handle the influx of data usage from all of this zany multitasking, dismissing it in a kind of fishy way.
+ The 3GS and newer iPod touch model will be getting all of these new OS 4.0 features, while the regular ol' 3G and older iPhones and iThings will be getting only some of them. Apparently multitasking is among the exclusive features for the upper echelon of devices. Damn.
+ There's a new feature for advertisers built into the iPhone OS called iAd. This seems suspicious and lame, but maybe that's because I'm not selling anything. The idea of ads integrated into the OS seems tacky and unattractive to me, and also seems counter to Apple's stripped down notion of aesthetics. But hey, it doesn't seem all that counter to the fact that they're swimming in cash and will take a 40% cut of iAd advertising profits. And apparently these iAds will be more interactive or cute or something. Right.
This whole iAd thing apparently stems from Apple's acquisition of Quattro, a mobile ad company. But probably no one even noticed when they acquired it because Apple and Google eat shit up like Hungry Hungry Hippos.
+ Apple introduces Game Center, which is like PSN or Xbox Live but for the iPod, iPhone and iPad. Building in that kind of competitive social networking aspect is real smart, Mr. Jobs. You're crazy like a fox.  I'm skeptical about iPhone/iPad gaming in general, but I'd like to be happily surprised.
+ 450,000 iPads have been sold to date. This number is going to skyrocket in light of today's multitasking announcement. It's gonna be like a bajillion million this summer. That's a big number guys.
+ I think I failed to mention 5x digital zoom for the iPhone camera. Maybe because I don't care really, because zooming with a lens like that will just make things farther away look shittier.
+ iBooks for the iPhone. Not surprising. That thing will still make me go blind if I try to read some Proust on it. Also, with iBooks you'll get a free copy of "Winnie the Pooh." What the f*ck? Somebody give Mr. Jobs his meds! Or put him to bed or something.
+ Mail gets a facelift. Now you can have multiple mail accounts fed to the same screen. Okay, I'm down with that. Also apparently the mail app will support email threads way better. I've participated in some pretty epically confusing threads on my iPhone, so this is pleasing.
+ Folders! This is neat. We can now put apps in folders, based on whatever we want. Like I could make a 'porn' folder for apps that help me look at porn.
With this new folder feature, Apple brags that you could now house 2160 apps! Which would make your phone absolutely explode. Seriously.
+ Oh hey, did I miss the fact that you'll be able to change your homescreen wallpaper? The iron fist of Apple design unclenches. If ever so slightly.
+ Apple's getting real friendly with Skype now. Apparently you'll be able to receive Skype calls over the iPhone even when your phone is locked and chillin' in your pocket. That's very accommodating after all of this VOIP heat, Mr. Jobs.
+ Oh hey, they've got the founder of Pandora on stage apparently. Which is funny considering that Pandora is the one app that might drive me to insanity if I don't get multitasking soon.
+ MULTITASKING! This changes the game. The game Apple was really, really late to. Looks like it'll work via a little tray feature that can pop up, as seen below. [image courtesy of wired]
Apparently they're playing the 'we didn't want to give it to you til it was perfect' card in excusing the conspicuous absence of multitasking on the iPhone and iPad. Just like with copy and paste, which works really nicely now that it EXISTS on Apple mobile devices, but I coulda used it a little sooner. Excuses are weird.
"We weren't the first to this party but we're going to be the best, just like cut and paste," said Apple CEO Steve Jobs, alluding to the fact that cut-and-paste hadn't been available until a year after the first iPhone launched. "It's really easy to implement multitasking in a way that drains battery life. If you don't do it just right your phone's going to feel sluggish and your battery life is going to go way down. We've figured out how to implement multitasking of third-party apps and avoid those things." (@wired)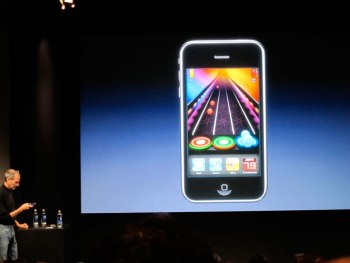 Also, it's kind of unclear, but Apple seemed to indicate that the multitasking won't be universal and will only be available for supported apps. I imagine this is because they're implementing multitasking in a magical strategic way they explained in boring detail to counter battery life concerns. So basically it isn't real multitasking, but it'll save your battery and let you access a fair amount of useful apps in the background.
"Apple's method, however, is quite clever: Basically, it allows you to pause applications—like you can pause them in any UNIX-based operating system, while enabling some special services to allow some types of tasks—like receiving calls or playing music—to run on the background. There are seven kinds of services, and Apple says these will give the user the kind of multitasking they demand, but without choking the system" (@gizmodo)
+ The new OS will grace our iThings this summer! That seems soon, because it's pretty hot out right now. Realistically we've got a few months of waiting, and a few months more of monotasking.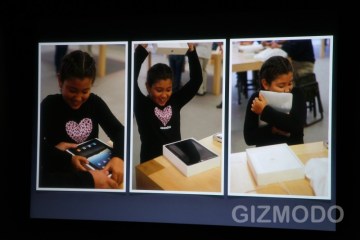 + This image, courtesy of Gizmodo, is hysterical. Look at this little girl getting an iPad! The consumerist joy on her face creeps me out, even though I'd hug it like that too.
---
Predictions:
+
This round of the iPhone OS could be super exciting for a few reasons, which I'll enumerate because I like you:
+ Multitasking
We've spent a lot of time scowling down at our iPhones bemoaning their lack of multitasking. As it stands, the current iPhone 3.0 OS supports this only the teensiest bit, allowing you to run your iPod in the background for example. Multitasking could be big. If people will buy the iPad without being able to do two things at once, just think about what would happen if Apple announces that their holy grail of tablets can suddenly perform more like a normal netbook. That alone could sway a HUGE portion of practical folks on the fence about the iPad, because lord knows it's got the monopoly on style.
+ The Look
We all know that the iPhone interface ain't too customizable. Apple wants you to have a jet black screen with tiny little app squares and they want it to look nice and clean and that's that. Would they let us customize beyond just swapping the order of our tiny squares? What could that look like?
+ The iPad
Hell, the iPad just hit stores and it seems like the sky's the limit right now for what people can dream up for it. Maybe our (your) iPads will be better equipped to interface with our other iThings, allowing the iPhone to interact with your tablet in a some fascinating untold way? Wouldn't it be cool of you could nestle your iPhone into your iPad? And then your shuffle or nano into your iPhone? And so on, infinitely, like Jobsian nesting dolls? Um, yeah, this clearly isn't OS related. Or even vaguely reality related. I digress.
+ Who knows!
The forthcoming iPhone OS 4.0 news is a closely held secret. So far nothing is certain, and that's kind of how we like our Apple press events: full of mystery and intrigue.
---
The press event is now underway, and of course we weren't invited but we'll try to keep you up to speed on the iPhone 4.0 excitement as it rolls in!