Welcome back to Pretty Little Liars, or as I like to call it, Shay Mitchell Looks Hot For An Hour. I calls em as I sees em.
As you may recall, last week was full of misadventures in lesbian dating and long term over-planning as Paige and Emily tried to figure out what the fuck they're going to do once Paige moves to California. Oh also Jenna almost died! This week let's maybe do something where no one dies but someone scissors. Okay? Okay.
---
We open on the hallowed halls of Rosewood Academy for delinquent girls just as the Liars are sneaking back into school from visiting Jenna at the hospital to dig up more clues. Well, I use "visit" loosely because hospital security wouldn't let them in and now their clue trail is all dried up.
The girls muse that now they need to find Cece because if trouble isn't looking for them at this very minute, well, they damn sure better be looking for trouble. I mean, if Jenna is scared of Cece then she must be A because it's not like we haven't tromped down that road before. I don't even care who A is anymore. Remember how much is sucked when we found out who Gossip Girl really was? Whenever we find out who A is it's gonna be a let down.
To make matters worse, Emily's mom texts and announces they're moving into the DiLaurentis house with Alison's mom. Emily's really isn't pleased with the idea of staying in Alison's bedroom, it probably has dead girl cooties. Like seriously, how is she supposed to masturbate in the bed of her dead friend? Who she was in love with. But Hanna's like, no fucking way you're getting out of this. You're going to march right into that room and sit there until we get a new clue or Cece Drake busts out of the closet physically or, preferably, metaphorically.
The Liars part ways and Spencer suggest Hanna invite Emily to stay at her house. This is ridiculous because there is no way that Uptight Pam would ever let Emily stay with an accused murderer. Not to mention the fact that there's no way Ashley would ever want a house guest right now.
Spencer and Hanna part ways when Hanna sees Caleb — she and him have plans to protest on the steps of the Pennsylvania State House until same-sex couples are granted equal marriage rights.
After they part ways Spencer notices Fitz all in a flurry, locked out of his office. Clearly he's stressed out about the whole Not Legally His Son's Father thing. Bummer Fitz.
Meanwhile Caleb and Hanna sit outside school discussing the PO Box that the Liars are trying to track down. Hanna is hoping it's Cece's box. I think we all have a lot of questions about Cece's box.
Caleb used his super double extra hacking skills to find a cable bill that was delivered to the PO Box. He tracked the cable bill to a physical address — the two hope Cece is there watching Skinemax. 
How does Caleb have time to do all this Hanna Stuff. Does he not have any sort of life of his own?
---
Elsewhere Aria and Sensei Hot Stuff sit down for a coffee to go over some hot action shots that Aria took during the filming of Sensei's most recent martial arts porn debut: Taekwondildo. Sensei wishes aloud that he could have used one of Aria's photographs instead of the one he used for his match later that night. His old photographs make his wiener look small.
Aria's all like, "Wait, match?! Tonight?! Head shots?! How did I not know about this?" Turns out Sensei is secretly fighting the Elite Four at Indigo Plateau for the Regional Pokemon League Championship. Sensei Hot Stuff is the very best like no one ever was. He didn't tell Aria because he was scared that she wouldn't want to go and his precious monkey heart just can't take that kind of rejection.
Aria loves winners and authority. She is so in.
---
Across the city at Arkham Asylum for the Criminally Insane, Only Doctor In Town Wren interviews Mona. Shouldn't there be a senior doctor doing this? Or at least one who isn't riddled with conflict of interest?
Dr. Wren shows Mona pictures of Happy Farms and Mona makes adorable snide remarks about them. Mona rules. Dr. Wren wants to know how Mona feels about killing Wilden but also doesn't believe she killed Wilden at all because no one believe women ever. Also because Mona probs didn't do this one. For once.
He diagnoses her with "Extreme Distrust and Paranoia, Delusions of Persecution." I'm not sure that's a diagnosis. Regardless I would diagnose Mona as "Fictional" but no one asked me. Then Wren accuses Mona of not taking her medication. He's probably right on that one.
---
Over at The Life Cafe, Caveman TobAy gets a note from A.
It's some sheet music and a cryptic note. It's not helpful.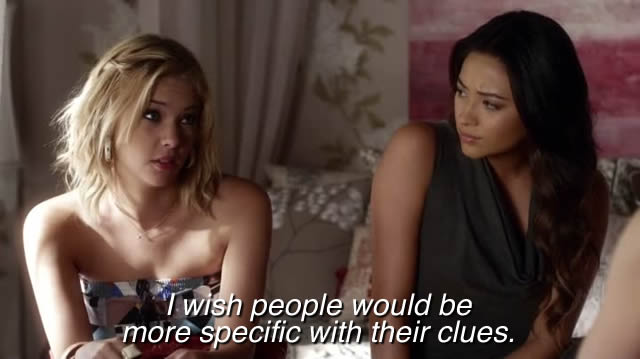 ---
Starsweep to the DiLaurentis house where Emily is finally moving in. As you probably don't remember, Alison's mother completely restored Alison's room to its previous glory. It's like a weird little living history museum Alison shrine.
Oh my god I just realized this used to be Maya's room also. Emily has kissed not one but TWO now-dead girls who slept in this room.
Jessica DiLaurentis offers Emily a place to hang her clothes but, shocker, the closet is actually still full of Alison's old stuff. It's creepy.
On the bright side Jessica's clothes are just too adorable.
Across the cul de sac, Caleb shows up at Hanna's place. Hanna is being distant and awkward, which of course means Caleb wants to clamp down his love fangs even more.
Caleb recommends Hanna and he check out the home address associated with the PO Box. Hanna suggests they break into Radley. Neither sounds like a particularly romantic date to me.
Caleb also thinks it's time to tell her parents and the cops about A. Caleb so does not understand about A.
With Caleb unwilling to help her, Hanna runs to a man she knows can't resist a high school student: Dr. Wren. Wren sees Hanna and just about creams his pants. Like seriously what is in the water in Rosewood that makes adult men want high school girls so bad?
Wren isn't surprised when Hanna asks to see Mona (though he turns her down) but he's damn surprised when he finds out Hanna didn't already try to sneak in. Apparently some blonde already tried to make a lezzie visit to see Mona the previous night. The two suddenly wonder if it was Cece, despite the fact that no one has seen Cece in a million bajillion years.
Just after Hanna leaves Wren makes a call. It's cryptic but it sure as hell makes him look like he's on the A team.
---
Starsweep across town TobAy and Spencer stare at the sheet music from A. TobAy and Spencer think that A's cryptic note means that TobAy should try talking to Dr. Palmer– his mother's psychiatrist who's now mentally ill. TobAy wants Spencer to come with him but she like… um… sort of doesn't want to. Spencer is kind of over this story line too.
Over at the DiLaurentis house Emily walks around to the not-creepy-at-all sounds of a grandfather clock. She wants into the living room where Jessica is crying and reading over paperwork. Crying and reading paperwork can only mean one thing: divorce. At least that explains why Jessica has been in Rosewood without her husband for this entire season.
Across town Ezra meets up with Maggie Mac to discuss the mysterious case of the never present, always discussed son. Ezra tells Maggie Mac he started the process of getting legal recognition as Malcolm's father and, lo and behold, he's not even Malcolm's biological father!
I feel like I totally called this except I can't prove it and I don't want to search through two seasons of recaps. Will you guys just believe me and we can all nod to each other that I totally called this? Like, please? I need a win, guys.
---
In the afternoon, across town, Hanna has found the local coffee cart. Is this a thing in other people's cities because it isn't in mine but I totally want it to be. Just then, Caleb walks up. If people ran into each other in real life nearly as much as they do in Rosewood I probably wouldn't die alone.
I guess Caleb doesn't much come to the coffee cart side of town because Hanna immediately busts him as about to tell Mistress Lawyer Hastings about A. Caleb just doesn't know how to keep Hanna safe and that's all he's obsessed with.
Normally I would actually say this is a weird alpha male thing and not a lesbian thing. Except, I mean, look at that dykey red leather jacket. It just screams "Life Partner."
Hanna tries to convince Caleb can totally keep her safe, even though the conversation should really be about how fucked up it is that he thinks "keeping her safe" is even his job.
Oh and then Wren watches them kiss. IDK.
For whatever reason, this kiss watching inspires Wren to trek over to the Hastings residence where he drops in on Mistress Lawyer Hastings. Mistress Lawyer Hasting fucking hates Wren and tells him so. It's a good moment.
Wren tells Mistress Lawyer Hasting that Mona is fucking crazy and wants to see the Liars and those closest to them hurt. I mean, duh. You'd have to be living under a rock to not at least keep that thought under consideration. Either way I don't trust any doctor who breaks doctor-patient confidentiality so he's probably up to no good and lying.
Speaking of up to no good and lying, Ezra and Maggie Mac hash out how exactly how Maggie Mac got pregnant with Not Ezra's Baby. Well, as you might expect, like many (but of course not all babies) this one was born through unprotected heterosexual sex.
Ezra's totally pissed because he thought this was his baby for like thirty whole seconds and now he doesn't have the baby he didn't even know about for seven years.
This feels like such a fucking cop-out on the part of the writers. Like they get to have Maggie Mac and Malcolm show up and portray Ezra as this wonderful selfless man who loses Aria for his son. Now that Malcolm turns out not to be his son he gets all of the brownie points with none of the long-term consequences. And what about Maggie Mac? All she gets is demonized and sort of slut shamed.
---
Back at the DiLaurentis household Emily has been sucked into the worst conversation of all time, i.e. your friend's parents' divorce conversation.
Jessica explains she and Ali's father grieved differently and their relationship fell apart. Emily's like, "Oh I totally know what you mean, I'm going through the same thing." FYI, Emily, you're not. You and your high school girlfriend of like 6 months will probably have to break up as you move into the next phases of your life. Jessica's daughter died and then her husband divorced her. Those aren't the same thing. Like at all.
I'm not trying to downplay Emily's plight. I've been in the End of High School Relationship. It's hard. But maybe Emily and Paige have to break up so Emily can finally move to New York City and have sex with Santana. You know?
Oh right. Also Jesssica doesn't know Emily's gay.
Somehow Jessica really missed the boat on this one. Emily tells her she's gay and it's soooo weird and formal.
Emily: I'm with a girl. I've thought about it a lot deep inside my heart of hearts and this is who I am and that's who I want to be with. Am I being clear here? I'm a gay homosexual and I was born this way. I'm a light being made from God who's a young girl just telling people she trusts that she's gay and that's who I am. A lesbian with a girl who's also a lesbian as my girl girlfriend.
Isn't this the point in Emily's life where she just says "Oh, I'm gay" instead of giving this long planned out answer? Does she have that written out somewhere or something? Either way Jessica reacts like Emily is her granddaughter and she has to prove to her she's not going to write her out of her will.
I mean, I get it though, is there anything in the world more awkward than telling your parents's friends or your friends' parents that you're gay? No, nothing. Actually, it gets kind of even weirder.
Emily: I want you to know that you're not the only one who's seen Ali. I have, too.
Jessica: Of course you have. You loved her as much as I did. I wish that Ali could've returned those feelings. I couldn't have asked for a better person to love her than you.
Wait. What? That's uncomfortable, right? Right. Like what mother on the planet would say that her dead daughter's friend loved her daughter as much as she did. I'm going with none.
---
Elsewhere, Aria is making a stop by the PO Box associated address in Philly before heading off to Sensei's match. Aria stops outside the building where a totally hot girl appears to be moving out. Fortunately, this girl seems to know Cece.
The girl packs up her car while telling Aria that Cece stiffed her on rent or something. The girl also says that Cece was going around saying that Alison got her kicked out of college and that her friends were a bunch of twats. Apparently Cece thought all of Alison's friends were in on getting her kicked out of college and hated them all for it. God, I hate Cece.
Pages: 1 2See entire article on one page