Spaces & Places is a three-week series focusing on the private and community areas we occupy, the ways we personalize them, and the meanings that we assign to them. Organized and edited by Meg Jones Wall.
---
We've spent some time thinking about how we want our space to look and feel, to consider what our personal style is and what kinds of pieces will help us feel comfortable, happy, energized, relaxed, inspired, or whatever else we're hoping to feel in each particular area. But there's another important piece to designing a space, one that's a bit more focused on the practical: what does your space actually need?
I don't mean this in a purely aesthetic sense, though if in your heart of hearts you know that what you really need is a greenhouse or a gorgeous bed frame or an old school Ms. Pac-Man arcade game, I highly encourage you to just go for it. What I mean is that by examining how you and anyone you might live with uses your spaces, you can make some major or minor adjustments that shift the way you feel about your home. By looking critically at our spaces and thinking about how we actually want to be using them, we can shift our perspective on how we organize and arrange things, and create more functional spaces for ourselves.
Some choices are driven entirely by design, but others are driven by efficiency. In an ideal space, you can meet those practical needs with beautiful items, making your space feel deeply you and also benefit how you live, work, play, and rest. If you feel like you're struggling to figure out how to make a particular room, corner, or area work for you, take some time to look critically at the space itself. What already works, and what doesn't? Which pieces or elements contribute to the space flowing well, and which ones get in your way? Where is there space that you aren't taking advantage of, and which areas are you trying to force to work in a way that simply isn't functional? Even if you don't have the budget or permission to do full-scale renovations, there are so many small tweaks and adjustments you can make that will still create substantial change.
Think about how you actually want to use a space, rather than what a space was designed for, and you may find that new ideas start to flow. If you don't actually cook but have a large kitchen, adding a table to the center for dining, working, or socializing can help you utilize that space in a way that actually serves your needs. If your living space is designed around a television that no one actually watches, don't be afraid to just get rid of the TV and instead reorganize the space in a way that people will really use. If the overhead lighting in your bedroom gives you a headache, changing out the bulbs, adding a new shade or cover, or incorporating table or floor lamps can make it feel like a brand new space. What do you need, and how could reimagining the spaces that you already have help you meet those needs? Where could adding or removing things like shelves, storage, lamps, or mirrors change the way that a space feels or functions?
Break Your Own Rules
In thinking about how you utilize certain places and pieces, it's okay to think outside the box, to ignore "design rules" for the sake of actually addressing what you need. When I first moved into my new apartment in Brooklyn, I knew that the small kitchen and the funky layout was going to be a hassle. I love to cook, and I needed a space for food photography as well as enough room to chop and blend. Counter space was extremely limited, so I purchased a baker's rack for additional storage, along with a high table and bar stools for additional seating. My first plan had been to tuck the table into the back corner, in between a lamp with a daylight-toned bulb and my little wine refrigerator, making it a perfect place to eat, work, and occasionally style and photograph food. But after a few months of this configuration, I realized that I almost never sat there, instead just using it as an extra surface to leave projects on. I had wanted the space to be as aesthetically pleasing as possible, but more than that, I wanted to actually be using all of the things that I had purchased with my limited budget. Having the table facing the wall meant that it made a great photography space, but was a bummer to sit at, as the layout ended up feeling claustrophobic.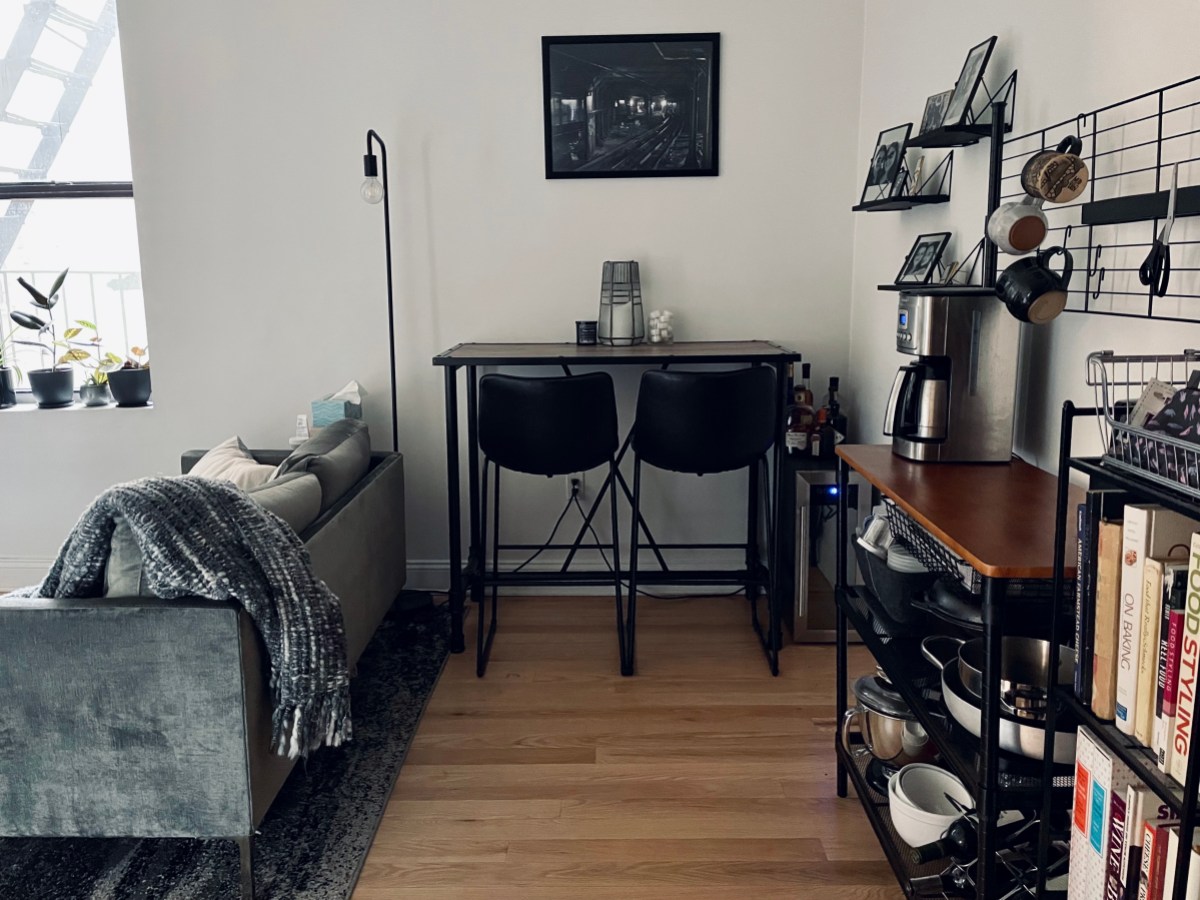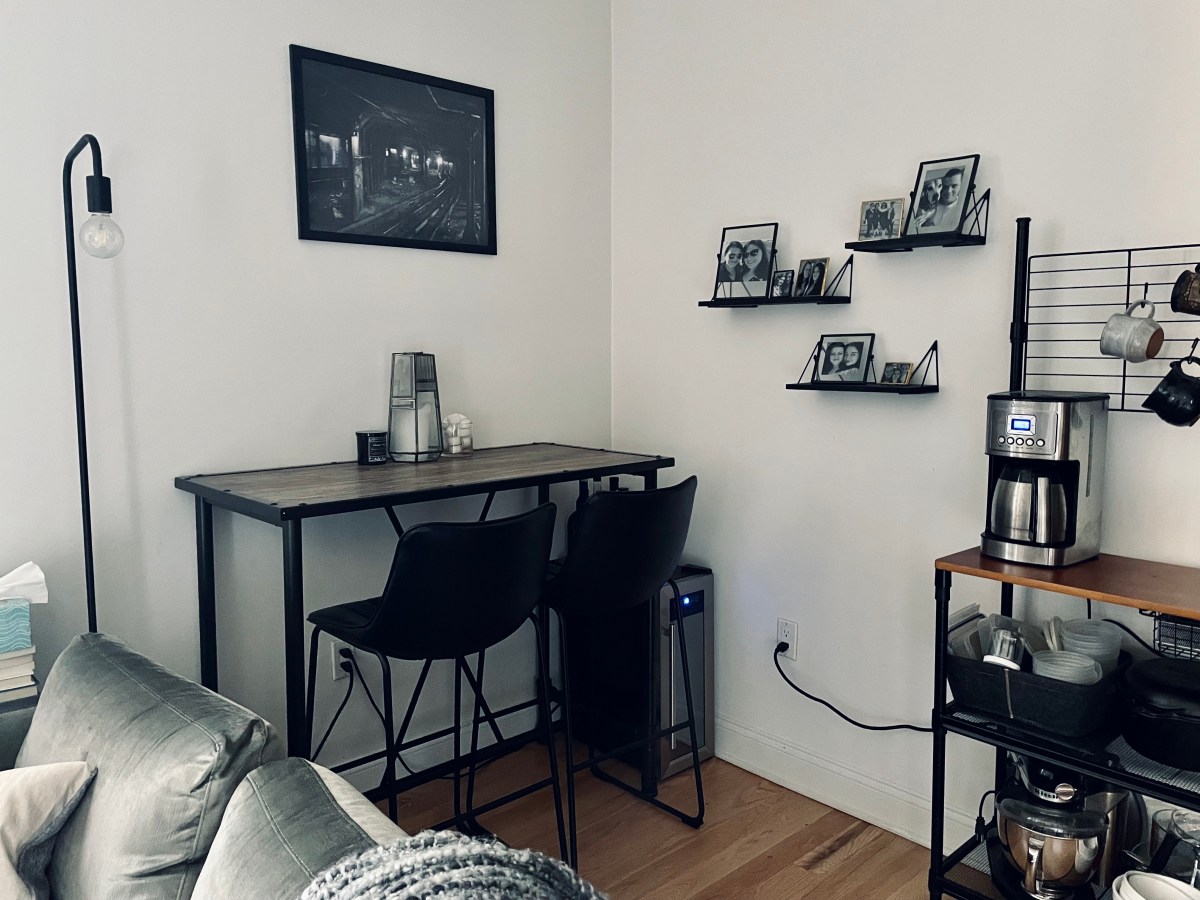 After arguing with myself for awhile, I pulled the table out, turned it at a different angle so that it would be parallel to the back of my small sofa, and immediately preferred the new configuration. It was a much more pleasant place to eat or work, and also functioned as a standing desk for when I got tired of sitting at my desk. Layout-wise, this new arrangement of furniture sometimes strikes me as a little bit odd — but the pure practicality of this setup, and the transformation in the ways that I now use this table that was once entirely ignored, makes up for it.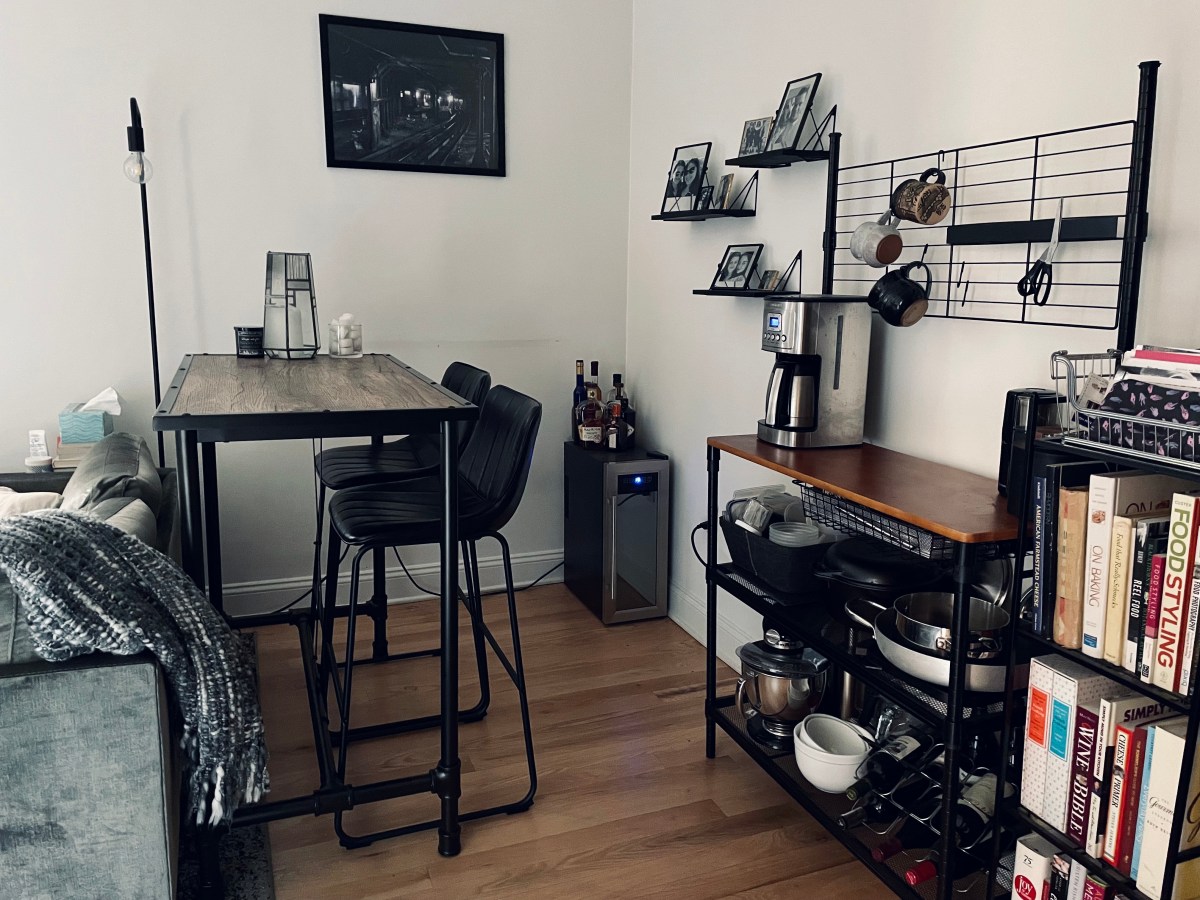 Consider Your Flow
It can also be helpful to observe how you move through a specific space. Pay attention to the paths that you take through rooms or areas, to the objects that you reach for the most frequently, to the things that you want to use or enjoy but don't actually ever utilize. For example, when it's time for you to make a pot of coffee, where do the things that you need to perform this task live? Do you find yourself walking back and forth through different areas in order to add water, grind coffee beans, find filters, get a mug, and add any extras to your cup? It doesn't have to be about maximizing efficiency in everything — but if you're constantly moving several boxes of tea that you don't even drink out of the way to get to your coffee beans, there might be a solve for that.
My front door opens in an awkward way, and without a coat closet or obvious place to leave shoes and keys, I found myself constantly leaving mail, headphones, and other objects on my extremely limited counter space after coming in from outside. (New York City apartments really do train you to solve any number of bizarre layout and functionality problems.) I barely had the space to add anything that would help, but I decided that a small set of shelves would give me a small, designated place to hang masks and keys, store an umbrella and hand sanitizer, and would also create a natural area for me to leave shoes. After measuring the wall and scouring the internet for a shelf that would fit the wall without taking up too much precious space, I finally found an inexpensive piece that worked perfectly for the area. I added a few candles, hung up a mirror, and created an oddly perfect little entryway nook that solved the clutter problem by my front door.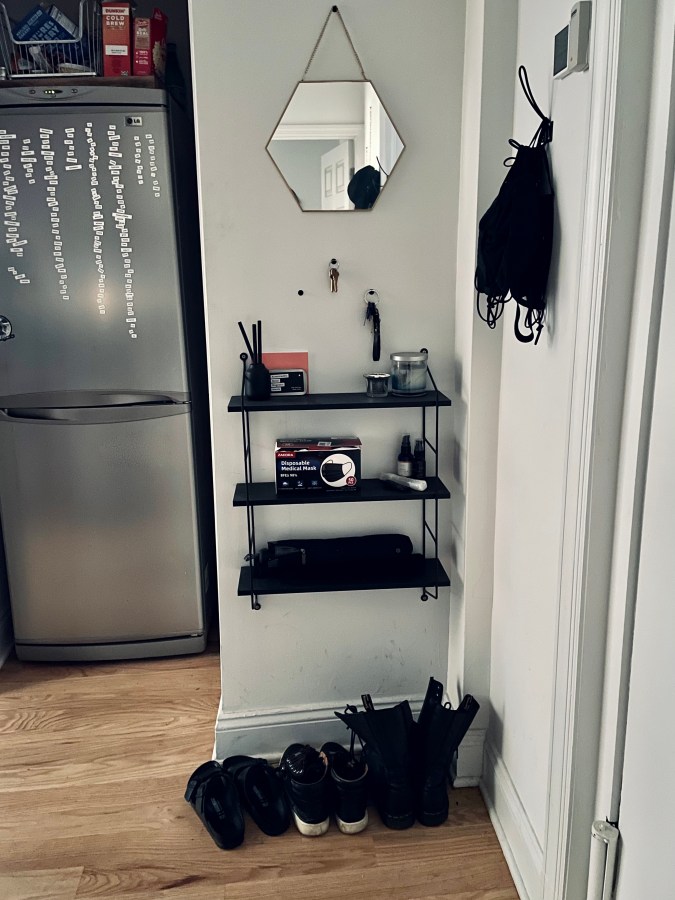 Not every issue in your place may have such an obvious solution. Sometimes, addressing these kinds of problems requires some trial and error, a little experimenting in order to see what will actually help you address the issue. But as with so many things, observing what you do naturally in your space can help you accommodate those needs — and sometimes, it's worth prioritizing what will actually serve you, instead of worrying about design rules.
Create a Balance
The last thing to keep in mind when solving space issues is to remember the principle of balance. Generally when choosing items, we think about a focal point for the room: a big sofa, a comfortable bed, a desk and a chair. We start with the biggest pieces and build around them. And when it comes to design and style, that's exactly right! But every single room or space doesn't have to be dominated by one particular piece — sometimes, choosing smaller items allows for a space to serve multiple functions, instead of limiting an area to only one use.
I showed you images earlier of the dining and cooking space that I created in my apartment, but in truth, the entire living space is one that I tweaked to allow it to serve multiple purposes. The additional space that I made for storage, food preparation, coffee making, and dining/working was carved out of my living space, resulting in two distinct areas in one room. By putting the couch in the middle of the room and anchoring it with a rug, I created a dedicated living space with storage for my camera equipment, books, and linens. And by separating the room with the couch, I gave myself a mini kitchen expansion, with space for my table.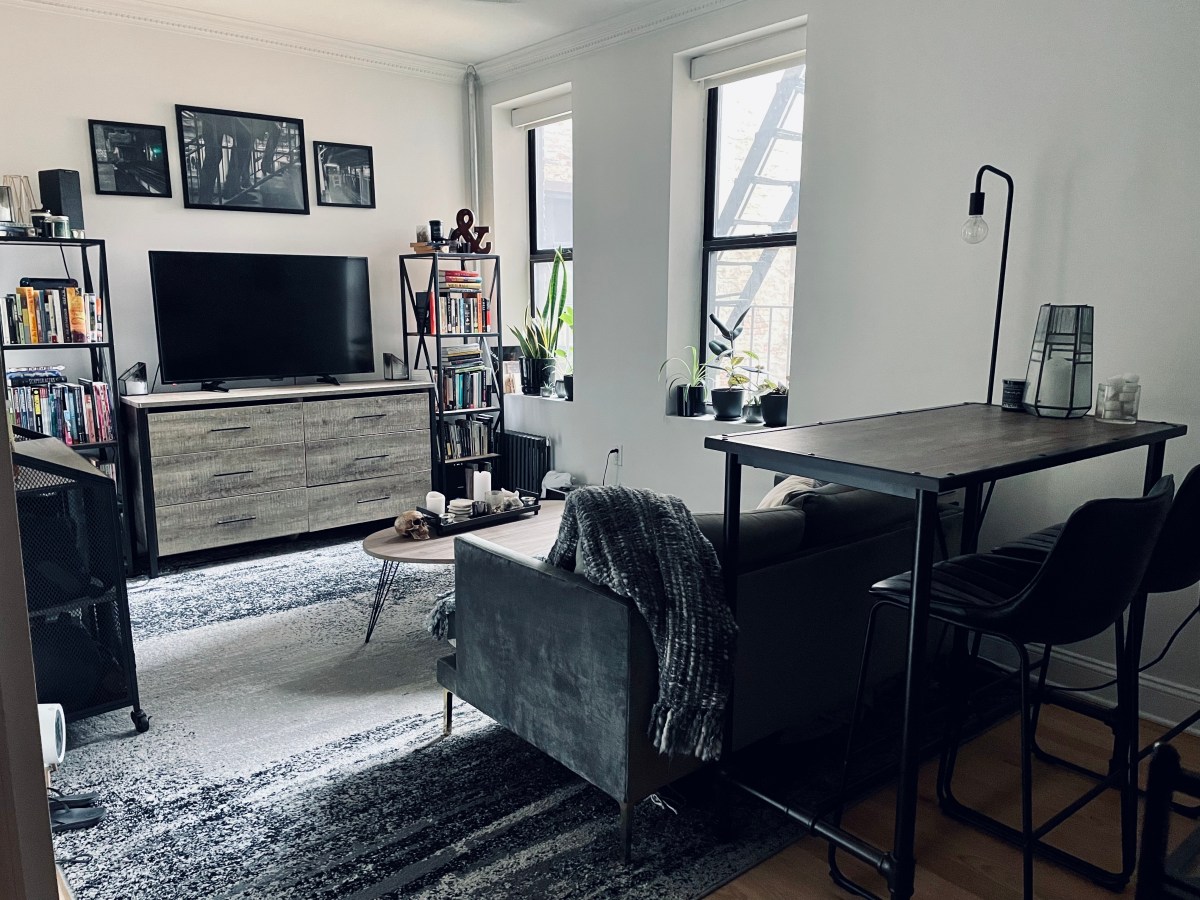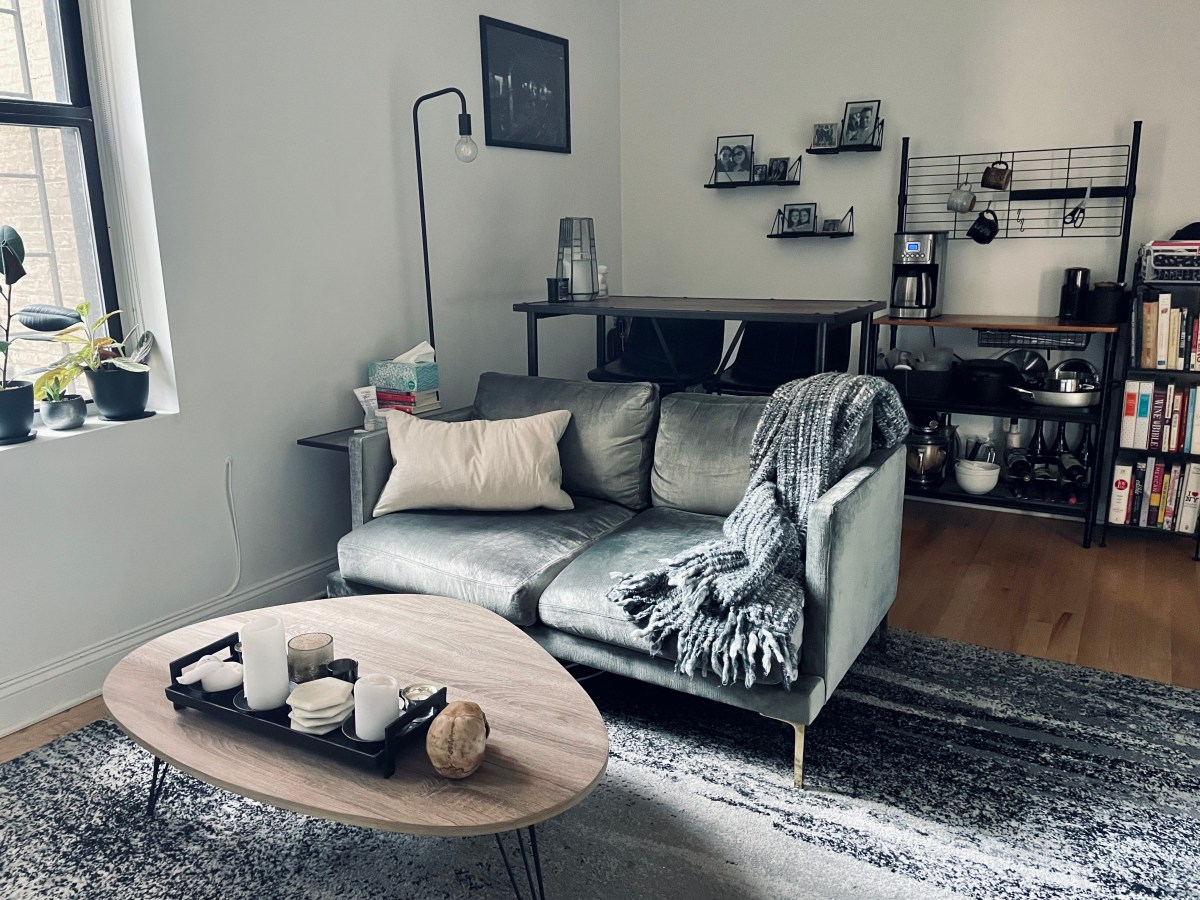 Again, it might feel a bit unconventional to people that don't live in NYC, or who would have preferred to keep the largest room a full living space in order to have more guests. (And yes, I know that if I changed the way this room is laid out I could absolutely make space for a Peloton — please don't @ me, I have already grieved.) But since I was moving in a pandemic, since I like to have multiple spaces to write and work in my home, and since cooking and food photography are important parts of my life, it made sense to sacrifice a bit of my living space in this way — and it has turned out to be incredibly functional for me. If I ever want to have more people over at once I'll need to rearrange some things, but as a person living alone, it functions beautifully for my daily needs and the ways that I move through my space.
Where can you try out new configurations of furniture or other objects, in a way that might give you more options for your spaces? How have you found creative solutions to issues with your current place? Let me know in the comments, and stay tuned for Queer Decor 103, where we'll look at budgeting!