Spaces & Places is a three-week series focusing on the private and community areas we occupy, the ways we personalize them, and the meanings that we assign to them. Organized and edited by Meg Jones Wall.
---
There are plenty of kickass housewares shops in the world – but isn't it nice to be able to give our money to queer-owned designers, artists, and creators? Of course it is. Whether you're in the market for furniture, art, candles, planters, kitchenware, organizers, textiles, or little tchotchkes, the following shops have got you covered.
Below, I've linked to freestanding and Etsy shops that are owned by queer people, bursting with fun and unique pieces that you can put in your house and show off to your friends. Some of these I found by scouring the internet, while others were shared by enthusiastic owners and fans on Twitter — and all of them have gorgeous, whimsical, clever, and fun pieces to make your place feel even more like you.
Many of these shops sell a variety of items, making them hard to cleanly categorize, but you can jump straight to individual shops right here:
Otherwild | Minna Goods | Domestic Domestic | Fredericks and Mae | Humboldt House | SewQueerBunting | Suay Sew Shop | Katrina Ward | Sew Gingerly | Junebug & Darlin | Erdos + Ko | A. Miyuki Studio | VibrantVibesBySam | Lockwood | Mud Witch | Queer Candle Co. | Boy Smells | Edgewater Candles | Bijou Candles | Art is Dirty | Ash + Chess | Common Dear | Lovely and Strong | Likely General | Quite Nice | Rainbow Sheep | Rheal | ShopShowAndTell | lightplusink | StudioLeezou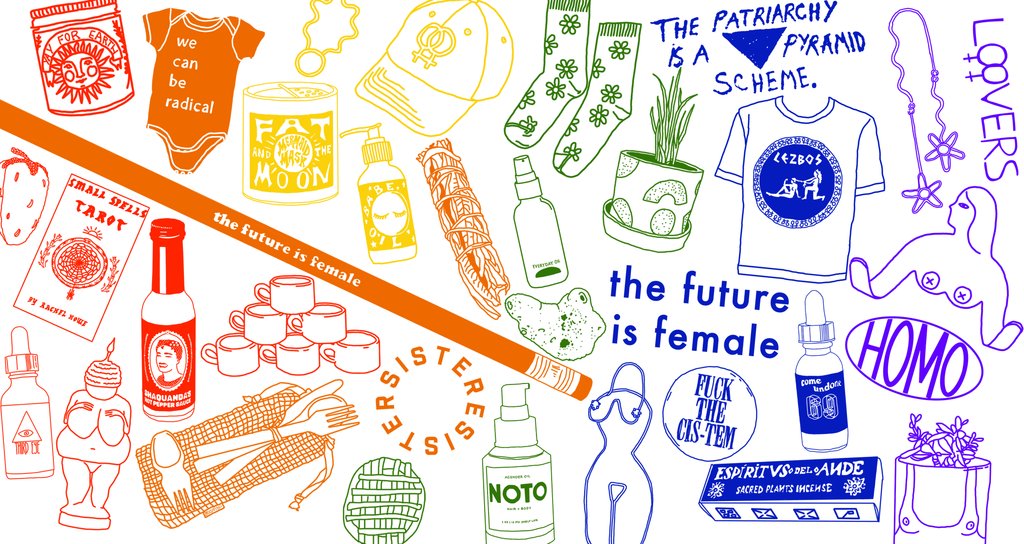 "Otherwild is a queer-identified woman-owned store, design studio and event space located in Los Angeles and online, centering ethics at the core of our business. Otherwild was founded in 2012 within a vast multidisciplinary community of artists and designers, dedicated to showcasing goods made with care by individuals." Offering art, candles, ceramics, decor, kitchen, housewares, planters, and more, Otherwild has a huge range of thoughtful, well-designed products. I particularly love their collections of ceramics and textiles.
"MINNA is a tight-knit team of artists, creators, and thinkers based in Hudson, NY. We are a queer led business which informs our approach to just about everything we do. We believe in creating beautiful, ethically made products and using business to do good." Minna is one of my favorite finds from putting together this roundup — their furniture, blankets, rugs, artwork, art, fabric, and kitchen items are all simple, beautiful, and built to last.
In owner Heather Smith's words, "I passionately stock my shops with primarily functional goods you are just realizing you always needed. I always believe in quality over quantity and aesthetic over mundane." Focusing on well-crafted American-made goods, Domestic Domestic stocks candles, wall hangings, kitchenware, textiles, toys, pet supplies, and lots of other thoughtful goodies to help make your house into a home.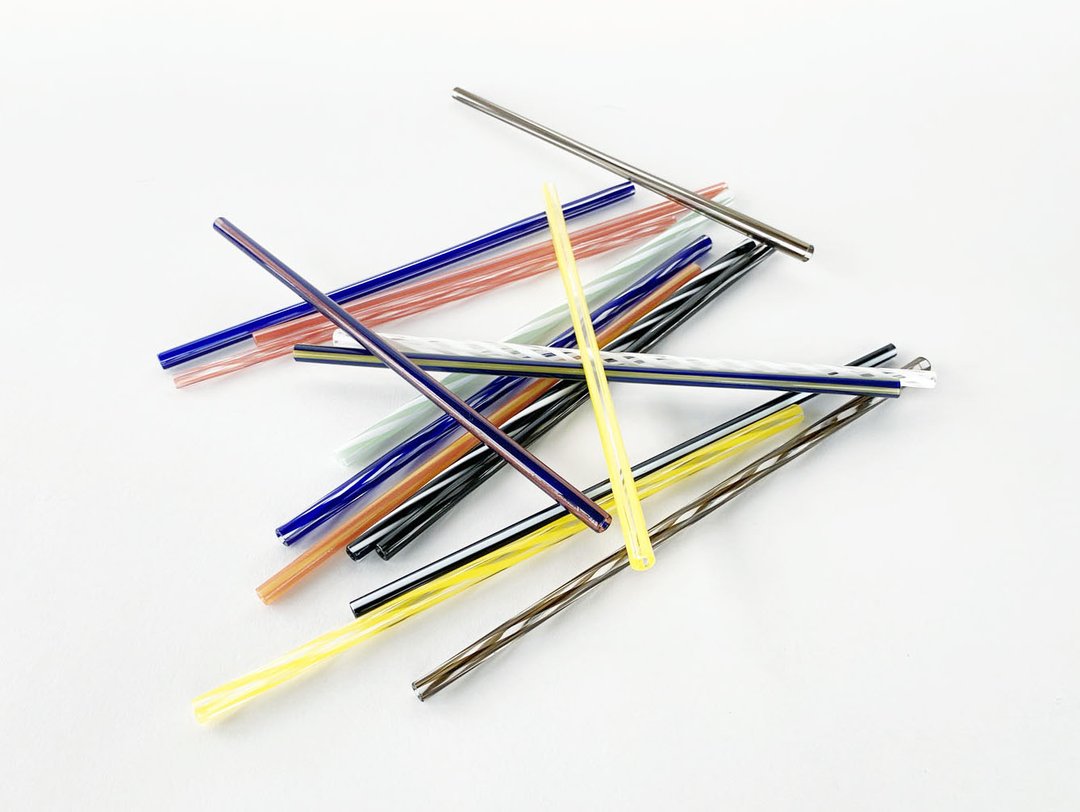 "Fredericks & Mae is helmed by Gabriel Fredericks Cohen and Jolie Mae Signorile. The two met through a shared love of materials. Fredericks & Mae started in the piles of feathers, thread, gold and paper that filled their first studio in 2007." This playful shop is organized by designer and collection, offering art, ceramics, games, lighting, dishes, and textiles.
Claire Tibbs runs this Chicago-made feminist goods community shop, offering candles, trays, textiles, art, wall decor, containers, furniture, rugs, and planters. She also runs Peach Fuzz, a colorful shop that emphasizes home goods for children and families.
Owners Jenna & Shep are "a queer couple who live and work in the city of Canterbury. We are passionate about living authentically and celebrating LGBTQ diversity. We are both crafty, in different ways, and have come together to make creations we hope you'll love!" They offer beautiful bunting, badges, patches, and pins, all utilizing the colors of different queer identity flags.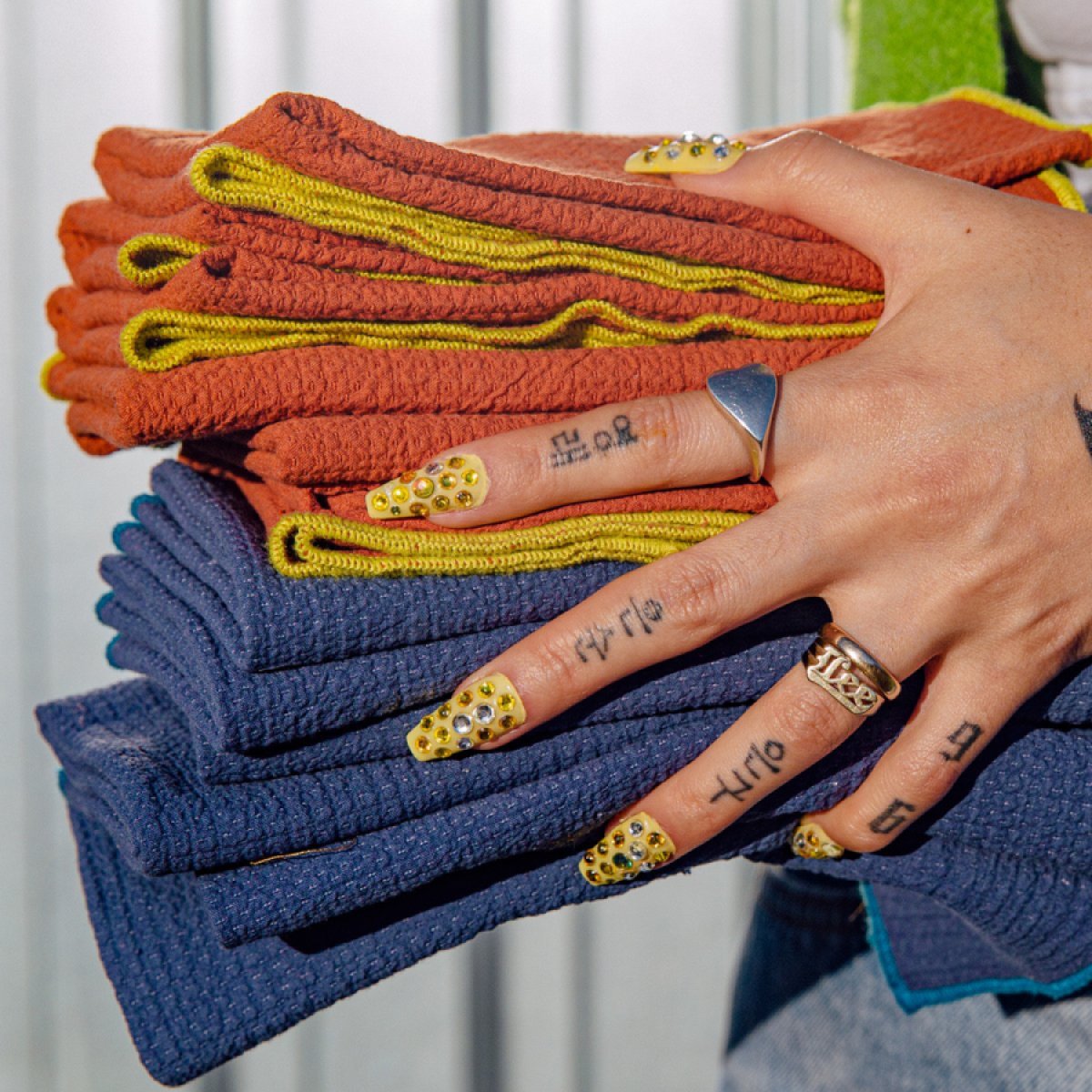 "At Suay Sew Shop, we choose to reuse. Old things are always cooler than new, and finding ways to repair, restore and repurpose single-life garments or materials headed for the landfill is the greatest action we can take towards cleaning up our massive textile waste problem." Utilizing recycled or donated textiles, this shop creates pillows, cushions, napkins, towels, blankets, curtains, placemats, and other fabric-based designs in both bold colors and soothing neutrals.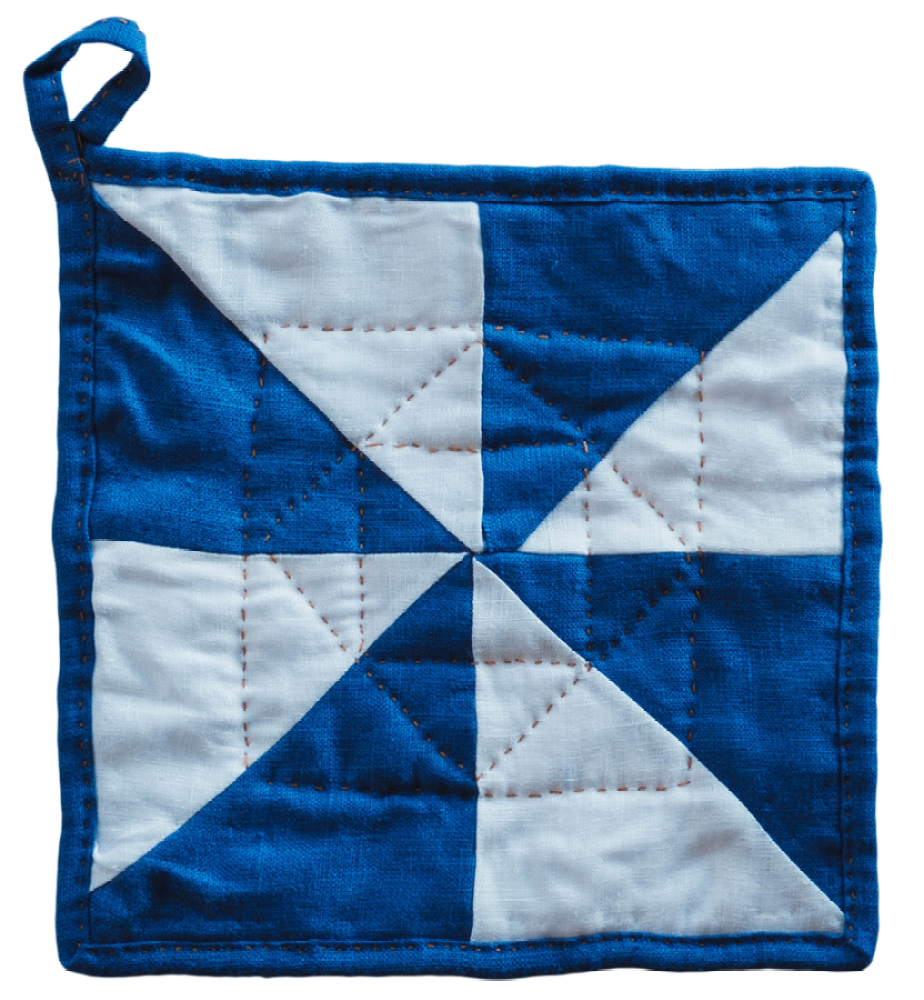 Oklahoma City-based artist Katrina Ward says, "My work is mostly about memory and place, exploring agency and power, death, institutional power, identity, collectivism, cultural memory and belonging, and the land." Her textile art takes the form of quilts, hot pads, and bandanas.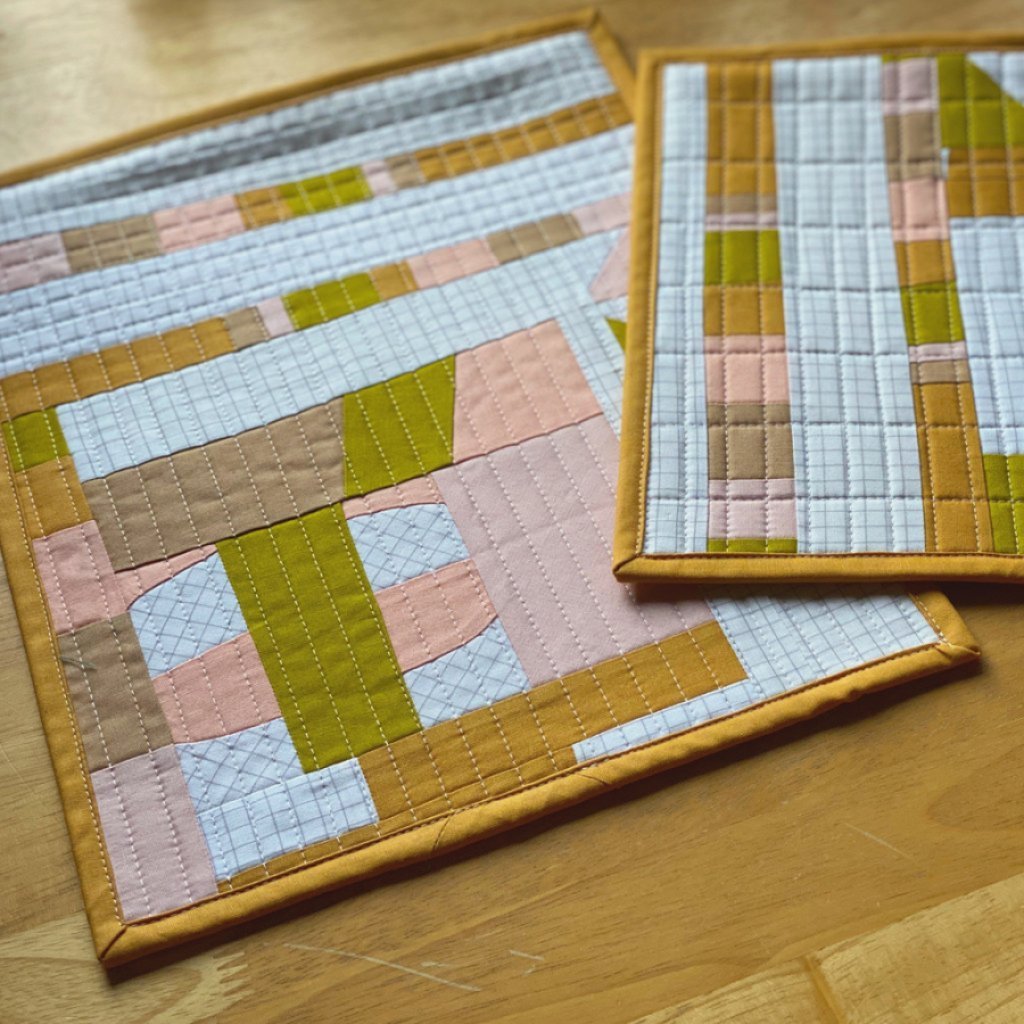 "So Gingerly is a scrappy riot of color, form, and function. So much of what I make is designed to make your home and life a little tidier, a little brighter, and a lot more fun." Queer owner Meaghan creates stockings, quilts, wall hangings, and banners from brightly-colored fabrics and textiles.
"Junebug and Darlin was started to provide friends and fellow crafters with the inspiration and tools to create heirloom quality subversive crafts. Junebug and Darlin is run by Zoe Frost, a queer femme currently living in Portland, OR." Offering cross stitch kits that include frames for display and hanging, Junebug & Darlin helps clients create their own art pieces that reflect exactly who they are.
"Think functional yet beautiful. That's the philosophy behind the stunning furniture designs you'll find from Erdos + Ko, an LGBTQIA+ owned furniture and decor brand based in Dallas, Texas, that should be at the top of your #homegoals vision board." With gorgeous and modern furniture designs as well as home decor and art, Erdos + Ko also offer custom design services to give clients exactly what they're looking for, from the living room to the home office.
"A. Miyuki Studio was founded by Amelia Miyuki (美雪) Christensen in Brooklyn, New York. Since 2010, we've dedicated ourselves to producing thoughtfully designed furniture and housewares. We believe in the continual process of honing skills and production methods to create beautiful and useful objects that, with proper care, will last a lifetime." This shop is full of gorgeous, hand shaped wooden furniture and housewares, and I've already got my eye on this serving board and utensils set.
"I'm Sam and I am an artist who enjoys making functional art! I currently live in a renovated camper as an alternative lifestyle and create art. I am indigenous Native American and an Alabama native. I am most inspired by rainbows, nature, and mushrooms!" Sam creates beautiful driftwood jewelry hangers and wall art, as well as plant buds and dreamcatchers.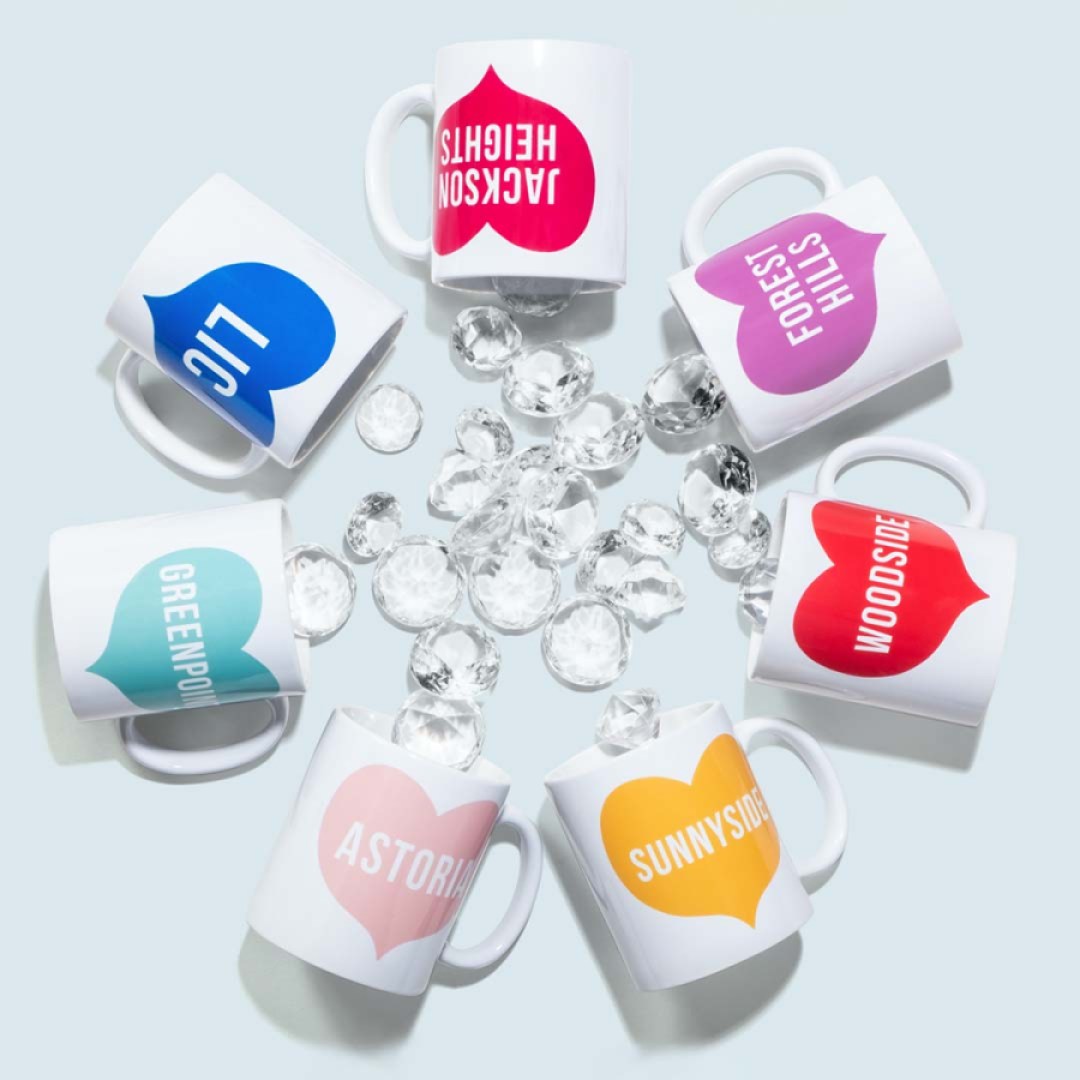 Owner Mackenzi Farquer says, "In 2013, Lockwood was born…I spend my days sourcing new products, doing paperwork, budgeting, and creating custom New York City items with my team. I love it all. Lockwood is my community, like Astoria—where my wife and I raise three cats and a toddler together—and community drives so much of what I do. It feels like home to me, and I hope it feels that way to you too." Lockwood has so many fun and beautiful items, including candles, decor, artwork, tabletop pieces, textiles, and games. I particularly love their trays and accents section, brimming with small objects that can really help bring a room together.
"Using only my hands to turn earth was therapeutic. I spent hours making all sorts of random forms with no intentions. Some are chubby like me and have uneven curves. The earth toned pieces are smooth or ruff, some have freckles, and are all so beautiful in their diversity." Queer artist and owner Viviana Matsuda creates gorgeous and distinctive mugs, cups, planters, and vases. The shop updates every month so make sure you get on their mailing list for updates, as these pieces sell out quick.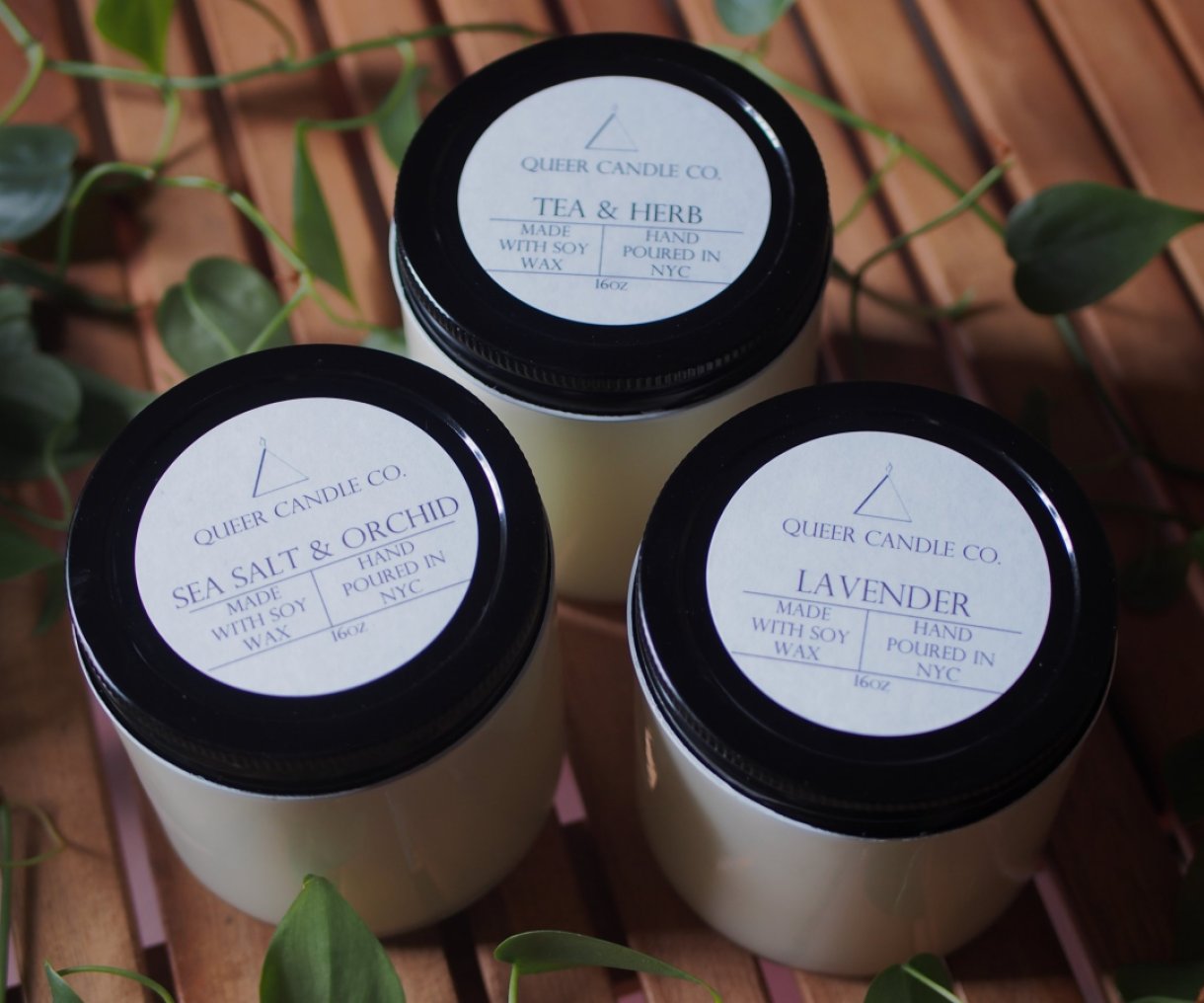 "We're Ab (they/them) & Al (she/her), and we've been making candles together since 2017. We love getting to build Queer Candle Co. side by side, and make products that we love at the same time." With gorgeous candles, reed diffusers, and gift sets, Queer Candle Co. combines simple packaging with thoughtful fragrances. I'm keeping my fingers crossed that this Teak & Leather Soy Candle comes back in stock soon.
"In late 2015, Boy Smells began as an experiment in candle-making in the Los Angeles kitchen of co-founders and real-life partners Matthew Herman and David Kien. Herman and Kien – both fashion veterans who worked in design (Herman) and product development (Kien) – began by making the things they'd want to use on a daily basis, products that were fluid and essential." Boy Smells makes some of my favorite fragrances, and I keep a Slow Burn magnum in my bedroom at all times. So many of these scents are beautiful, unique, and captivating, and this company sells candle maintenance tools and other fun goodies too.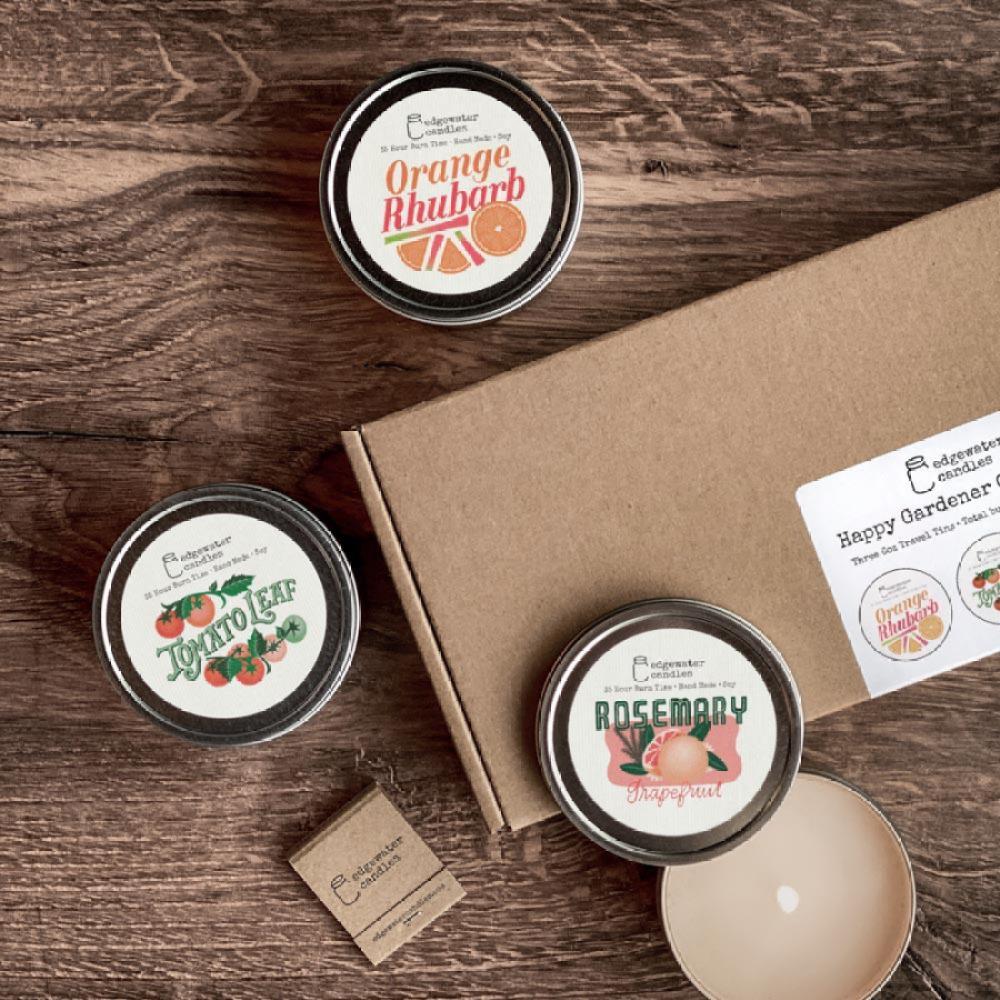 From owners Mark Towns and Stephen Pearlman: "We've always been makers. So when we came across some wax for practically nothing, it seemed like an opportunity to learn a new skill. But with us, hobbies often look more like obsessions. We quickly found ourselves searching for higher quality ingredients and customizing our fragrance offerings. Just a year later, Edgewater Candles could be found in shops and craft fairs across Chicagoland." Offering vibrant jar candles, reed diffusers, wearable fragrances, and travel tins, Edgewater Candles is also going to begin offering candlemaking classes soon.
"We're Alaina & Jocelyn. We met many moons ago doing improv comedy and decided to officially say "yes, and" and tie the knot! What we didn't realize at the time, is that we had a pretty serious problem on our hands – we were both luxury candle hoarders." This website is dangerous, so be warned — I already have at least eight candles in my shopping cart, including a Stevie Nicks-inspired white sage and neroli candle that I absolutely must own.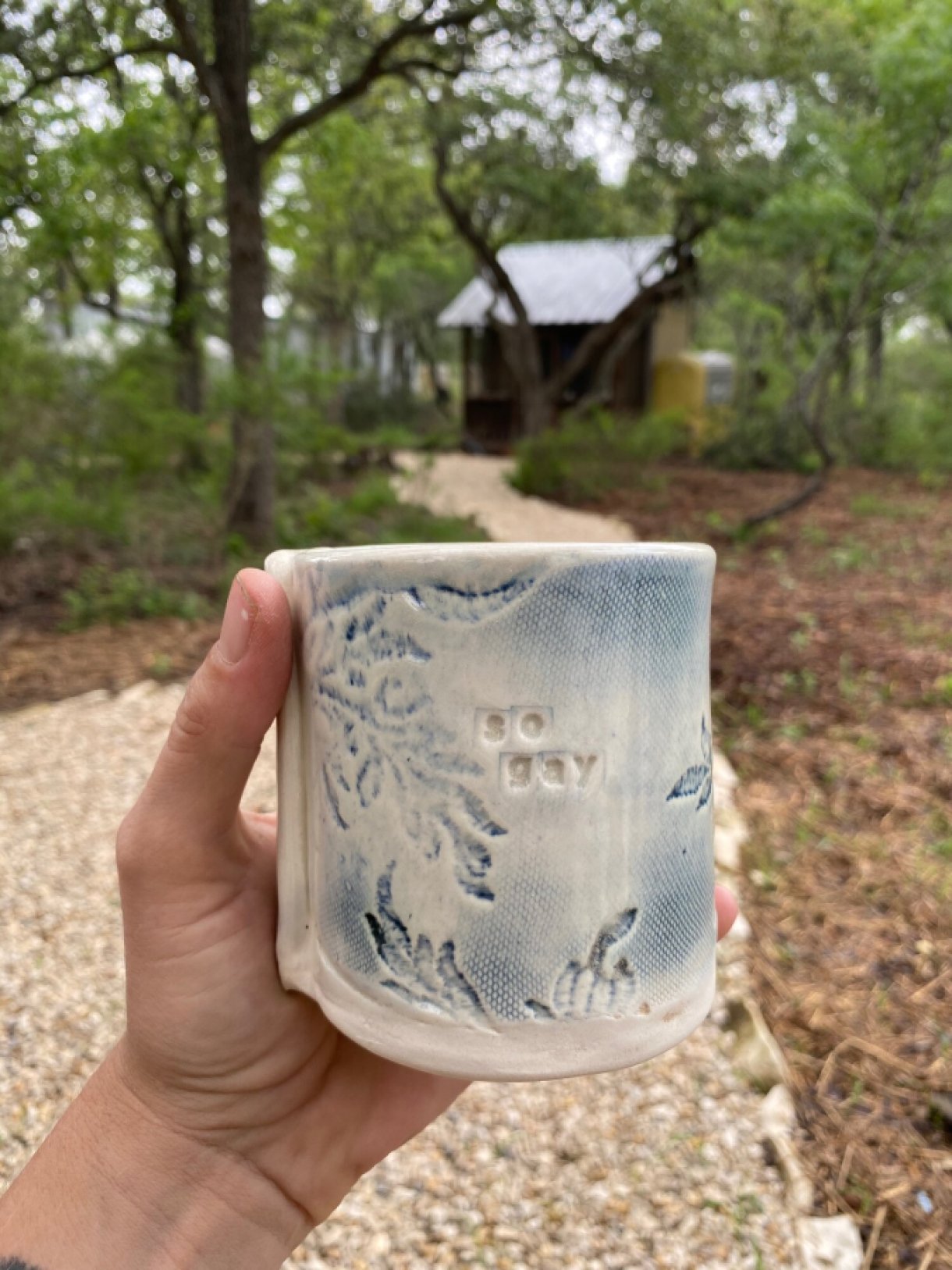 Owner and artist Sweeney Brown creates "queer ass art" in the form of mugs, bowls, sculptures, linens, and sculptures. I'm a particular fan of this mug, which was made by pressing a hot gay shirt into the clay.
"Ash + Chess is a cute stationery company run by queer and trans power couple Ashley Molesso (she/her) and Chess Needham (he/him), based out of Richmond, VA. They create greeting cards and art prints that are bold, retro color palettes and they often use their artwork to make a political statement." While most of the goodies at this great little shop are cards and stationary, they do have some fantastic prints and wallpaper to help add a pop of color to your space.
From owners Jessi and Kelli: "Common Dear is a queer women-owned cheerful feminist and self empowerment gift shop and lifestyle brand based in Downtown Oklahoma City. Our first brand, OKcollective Candle Co., is a handmade soy candle company where we sell our candles to retailers in over 600 retail shops across the US, Canada, and the UK. Both of our brands are now shoppable under the same roof." Offering bold, silly, quirky designs that are all from "women-owned, LGBTQIA2S+ owned brands, AAPI-owned, Black-owned, and Latinx-owned brands," Common Dear sells candles, coasters, planters, trays, pillows, and other decor.
"We are committed to creating a platform for women, LGBTQ+, BIPOC, and other minority artists and designers to share their art and designs with people interested in fostering the creativity of Living Artists." Queer owners Genea and Abi Cunningham curate mugs, textiles, artwork, bedding, and other home accents that stand out in the best way, the kinds of pieces you could design an entire room around. I personally love this delightful Cthulhu bedspread.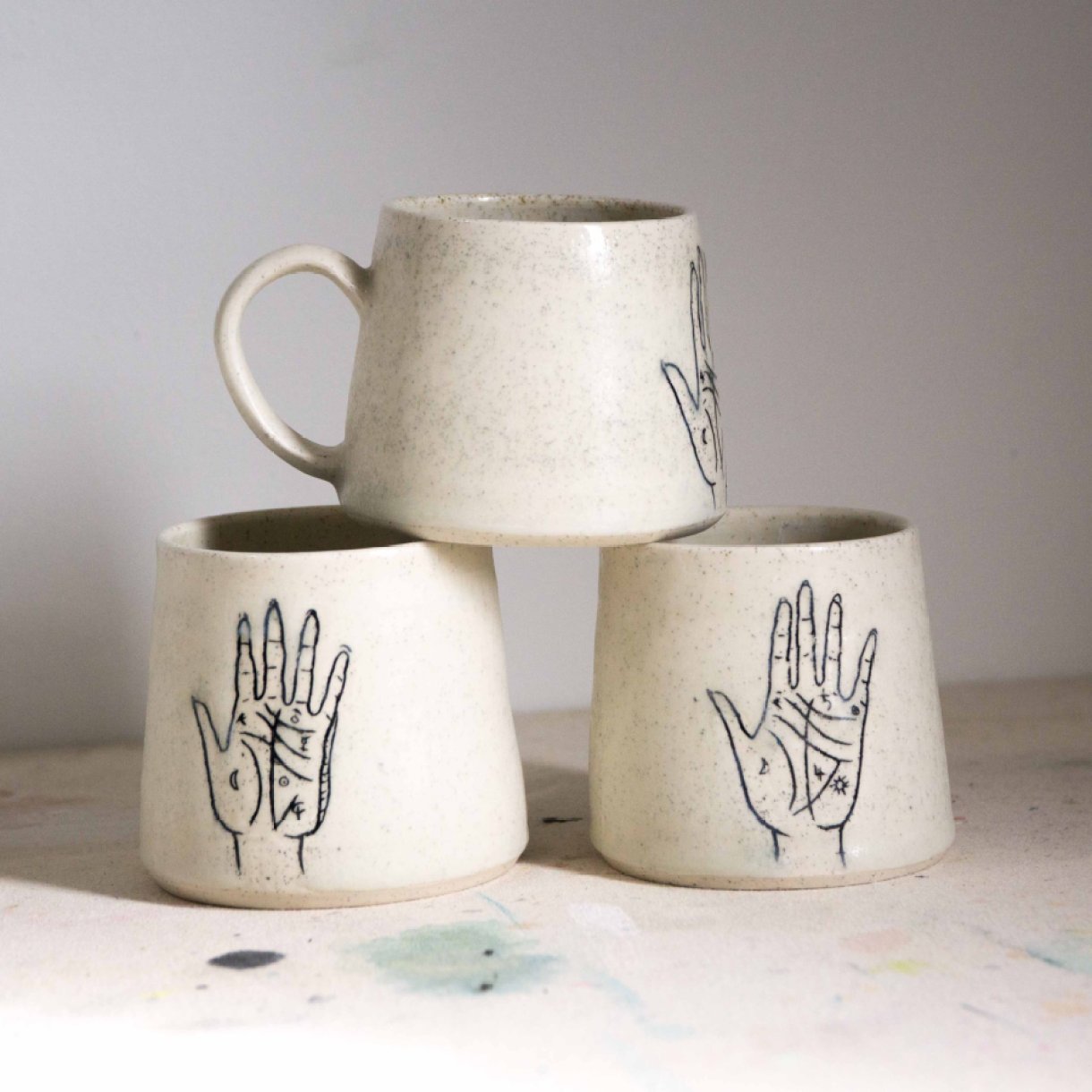 "Likely General began in 2013 from a deep desire to grow a multi-functional space connecting artists to the public in an organic, ethical, and approachable way. We are an artist-focused shop, primarily selling the work and expressions of women, marginalized, queer, and non-binary folks first." I really love the aesthetic and pieces at this shop, which sells ceramics, candles, and artwork in addition to unique decor pieces like these palmistry mugs or this stone-fired burning bowl for incense and flammables. (And if you're looking for some gorgeous incense to burn in that bowl, check out Black Earth Botanica.)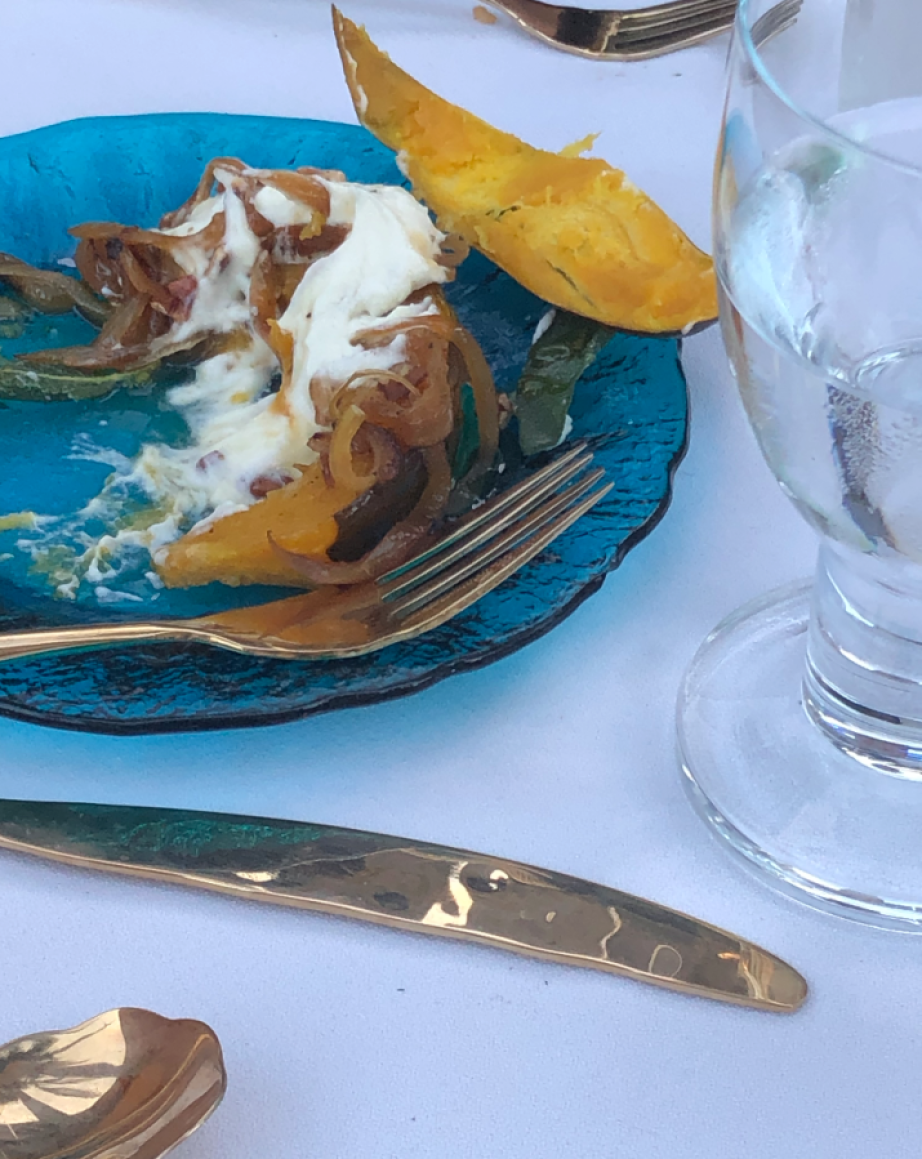 From owner Kelly Johnson: "We are a studio and shop making interiors quite nice. Let's make your space vibrate. Queer owned, based in Oakland, CA." Quite Nice is a collection of curated vintage pieces, including dishes, housewares, and art pieces.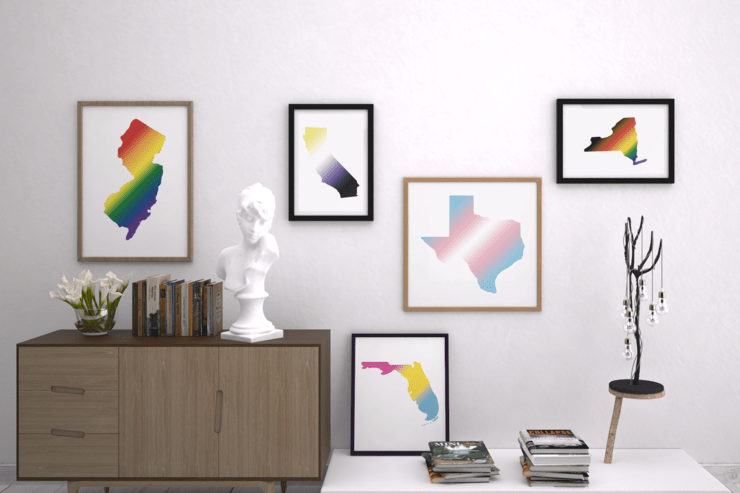 "Rainbow Sheep is an LGBTQ+ owned and operated shop whose mission is to nurture a space that offers home goods, apparel, art, and gifts designed by and for LGBTQ+ people. Shopping with us means elevating LGBTQ+ artists and designers while purchasing products that are centered around the LGBTQ+ community." This fun and colorful shop offers art, textiles, and a variety of home decor pieces, including this beautiful state pride collection of stickers, prints, and pillows.
Owner Rheal is based in Oakland, California and creates blankets, sculptures, artwork, dishes, coasters, and candle holders. I particularly love their collection of concrete vessels, perfect for stashing small items and organizing spaces.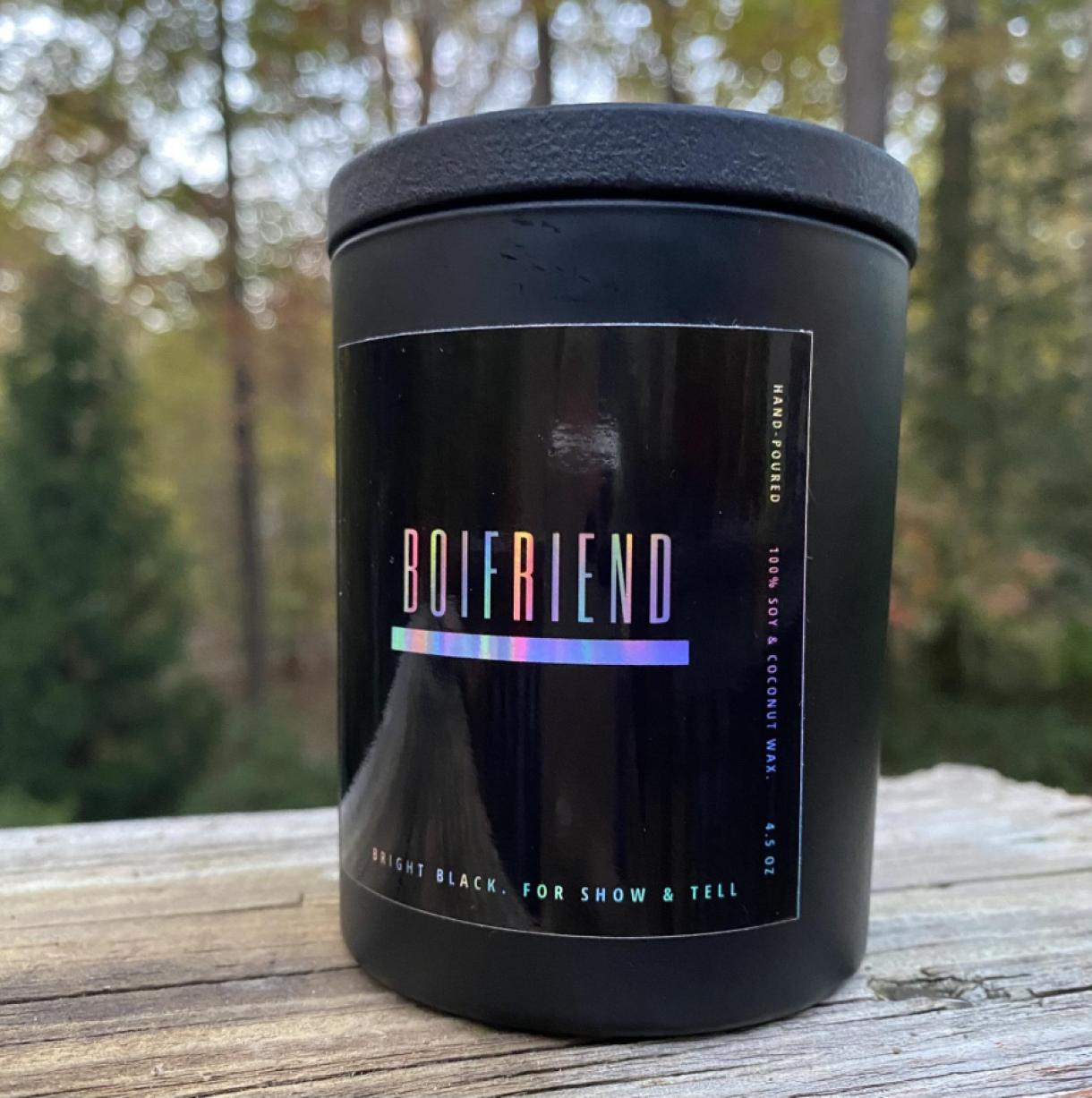 "Show & Tell Concept Shop is a lifestyle brand that celebrates unapologetic style and joyful living through a collection of unique, handcrafted apparel, accessories, and home goods. Each piece represents optimism, care, craft, and love for BIPOC + Queer community. Since 2011, Show & Tell has embodied inclusion, and we strive to delight our diverse community of customers with signature pieces that are as special as they are." Owner Alyah offers both handmade and vintage pieces, including candles, quilts, and pillows in bold, unapologetic designs.
"My name is Jamila and I'm a fine art photographer from Portland, Oregon. I opened Light+Ink on Etsy in December 2012 and have watched it grow so quickly. I love to tell stories with photography and this shop allows me to share the stories I've captured over the years, while living and traveling in the urban wilds that are the Pacific Northwest." Artist Jamila Clarke sells fine art photography prints capturing scenes, emotions, and stories with beautiful clarity and vision. I'm a particular fan of a piece titled She Waited All Night.
"Leezou consists of two queer souls who are lookin' to bring some LGBTQ+ welcoming-energy into the world. Aspasia and Tiff are a Canadian married couple who spend their days either watching videos about tiny homes or gettin' crafty with their laser cutter bestie (Leezou Jr.). They also enjoy spending time with their two cats Noodles and Shrimp, playing too many hours of video games, and fighting the patriarchy." This shop announced a break from sales on the day that this is being published, but I love their pieces so much that I want to share this link anyway. Keep an eye for when they reopen so you can check out their lasercut mirrors, art, and wallhangings.
What shops do you love that are owned by queer folks? Drop links to your favorites in the comments!