This review has small spoilers for Netflix's new release, Gunpowder Milkshake.
---
From the first set photo revealing Angela Bassett in a turquoise blue suit coat holding a sawed off shotgun, I wanted to love Gunpowder Milkshake. When the trailer dropped and Michelle Yeoh came swaggering behind her with an olive green vest, I was a goner. Lena Headey as an assassin who shoots first and never asks questions later? Yes, and more please. Thank you. I wanted to love it. I was supposed to.
So what went so terribly wrong?
Here's the deal with Gunpowder Milkshake, once upon a time elite-level assassin Scarlet (Lena Headey) made violent mistake on a job that ends in having to leave her young daughter Sam (Karen Gillan) behind, so that she can go on the run. This all takes place in a neo-noir 1950s-style dinner that isn't Pop's from Riverdale but also isn't not that either, hence the "Milkshake" in the title. Scarlet leaves Sam in the care of the crime organization The Firm, who in turn raise her to be an assassin just like her mom. Now fifteen years later, Sam is The Firm's top assassin, until a VIP kill makes her have to choose between The Firm and an eight-year-old girl, Emily (Chloe Coleman, truly the shining star here). Sam saves Emily, but that leaves her with a bounty on her head. With nowhere left to turn, Sam finds herself on the doorstep of her mother's former best friends, also assassins, The Librarians (Angela Bassett as Anna May, Michelle Yeoh as Florence, and Carla Gugino as Madeleine, quietly the most heart-wrenching of the three).
Did I mention that the Librarians got their name because they hid their guns in books? Jane Austen, Charlotte Brontë, Virginia Woolf, (Agatha Christie is for actual reading), and a later brief cover shot of Toni Morrison reveals a switchblade. There's also Angela Bassett throwing literal hammers at people, Michelle Yeoh using chains for murder like only she can, people getting decapitated by cars, more grenades than seem reasonable, and a fight scene involving temporary paralysis — in a terrible choice, played for comedy — that I could have done without. There are so many bright lights! In every color of the rainbow! After a clunky slow start filled with exposition, director/co-writer Navot Papushado seems to throw everything against the wall, covers it in blood, and hopes that something will stick.
Know yourself, if you don't have the stomach for Tarantino-esqe love letters to cliché dialogue and gratuitous pulp violence without reason, this is in no way a movie for you.
It's hard to talk about Gunpowder Milkshake without fawning over its aesthetics, and it's true that its visuals help spackle over an otherwise painfully thin and bland plot. But I'm gay, so when I say that Gunpowder Milkshake largely wastes the talents and infinite power of Angela Bassett and Michelle Yeoh in suits wielding guns to fight bad men, you best believe I know exactly what I'm talking about. Particularly egregious is the waste of Yeoh until the film's third act, even though she's easily one of the greatest action stars of the last three decades. There's another missed opportunity for story development between the Librarians themselves, who seem to share intimate if not romantic pasts together, but is never expanded on in any real way (if you choose to see it, and make no mistake, the lingering camera shots on gentle whispers in ears and soft touches of fingers holding hands begs you to).
In recent years, women-lead, sleekly choreographed, over-the-top, stylized bloody and violent action films have quickly been filling up its own sub-genre, from Atomic Blonde to Birds of Prey to Old Guard and arguably even the current moment's much larger women-led franchise film Black Widow. We're at a point where I think it's fair to ask what is next.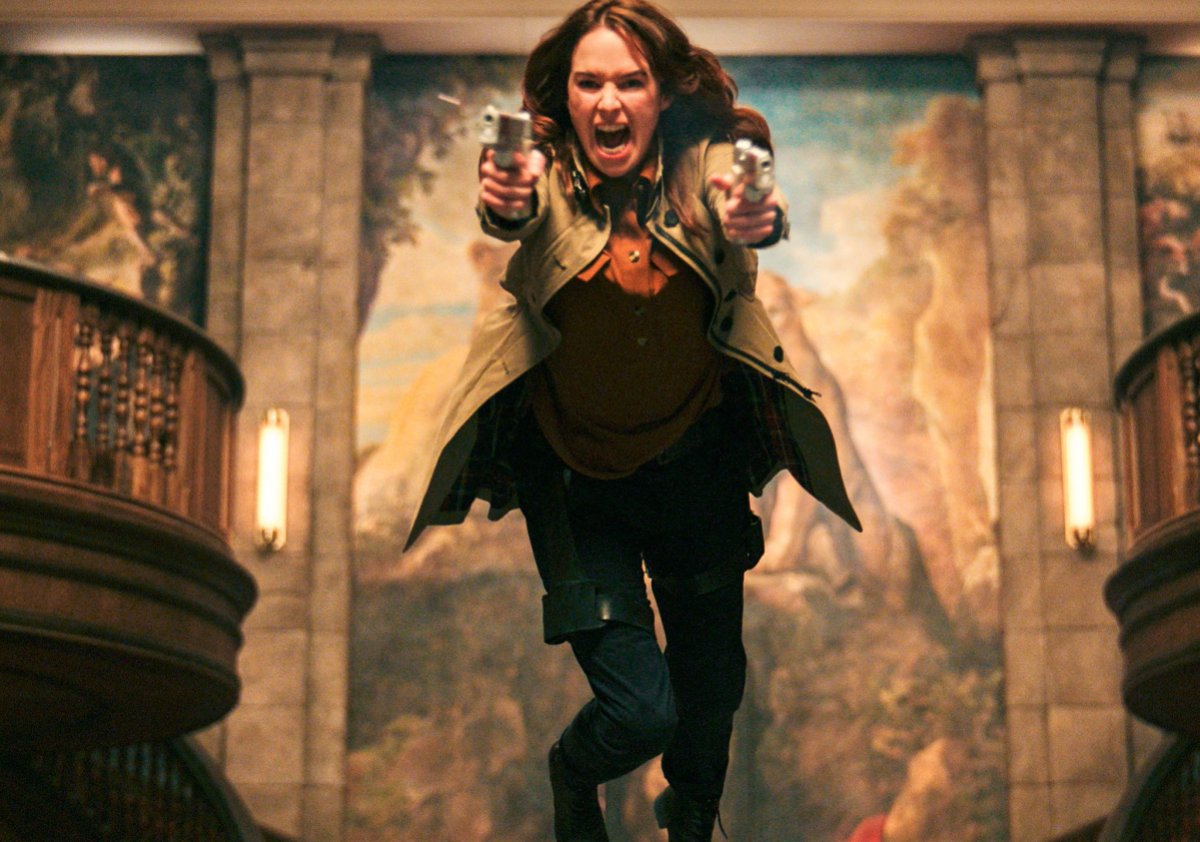 Gunpowder Milkshake seems quick to clap itself on the back for… casting women between 45 and 65 as leads with guns and an excess of attitude? But it lacks any resonant emotional underpinnings of what it means to have women in those traditionally male roles or how that impacts the relationships between them. Instead it settles for cheap winks by way of candy coated three piece suits and cheeky references to classic women's literature (it's worth noting that finding emotional depth beneath the action and chaos is a place where Birds of Prey and Old Guard, just to name two, really soared — it's also worth noting that unlike Gunpowder Milkshake, both of those films were directed by women, women of color at that). Here's just one example, core to Gunpowder Milkshake is Scarlet's decision to leave Sam in the care of The Firm at a young age despite knowing they will undoubtedly train her to be an assassin at the behest of power-hungry men, but the movie doesn't  take even a millisecond to question why Scarlet didn't just leave her child in the care of her protective and equally well trained best friends (whom Sam refers to as her "aunts") to begin with.
I don't care that Angela Bassett and Michelle Yeoh look hot in suits and kicking ass — well ok, again, I am gay so I do care a little — but I much more care that they feel as if they have a purpose being there. Maybe Gunpowder Milkshake could have gotten away with it if it had gone heads first leaning into the comedic promise of its lightest moments and the visual joy of the color-drenched set pieces that it dances around, just begging you to turn off your brain and eat popcorn. Confusingly, especially in the beginning, it keeps veering serious when the light and funny is directly in front of them in sparkly neon lights — but it doesn't have the gravitas to back those decisions up, despite the notable acting depth in its utterly iconic cast. And that (ironic, for a movie about villains) is criminal.
In his major monologue, Gunpowder Milkshake's Big Bad declares:
"I've always considered myself a feminist. When my first daughter was born, I was over the moon. I painted half the house pink. It was all unicorns and lollipops. Then my second daughter was born. And the third and the fourth. Girls. Always whispering at the dining table. Always giggling in dark corners. I love my girls. But I don't understand them."
Yeah buddy. It might as well have been the thesis of the film.
It's not that Gunpowder Milkshake isn't fun, with its "I ❤️ Kittens" duffle bags and strawberry milkshakes. It's that if you stop and think about it for even a half-second, you risk walking away disappointed because it really could've been great, but instead it punts and sets its sights on a glamorized step above "just OK."
Still, if women bone cracking the skulls of men to a Janis Joplin soundtrack with pints upon pints of gory jello blood to spare is your idea of summer weekend fun, there are worse ways to spend your two hours.