Marina & The Diamonds, The Family Jewels
Release Date: February 26, 2010
Half-Welsh half-Greek singer-songwriter, Marina Diamandis, better known by her stage name Maria & The Diamonds, is rapidly gaining international recognition and rave reviews due to her debut full-length record, The Family Jewels.
Marina first burst onto the European music scene with her 2009 debut EP, The Crown Jewels. The album's success secured Marina the runner-up position on the highly regarded BBC Sound of 2010 List, the UK music industry's annual predictions for the most promising new talent. Are Marina and The Diamonds set up for total domination of 2010's musical landscape?
Marina and The Diamonds' take on the pop landscape paints all things cliché with a heavy stroke of nihilism; earning comparisons to artists like La Roux and Kate Bush. The tracks seamlessly flow from genre to genre, from disco tinged pop to theatrical ballads, eventually taking a sharp turn towards a song featuring just about everything but auto-tune. Marina's music is almost annoyingly hard to label. Does she sound like Bjork or like Ke$ha? One consistency exists throughout: Marina's got an amazing ability to mix satirical lyrics with badass cascading synth choruses oh so well.
"Hollywood", the album's first single, has a synth-infused chorus as shiny and pretty as one of Adam Lambert's stage outfits with intriguing lyrics about the preposterous "American Dream." The song showcases Marina as a mainstream pop act but one that remains clearly still true to herself. Another standout track is "Mowgli's Road", named by an obscure Kipling reference and encompassing strands of Bjork-like genius. From the initial "Cuckoo", the jungle animal noises and mentions of various pieces of cutlery make this track different from anything you've heard before. In this instance, different is good. Very good.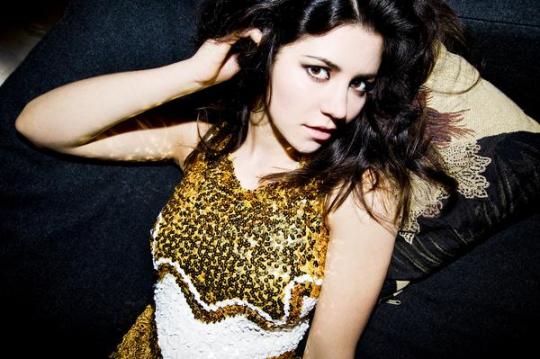 The most beautiful song on the album is "Obsessions", a haunting ballad about an abusive relationship. In the song "I Am Not A Robot", the listener can hear Marina explore a vulnerability that so many other singers will shun.
Though at first glance she seemed to be just another bubblegum pop star, Marina and The Diamonds shocked and awed me much like my first experience listening to Lady Gaga. This is no vapid, shallow woman gyrating to her own voice. With this album you get pop with substance and sarcasm; layered over a jokey Gagaesque referendum on money, fame, and the American Dream. As she says in "Hollywood", "You do anything for a dime/Looking for the golden line."
The Family Jewels is out right now! If you're not yet convinced, check out Marina & The Diamonds' music video for "Hollywood" below –
+
Buy it on Amazon.com now.
+
+