OLYMPICS & GENDER:

An interesting article examining the role of gender roles & identity in sports, in particular how despite increasing visibility of individual female athletes, teams are rarely recognized with similar reverence. The author suggests that this could be due to the same "male gaze" principle which guides filmmaking, where men "Individual female athletes seem to be acceptable targets for the male gaze, but somehow women's team sports don't work that way." Furthermore Frank Deford, on NPR, says, "we do not yet seem prepared to accept women's teams as our representatives."
Individual female athletes seem to be acceptable targets for the male gaze, but somehow women's team sports don't work that way. When the Olympic women's soccer team was the object of so much acclaim, much attention was focused on the lovely Mia Hamm. Even as recently as last summer, Wimbledon officials blithely admitted that "physical attractiveness" played a part in which women played at center court. Lindsay Vonn, target of so much admiration, is an "all-American blonde"—who uses men's larger, heavier skis because of her size and strength (but you'll find many more references to her appearance even in articles that note this fact).
We spoke earlier this week about the importance of women's hockey to girls, and this article also mentions that women's hockey is basically scheduled around men's hockey.
However, men's sports aren't immune from gender-based bluster—take the fabulous Johnny Weir, U.S. figure skater, subject of his own Sundance Channel documentary/reality series, and how fans think he's been robbed of medals he deserved because of his flamboyance. Weir skated to Lady Gaga's Poker Face, wore a pink-laced corset top, and says things like:
"I love my glitter, I love my prettiness, I love getting my hair done before the events, I love putting on makeup because I'm going to be on TV." (@globalcomment)
During a press conference yesterday, Weir says he was 'frankly, pissed' upon learning that the two French-language commentators questioned his gender and made other jibes during his performances last week. After the press conference he did what we all do – went to Twitter to reinforce his feelings:

On the theme of people who don't think the Olympics are totally awesome in every way, a group of  Anarchists also came together to protest the events this year:
This was not "just another summit"—this was the culmination of several years of direct action by indigenous people, anarchists, anti-poverty activists, environmentalists, and others against the 2010 Olympics. One of the most inspiring aspects of this convergence was the framework that created it. Unlike many summits, which lack an anti-racist and anti-colonial analysis, indigenous sovereignty and decolonization was front-and-center this time.
FEMINISM:
CRAP (Child Rearing Against Patriarchy) have released a feminist kidzine, Spratz! but Jezebel is having some issues with it. Per Jez: The zine is compiled by a group of kids and adults, who clearly have very different ideas about the message they want to disseminate. The stories and illustrations created by children – including The Tough Cinderella and a short cartoon about sexism – are more lighthearted and fun than just about anything else. Which is the major problem with Spratz!: it's just not very much fun. I can't imagine a time in my childhood when I would have picked this up and thought how exciting! let's read about sexism and discrimination! (@jezebel)
EX-GAYS:
Apparently you can cure yourself of homosexuality by doing "guy stuff" like football. Who knew?
MISS BEVERLY HILLS:
Lauren Ashley, aka Miss Beverly Hills, who represented Beverly Hills in the Miss California pageant this November, has pulled a Carrie Prejean and publicly denounced same sex marriage to Fox News, quoting the usual lines from the Bible and going so far as to wish death on homosexuals:
"The Bible says that marriage is between a man and a woman. In Leviticus it says, 'If man lies with mankind as he would lie with a woman, both of them have committed an abomination. They shall surely be put to death and their blood shall be upon them.' The Bible is pretty black and white. I feel like God himself created mankind and he loves everyone, and he has the best for everyone…If he says that having sex with someone of your same gender is going to bring death upon you, that's a pretty stern warning, and he knows more than we do about life." (@fox news)
Lauren Ashley is of course above such sins claiming: "I don't drink alcohol and I don't smoke weed or cigarettes. My definition of partying is a little different. I feel like my body is the Temple of God and it's my temple so it's really good to treat it well. I also feel like sex was made for marriage." So, let's assume the nude pictures will hit TMZ sometime in March?
Meanwhile, the city of Beverly Hills is disavowing any relationship to the pageant that crowned Lauren Ashley, who is a resident of Pasadena. City leaders further denounced her position on gays and said they are looking into blocking the pageant from using their name in future contests. (@latimes)
TEGAN & SARA: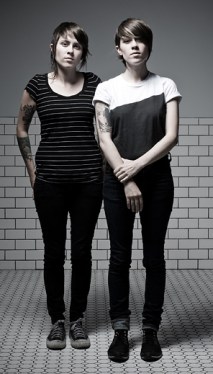 Hey – were you at the Tegan & Sara show at the Music Hall of Williamsburg last week? Check out this Craigslist Missed Connection from the W4W section. (@craigslist)
THE GYM:
In a brilliant move, a 24 year-old law student/gym rat in New York City has set out to go all of 2010 without paying for a gym membership, relying entirely on free passes from Crunch, New York Sports Club, 24 Hour Fitness and the like. She provides helpful tips on scoring free personal training sessions and gives funny anecdotes about getting caught and thrown out of Equinox.
Furthermore, Autostraddle's own Natalie did the exact same thing in 2006, where's her book deal? (@bunsofsteal)
NYC LGBT YOUTH / CYNDI LAUPER:
"Gay, lesbian, bisexual and transgender youth living on the streets and in foster care need our support more than ever. In New York City, the True Colors Residence is going to play a big role in providing these young people with the leg up and encouragement they need. I am thrilled that construction has already begun and I am honored to be a part of this important project." – Cyndi Lauper, commenting on the groundbreaking for the True Colors Residence for homeless LGBT youth in Harlem.
VOGUE:
Italian Vogue Embraces The Black, The Curvy: "The good news? Vogue Italia's new websites embrace black people and curvy models. The bad news? Vogue Black and Vogue Curvy are two separate sites, sequestered from the main Vogue Italia homepage." (@jezebel)