THE SPORT:
The eligibility of both women's ski jumping and women's hockey isn't guaranteed for the 2014 Olympic games. So today Katy at Jezebel looks at the role sexism plays in determining Olympic Sports and we have tapped our in-house lesbian Canadian Hockey Expert for her perspective as well (more on this in a minute).
Katy explains that women's ski jumping maybe under scrutinity due to a "patronizing concern for the weak female body." Katy cites Ruth Gregory, who wrote in guest post for Sociological Images that the "rumor that ski jumping damaged women's ovaries and could lead to infertility…floated in the background of the many conversations that I had with coaches, ski jumpers and parents over the three years I was a part of the ski jumping world."
As for women's hockey, Katy explains that North America's dominance in this year's games has led many to debate if women's hockey should remain a sport, as it has been since 1998. When the US and Canada swiftly crushed the competition, the media reacted oddly:
Hockey writers are none too impressed by this display of dominance, with several writers calling it "unsportswomanlike." Kevin Amerman bemoaned the "embarrassing" win and told the Canadian time to "take it easy." "You won't see this behavior from the men," he argued.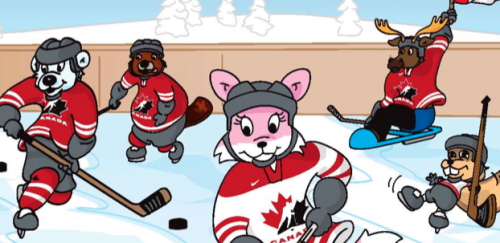 Katy adds:
While no one is arguing that women's hockey is damaging to the ovaries (at least, not yet), the continued debate over whether two teams are too good rings with a similar patronizing tone. And North American teams may be kicking ass, but part of the reason that they are able to do so comes from what CNN calls a "chauvinistic lack of funding" for women's hockey players abroad.
We thought we'd ask Intern Emily what she thinks of all this — Emily is 19 and lives in Montreal, Canada, where she played hockey for fourteen years (this is her first year not playing), most recently on Dawson College's Junior National Championship team (this is the highest level you can get to below the NWHL or Division I university).
Here's what she had to say:
Ever since Women's Hockey debuted in the Olympics in '98, it's become way more popular and honestly, the Olympics is the only time you hear about women's hockey. Did you know that there is a National Women's Hockey League? I bet you didn't. Men get paid millions of dollars to play not only in a national league, but also in other European countries with different leagues (though they get paid less abroad). Women, on the other hand, have to pay to play in the league and also keep steady jobs.
It's true that Canada and the US are way ahead of other countries in terms of talent. Obviously both countries have the money & means to support player development at a young age, but that doesn't mean that other countries aren't getting there.
Pulling Women's Hockey from the Olympics would be going backwards. Making the Olympic Team is any women's hockey player's dream — because that's the highest you can go. While men aim for the NHL, women train with the Olympic goal in mind. For men, the Olympics is secondary to winning the Stanley Cup (not to say that the men don't care about representing their country –they do — but the Canadian team has been centralized and training together for over a year specifically for the Olympics  (also recruiting people since like the age of 12) whereas men have been training for the NHL season.)
A good example of this is the men's game last night between Canada and the US. It's disappointing for Canadians that the men lost, but theres' a sense that it's not over because almost everyone on both teams will return to the NHL and try for the Stanley Cup (also, because there are still finals). If that had been the Women's Game (and it likely will be in the final), it would have been DEVASTATING.
There is NOTHING for women after the Olympics except the next Olympics. There's of course the NWHL and University teams, but that hardly compares to competing at the National Level in front of thousands of people.
Men in the NHL compete in front of thousands of people every night — women in the NHWL compete in front of five fans if they're lucky.
Pulling Women's Hockey from the Olympics would be like giving up. It's like "Oh, our world is so unequal, let's just leave it that way."
WOMEN OF HOCKEY:
Although they use the word "podcast" how Alice did in Season Five of The L Word — VLOG! VLOG IT'S A VLOG! — here's a sweet video about the Women of Hockey:
CRY COUNT:
Also, skaters of all genders cry a lot, says The New York Times. (@nytimes)
TRANS:
Dr. Oz features transgender children who's "sex on the outside" doesn't match their "sex on the inside." This has been lauded as a sensitive and respectful portrayl by trans advocates. Check it out:
MONEY HONEY:
In honor of tax season, The New York Times is doing a series with tax experts answering you questions on specialized areas of tax finance. In their second installment, they're looking at same-sex couples and the unique issues they face. If you have questions for Tina Salandra, a certified public accountant who specializes in tax planning for gay and lesbian couples, ask her! (@nytimes)
SKIRTS:
Schools in the UK may no longer be able to force girls to wear skirts because uniforms discriminate against transsexuals — "requiring pupils to wear gender-specific clothes is potentially unlawful." (@timesonline)
BAKERY:
The copy reads –  "Butch it up Buttercup, These ain't your grandma's cupcakes. Our objective is simple. We're men. Men who like cupcakes. Not the frilly pink frosted sprinkles and unicorns kind of cupcakes. We make manly cupcakes. For manly men."
Feminsting reacts – "With that kind of name (and located in NYC) I half expected it to be a super gay bakery catering to Butch lesbians and gay men. I guessed wrong."