In 2010, geeky films are gonna rock your box office and we're here to tell you about them. While we may lack any kind of formal explanation for what precisely makes a film geekgasmic, we just have a feeling that your sexy nerdy crush object won't complain when you take her on a date to Kick-ass.
Some of these films, like Tim Burton's Alice In Wonderland and Disney's Oceans, will stuff you full of eye-candy. Some, like Harry Potter and the Deathly Hallows of course, will have to score some major Shaun White airtime to vault over the anticipatory expectations you've been building up since the last one.
We've covered a lot of ground with these films: adaptations & sequels, comic geeky, tech geeky, sci-fi geeky, lit geeky — it's like Baskin-Robbins but with YouTube instead of tiny pink spoons. There's a little something for everyone. Except maybe your annoying friend from work who already has her Robert Pattinson Remember Me screensaver in rotation with Sex and the City 2.
What are you most excited about this year?
---
+
THE CRAZIES
Release Date: February 26th
If you've got a soft spot for movies about epidemics, you'll probably love this. A waterborne toxin infects a small town, and just like violence and sex on TV, it immediately makes everyone an insane murderer. If that wasn't bad enough, the military is killing people on the spot. Although the plot is well-tread, The Crazies looks well shot and totally worth a try.
+

---
+
ALICE IN WONDERLAND
Release Date: March 5th
Tim Burton is inarguably a genius. And he knows exactly what people want out of an adaptation but won't compromise his artistic viewpoint in order to provide it. Happily, Alice in Wonderland isn't going to be a retelling of a story you've already seen- as this film takes place ten years after Alice first visits Wonderland. Burton crafted this retelling to "feel more like a story as opposed to a series of events." Don't miss this in 3D- Alice in Wonderland looks to live up to the trippiness of the promo posters!
+
---
+
CLASH OF THE TITANS
Release Date: April 2nd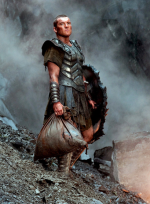 This looks amazing. Pretty hetero and male, but great nonetheless. Clash of the Titans stars everyone's favorite tribal wannabe, Avatar's Sam Worthington, but it isn't about blue cat people this time around. But you'll still be able to get stoned and watch it in 3-D (which is clearly all anyone cares about anymore).The graphics seem pretty fantastic, and the visual representations of Medusa and the Kraken are super modern and interesting. The plot's a little unclear at this point, but if you read D'Aulaires' Book of Greek Myths or took Latin, I'm under the impression it won't match up with your memory. Go see it anyway, you pretentious jerks!
+
---
+
KICK-ASS
Release Date: April 16th
Did you ever wish you were a super hero? Kick-Ass is about a kid who decides to stops wishing and starts doing. Apparently, this geeky boy is really good at kicking ass. I'm a geek and I kick ass so I can really relate here. He eventually teams up with another super hero who picked a much less cool name- Big Daddy, which sounds less like a dude looking for criminals and more like a dude looking on Craigslist, though I'm sure there's a Venn diagram begging to be made here. Big Daddy's young daughter, whose superhero name is Hit-Girl, is gonna make a lot of girls realize they're gay. Her character uses the word "cunt" which of course caused an uproar as soon as various "pro-family" groups caught wind of that. While I generally like anything that makes neo-cons angry, I'm not sure I'm going to love this Kick-Ass. It seems a lot like Superbad, but I think it's still worth a chance. You can always check out the comic if it's a flop.
+
---
+
NEXT:
Oceans, Iron Man, Prince of Persia, Harry Potter, Tron Legacy & more…
Pages: 1 2See entire article on one page