Gay Ann Arbor & Ypsilanti
The neighboring communities of Ann Arbor and Ypsilanti make up such a friendly little bubble in the Mitten State less than an hour outside of Detroit. Ann Arbor (A2 for short) is a liberal, affluent, busy college town. Ypsilanti (Ip-sah-lan-tee) is about one-tenth the size of Ann Arbor in population, but is attractive in its own right and has a culture all its own — plus it's been rated the #1 most racially and economically diverse suburb in Michigan! Italso has an out lesbian mayor,Beth Bashert, has a vibranthistory of African-American political activismand is becoming an increasingly queer hotspot as rents continue to climb in Ann Arbor. It also has the second-largest contiguous historic district in the state of Michigan. (Grand Rapids is first.) Some have said that Ypsilanti is to Ann Arbor as Brooklyn is to Manhattan, but I guess your mileage may vary on that.
Ann Arbor's primary employer is the University of Michigan, which means most of the town's residents are liberal academics. Its a wonderful place to live or to visit: cute shopping, incredible dining, museums and parks.There are trees, flowers and art everywhere you look. Even better, despite being a relatively small town, the LGBT community is very visible and active. Until December of 2018, Ann Arbor also boasted one of the few remaining brick-and-mortar LGBT bookstores in the United States.
Outside of designated LGBT spaces, overall the Southeastern Michigan area is fairly queer-friendly. The local leadership is definitely supportive of the community (shout out to Ypsilanti's newly elected lesbian mayor Beth Bashert!). Washtenaw County, where Ann Arbor/ Ypsilanti are located, and the Ypsilanti School District flew trans pride flags on the International Transgender Day of Visibility in 2017. It's not what it could be (yet), but it feels like Michigan is slowly making its way on the right track.
There are few state-level legal protections for LGBT Michiganders, but in most cases, local ordinances fill in the blanks. In 1972, Ann Arbor became the first community to pass comprehensive anti-discrimination protections for LGBT people including housing, employment, and public accommodations. Ypsilanti has had those protections since the late '90s. Although it's not LGBT-specific, it's worth noting that Ypsilanti also became the first city in Michigan to pass a living wage ordinance in the 1990s.
Michigan just elected its first lesbian Attorney General, Dana Nessel, so some of this might soon be changing for even better. At the time of writing, LGBT activists are fighting and asking for clarification in existing state civil rights legislation — because in May 2018 The Michigan Civil Rights Commission determined LGBT discrimination is illegal under state law — with the hopes that those laws may be interpreted to include protections for the LGBT community. With Dana Nessel on our side, it feels like anything may be possible next!
---
Who Wrote This Guide?
Well, as is "Queer Girl City Guide" tradition, this guide was initially compiled by Emily and Sierra, two Autostraddle community members. These are their stories:
Emily: I moved to Ann Arbor from Chicago a few months ago. Before that I was a frequent visitor. I was feeling burned out by big city life, so I decided to chill in Ann Arbor for a bit. At first I was concerned that I'd get bored here, but I quickly realized I had nothing to worry about! A lot of the queers I've met have lived here for 10 years or more, and it's easy to see why. I think I might be staying for a long time, too.
Sierra: I moved to Ann Arbor in 2008 as a bright eyed, very closeted 17-year-old. I grew up in a small and conservative town in southwest Michigan before coming to Ann Arbor for college. Ten years later, this is city where I found myself, met and fell in love with my spouse, and so much more.
But also, Autostraddle.com is run by two people who used to live in Ann Arbor/Ypsilanti, and so we added a lot to the guide ourselves:
Riese Bernard, Editor-in-Chief: Grew up in Ann Arbor from 1982 – 1997 (in the Old West Side), at which point she left for boarding school upstate but continued spending summers in Ann Arbor. Also, lived in Ann Arbor (and briefly Ypsilanti) during undergrad, from 2000 – 2004. Then, for reasons too complicated to explain here, lived in Ypsilanti for all of 2016 and 2017. This is why all the Senior Editors know how to pronounce "Ypsilanti."
Sarah Sarwar,Design & Business Director: Visited and then lived in Ann Arbor for over 7 years before moving to Portland in mid-2018.
So you'll really have no idea who wrote what most of the time but isn't that the fun of it all!? Let's get going!
---
The Gayborhoods
Ann Arbor: Kerrytown / Braun Court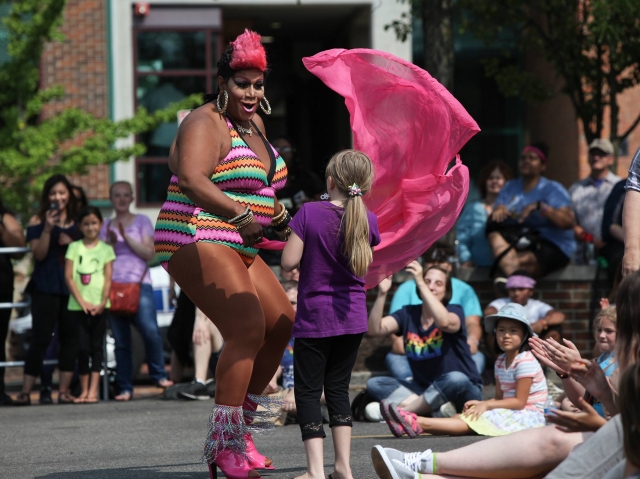 The Kerrytown District is the closest thing to a gayborhood in Ann Arbor although truthfully most of the town is gay-friendly and you'll find lesbians all over. But when it comes to commercial space, Braun Court is where so much of it resides: the Jim Toy Community Center, /aut/ Bar, and Bar at 327. It's also right by Zingerman's, the Farmer's Market,The People's Food Co-op and its fair-trade coffee shop, Cafe Verde as well as the local alternative high school, Community. Ann Arbor's Pride celebration is held here, too.
The Jim Toy Community Center (319 Braun Court // Ann Arbor) was named after the prominent activist and educator Jim Toy, the community center is a space LGBT folk to gather, learn and support each other. The center organizes Ann Arbor's Pride festival, OutFEST and a number of other LBT inclusive monthly events. Groups include the Lesbian Book Club LezRead, the Polyamory Network and a kink education and support group.
Pride –OUTFest happens in Kerrytown. Most Ann Arborites make Motor City Pride in Detroit their big pride of the year, but Ann Arbor does host its own celebration in August. The festivities go all weekend and are generally family-friendly, making for a less-crowded and more casual type of event.
Ypsilanti: Depot Town
Depot Town is definitely Ypsi's gayborhood. Along with Sidetrack, Cultivate and Depot Town Tattoo, there are a lot of other gems in Depot Town, including the food co-op. Maize is great for margaritas. The Eyrie has unique gifts from Michigan artisans, and Andrea at Massage Mechanics is great for when your shoulders are tense (Andrea is super queer friendly). Ypsi Pride started in 2017 and was a resounding success!

---
Restaurants & Cafes
Ann Arbor and Ypsilanti are great for foodies and craft beer lovers. New breweries are popping up practically daily and they all offer something a little different.
Zingerman's
Deli + Next Door 422 Detroit Street (Kerrytown)
Roadhouse:2501 Jackson Ave (Old West Side)
Zingerman's is a renowned local institution beloved throughout the area and well-known nationally for their delicious food and progressive ideology (they publish a business how-to book series called "A Lapsed Anarchist's Approach to Building a Great Business"). They've been devoted to high-quality, local food from ethical vendors since before everybody else was doing it. Expect long waits, but it's worth it.
They have three different institutions: Zingerman'­s Delicatessen in Kerrytown (the original Zingerman's), Zingerman's Bakehouse, and Zingerman's Roadhouse.
Emily and Sierra prefer the Roadhouse. It's a sit-down restaurant which is pricey, but delicious. (Try the spicy cake donut.) It is crowded on weekends and at night but can be a good work spot during the week, with its wifi and laptop-friendly tables.
Sarah, Carmen and Riese prefer the OG Zingerman's Deli. Carmen has been eating Zingerman's magic brownies for ten years and will never get tired of them! She also believes that it's not really Thanksgiving unless there's a Zingerman's pecan pie on her table. (Carmen's Mom didn't want to be left out — her favorite is the Hummingbird Cake.)
Riese recommends the potato latkes. Then, the magic brownies. Also, the #55 – which is named "Gemini Rocks The House." (It's named after a local children's band that Riese listened to as a child. Trust Carmen, you want to click that link.)Next, the #36, which sounds gross but is great. Finally, the matzo ball soup!
Bona Sera // 200 W Michigan Ave // Downtown Ypsilanti // Lesbian-owned
Lesbian owned Bona Sera is the spotfor cozy vibes, strong drinks, tasty food and brunch! They also host a variety of theme nights, shows and events and our gaydars regularly pick up a high percentage of queer employees. (Carmen would like you to know that their Mac-and-Cheese is out of this world)
Sidetrack // 56 E Cross Street // Depot Town, Ypsilanti
Sidetrack has the best happy hour in Ypsi, great burgers and an extensive beer list. It's always busy and a true Ypsi staple, though you'll usually hear it called "Sidetracks" because Michiganders like to add "s" to things. (FTR Riese definitely thought it was called "Sidetracks")
Mani Osteria & Bar // 341 E. Liberty St // Downtown Ann Arbor
Mani makes great fast fired pizza — even the pepperoni is weirdly amazing. If you visit for dinner, consider ordering the sweet and spicy Cauliflower Fritti appetizer. Expect long waits on weekend nights or call ahead.
Tomukun Noodle Bar // 505 East Liberty Street #200 // Downtown Ann Arbor
Tomukun's is a beloved noodle spot serving huge portions. We recommend the slow roasted beef ramen in spicy broth. You're welcome.
West End Grill // 120 W Liberty St // Downtown Ann Arbor
The West End Grill is great place for a special occasion. It's classic and cozy, illuminated by Tiffany-style lamps. We recommend the grilled artichoke, veal dumplings, honey mustard shrimp or Chilean sea bass. Try not to eat too many of their delicious fresh beignets before dinner! And leave room for dessert!
Seva // 2541 Jackson Rd. // Old West Side Ann Arbor
Seva's been an Ann Arbor staple for nearly 50 years, eventually moving out of its downtown location to their current spot Westgate shopping center. The entirely-vegetarian menu can also be made vegan, with lots of gluten-free options. A must-visit for vegetarian and vegan travellers, and foodies of all stripes.
Cafe Zola // 112 W. Washington St. // Downtown Ann Arbor (Main Street Area)
Zola Bistro // 3030 Washtenaw Ave., Suite 101 // Washtenaw Area
So expensive… but entirely worth it, especially for brunch! It's hard to go wrong with their extensive specialty blended coffee menu (and choice wine list) or their omlettes or inventive crepes & waffles. Other popular choices are the Turkish Eggs, Crab Cake Benedict and Shakushuka, a classic Tunisian dish. Zola sources all its ingredients locally whenever possible, and it shows!
Real Seafood Company // 341 S Main St. // Downtown Ann Arbor (Main Street Area)
This is where the undergrads with well-off parents ask to be taken when they come to visit, but it's also an understated Ann Arbor mainstay for delicious seafood if you don't fill up on the generous sides, salad and bread. Plus you can eat free on your birthday!
Isalita // 341 E. Liberty St. // Downtown Ann Arbor
Go for the margaritas, stay for the boundless array of fancy taco choices and tapa style dishes. Try the truffle guac and the baked cheese situation. One year, Sarah and Riese celebrated Erin's birthday here and it was WONDERFUL.
Afternoon Delight // 251 E Liberty St // Downtown Ann Arbor (Main Street Area)
Riese used to go here every weekend with her Mom after loading up on books at the nearby library. She has been here 5,000 times for brunch and zero times for whatever other meals they serve. Famous for their huge, dense muffins, Riese always gets an egg situation AND gets her eating companion to split The Berry Patch (frozen yogurt + strawberries, blueberries & raspberries) with her. But as a child she got the Bonanza Bagel. Just to keep you fully aware of all past foods.
117 West Washington St. // Downtown Ann Arbor (Main Street Area) // woman-owned
Owned by former Top Chef contestant Eve Aronoff, this Cuban-inspired food is the perfect after-drinking meal you'll want to put in your belly. Get the fresh lime Batido (a to-die-for milkshake) and a Frita (a delicious sandwich smothered in fries). It's picnic style seating, which means it's a perfect place to cozy up to a first date. Don't forget to get a churro that's as big as your head before you leave.
What's In Your Cup Juice + Smoothie Cafe // 1816 Whittaker Rd. // Ypsilanti
Hidden away in an Ypsilanti strip mall nowhere near downtown, this black-owned family-owned vegan dairy-free shop makes raw juices, smoothies, salads and wraps from scratch. The owner is super friendly and often gives you food to try while you wait! This was Riese's favorite place to go when she lived nearby.
Miki // 106 S 1st St. // Downtown Ann Arbor
According to Sarah Sarwar, Miki has a "45-page menu of sushi options." Also Wednesday is Ladies Night with half-off all cocktails!
Pointless Brewery and Theatre // 3014 Packard St //Ann Arbor
Pointless is one of many breweries that has sprung up in the last couple of years. Get this – it's a combo brewery and theatre! They host lots of events and classes at Pointless, including theatre classes for little ones. It's not uncommon to see queers hanging out at Pointless, and it's a very friendly, welcoming, and casual place.
300 S Ashley St. // Downtown Ann Arbor (Main Street Area)

Another legendary Ann Arbor institution with a signature vintage exterior (where Riese spent a lot of time as a teenager at 2 AM inhaling her drunk friends' second-hand smoke and eating french fries while pretending to be punk), the best-known dish at this 24-hour diner is the Hippie Hash, but you can't go wrong with grilled cheese & fries or any simple breakfast option.
Krazy Jim's Blimpy Burger // 304 S. Ashley St. // Downtown Ann Arbor (Main Street Area)
Saddle up to the counter for a classic burger and steak-cut fries at Ann Arbor's oldest Hamburger Stand (est. 1953!) that boasts it is "cheaper than food!"
Jerusalem Garden // 314 E. Liberty Street // Downtown Ann Arbor (Main Street Area)
Who here doesn't love hummus? We all love hummus! A family-owned spot beloved by vegetarians and meat-eaters alike for Falafel, Spinach Pie, Chicken Shawarma or Shish Kabobs.
Coffee & Ice Cream
Roos Roast // 117 E Liberty Street (Downtown Ann Arbor) // 1155 Rosewood Street (East Packard Area)
The best fucking coffee you will ever have. You'll leave Ann Arbor and spend $40 on a pound of their Mother Pheasant Plucker blend and a Lobster Butter Love t-shirt because you miss it so much.
307 N River St // Depot Town Ypsilanti

Located in Ypsi'­s hippest neighborhood, LGBT-friendly Cultivate is a local favorite with an extensive craft beer, coffee and snacks menu as well as a beer garden that doubles their table space in nice weather. Largely staffed by volunteers, Cultivate is a registered nonprofit who donate their proceeds back to the community.
Lab Cafe // 505 E Liberty St. Suite 300 // Downtown Ann Arbor (State Street Area)
Lab is a trendy cafe in a bright space with a seamless blend of clean modern and vintage decor… and yummy fancy coffee. The drink menu includes cold brew, pour over coffee, unique lattes (hello, florals! The lavender honey latte and vanilla rose latte are fantastic!), tea, lemonade shrubs. They also have a limited craft beer and wine menu, including hibiscus peach sangria. Tiny with limited seating inside and a handful of tables outside, it still rarely feels crowded.The crowd is young, mostly students or 20-somethings, and it's usually full up with people working on their laptops.
Elixir Vitae // 328 Maynard St // Downtown Ann Arbor (State Street Area)
Elixir Vitae is less trendy than nearby joints, but more affordable, with a large selection of basic coffee and teas. A slightly older crowd with lots of people working, making it especially busy during the school year.
10 N. Washington St. // Downtown Ypsilanti
Go! Ice Cream has made a name for itself by not only being a huge supporter of Ypsi Pride, but also by employing a lot of LGBTQ staff and raising thousands of dollars for various local queer events and initiatives. On top of all that, their ice cream is DELICIOUS! And the flavors are inventive, one of a kind. Sometimes it's jam packed inside the ordering room, but Carmen doesn't consider a trip to Ypsilanti complete without one of their scoops. You're going to get addicted, consider yourself warned.
PS: They also have a special event every year called "Gay! Ice Cream" that raises funds for Ypsi Pride. It's a super fun drag/ queer art/ dance party situation that's not to miss! And their instagram is very gay and very hilarious.
Kilwin's Ice Cream & Chocolates// 107 East Liberty St // Downtown Ann Arbor (Main Street Area)
Handmade chocolates and an old-fashioned ice cream parlor featuring rich, delicious homemade ice cream. It's fun to pick up a cone and then wander the local shopping area.
Washtenaw Dairy // 602 S Ashley St. // Ann Arbor (Old West Side)
For over 75 years, Washtenaw Dairy has been providing coffee, home-made donuts and most notably — over 30 flavors of ice cream, hand-dipped shakes and malts.
Honorable Mentions: Comet Coffee, Shinola, Black Diesel, Espresso Royale, Mighty Good, Literati, Tea Haus, and lastly, Sweetwaters – love their espresso milkshakes!
---
Queer Nightlife
/aut/ BAR// 315 Braun Court // Ann Arbor
Aut Bar is the Ann Arbor LGBT bar. You can sit down and get a good meal (with lots of vegetarian options!) on the first floor, or grab drinks at the bar on the second floor. Dinner is served every night with champagne brunches on weekends. Braun Court's outdoor tables are perfect shady spots on a sunny morning.
Pride Fridays @ Necto // 516 E. Liberty //Ann Arbor
Frequently voted best nightclub / dance club in the area by multiple outlets (Spoiler: There aren't many clubs in Ann Arbor), Necto is owned by a gay couple. Every Friday is Pride Night and the club is a welcoming, safe space for the LGBT community. As an 18+ venue, the crowd can skew young, especially during the school year. Pride Night does tend to be male-dominated, and often the cute girl you're flirting with is just as likely to be queer as she is to be a gay guy's best friend.
Candy Bar @ Live Nightclub// 102 S. 1st Street //Ann Arbor
One Pride dance night per week isn't enough to satisfy you? Meet your #CandyFam at the queer dance party, Candy Bar! It's held Thursdays at Live Nightclub in downtown Ann Arbor.
Bar at 327 Braun Court // 327 Braun Ct // Ann Arbor
Right across the street from Aut Bar, Bar at 327 is an LGBT-friendly establishment serving well-crafted cocktails (including unique and delicious seasonal concoctions), a nice selection of beers and a short list of foodie snacks. The decor is casual but classy and is perfect for a date or a friend hang.
---
For The Love of College Towns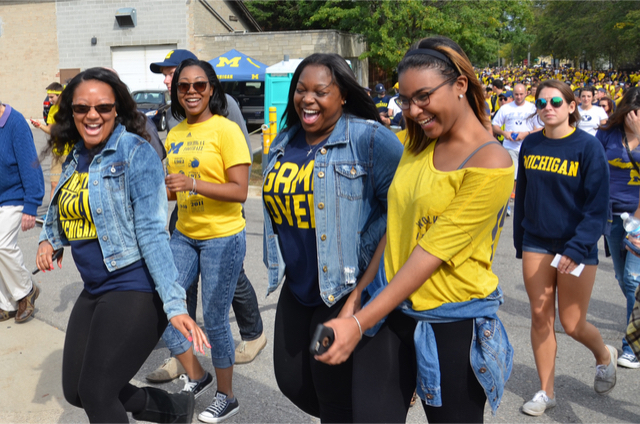 Ann Arbor is known as a liberal college town, similar in feel to Madison, Wisconsin or Berkeley, California.
The University of Michigan is a gigantic, top-rated, public research university with a vibrant LGBTQ community and in 1973 was one of the first schools to launch a Women's Studies Department. A lot of the University's queer life is in East Quad, home to the Residential College, which has an artsy reputation.The University of Michigan library also has a huge LGBT archive.
Michigan's campus is enormous and integrated into a lot of the town, with two main areas of State Street and South University connected by the Diag (a hub for political protests and demonstrations). Beautiful buildings abound, including Michigan's #1 spot for Senior Pics & Engagement Photo Sessions, The Law Quad. Five Tudor Gothic style buildings and a sweet Cloister encase a beautiful green space for hanging or studying.
The University of Michigan Museum of Art is among the country's best University art museums with dynamic progressive rotating exhibits and an impressive permanent collection. Also worth checking out are the TheExhibit Museum of Natural History (and its kickass planetarium!) and The Kelsey Museum of Archaeology, which hosts over 100,000 artifacts and works of art from ancient civilizations to through medieval times. The Matthaei Bottanical Gardens and Nichols Arboretum (aka "The Arb") contain 700+ acres of gardens and greenhouses (which makes it a popular spot for weddings). Also fun fact: we've got one of the world's only Dentistry Museums!
Michigan has top-rated programs in Theater, Music, Dance and Writing, so those shows and readings are not to be overlooked — plus, The Power Center for the Arts and Hill Auditorium are incredible spaces for live performances.
Eastern Michigan University is one of Michigan's top-rated schools and plays a large role in Ypsilanti's culture.The student body is more socioeconomically diverse than Michigan's and offers flexile options for commuters and part-time students but has a size-able on-campus population too. EMU has a dedicated Women's Resource Center, an LGBT Resource Center, and a Multicultural Center. Historic South Campus and University Park are especially beautiful areas, tucked amid lots of new development.
Washtenaw Community College is considered a top-rate community college with flexible options for students at all stages. Their Out-Space Student Club supports the LGBTQIA+ community. Its Health & Fitness Center is incredible and therefore popular with non-students, too.
---
Spectator Sports
The Ann Arbor Derby Dimes (A2D2) is a skater-run, non-profit women's roller derby league. A2D2 has an A/B/C team structure. Brawlstars is the A level WFTDA charter team, and are nationally ranked. The travel B team, Arbor Bruising Co. (a play on the local brewery Arbor Brewing Company) won Division 1 of the Mitten Kitten Mash-up tourney in 2016. The Ypsilanti Vigilantes is the C team / home team / place for new players. If you're interested in getting involved, bootcamp is open to everyone in the fall, no experience required.
University of Michigan Athletics
If you asked most Ann Arborites to pick a religion, football would probably win. U-M plays in the Big Ten Conference and has well-known rivalries with Michigan State and Ohio State – wearing gear from either school in Ann Arbor nearly guarantees you'­ll be heckled. Tailgating lasts all weekend, and if we lose a rivalry home game, people light shit on fire (seriously). The football team plays in the Big House, which is the largest stadium in the country. Besides football, basketball and hockey are both tremendously popular. If it's game day and you aren'­t coming to Ann Arbor for the football game, you probably should avoid the city entirely! Also, a great way to support the queer community would be to go see some women's basketball!
---
Farmer's Markets & Co-Ops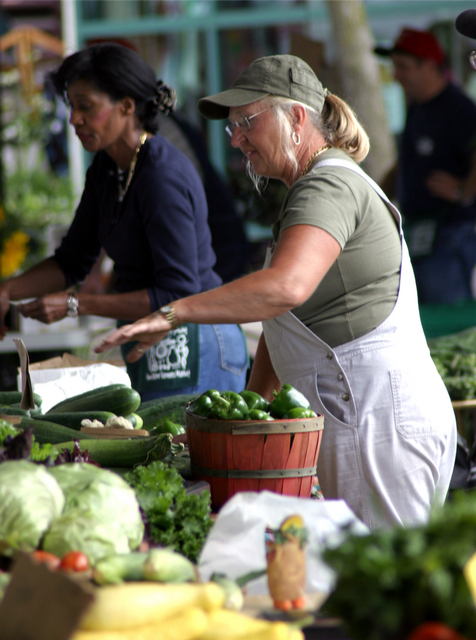 Just across the street from Braun Court, the Ann Arbor Farmers Market is the place to buy delicious fresh produce, baked goods, flowers and herbs for your garden, and more. Try White Lotus Farms' pain au chocolat if you're there early enough to snag one – they sell out fast for a reason. Also, on warm Saturdays check out Sweet Dirt, the little ice cream stand at the front. It has yummy unique flavors that change frequently. FYI: The Farmers Market is PACKED on Saturday mornings. Go early or late if you want to beat the crowds. Give yourself some extra time to find parking, too. Wednesdays are more low key, but there are also fewer vendors.
This year-round Farmer's Market, run by Growing Hope (a community organization that aims to improve lives/communities through gardening and increasing access to healthy food) is hosted on Tuesdays in Downtown Ypsilanti or the Robert C. Barnes Farmers MarketPlace Hall, depending on the time of year. Their Facebook page gives updates on what vendors to expect and upcoming dates/locations.
---
Hair & Tattoos
Betty Green Salon // 10 N. Washington St. Suite 101 // Ypsilanti
Betty Green Salon sometimes feels like it's giving out most of the glorious lesbian haircuts seen throughout Ypsi. It's also the only organic shop in the area.On top of all that, the salon owners focus their efforts on shopping locally as well as donating and volunteering in the community. So you can feel great knowing that your money is spreading right where it belongs.
Orbit Hair Design // 334 1/2 S. State St // Downtown Ann Arbor (State Street Area)
Orbit Hair Design is an award-winning independent salon that offers great queer cuts and vibrant colors for a reasonable price. A few of their stylists are experienced with curly and textured hair. The salon is also a trans friendly establishment.
Oz Hair Studio // 202 E. Washington St. Suite 312 // Downtown Ann Arbor
Oz Hair Studio is a small salon that specializes in working with your hair's natural texture for a cut that will look great, even when you style it at home. Their sample gallery features mostly mainstream looks, but there are a few queer cuts in there too. Pro Tip: When you call, ask for a cut with Julie the Hair Goddess!
Liquid Swordz // 27 N Washington St // Downtown Ypsilanti
Liquid Swordz is one of the oldest tattoo and piercing shops in Ypsi. The artists are super creative and love designing custom work. They also do touch ups and cover ups.
Name Brand Tattoo // 514 E. Washington St. // Downtown Ann Arbor
The artists at Name Brand Tattoo take pride in the thoughtfulness they put into their work. In particular, their art specialize inTraditional Japanese, Americana, Folk Art and branches of Hermetic and Esoteric Symbolism. They are on the expensive side, but many customers the results are completely worth it.
Depot Town Tattoo // 33 E. Cross St // Depot Town Ypsilanti
Roughly 9 times out of 10 that I compliment someone's tattoos, they tell me their ink is from Depot Town Tattoo and it got done by Dawn. Dawn splits her time between Depot Town Tattoo and Harlequin Tattoo in nearby Hamtramck (the shops are sisters). The shop is known for being queer friendly and producing high-quality work. [SIDENOTE: Riese got a tattoo here and they were very nice!]
Brite Idea Tattoo // 30 N Huron St // Ypsilanti
Owned by Zera, the partner of Rebel Heart Salon's owner (see above), Brite Idea is known for also being a welcoming and inclusive tattoo shop. A Facebook friend summed it up nicely: "Zera and Janet are AMAZING and the shop is super cozy. Not at all a typical douche bag bro vibe."
---
Bookstores
Ann Arbor has the most independent bookstores per capita than anywhere else in the entire U.S. (Border's started in Ann Arbor, in fact!) and was once the home of independent lesbian press Firebrand Books.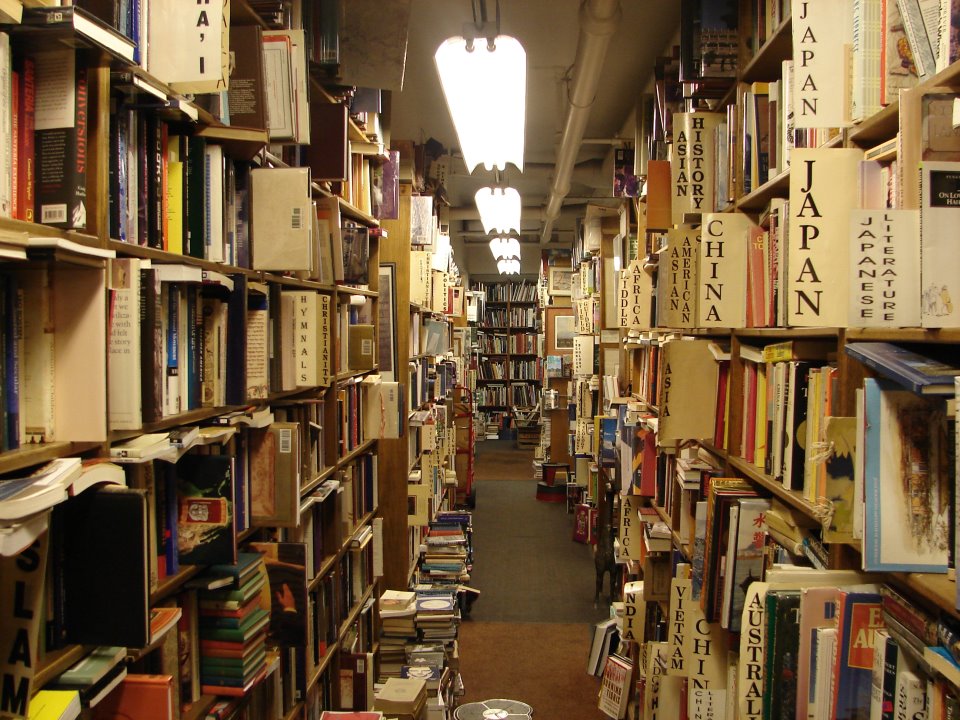 Dawn Treader // 514 E Liberty St // Downtown Ann Arbor (State Street Area)
This used bookshop also sells rare and antiquarian books, maps, and prints and it's Riese's favorite bookshop in Ann Arbor. There's a significant LGBT and Women's Studies section but there's really an extensive EVERYTHING section. You know the type: stacks of books, hand-written signs and thematic annexes. Icannot leave this store without ten new books and I regret nothing every time!
Literati // 124 E Washington St // Ann Arbor
Literati is cozy shop with an impressively curated selection, including spotlights for local and short run publications. They special events every week, including author talks and book clubs. Of particular interest is the feminist book club and FRUIT, a reading and dialog series for marginalized members of the community (like us queers). After you make some purchases, make sure to head to the cafe upstairs! They have excellent coffee, tea, and tea soda. (Yes, tea soda. Soda made with tea syrup that's steeped house.)
Vault of Midnight // 219 S. Main St // Ann Arbor
This is one of the nicest, friendliest comic book stores we've ever visited. It'­s a great shop for tiny nerdlings (little girls included!), as well as adults. The staff are very approachable, helpful, and non-judgmental. Their inventory includes comics, manga, tabletop gaming, and a tempting selection of nerdy merchandise. Be sure to check out both floors!
Crazy Wisdom Bookstore & Tea Room // 114 S. Main St // Downtown Ann Arbor
This place is just… SO ANN ARBOR. It's a "new age" bookstore with a wide selection of books, gifts, jewelry, crystals, tarot decks and oils. The Tea Room serves over 100 varieties of tea as well as food and Mighty Good Coffee. As a headquarters of sorts for a lot of new age people in Ann Arbor, Crazy Wisdom offers drop-in astrology readings, live music, author readings and tarot readings. The second Tuesday of each month is the "Witches Night Out," where witches gather to chat.
Blackstone Bookstore & Cultural Center // 214 W Michigan Ave // Downtown Ypsilanti
Specializing in African-American books and culture, Blackstone is an indie shop selling books, music, movies and art, with a study center in the back for studying or playing chess. They host author readings, book clubs and poetry slams and are proud to offer hard-to-find and nearly out-of-print works of African-American literature.
Ann Arbor District Library (AADL)
The library has a great collection of books, comics, equipment (ex, telescopes, robots, Wacom artist tablets), and more. Want to catch up on Lumberjanes, or finally get around to reading Princess Princess? They got you. How about some queer sci-fi by Octavia Butler or Tanya Huff? Check. They host tons of great events every week for kids, teens and adults. There are five library branches located around the city. We love the recently remodeled Westgate location. It's uncharacteristically lively for a library in the best way. There are plenty of places to sit, the wifi is good, and they have more than enough power outlets for the many people working there. They also have a Sweetwaters Coffee and Tea in the library, which is perfect when you need a little caffeine to help you focus.
---
Shopping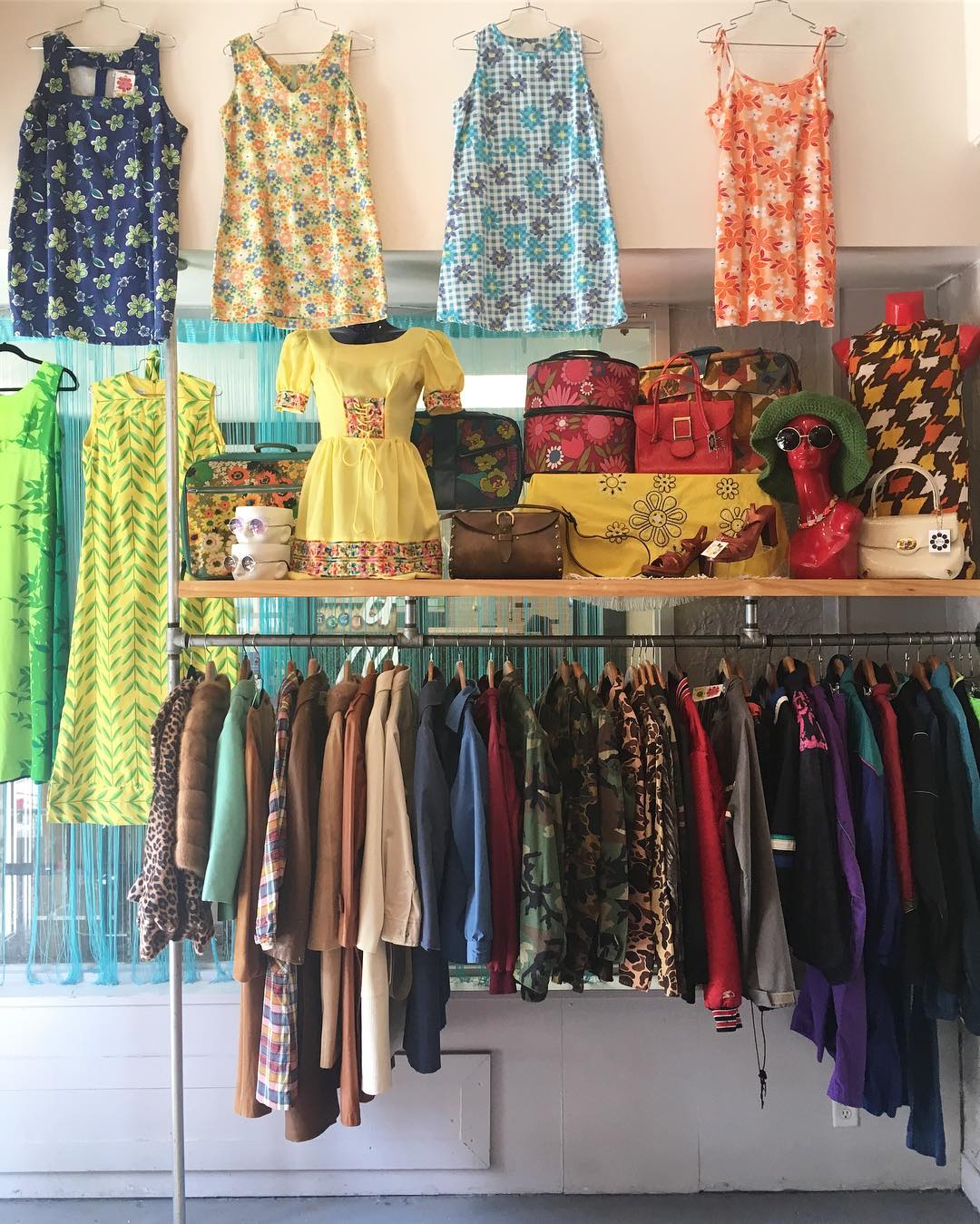 The Getup Vintage // 215 South State Street // Downtown Ann Arbor
Owned by two women with incredible taste, The Getup is a destination for any vintage fan looking for a carefully curated selection of clothing and shoes from the '50s to early '90s.
World of Rocks // 332 N. Huron // Downtown Ypsilanti
My dear crystal-loving lesbians, this store is devoted entirely to quality products from the earth and from artists who love products from the earth, including gemstones, fossils and jewelry. Whatever you need for your spell — they have it!
Encore Records // 417 E Liberty St // Downtown Ann Arbor (State Street Area)
An actual independent record store staffed by music-lovers who know their way around an extensive selection of vinyl and CDs.
The Rocket Gift & Candy Ypsilanti // 122 West Michigan Ave // Downtown Ypsilanti
Candy, collectibles and offbeat gifts galore at the gay-owned Rocket. Everything inside is nerdy and fun: Obama chapstick, Celestial Zodiac journals, unicorn hats for your cats.
A2 Vintage // 109 W. Michigan Ave // Downtown Ypsilanti
Owned by a lesbian couple and managed by one of their moms (!!!), a2vintage preserves things from the past and transforming them into furniture and art as well as a huge selection of vinyl and vintage collectibles.
Treasure Mart // 529 Detroit Street // Kerrytown Ann Arbor
It's hard not to spend three hours in this place. There's just so many rooms, so many weird antiques and bizarre furniture and old books and vintage shit. It truly is a treasure hunt!
Unicorn Feed & Supply // 114 W Michigan Avenue // Downtown Ypsilanti
This store is queer as fuck: terrariums, fairy gardens, magical stuff, sparkly things, knick-knacks, enamel pins, work from local artisans and fun stuff for Pride. They host events like this past November'sMermaid-themed costume Partywith a DJ and cash bar and a Harry Potter Party.
Bivouac // 336 S State St // Downtown Ann Arbor (State Street Area)
Founded in 1970, Bivouac is a community-focused retailer that sells all the outdoor gear and supplies you will ever want or need to climb or kayak or camp or whatever it is that floats your boat.
Sam's Clothing // 207 E Liberty St // Downtown Ann Arbor (Main Street Area)
Once upon a time this was where we got our bandanas and Converse All-Stars and winter hats. Sam's continues peddling classic apparel: Levi's, Colombia, and the greatest selection of Chuck Taylors you've ever seen.
---
The Great Outdoors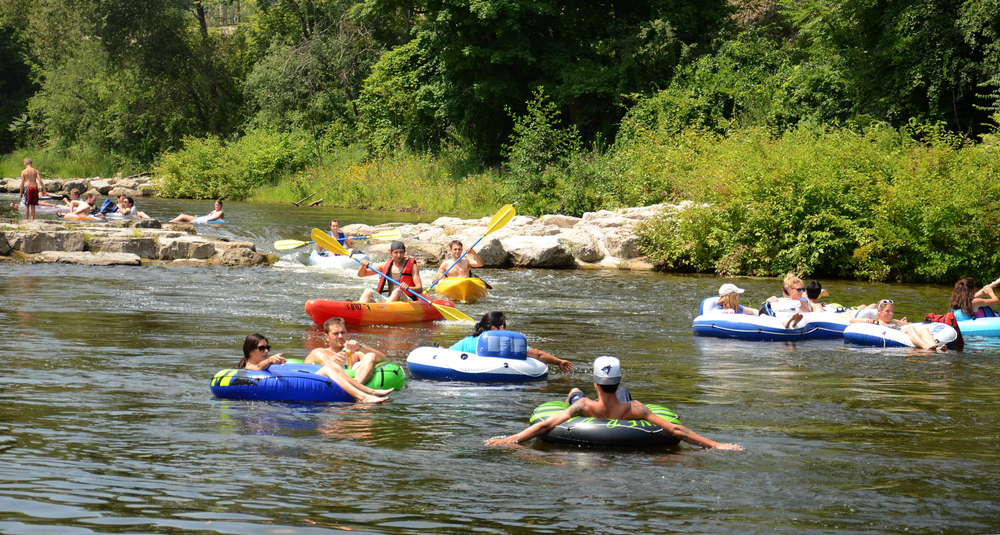 Ann Arbor is a pretty green city. The downtown streets are sprinkled with an abundance of trees, and there are over 159 parks where you can hike, bike and picnic. Some of the parks are quite large, like Bird Hills Nature Area, which spans 160 acres.The parks are maintained by a wonderful organization called NAP (Natural Area Preservation). Their mission is to conserve native ecosystems in the parks and to educate the Ann Arbor community. They frequently host volunteer work days where you can learn about conservation.
The Huron River, which cuts across the city, is a scenic place to boat and is bordered by tons of banks. You canrent canoes or kayaks from the Argo Canoe Livery and Gallup Canoe Livery to spend the day athletically boating your way along. Alternately, you can bring tubes, a bag of pink wine, and have a real lazy river of a day.
In the winter, you can go ice skating outdoors at Buhr Park or sledding outside of Veteran's Arena, which provides year-round indoor skating.
In the fall, there is copious amounts of fun to be had at Wiard's Cider Mill and Apple Orchard in Ypsilanti, where you can also pick apples and pumpkins or take a hayride.
---
It'­s "High Time" You Paid Us A Visit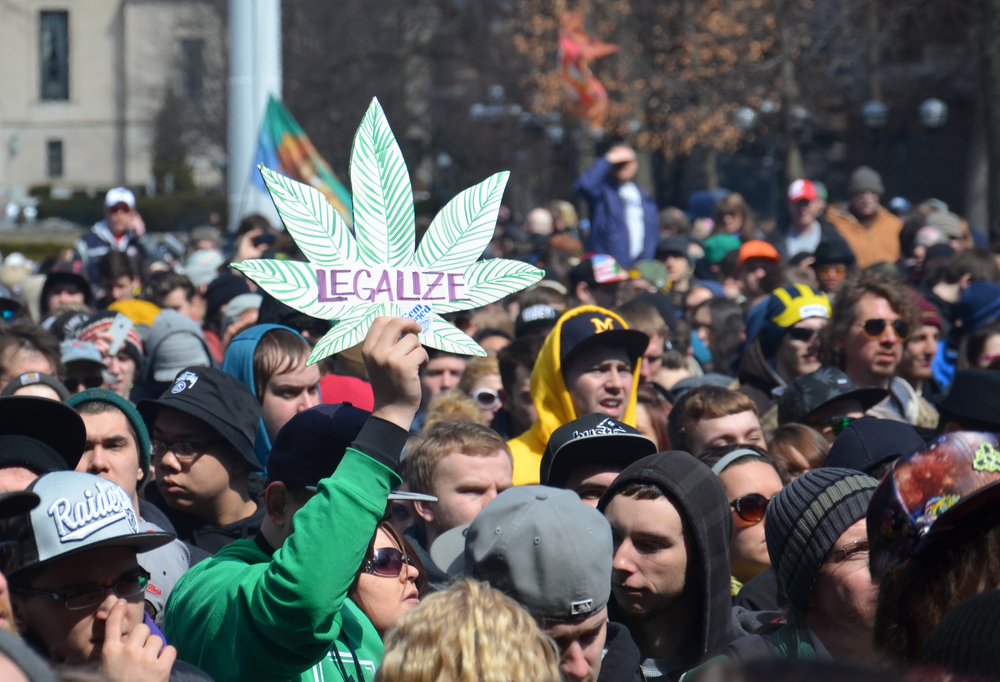 Ann Arbor and Ypsilanti have had some of the country's most liberal marijuana laws since the '70s. Medical marijuana has been a thing in Michigan for a few years but as of November 2018, recreational marijuana is totally legal in Michigan! Riese was a fan of The Depot Town Dispensary in Ypsilanti.
The annual Hash Bash, held at high noon on the first Saturday of April, is a huge event with music, speakers, and vendors that dates back to 1972.
---
Entertainment Venues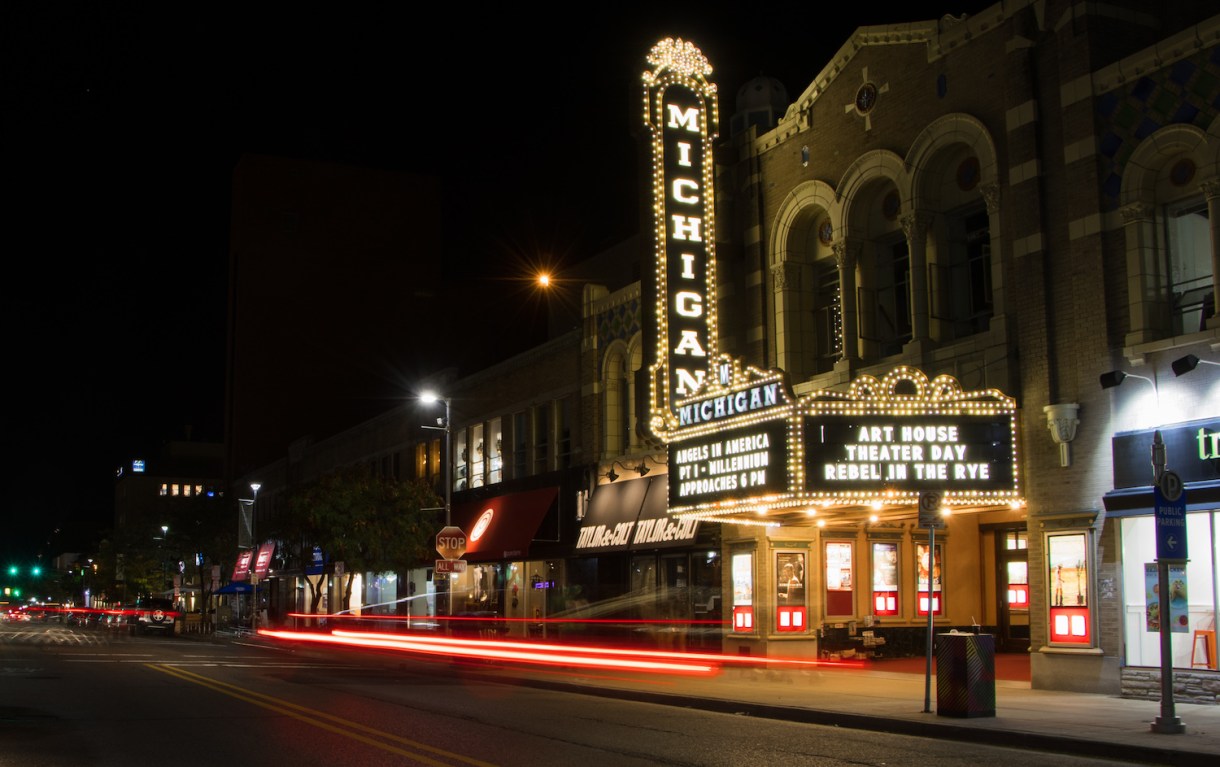 The Michigan Theater // 603 E. Liberty Street // Downtown Ann Arbor (State Street Area)
The resplendent and historic Michigan Theater is a non-profit space with three auditoriums that screen films and host live events (Riese saw Bob Dylan, Dar Williams and David Sedaris there!), including theater and performances by the Ann Arbor Symphony Orchestra. Their movie line-up skews indie/art-house and they host the annual Ann Arbor Film Festivalevery Spring.
The State Theater // 233 S State Street // Downtown Ann Arbor (State Street Area)
Part of the Michigan Theater Foundation, the Art Deco State Theater is also another reliable source of independent arthouse films. This is where you will find your midnight showing of Rocky Horror!
The Ark // 316 S Main Street // Downtown Ann Arbor (Main Street Area)
One of the world's top music clubs, the Ark is an intimate 400-seat venue with a diverse array of folk and roots performers — and it's a registered non-profit. This year The Ark hosted Brandi Carlile, The Violent Femmes, Edie Brickell & The New Bohemians, Joan Baez, Jill Sobule, Yo La Tengo, Mary Chapin Carpenter, Arlo Guthrie and Iron & Wine; among many others. The Ann Arbor Folk Festival is an annual highlight.
The Riverside Arts Center // 76 N. Huron Street // Downtown Ypsilanti
Founded in 1994, the RAC offers, promotes, and nurtures dynamic arts and cultural programs through arts education, performing arts, and visual and fine arts activities. They host free family-friendly events, dance and yoga workshops, and monthly exhibitions, as well as a robust slate of plays, live comedy and other performances!
---
Midwesterners are nothing if not polite, and Ypsi-Arbor is no different! People are generally chatty – willing to provide directions and recommendations, let you bum a cigarette, quick to pet your dog, etc. Come pay us a visit! We'd love to have you!
---