WANDA SYKES & ROSIE O'DONNELL: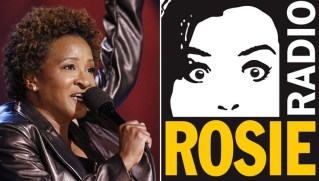 Wanda Sykes called in to Rosie O'Donnell's radio show on SiriusXM and the two discussed a range of topics including meeting her wife Alex on vacation in the gay mecca of Fire Island, getting married in California, her unplanned official coming out at a Prop 8 rally and the adversity found within the black community with regard to living a gay life.
She talks about how her decision to come out at the rally was literally made on the spot. While Wanda didn't feel any pressure from the gay community to come out, Rosie admits that she felt "stalked" by former Advocate Editor-in-Chief, Judy Wieder. "She'd be at every event I was at and she'd say "I really want to talk to you about coming out. When are you going to come out?" It felt like pressure from the gay community, not really anyone else.'
Wanda also reveals that her family's reaction to her coming out has been "not cool. We're still working on it. They're getting better with it. I know they love me, BUT…."  They talk about the "double stigma" (see also: intersectionality) of being gay in the black community how religion generally f*cks everything up. Her mother even said to her "if it ever gets out, I hope I'm dead."
Listen to Wanda Sykes & Rosie O'Donnell's Interview
KATHY GRIFFIN / LAW & ORDER:
A longer clip of Kathy Griffin's much anticipated appearance on Law & Order has been released and it's now being criticized for a vaguely "homophobic comment" by Mariska Hargitay's character, Olivia Benson. After KG kisses her, Olivia reaffirms she is straight and says to another woman entering the room "If I were you, I'd stay outside." Thoughts? (@lezgetreal)
COURTNEY LOVE:
Courtney Love is back on her Twitter rampage, this time tweeting about the deep, lyrical meaning behind Ke$ha's Tik Tok and how it offends Courtney's feminist ideals. We'll pass along the message when we see her at Dinah next month.
KE$HA:
Meanwhile, the woman herself is busy defending herself against the usual Britney-Lindsay-Paris comparisons:
"Am I a party girl? I'm having a party in this weird office, hanging out with you, totally sober. If you mean 'party girl' like, at a club with a short skirt on with no underwear, then no. I've gotten drunk before but never gotten a DUI. I don't go to clubs. I try not to let my vagina hang out. I don't do drugs, but I think I'm a walking good time and I talk kind of funny, so people think I'm messed up all the time. I'm not."  She also reveals that she received a 1500 on her SATs and claims "I'm not just a little pop moron" as evidenced in the lyrics to her new single "Blah Blah Blah": I don't really care where you live at/Just turn around boy and let me hit that/Don't be a little bitch with your chit chat/Just show me where your dick's at. (@billboard)
Well, at least at 13 she was singing something smart — here's a young Ke$ha doing Karma Police at a school talent show:
TEGAN & SARA:
Sara Quin talks Gaga and Lilith Fair 2010 in a new interview. "I am always paying attention to what is on the radio. I don't necessarily think about how I would change people, though. But I look at someone like Gaga, and I'm so impressed by the whole package and what goes into it. That's a lot of work to do what she does. People scoff at her costumes and performances, and I'm like, 'You do that and win everyone over. It's not that easy!'" (@quickdfw)
GLAMBERT:
Adam Lambert will be in Australia next week during Gay Mardi Gras weekend. Interestingly, his people never returned calls after being invited to perform at Dinah in April.
(@samsame) (@afterellen)
THE RUNAWAYS: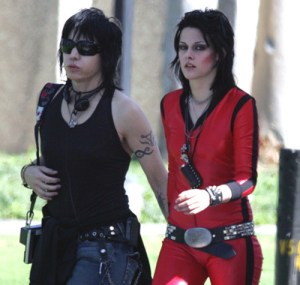 In a new Q&A with Interview, Joan Jett is asked how she will feel if people come away thinking she's a lesbian after seeing The Runaways, starring Kristen Stewart and Dakota Fanning:
"I guess they've always said those kinds of things to a degree anyway. Anyone who wants to know who I am can just read my lyrics. I've always written about who I am. Look, in The Runaways I learned at a very young age, because I could see the looks in the writers' eyes when they would ask me questions about the band and our offstage antics, and I could see from the way they asked the questions that if I answered this stuff, that was all they were ever going to write about." (@interview)
Check out the new Runaways TV spot:
CLAY AIKEN FOR HRC:
Clay Aiken will deliver a speech about gay rights in his hometown of Raleigh, North Carolina at the Human Rights Campaign Carolinas gala this weekend along with Meredith Baxter. (@ap)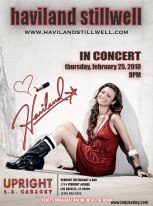 HAVILAND STILLWELL:
If you're in LA and are looking for some quality entertainment tonight, do not miss an Evening with Auto-friend Haviland Stillwell at Upright Cabaret at Vermont.
NICKI MINAJ:
Nicki Minaj is taking her time with her album release b/c she wants people to "get used to" the idea of a female rapper again. I hope that's code for "gaaaay." (@mtv)