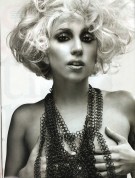 PRESIDENT GAGA:
Lady Gaga appeared on the cover of Q Magazine wearing a strap-on dildo; explaining to the on-set crew, "I want to wear a dick strapped to my vagina. We all know one of the biggest talking points of the year was that I have a dick, so why not give them what they want? I want to comment on that in a beautiful, artistic way. How I wanna show it. And I want to call this piece Lady Gaga Dies Hard."
The story by Sylvia Patterson is fantastic and includes some really choice soundbytes:
"When a guy says, Oh I fucked all these chicks this week, there's a high-five and giggling. But when a woman does it and it's publicised or she's open about her sexuality or she's free, or liberated, it's, Oh, she must have a dick. There's a threat. I also carry myself onstage in a masculine way and sing in a low register. This is not out of nowhere, right?"
Patterson points out one of our favorite things about Lady Gaga:
"Everything Lady Gaga does is for a convention-boggling reason. She's the world's only female pop icon who delibirately presents herself as significantly less attractive than she is, whether that's via comedy-ghoul make-up or dressing up like a pile of Post-It notes."
Reagarding Gaga's Fame Monster album cover — Gaga wanted to be crying blood, her record label wanted something "beautiful." Gaga's reaction:
"The last thing any young person needs is another photograph of a woman rubbing her glistening tits, enjoying life, because that's not how we fucking feel."
About mid-way through the article the tone shifts a bit, as Patterson explains how the photo shoot begins to unravel over a series of 'artistic conundrums' including how to light both the groin and the face, and Gaga's sudden self-consciousness about her "weak chin" and concern that different lighting concepts make her eyes look dead or her face look yellow.
Soon, her invincible demeanour dissolves: "I'm stressed," she frowns, head down, arms tight around her chest, looking and probably feeling physically vulnerable. She retreats to her dressing room, only to emerge several minutes later in tears and wearing enormous shades. Apparently, she has just received a phone call from Interscope about the marketing of Fame Monster, which has upset her. She says she has to elave, and hopes the shoot can be rescheduled. "I'm just not in a good place right now," she says.
Over the next month, lengthy negotations to rearrange the shoot take place. Gaga's management will only use their own photographer. Q doesn't want this. Neither party budges and a stalemate is reached. The photo shoot isn't rescheduled.
The last section of the article, following the description of the photoshoot issues, seems to suggest there's been a bit of a crack in the empire as of late evidenced by weeping during concerts and passing out from exhaustion; a result of Gaga being overworked and exhausted. They quote DJ Lady Starlight, Gaga's early collaborator from Lady Gaga's Starlight Revue [and the DJ for our first Rodeo Disco party!]:
The speed of her ongoing global success, notes her friend Lady Starlight today, is "completely unprecedented, and the industry is working her to the death, everyone's trying to cash in." As the last producer to work with Michael Jackson, RedOne has seen the madness up close. "This reminds me of the Thriller period," he surmises. "even me, I get crazy emails, how Gaga and I have changed lives. People are feeling this emptiness and they feel like she describes their emotions. People are becoming obsessed with her, you know?"
But Lady Gaga is far from your average pop star. Not everything she does succeeds, her creative ambitions sometimes too unfathomably beserk, but when she does, this is true pop genius at work.
The piece ends with this fantastic quote:
"But you don't really want to get to know me or photograph my soul, you want to do some version of what you think I am and then expose something that you believe is hidden. When the truth is, me and my big fucking dick are all out there for you. But I'm not angry, I'm laughing. The joke is not on me, it's on you."
---
GAY TV?
"Growing up I loved the shows on this list, but even as a wee one I knew they weren't what they claimed. All off these shows focused on gay couples who (for some reason) weren't allowed to be gay on TV, so ridiculous back stories and ludicrous plot twists were introduced to explain same-sex couples raising children, living together, or being psychiatrists."
MY SO-CALLED LIFE:
Presented without controversy: Jordan Catalano and Angela Chase Reunite. (and by that we mean Jared Leto & Claire Danes obviously) (@fablife)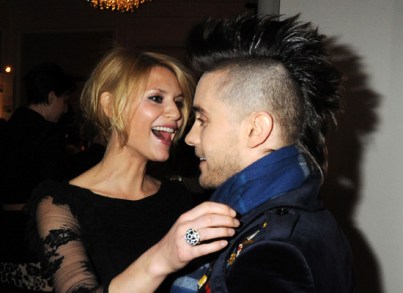 LOHAN:
Lindsay Lohan was in LA last night. She visited Bardot nightclub where her ex-girlfriend Samantha Ronson was the house deejay. (@ontd)
MTV:
If there was any doubt left in your mind that MTV was officially done with creating any semblence of progressive or intelligent content (aside from the occasional True Life Marathon), it has been said:
"We're pushing Generation X out," Toffler said. "We're slaves to our different audiences, for MTV that's millennials, who are vastly different than Generation X; they're definitely less cynical — they're more civic minded."
As evidence of the fine taste of this benevolent new generational breed, Toffler cited … "Jersey Shore."
Since when did "cynical" = "stupid"?
TOP MODEL:
What happened to Yoanna House? One of our favorites from Season One is looking, as TMZ puts it, a bit "Real Housewife of New Jersey."